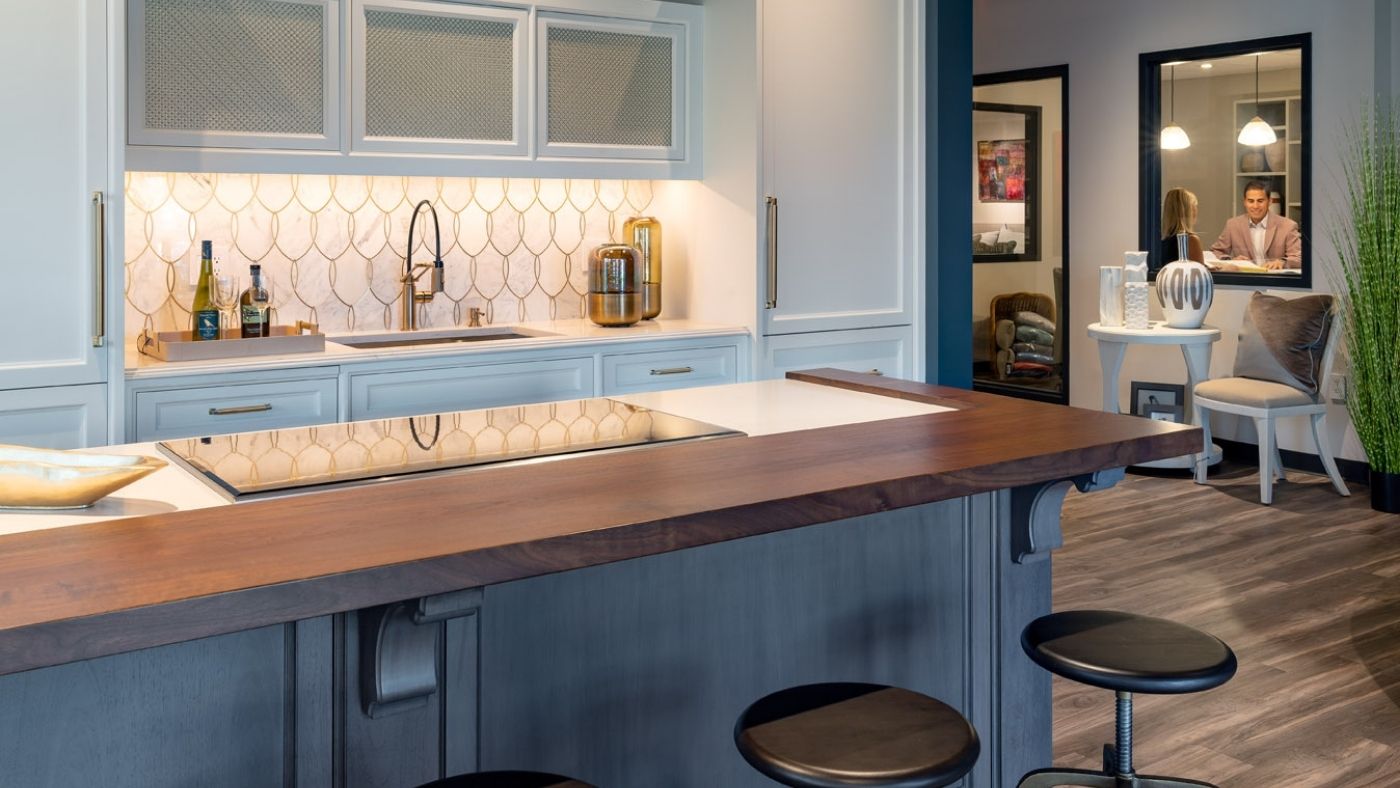 Interiology
presents:
An Immersive Design Experience 
For a homeowner, one of the most difficult aspects of designing a house is not being able to envision how various products and materials will look once installed.
Realizing this, Mark Haddad, founder and president of Watertown-based Interiology Design Co., set out to create an immersive showroom that operates in tandem with his design services business. "Our Experience Studio represents almost every room in the home, including kitchens with working appliances in case a customer wants to test them out," explains Haddad, a certified kitchen and bath designer himself, who employs a team of experienced interior designers that can advise customers on everything from paint and furniture selection to full-scale renovations and new construction projects.
Cover photo: A sample kitchen space in the Interiology design experience showroom featuring blue accents and fully functional appliances.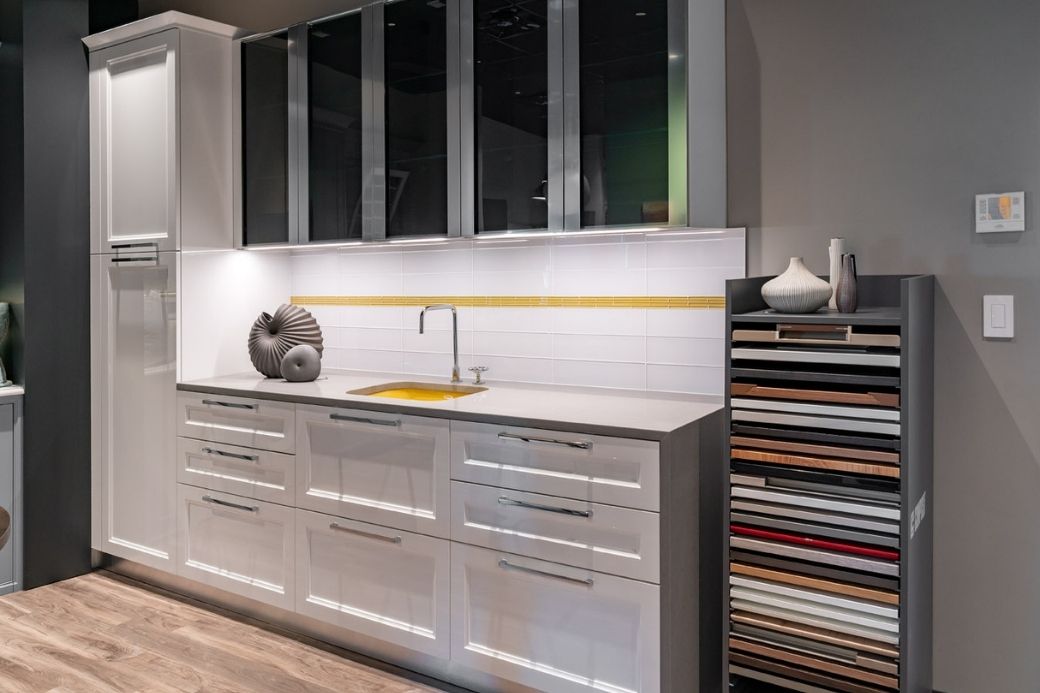 Hidden yellow accents pop against sleek modern grays and white cabinetry in this sample counter space by Interiology.
"We help people visualize how these items will work in their own homes. Not many showrooms have the products and appliances installed, so this is something unique that we can provide." Furthermore, Interiology Design Co. is the only showroom in New England to display the Italian kitchen cabinetry line Composit, which is known for its high-quality lacquer finishes.
In addition to cabinetry, Haddad and his team curate a rotating mix of case goods, upholstered items, lighting, paint, wallpaper, bedding, artwork, and accessories. "We carry a wide range of products that run the style gamut," says Haddad, who has been in the industry for two decades. "Everything in the studio is for sale, down to the smallest accessory. Anyone can come in and purchase something, and people really appreciate the instant gratification—especially these days, with the current supply chain issues."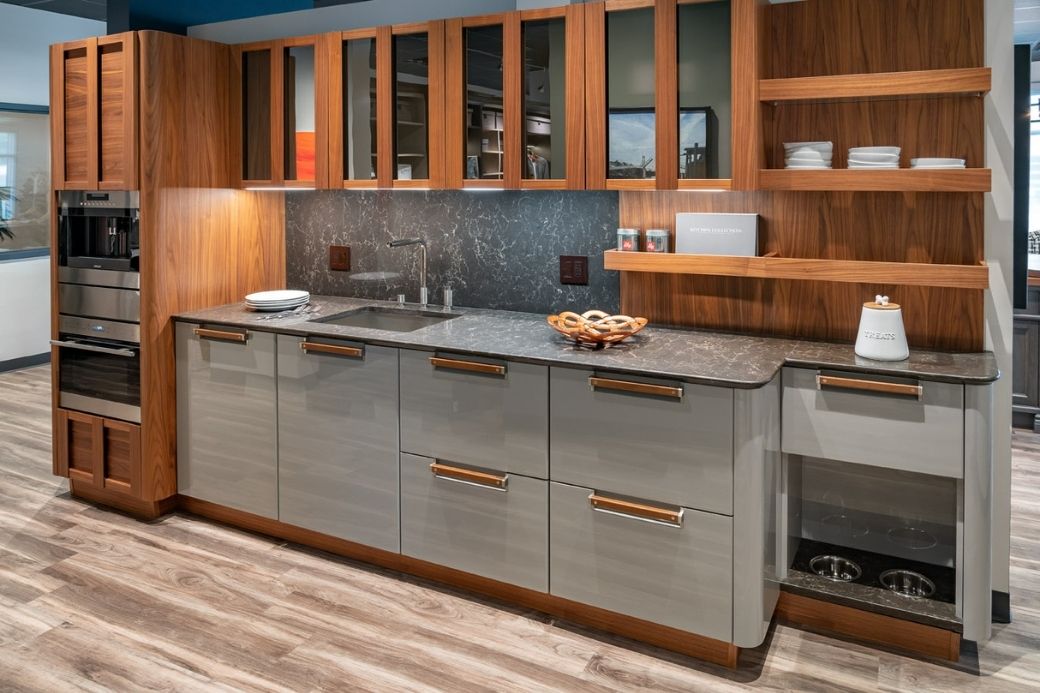 Deep wooden tones harmonize with light marble grays in this kitchen showroom sample by Interiology. It even features a hidden place for a furry family member to enjoy meals!
And when it comes to Interiology's design services, the team works in a variety of styles, with projects spanning across the U.S. "We don't have one aesthetic that we push. Instead, we expand on the individuality of our clients, whether they're drawn to traditional or modern interiors. Our main goal is to educate our clients about what's out there, and then we try to push the envelope a bit."
Written by Alyssa Bird
See more of the Interiology design experience in their showroom or browse our directory for more innovating architecture and design.