November 14, 2017 | carly stewart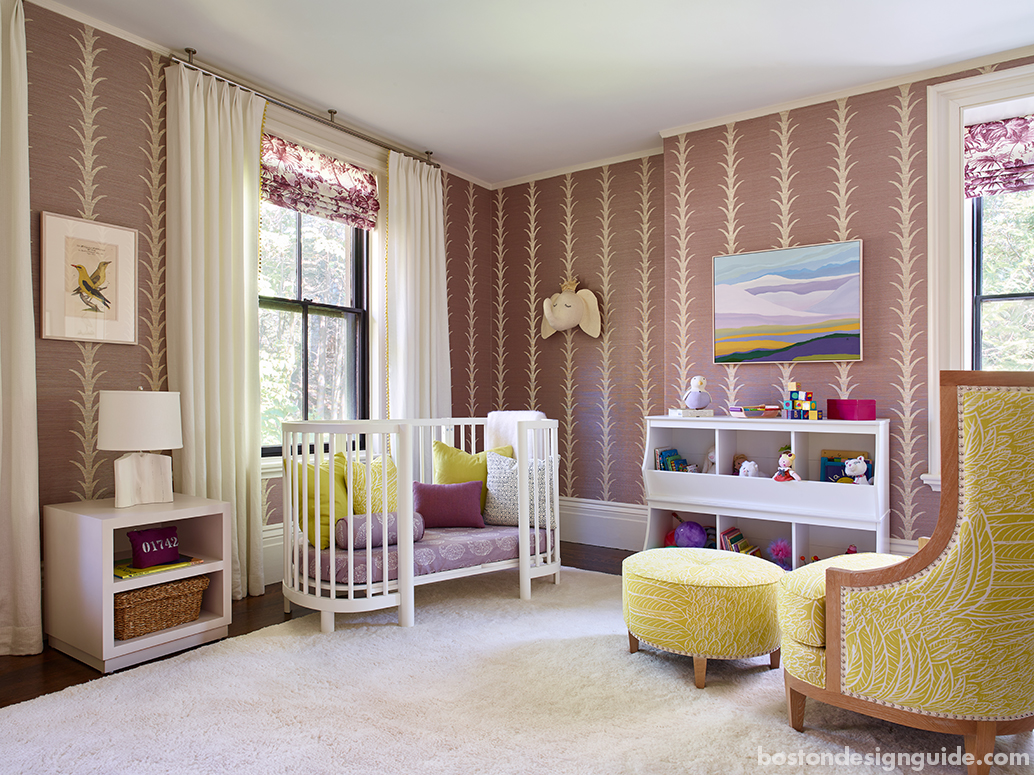 Barbara Elza Hirsch of Elza B. Design created a little girl's nursery in the corner bedroom of the Junior League of Boston's 2017 Designer Show House. She was inspired to create a whimsical yet refined design for the location of the home that offers a quiet and inviting space. Hirsch, a mother of two boys, relished the great opportunity to design a girl's room.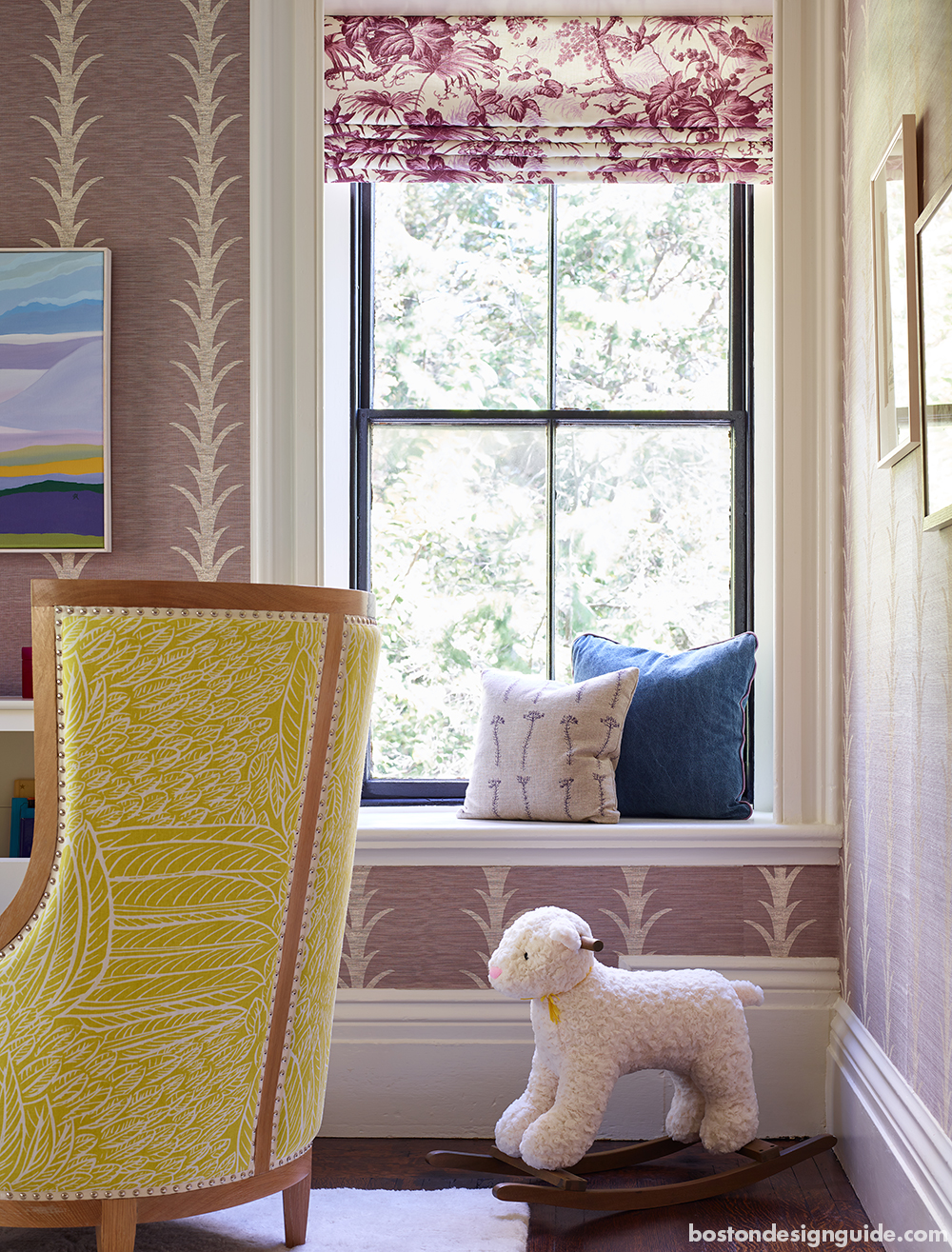 Lilacs and citron color set the mood and are toned down by whites and pops of navy. Hirsch incorporates florals, geometrics, solids and textures along with lots of pillows scattererd throughout. Contrast is the key. Interesting and multigenerational fabrics and furniture downplay cuteness overload and create a soothing yet sophisticated color scheme that can be enjoyed for years to come!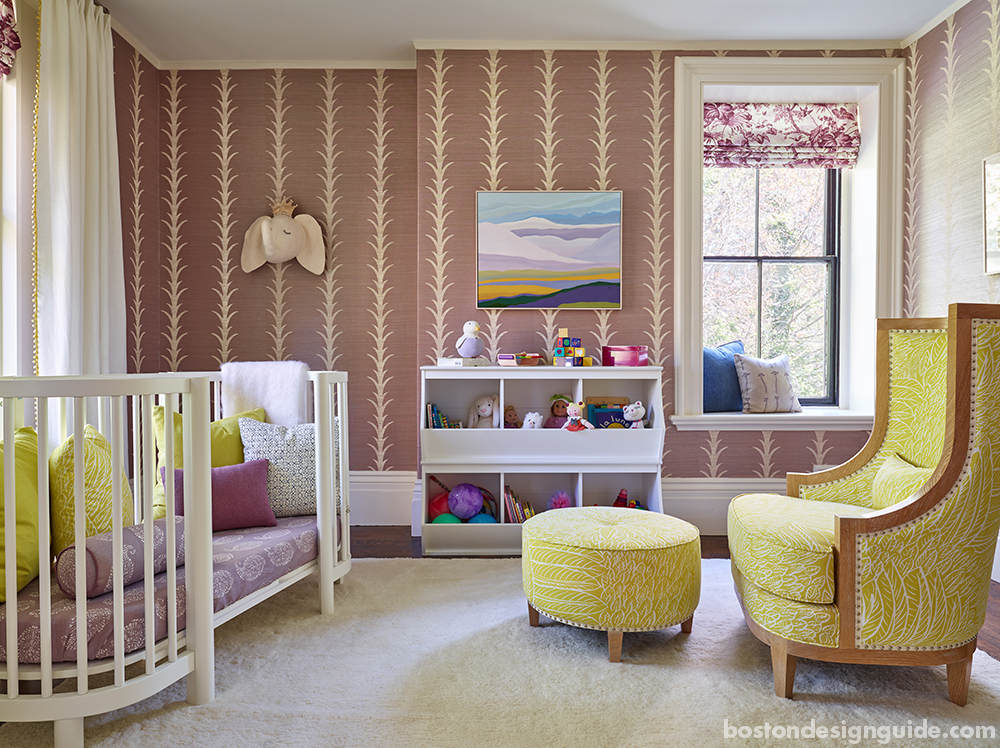 Dowel Furniture's Royale Wing Chair and Casablanca Ottoman from the Bois et Couleur collection designed by Hirsch, act as a focal point while dressed in a zesty yellow feather pattern. These pieces are inviting seating for both parents and child.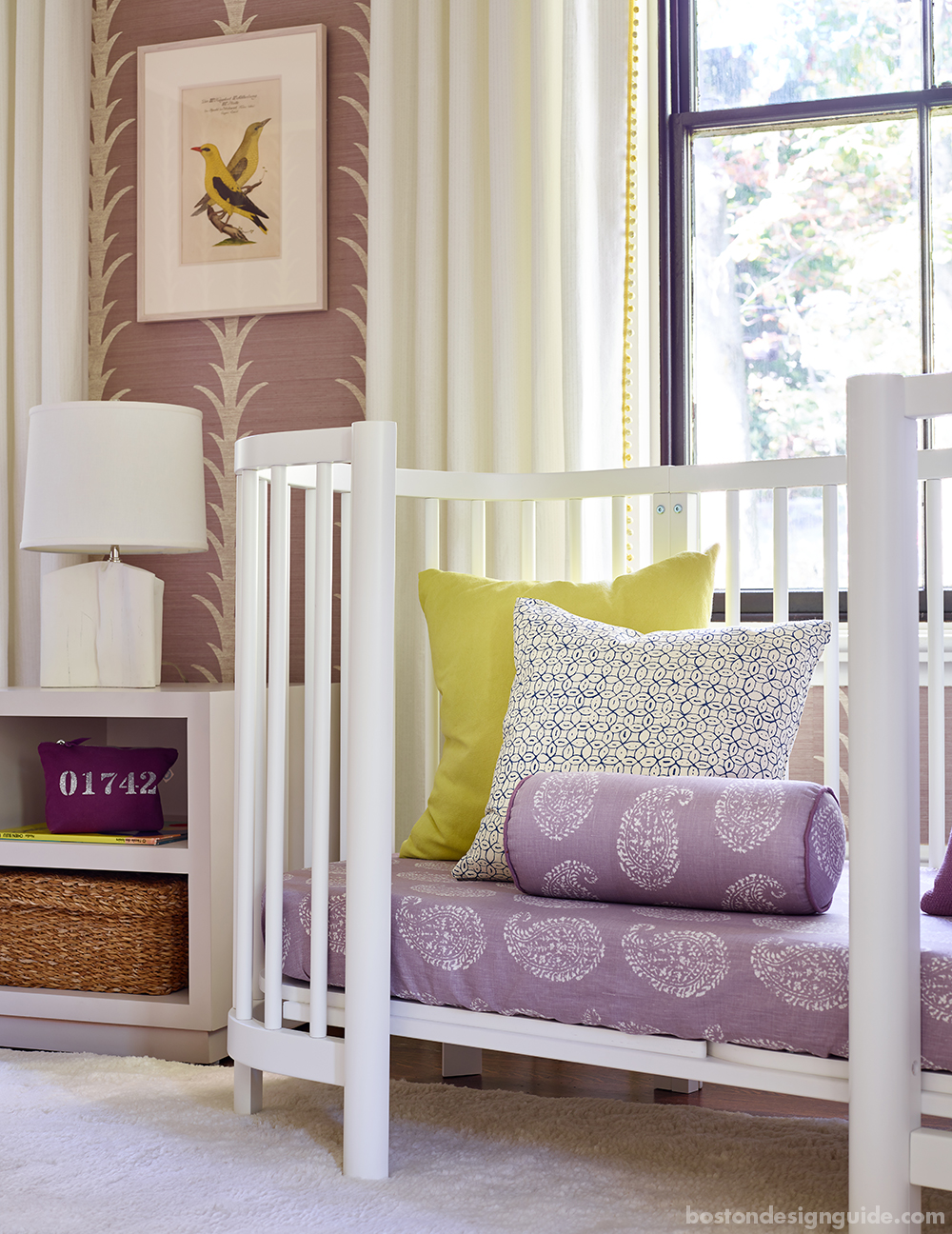 The plush Merino wool rug grounds the room and creates a luxuriously soft ground for the child, and the oval crib adds some sensuous lines to the room's angles.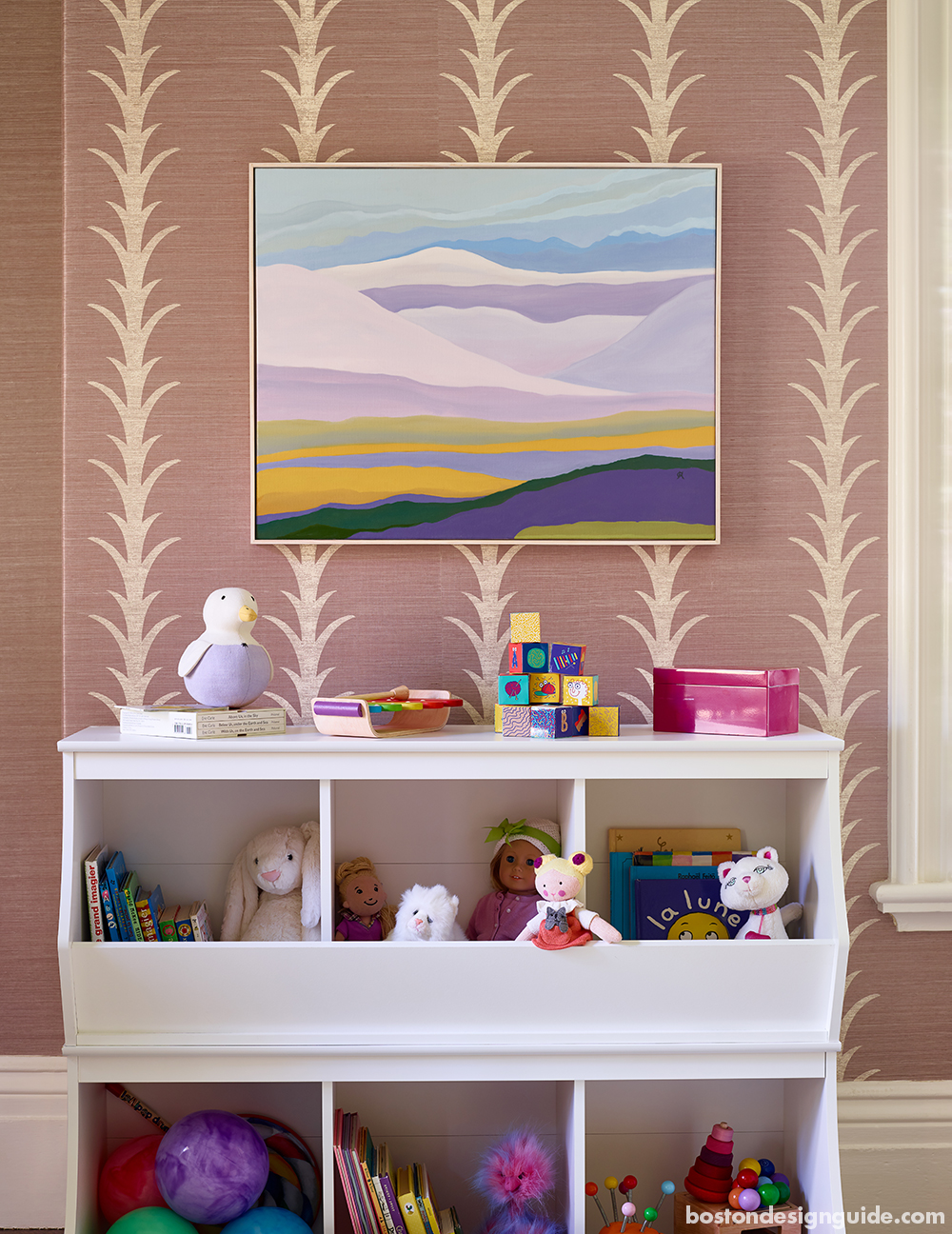 The leaf patterned grasscloth wallpaper offers whimsy and brings the eye up while gauzy window treatments juxtaposed with the grape and lilac colored roman shades create a layered, cozy space.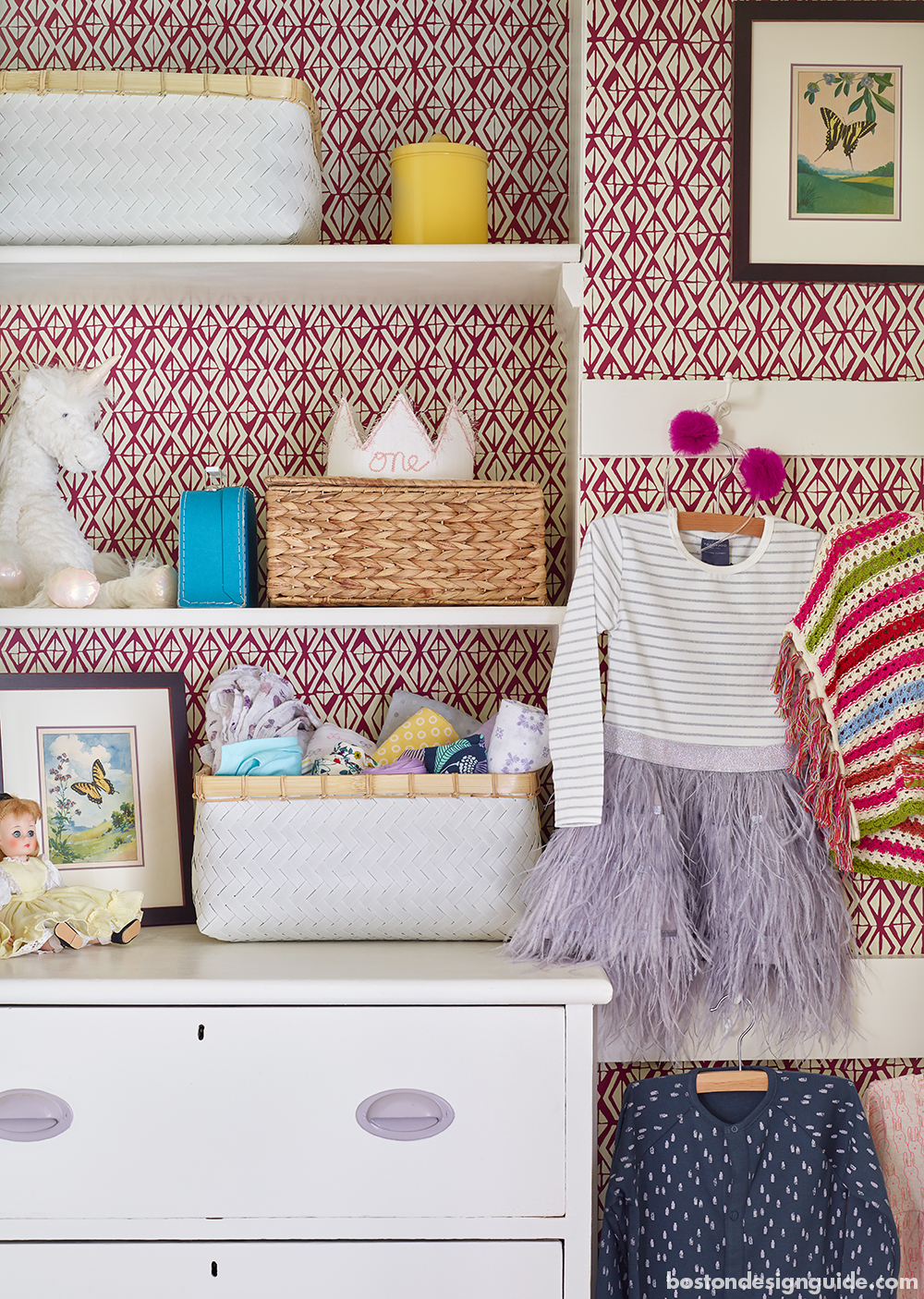 We can't forget the mini walk-in closet that holds its own peppy design with geometric patterned wall paper and built-in shelves and drawers. A girls' dream!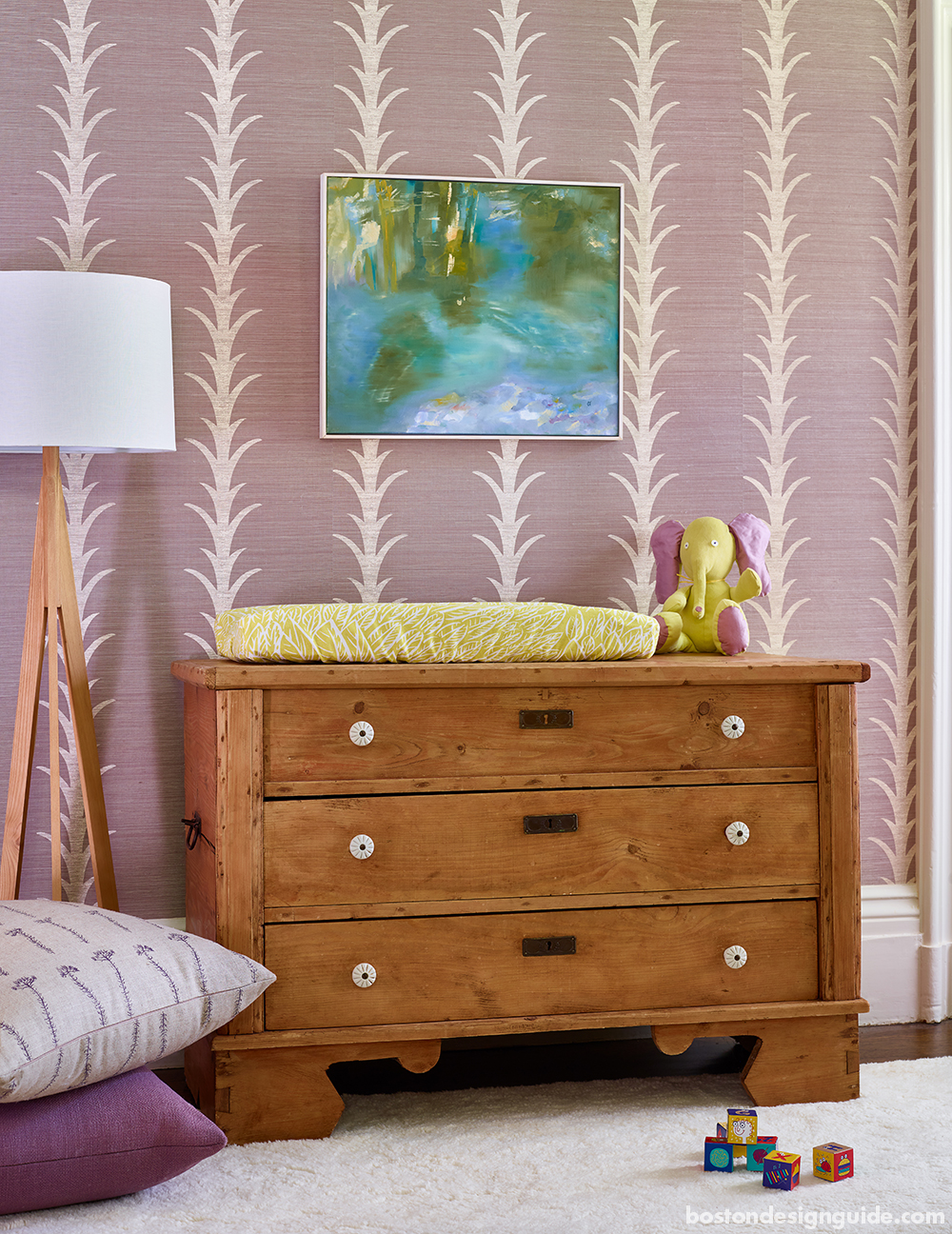 Photos: Jared Kuzia
Paint: Sherwin Williams
Painting and Construction: Jose Paredes of Right Track Painting services
Drapery and Pillow Construction: Makkas Drapery
Wallpaper Installation: Dave Jenness
Bedroom Wallpaper and Chair and ottoman fabrics: Schumacher
Closet Wallpaper: Studio 534
Wallpaper Installation: Dave Jenness
Floor Finishing: Signature Renovations
Electric: Gallant Electric
End table, ottoman and armchair: Bois et Couleur Collection, designed by Barbara Elza Hirsch for Dowel Furniture
Fabrics and Trimmings: Osbourne & Little, Quadrille, Romo, Schumacher, Studio 534 and The Martin Group
Merino wool rug: The Rug Company
Fabric protection: MWI Fibershield
Dresser: Water and Main
Children's Clothing and Toys: Fritz and Gigi
Mohair Throw: Comina in Concord
Oil Paintings: artist Ghetta Hirsch
Framing and butterfly Artwork: Powers Gallery
See our 5 Takeaways from the Junior League of Boston's 2017 Designer Show House