April 22, 2015 | Sandy Giardi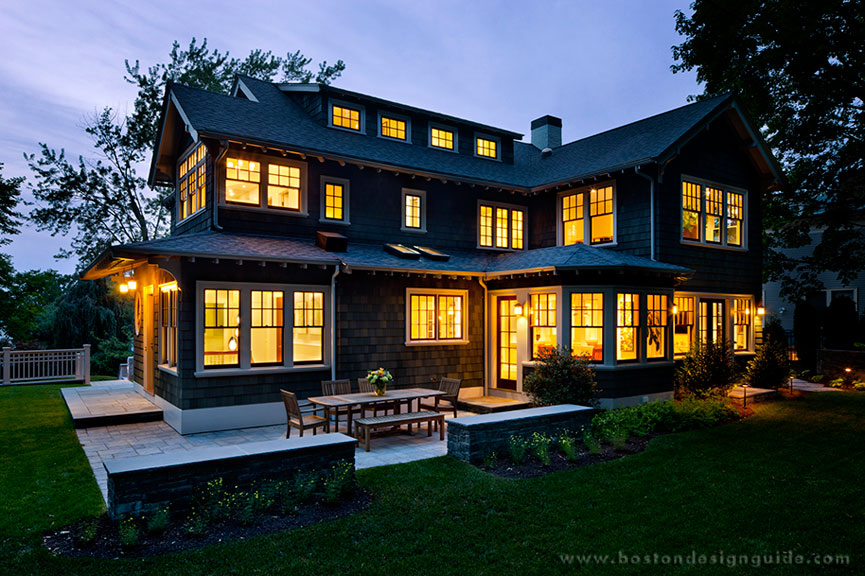 Shornecliffe Residence, recipient of a Gold LEED-H accreditation, LDa Architecture & Interiors: Treffle LaFleche, AIA, LEED AP, T. Andrew Hinterman, AIA, LEED AP Homes, Julieta Cordeiro, LEED AP BD + C; Builder: Pioneer Construction; Landscape Architect: Sudbury Design Group; Green Consultants: Conservation Services Group; Photo by Greg Premru Photography
Thanks to forward-thinking architecture and construction firms, energy-efficient custom homes prize aesthetics and the environment.
More and more homeowners are "going green" and incorporating ecologically-sound designs and renewable energy sources in their home build plans. Sustainability can be integrated into architectural styles of all kinds, without compromising a home's high-wattage appearance.
With 15 properties in various stages of the LEED certification process—including the Boston area's first gut rehab to earn LEED Home accreditation—Cambridge's LDa Architecture & Interiors is leading the charge: "Our goal is for each home to be certified," maintains principal Douglas Dick, AIA, LEED AP BD + C.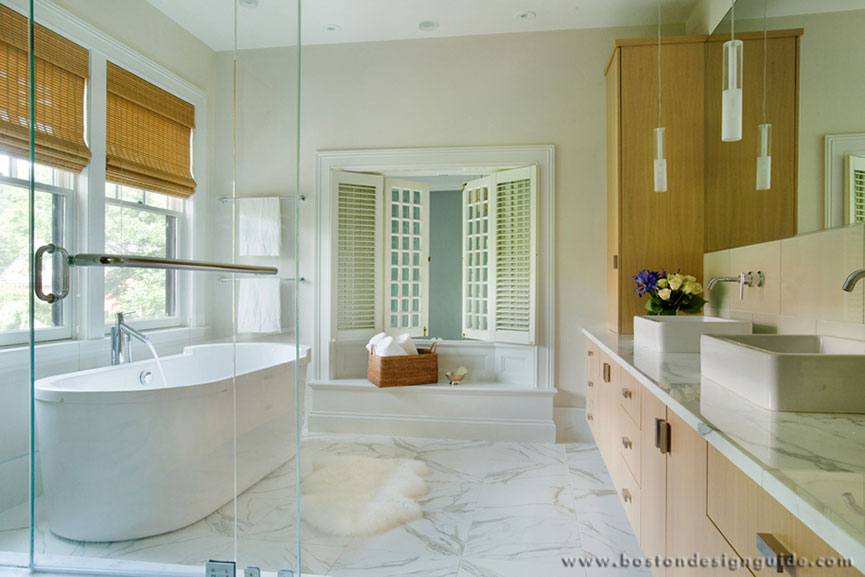 LDa Architecture & Interiors: Treffle LaFleche, AIA, Stephanie Momson; Builder: King Builders; Photo by Eric Roth Photography
While, of course, what's on the boards represents the client's visions and goals, LDa Architecture & Interiors recommends going for LEED accreditation, because, in essence, you're "verifying performance." Dick explains, "When you're not going for certification and your feet aren't being held to the fire," corners can be cut. The firm doesn't shy away from the "hard work that's involved" to find—and implement—complex solutions.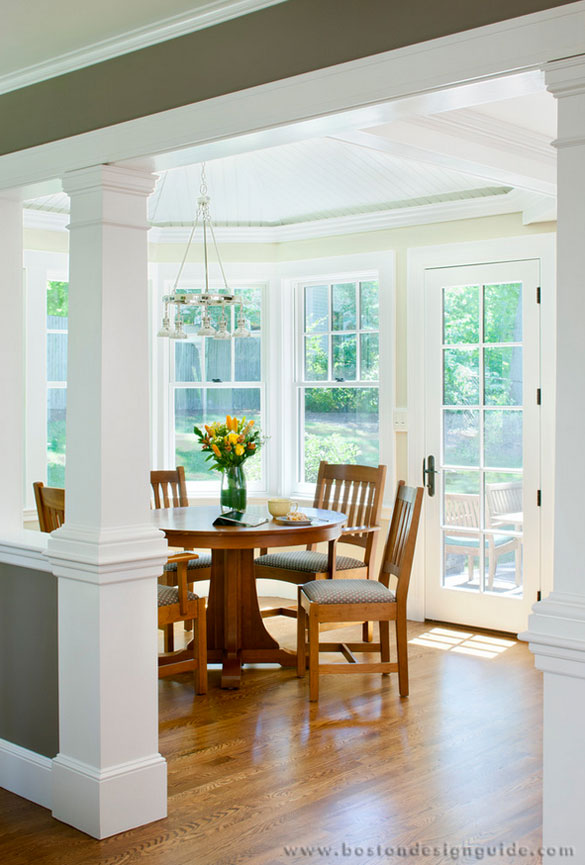 LDa Architecture & Interiors took a sustainable approach to the renovation of Shornecliffe, a 1914 Arts & Crafts style home, keeping the past and future front-of-mind when designing the new underground garage; living, green roof; mechanical systems and landscaping.
A home built to LEED specifications is a "tight" home, built to exacting specifications and an investment that pays for itself through the years. It also provides a healthier haven for homeowners. The firm's Riverfront Farmhouse in Concord is a shining example, having achieved a Silver LEED for Homes rating.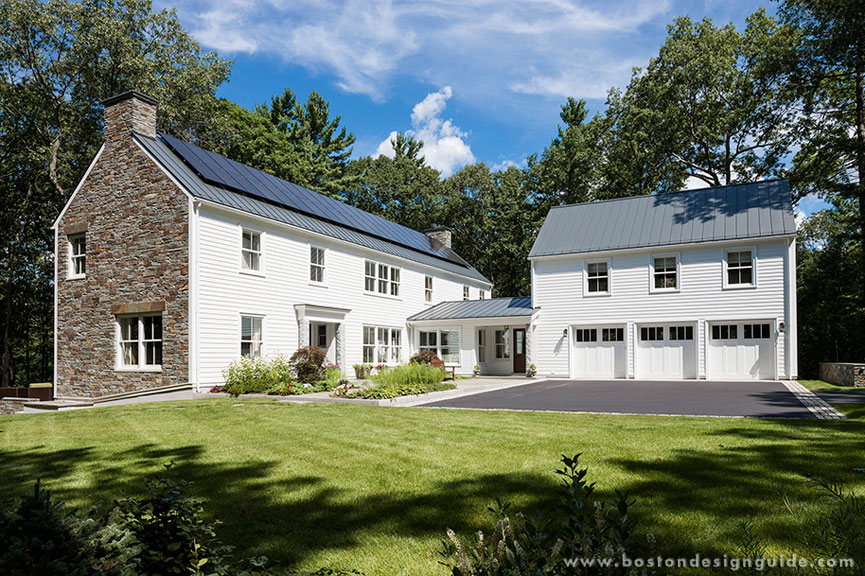 Riverfront Farmhouse, LDa Architecture & Interiors: Douglas Dick, AIA LEED AP BD + C, Kyle Sheffield, AIA LEED AP BD + C, John Day, Associate AIA, Allied Member; Builder: Baypoint Builders, Inc.; Landscape Architect: Site Creative Landscape Architecture; Green Consultant: Conservation Services Group; Photo by Greg Premru Photography
The homeowners of this picturesque riverside home that stands tall among the trees were "keenly interested in how much energy [their home] used and how it was using it." An "electric family," explains Dick—right down to their car—this home achieved a HERS rating of 11, nearly net-zero energy use.
The home boasts a "highly efficient building envelope" and sustainable features including insulated concrete forms for the foundation, structural insulated panels (SIPs) for walls, a geothermal HVAC system, solar panels and a landscape design rife with native plantings, specially-mixed grass that requires less watering and a state-of-the-art irrigation system.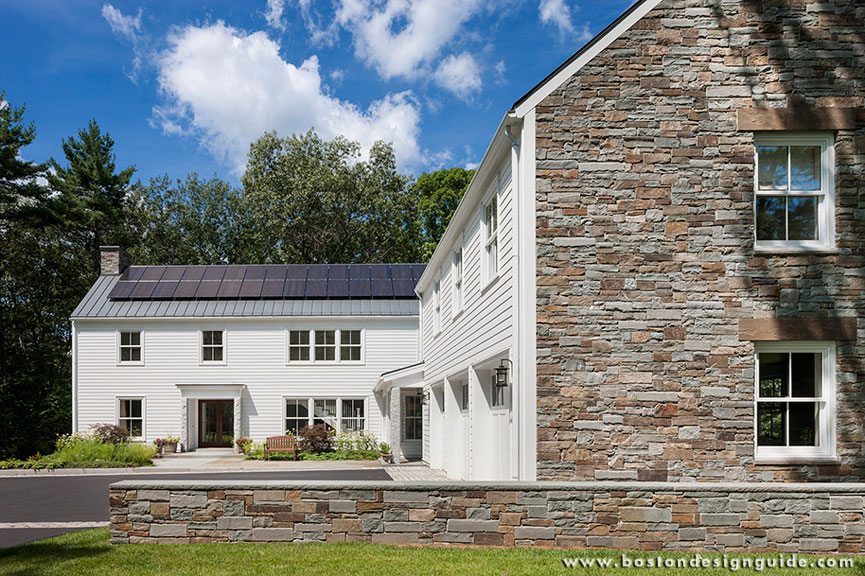 Riverfront Farmhouse, Photo by Greg Premru Photography
One of the most exciting components of this home, however, maintains Dick, is the German-made, stand-alone heat/recovery/ventilation (HRV) system that "operates independently of the hearing and cooling system" at a whisper and keeps fresh, filtered air flowing continuously throughout the residence.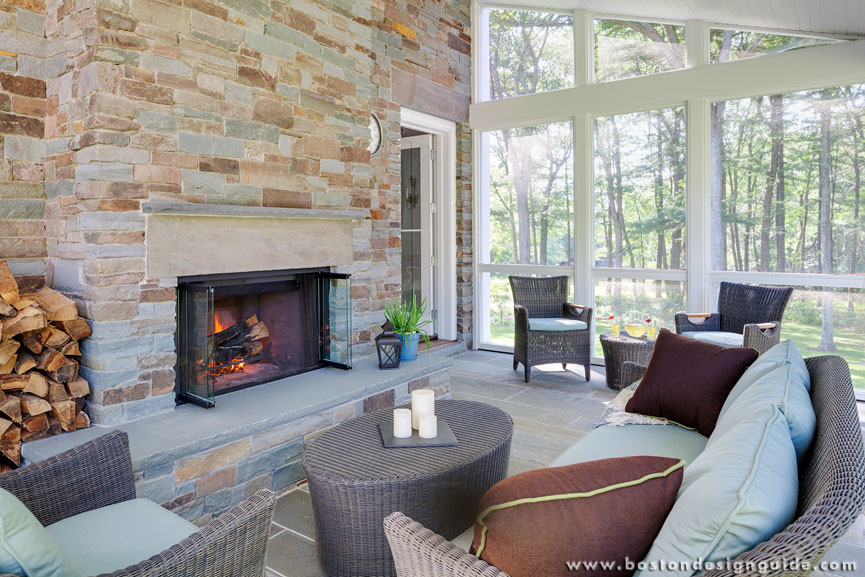 Riverfront Farmhouse, Photo by Greg Premru Photography
In keeping with LEED guidelines, not to mention clearly befitting the rustic home's woodsy vantage, the farmhouse's building materials were sustainably sourced—with stone and clapboard hailing from Pennsylvania and New Hampshire, framing lumber from an FSC–certified forest in Maine, windows from Quebec and local flooring, including Massachusetts oak.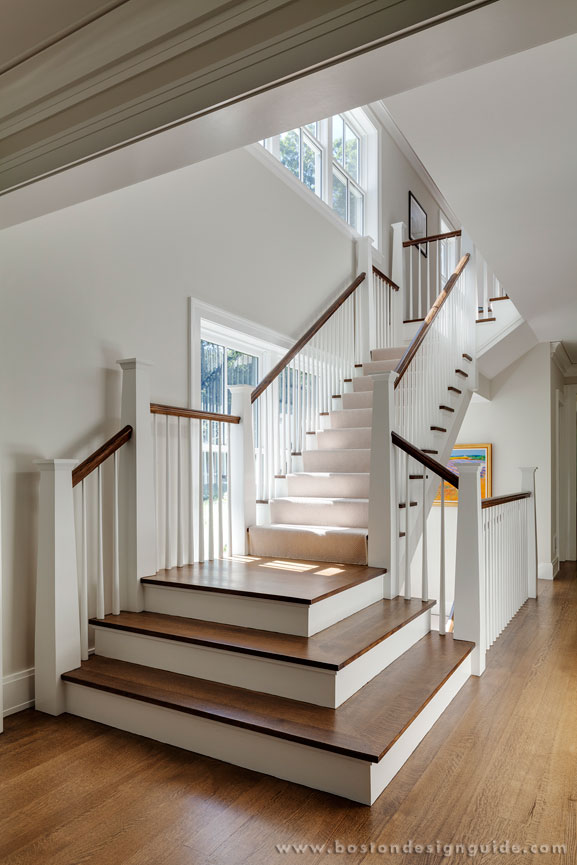 Riverfront Farmhouse, Photo by Greg Premru Photography
Inviting in the sun, or daylighting, was also key, resulting in cheerful, sun-washed spaces throughout—from the entryways and stairwells to the kitchen and master bath. LED lighting picks up where daylight leaves off; in fact, the entire home is illuminated by LED lighting, which uses just a fraction of the energy, lasts for a decade and produces a lovely light quality. LED lighting is considerably better than it was even two years ago, offers Dick: "the technology is there."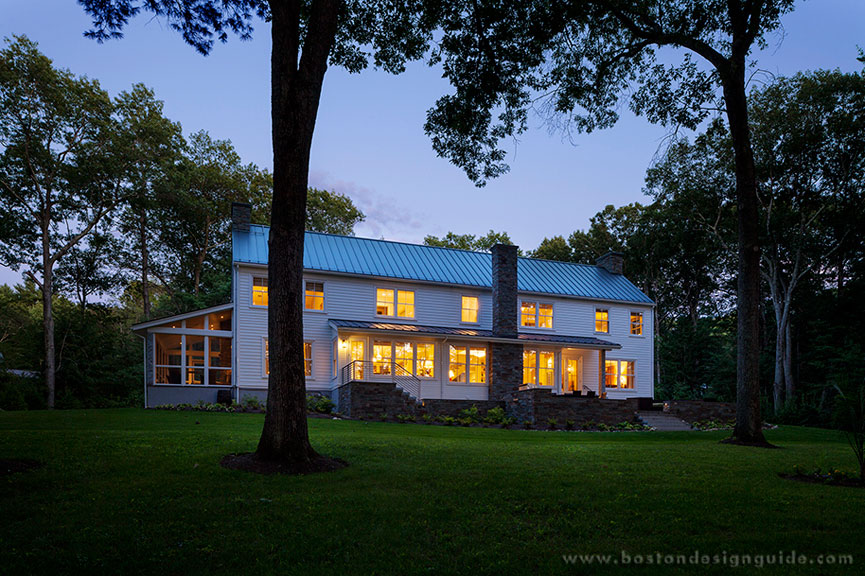 Riverfront Farmhouse, Photo by Greg Premru Photography
LDa Architecture & Interiors is a "big fan of solar electric panels," says Dick, and Eric Lorenz, NABCEP, a certified installer for the solar business of S+H Construction, concurs. More and more clients, including "younger generations," says Lorenz, are considering green building practices and embracing this renewable energy source.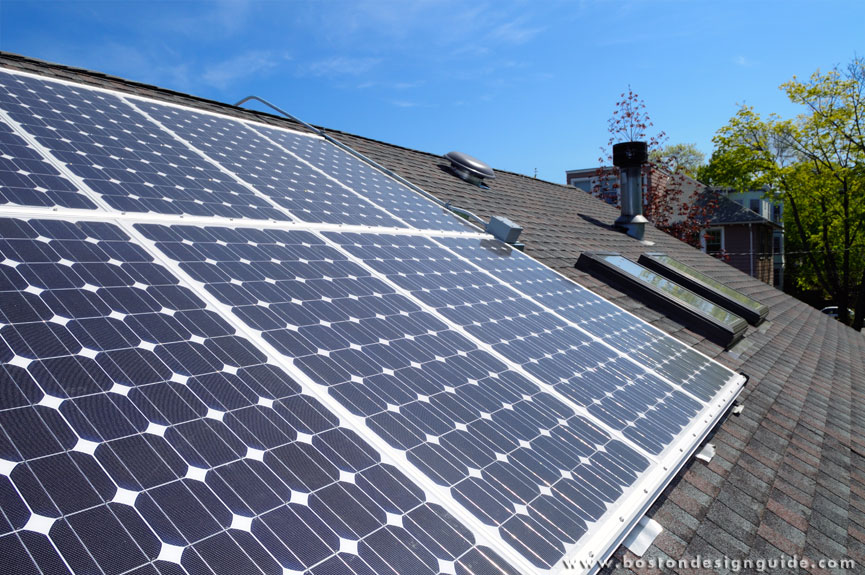 S+H Construction, Photo by Eric Lorenz
The exposure in the Northeast lends itself to solar, which is one of many reasons why S+H recommends it to clients whose homes—and roofs—are good candidates. At the moment, says Lorenz, 10 to 15 percent of S+H's clients have chosen solar power to help heat their homes, water and even pools. And, as the aesthetics are improving and the costs of panels are declining, one might say that the climate is ripe for it.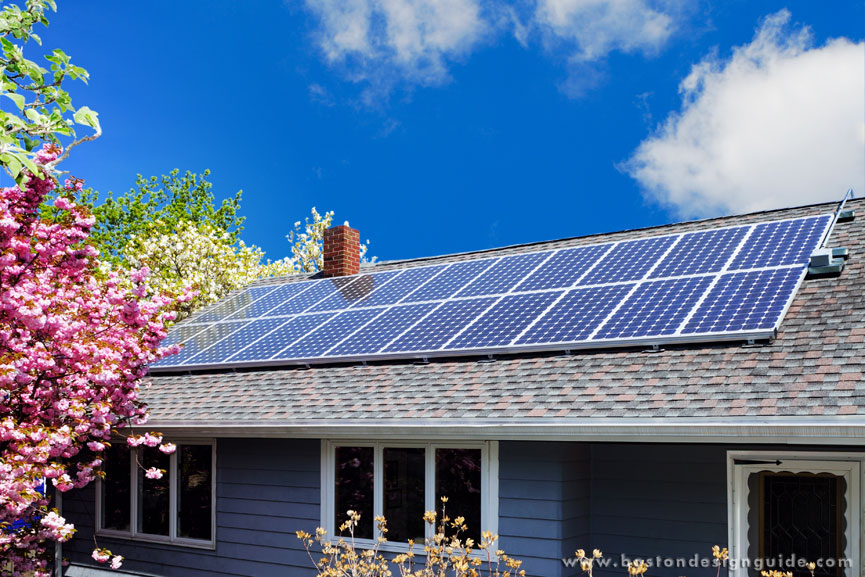 S+H Construction, Photo by Eric Lorenz
"Solar is changing a lot," maintains Lorenz, and he applauds the installers for implementing design plans that are as pleasing to the eye as they are to the environment. Cosmetics are a consideration. In fact, for a second-floor addition currently in process, a "fake solar ray" is part of the design plan to enhance the look of the home's exterior.
While S+H Construction is well-known for its solar division, this green team doesn't stop there; it is also a proponent of geothermal systems, energy-efficient sealing and insulation, rainwater harvesting, as well as refitting mechanical systems that are historically "energy hogs."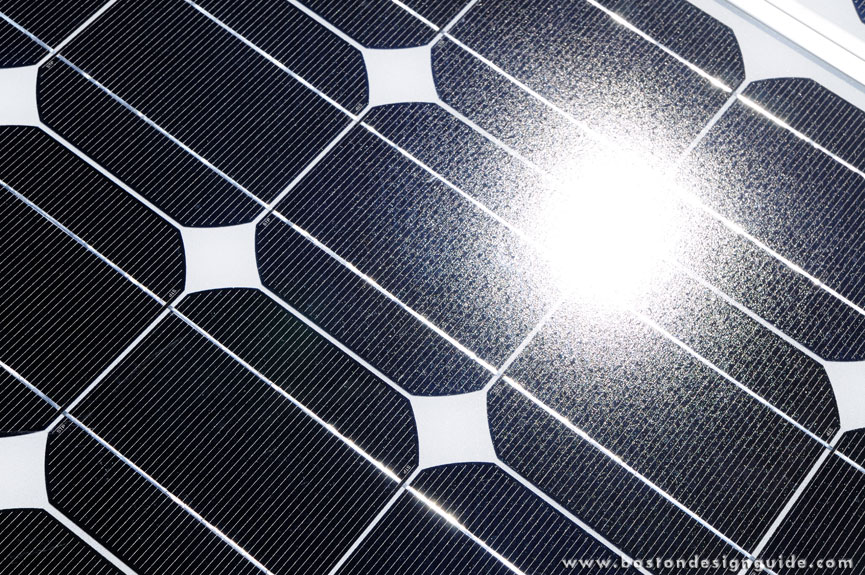 Solar panels close up. S+H Construction, Photo by Eric Lorenz
Happily, the state of Massachusetts and the nation are rewarding this "here comes the sun" approach and other earth-friendly build and revamp plans by offering state and federal incentives that defray the upfront investment considerably. Utilizing renewable systems is a smart move, says Lorenz, as homeowners are "hedging their bets for the long term, and keeping their energy costs static" as utility costs climb.
Both Lorenz and Dick agree that one of the most exciting trends in green home design now is the technology of energy control systems. Smart control and mobile device integration—thermostats like Nest, created by Apple—are, says Lorenz, "creating a relationship with the occupants of the home" and the energy output. As residents become more aware of how their home is using energy, they can "modify their behavior," says Dick, taking an active role in minimizing their footprint—a beautiful thing indeed.
Written by Sandy Giardi