December 16, 2019 | Sandy Giardi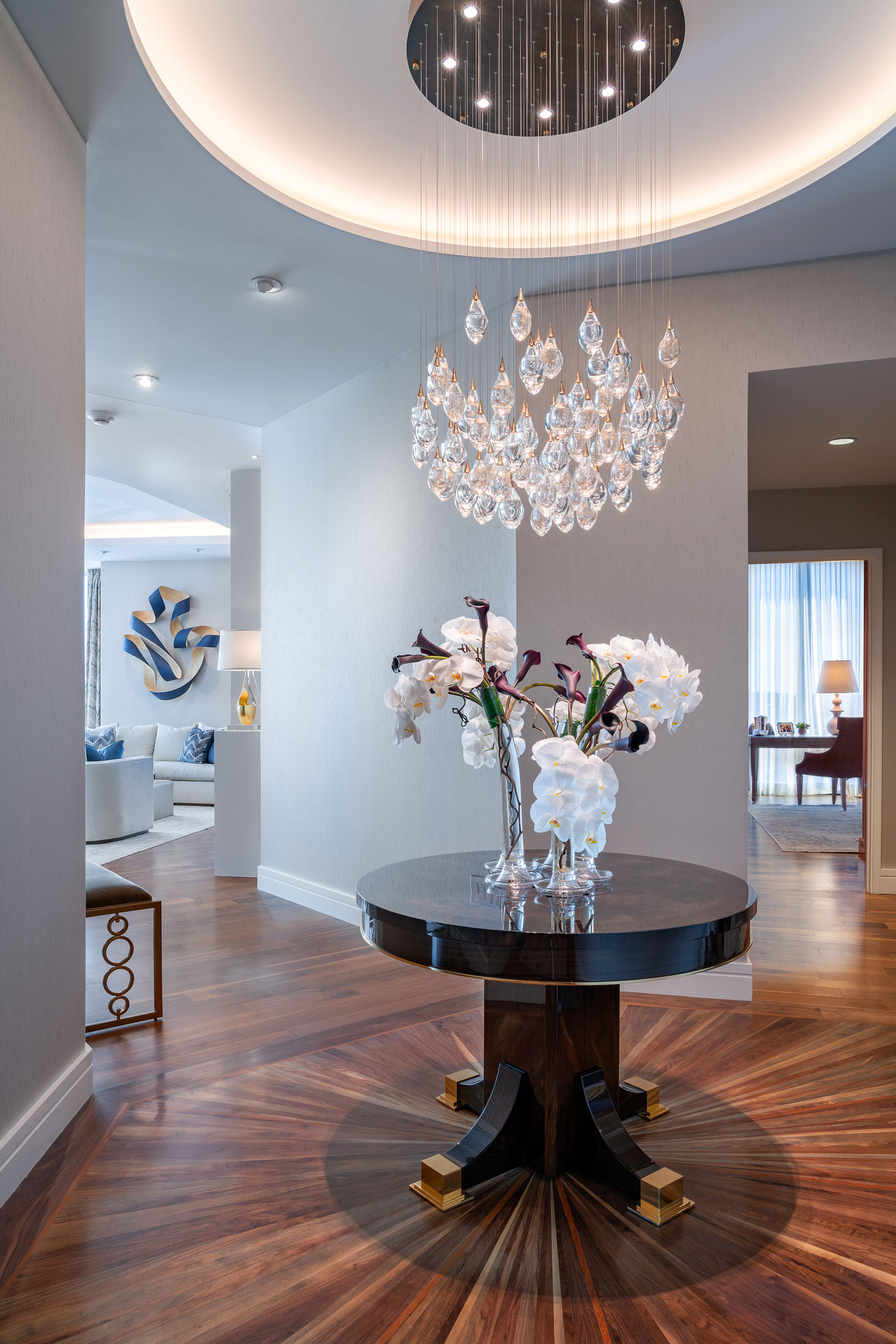 A dynamic unit in One Dalton, Boston's chicest new address, and its antithesis—a New Hampshire lodge where time stands still—reveal the artistic range and talent of interior designer Michael Carter.
At Carter & Company, "our job is to create environment," says Principal Michael Carter slowly, in his honeyed North Carolina drawl. It goes beyond imagining beautiful spaces with pretty things. It's more about conjuring a feeling and a palpable sense of place.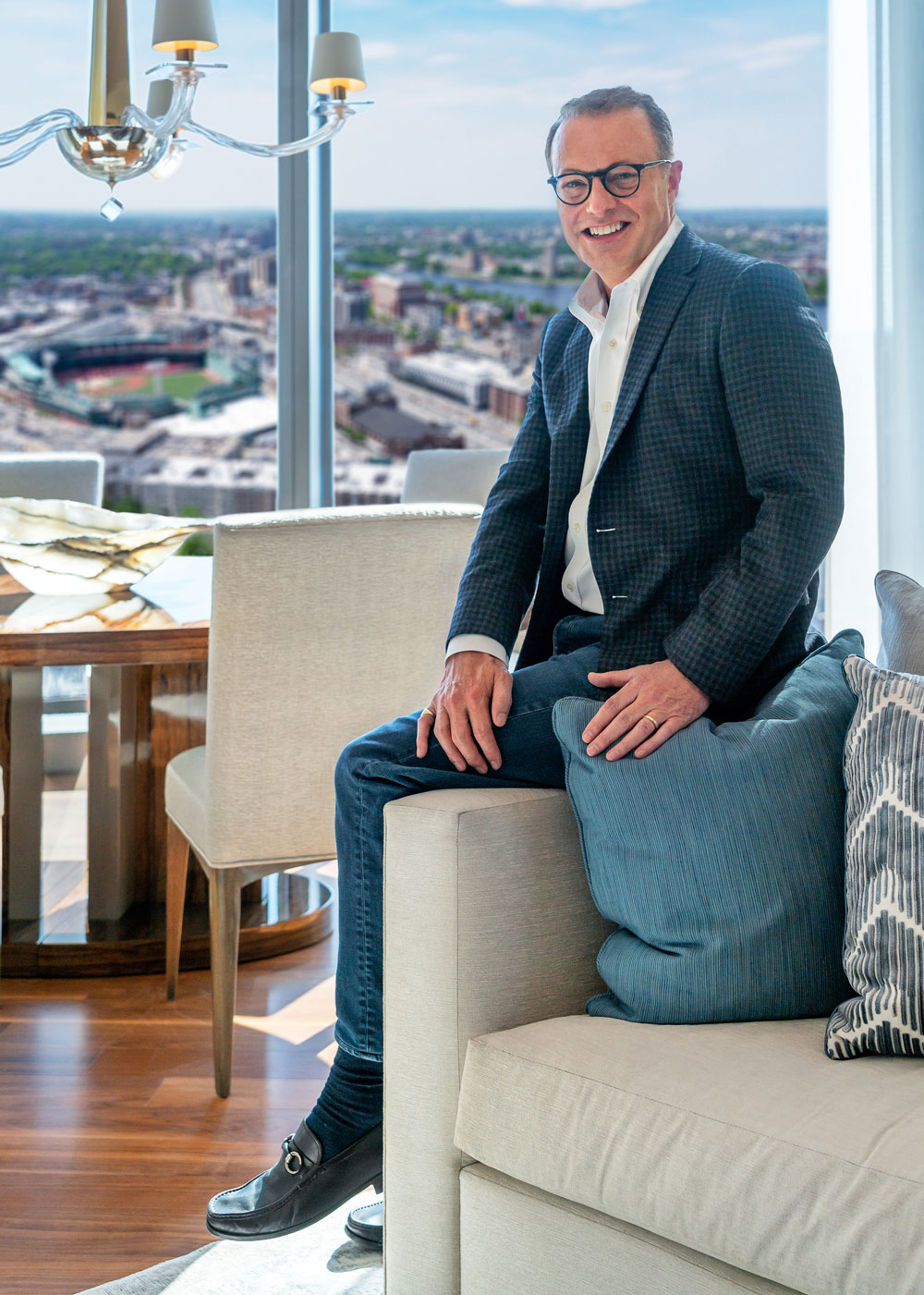 Whether recreating a turn-of-the-century, "horse and buggy" era camp on a picturesque mountaintop in New Hampshire for himself and his husband, David Rousseau, or injecting character within the sparkling, sculptural all-glass canvas that is One Dalton, Carter's designs, above all things, are meant to resonate with the client. It is for this reason that Carter and his team can operate—and soar—in two very different universes, conceiving meaningful, soulful living spaces for settings that fall on opposite ends of the interior design spectrum.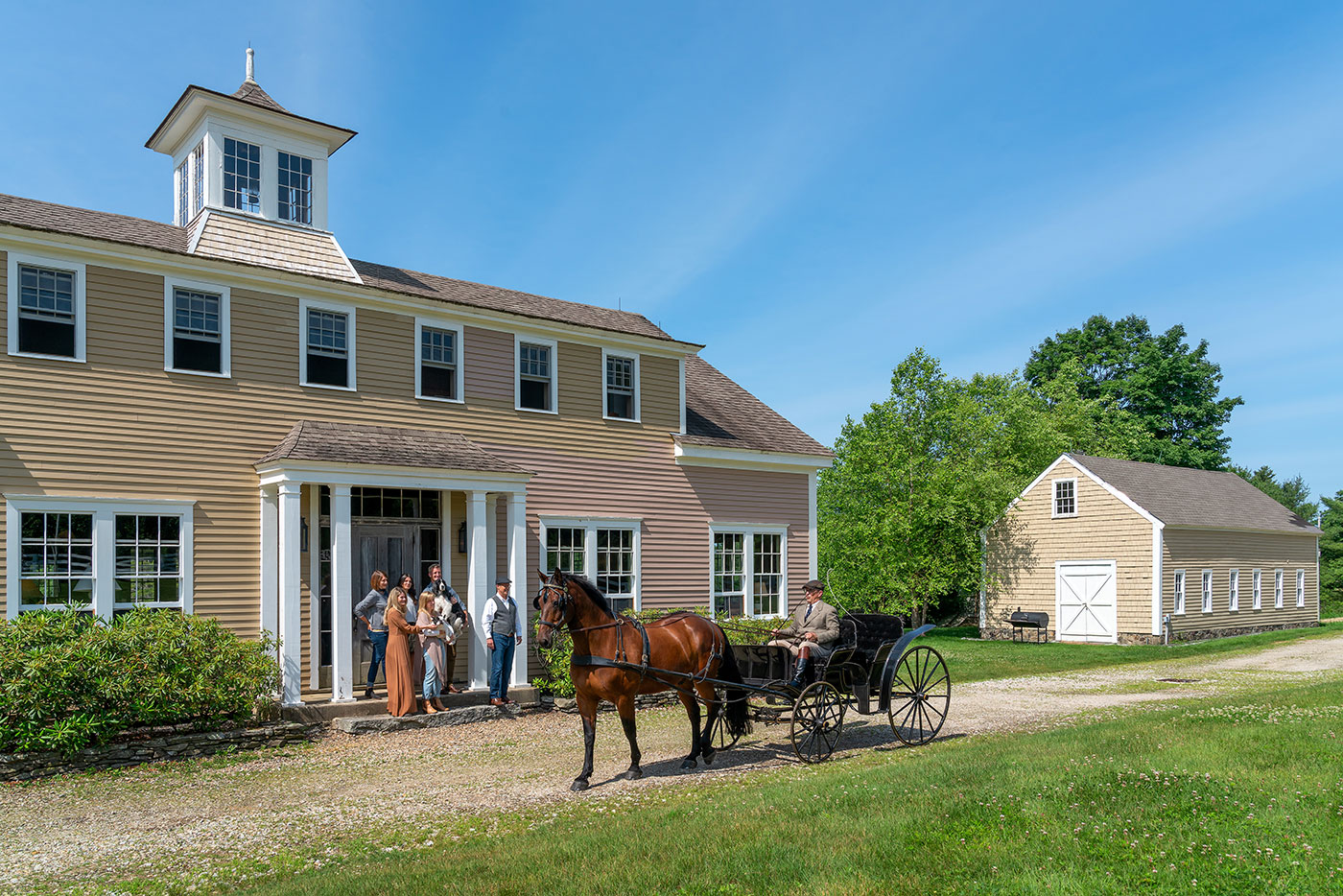 "No one will ever accuse Carter & Company of being a one-trick pony," he says with a certain sense of pride. And though the interior designer's roots are grounded in the traditional, Carter & Company's aesthetic is fluid, receptive and ultimately a reflection of the client. Carter takes cues from personal interests and life stories, and "edits and interprets" the client's opportunity for expression.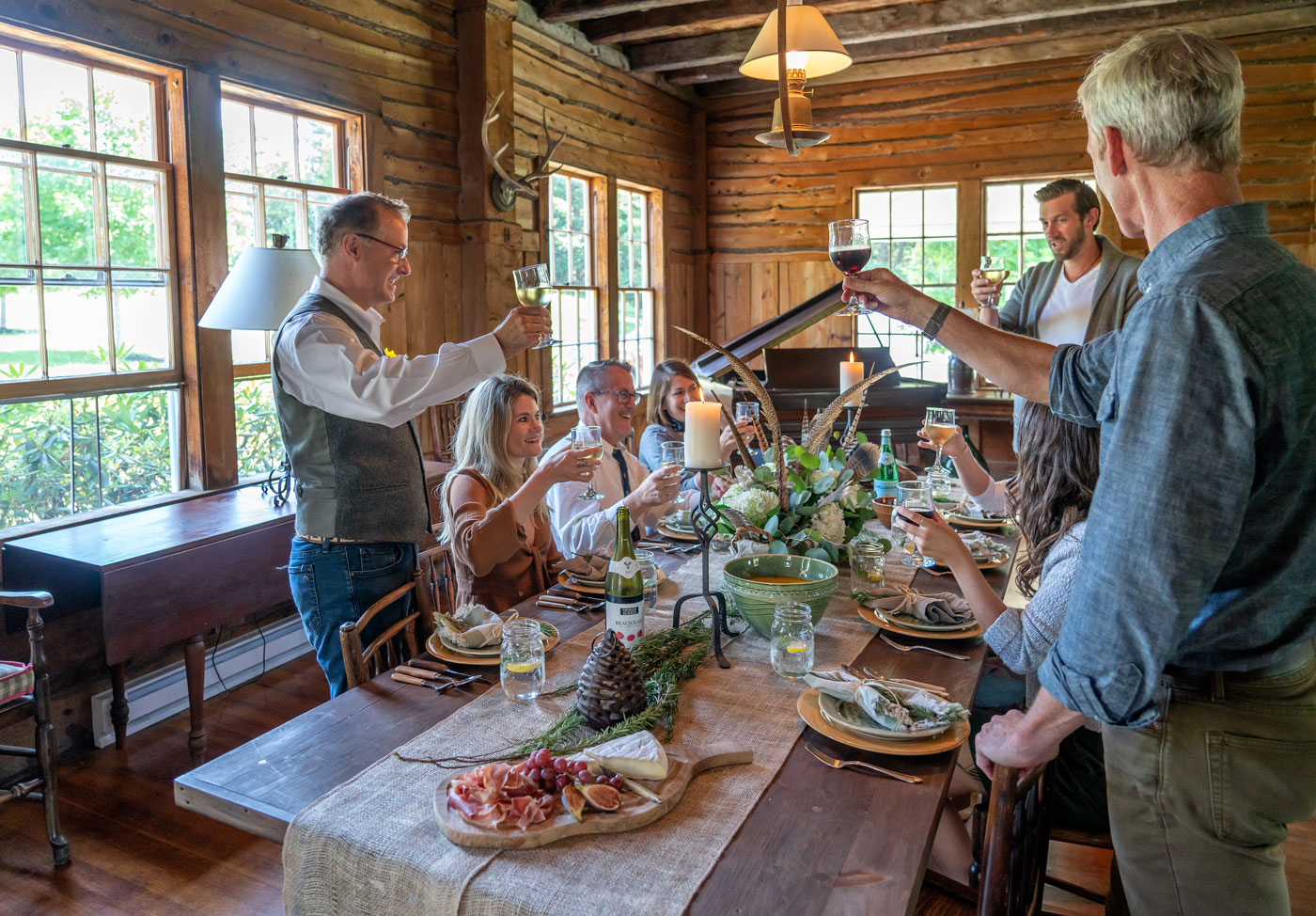 The staff at Carter & Company raise a glass to one another and enjoy a leisurely luncheon in The Lodge.
The Lodge, Carter's country escape that he has lovingly restored since purchasing it in 2001, mirrors facets of his own makeup—his passion for preservation and history, and for antiques—a trait he inherited from a favorite aunt. When he was first introduced to the "wreck of a property," a cluster of lakeside buildings comprising an old summer camp and former "party house" high on a hilltop and far from the prying eyes of the Prohibition, and, later, a summer camp, he was enchanted by its log walls and beams, ironwork and stone fireplace. Says Carter, "I feel like this property has soul." So, after pouring his time and talent into a series of renovations, including reorienting the house to frame water views, and creating a two-story drop in the heart of the home, The Lodge has become the place where he and Rousseau, their dogs, horses, friends and family can disconnect, recharge and entertain.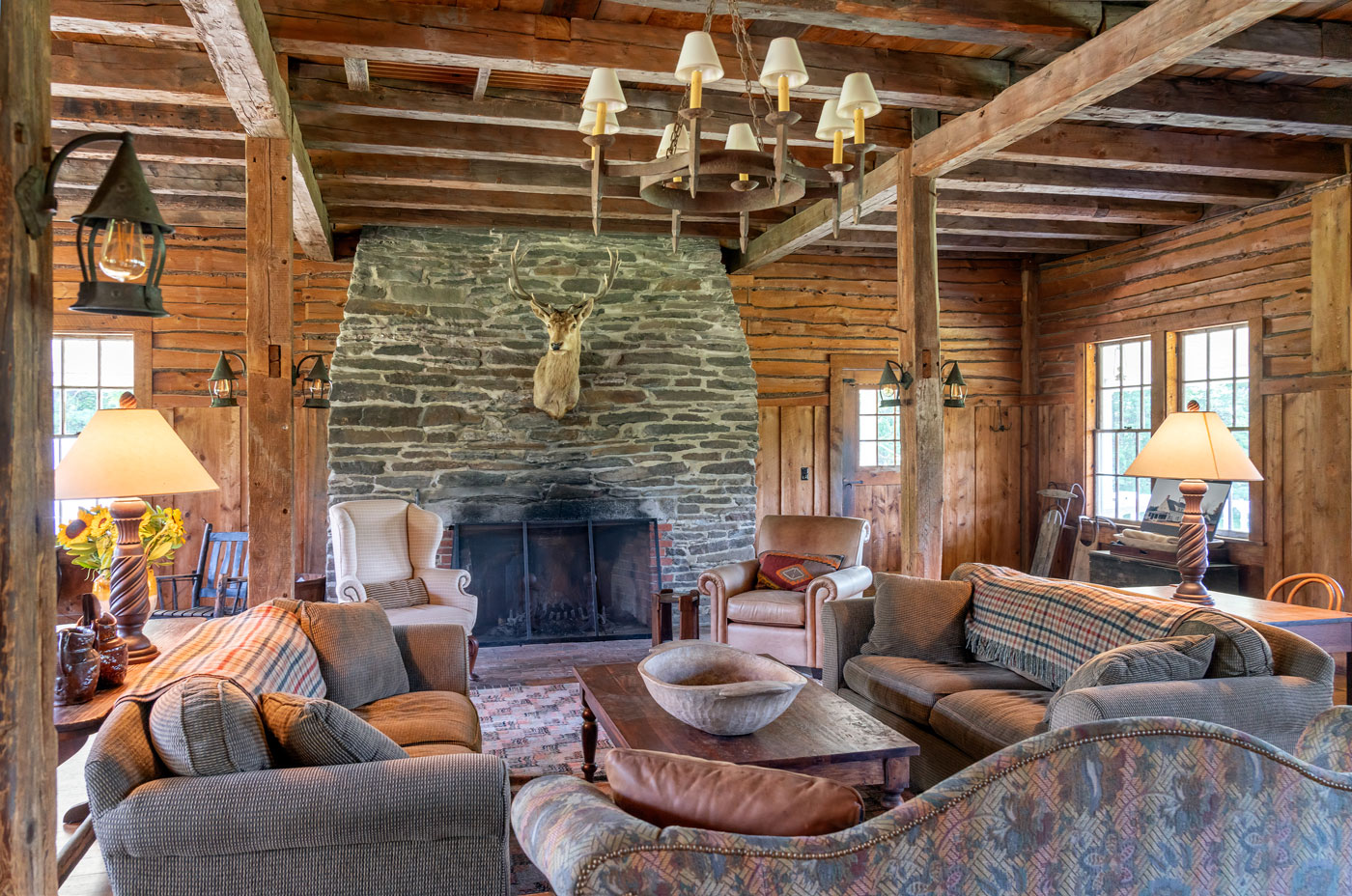 In the main room, above, Carter "didn't touch a thing," he says, due to the planed fir logs (many with the bark still on), and the extraordinary hearth. As he moved beyond that space, there was a lot of artistic freedom.
"What makes this house so special is that it encapsulates a time and place gone by," he offers. For a few years it had no indoor plumbing, and it still has no TV ("we've never missed it," says Carter) or cell-phone service. What it does have is an "intangible," muses Carter; a hard-to-pin-down air "that, once you're there, you can sense and smell."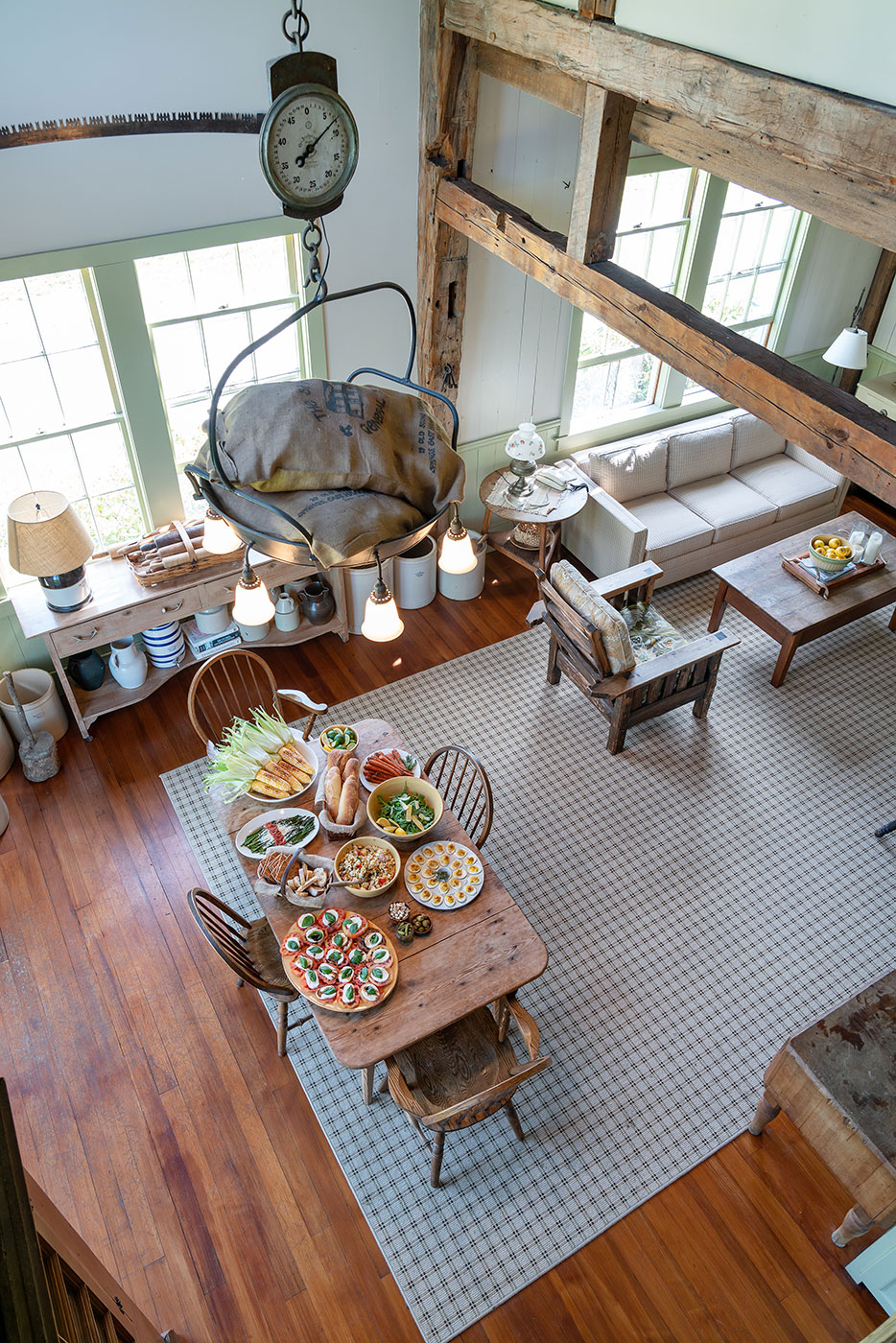 Carter's New Hampshire living space is rife with things that speak to his past and bring him joy—from heirloom antiques to his collections of vintage rolling pins and yellowware (Carter's ardor predates Martha Stewart's).
How, then, did he go about selecting very real items—furnishings, finishes, art, accessories—that further this mystique? "You use the edit button," answers Carter, to accentuate the wood, stone and ironwork that give the structure its charm, and fill the home with one-of-a-kind pieces with meaning—antiques passed down by his aunt, furnishings his uncle crafted by hand, items repurposed from the general stores of yesteryear, finds from the Brimfield Fair. "Items that have a certain soul," says Carter, to say nothing of ingenuity. The designer had great fun "using interesting things in an atypical way." In the kitchen, an old-fashioned meat scale, weighed down by sacks of flour, finds new life as a chandelier, while an old piano leg turned upside down becomes a lamp for the living room.

From horse-drawn carriage rides to taking a moment of pause—and a breath—on the porch, there is a slower pace to life at The Lodge.
The grounds beyond The Lodge's rustic walls are as essential to the spirit of the home as its interiors. As much as the setting is "back to basics," it is also "back to nature," shares Carter. He and his guests enjoy vintage canoe rides, horse-drawn carriage rides and simple pleasures like sitting in one of the many rocking chairs on the oversized porch, sangria in hand. True to its provenance, in a way The Lodge is still a party house, laughs Carter. "It's a ball," he says, "made for celebrating, family reunions, gatherings and holidays."
While The Lodge is about time gone by and savoring moments with friends and family, a unit at One Dalton, Four Seasons Hotel and Private Residences, conceived by Carter & Company for empty nesters, is about daring greatly. "It is bold of them," underscores Carter, his admiration for his clients clear. "This is definitely their big moment," he says. "They have left suburbia to go literally up to the sky," inhabiting an instantly iconic building, which, designed by famed architect Henry N. Cobb, is, in Carter's estimation, the chicest in the city.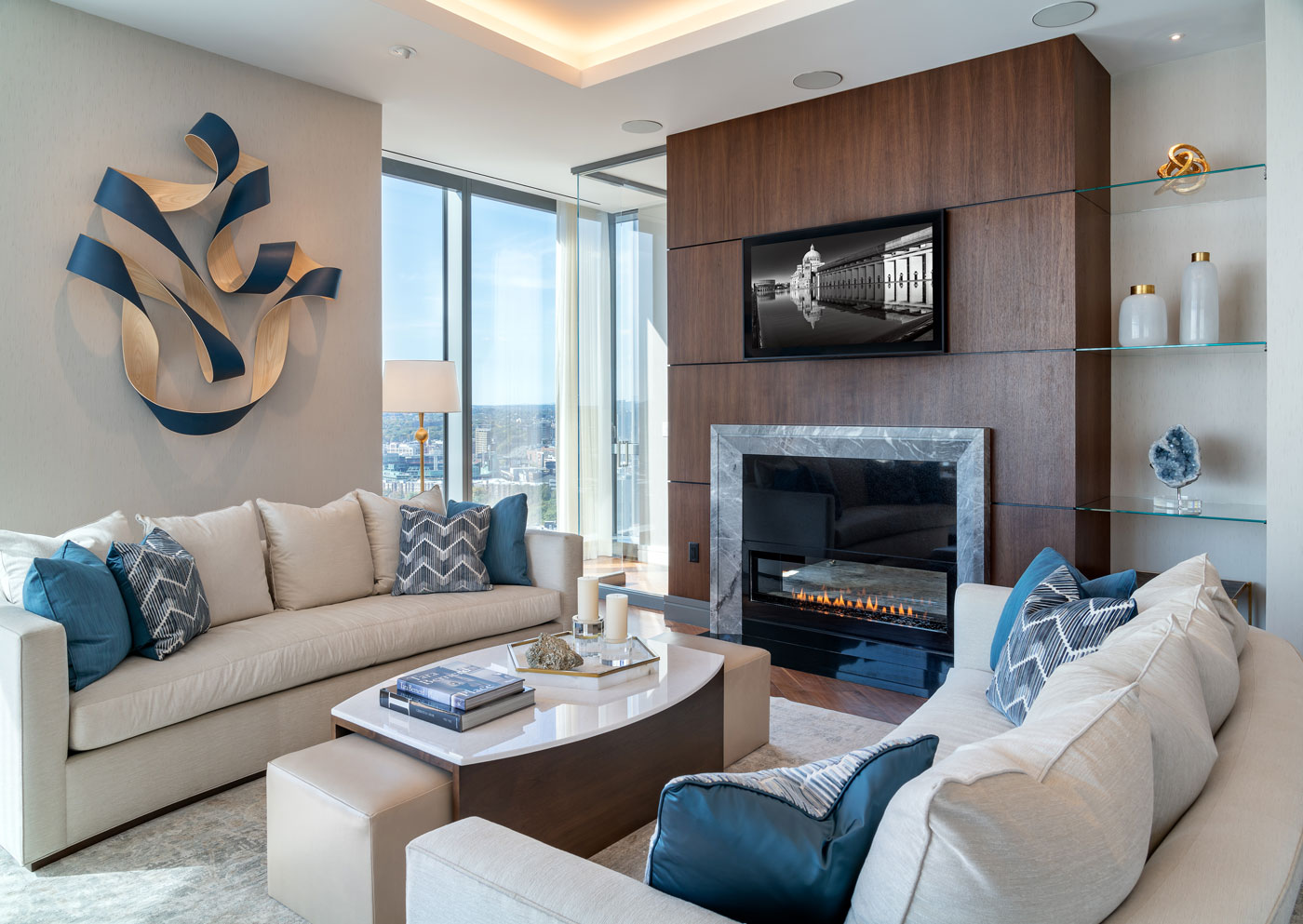 The living room's walnut fireplace wall, built by Saltsman Brenzel and finished by Wayne Towle Master Finishing & Restoration, contrasts with the subdued color palette. Phillip Jeffries wallcoverings, applied by Paul J. Beath, were used throughout the home for texture and to soften the space. The sense of serenity is a foil to the city's vitality; "You really can connect to Boston at this level," says Carter.
"It is a serious fresh start," Carter continues, and a renaissance that is centered on expression over functionality. The owners are bringing precious few possessions from their previous residence, which was traditional in nature; cutting their square footage considerably; and making a sleek and sinuous unit with spectacular views home. The new setting is triangular with rounded ends and walls of curving glass. "It's like being in the nose of an airplane," says Carter. "It is floor to ceiling glass all the way around."
How do you appoint such a leap of faith? If you're Carter, you look to the architecture of the building itself, which is wildly inventive and features "modern and timeless bones," and set out to fully understand the clients and what will resonate with them. As One Dalton is, in essence, "a three-sided piece of sculpture," Carter expanded that concept indoors. "We thought of everything in this whole unit as an expression of sculpture," he explains. With its art, sculpture, color and texture, "it's like being in a personalized art gallery."
The modern art selections, chosen in collaboration with the clients' daughter, who is an art entrepreneur and has the benefit of knowing the clients better than anyone else, give the unit much of the soul Carter was after. "The space is begging—I mean, it won't even work—unless you have wonderful art in it," says Carter, so the team animated the space with modern art from Boston galleries, such as Lanoue Gallery and Beacon Gallery, and included showstopping pieces like Jeremy Holms' infinite wood ribbon installation in the living room and an exuberant turquoise abstract by Aja Johnson in the office above.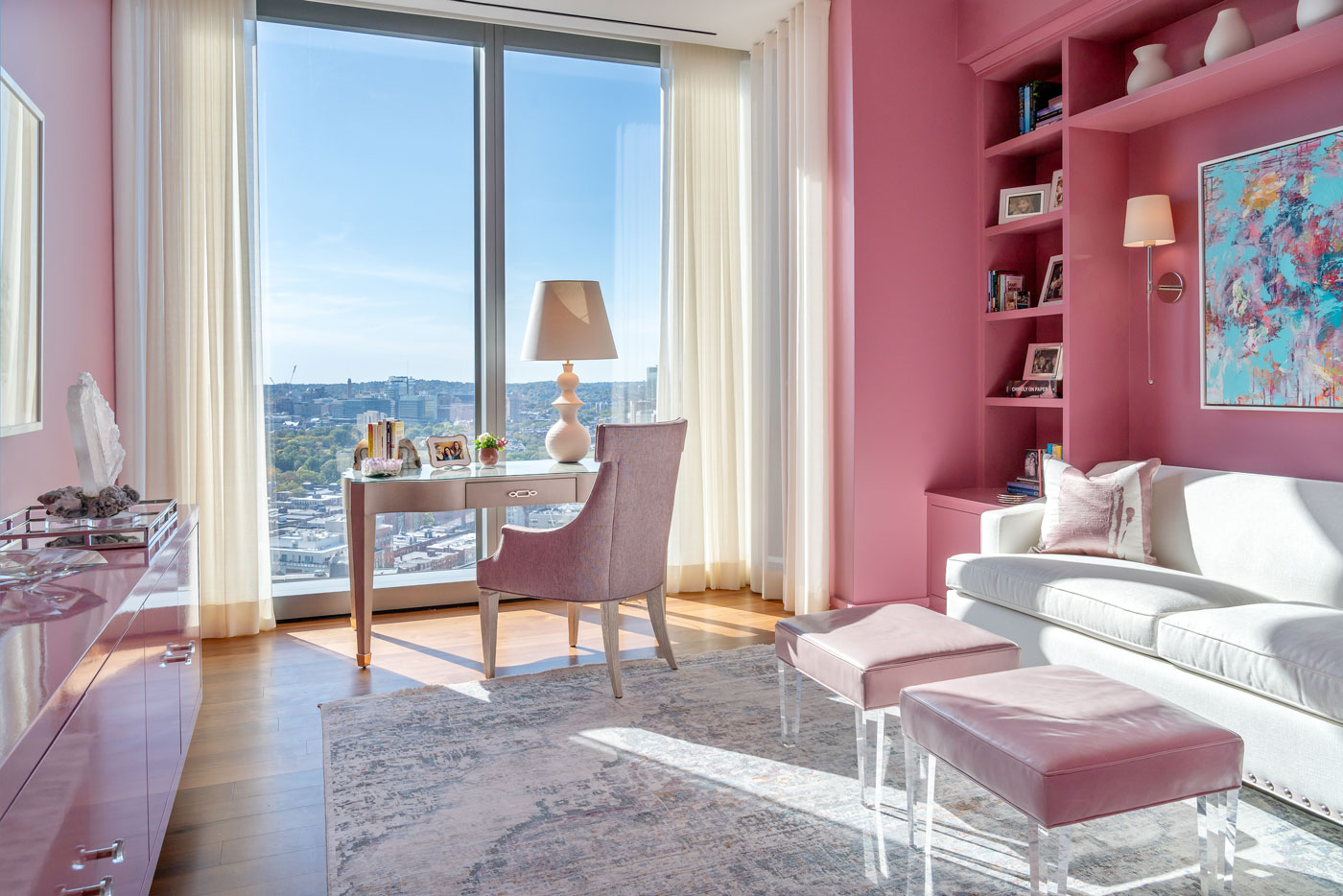 Carter & Company crafted a confection of a home office for the woman of the house, complete with lacquered painting by Stephen Barton Painting, a slender desk overlooking the city, meaningful accents and art, and custom soft furnishings appointed by Eliot Wright Workroom.
For the lighting, finishes and furnishings, the homeowners joined Carter for a day in New York, scouring the wares of two design centers. A pair of bespoke semicircular sofas, a custom burled wood John Boone table, and a dazzling light fixture comprised of 90 glass dewdrops suspended by barely-there cables were among the selections. That day made a world of difference. Says Carter, "because you're in this glass bubble, everything has to be special."
Overall, the home's aesthetic has a sense of luxury that is derived from nature. Quartz sconces, rich woods and even geode accessories speak to the clients' spiritual side and mindfulness. Though it would have been easy to go with the cool grays that are so pervasive at the moment, instead, the client embraced warmer tones, beautiful bisques, shimmering topaz hues, both smoky and blue, that coalesce into an inviting, zen-like cocoon. This is, after all, their space, their moment. So while The Lodge is intended to be a "simpler, non-digital escape" and a time capsule, "One Dalton is about embracing now as hard as you can," says Carter. It's not afraid of it. "It's celebrating now."
Photography by Warren Patterson