July 7, 2020 | Sandy Giardi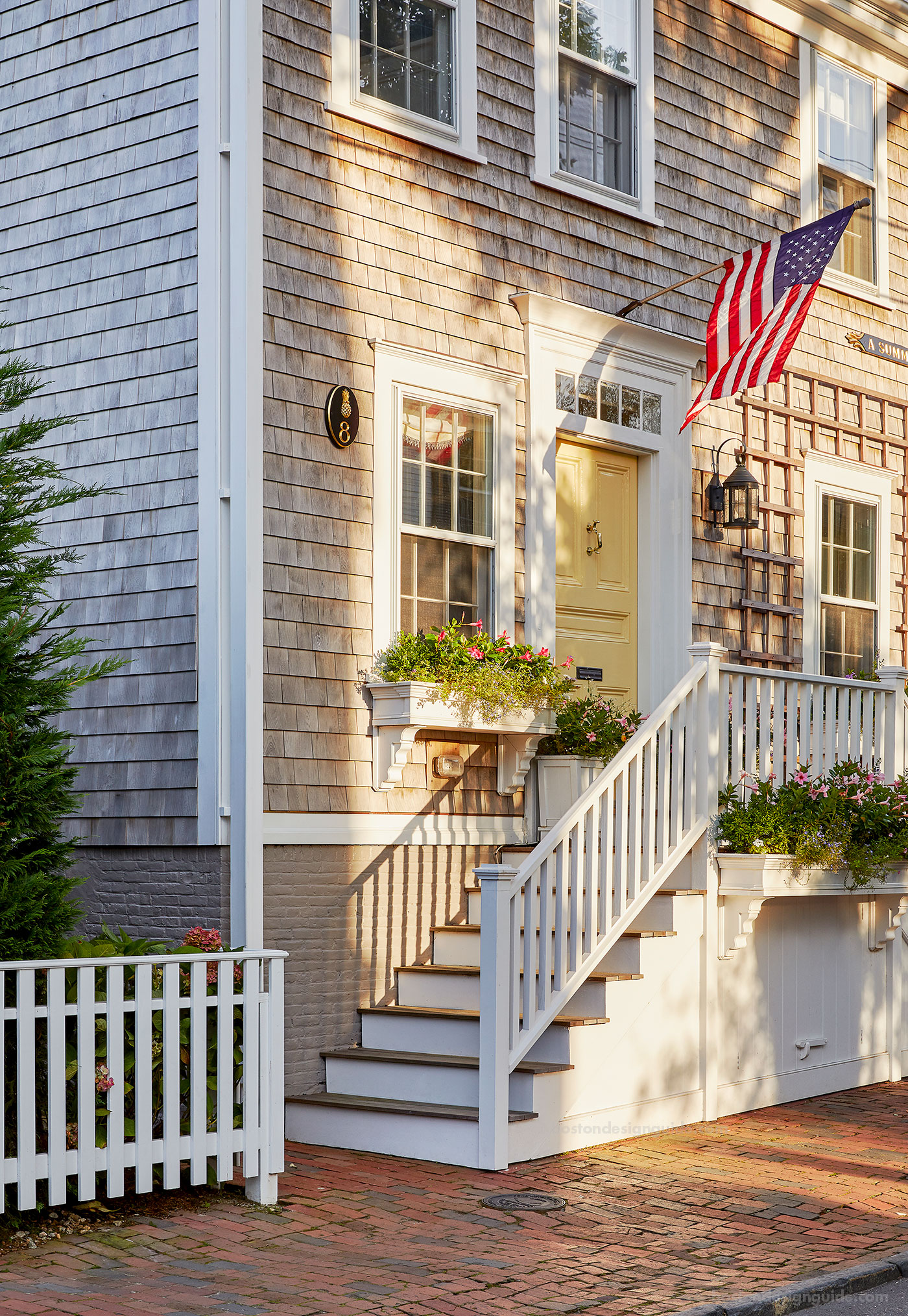 It is good to have lifelong friends. And even better when one of your closest has not only your best interests at heart, but an ear to the ground. That's how a family from Ohio, who had vacationed in Nantucket every summer since 2002, came to live their longtime dream of owning a home there. When Robert Deuberry, a builder with his own Nantucket home, caught wind that an 1800s sea captain's house in the historic district could be theirs, they swiftly put down roots on the island, their "ultimate happy place." 
Finding the ideal interior designer to renovate and appoint their newfound, four-story treasure was a result of their own initiative. The homeowners found the inspired coastal designs of Donna Elle Design on a Pinterest search, and soon struck up another mutually rewarding and meaningful relationship with local designer Donna Elle.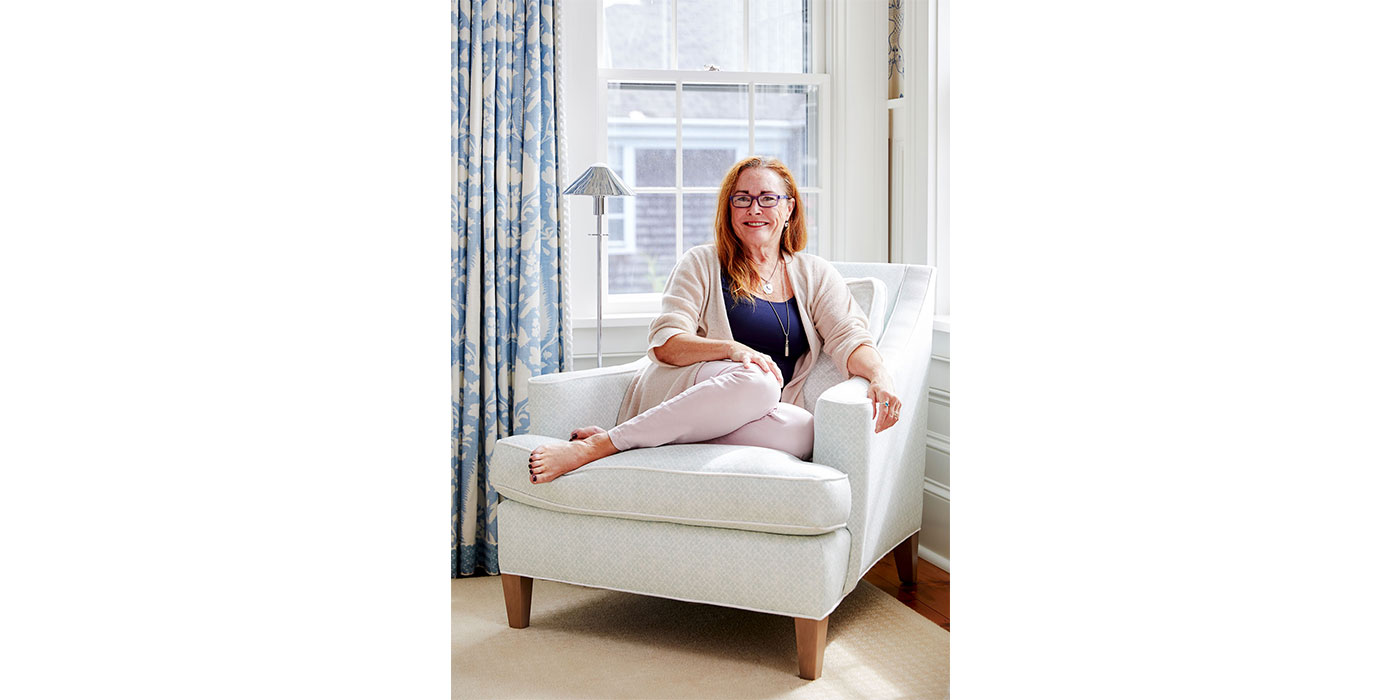 Elle, pictured above, and her daughter and associate Katie Williams, who joined the firm in 2015 with a resume to match her impressive pedigree, were instantly enchanted by the homeowner and her style. The wife and mother of four has an innate effervescence, they explain, and a "joyful personality that is overwhelmingly optimistic," adds Williams.
They found her design vision to be just as exuberant. She prefers fun over fussy, adores color and hoped to distill and express the vitality of her large, active family, which is constantly moving in different directions. Elle, with a sixth-sense ability to connect with the vibe of her clients, immediately interpreted the look she was after.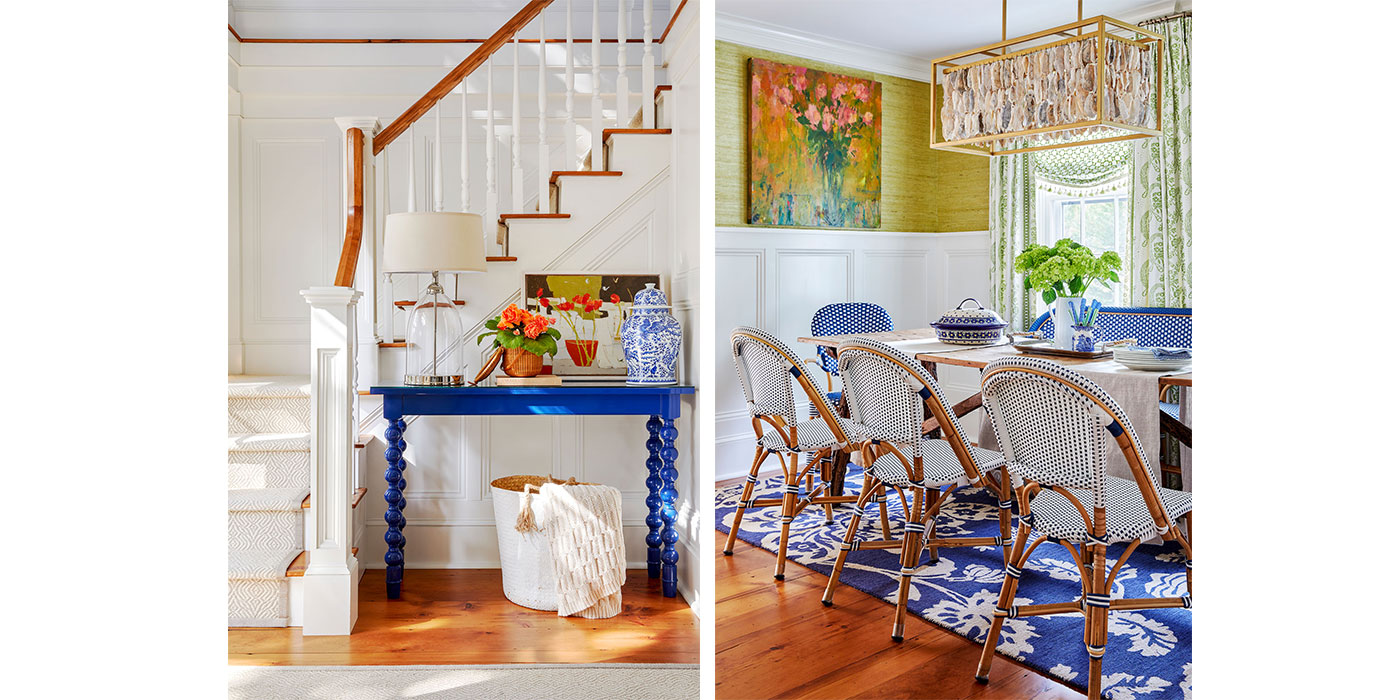 Above, left: Traditional aspects of the home, like the banister, balusters, paneling and newel post of the staircase, are rendered in fresh and atypical ways. The original floorboards were finished by Chris Yates of East Wood Trading Company in a custom shade of "Nutmeg." Right: The dining room is a celebration of saturated color—from the painting by Cynthia Packard, to the beachgrass green grass cloth, to the Serena & Lily bistro chairs surrounding the dining table (an estate sale find). Williams sourced a blue damask rug with an open, coastal pattern to ground the finer prints of the space, and Elle topped it all off with a chandelier of oyster shells.
Within days of signing on, Elle studied the architectural plans developed by Peninsula Architects of Ohio. She became "enamored with the opportunity to address the traditional formulaic of wall paneling and trim detail to truly emphasize the client's aura through design," she recalls, creating "a wholly personalized, tailor-made interior."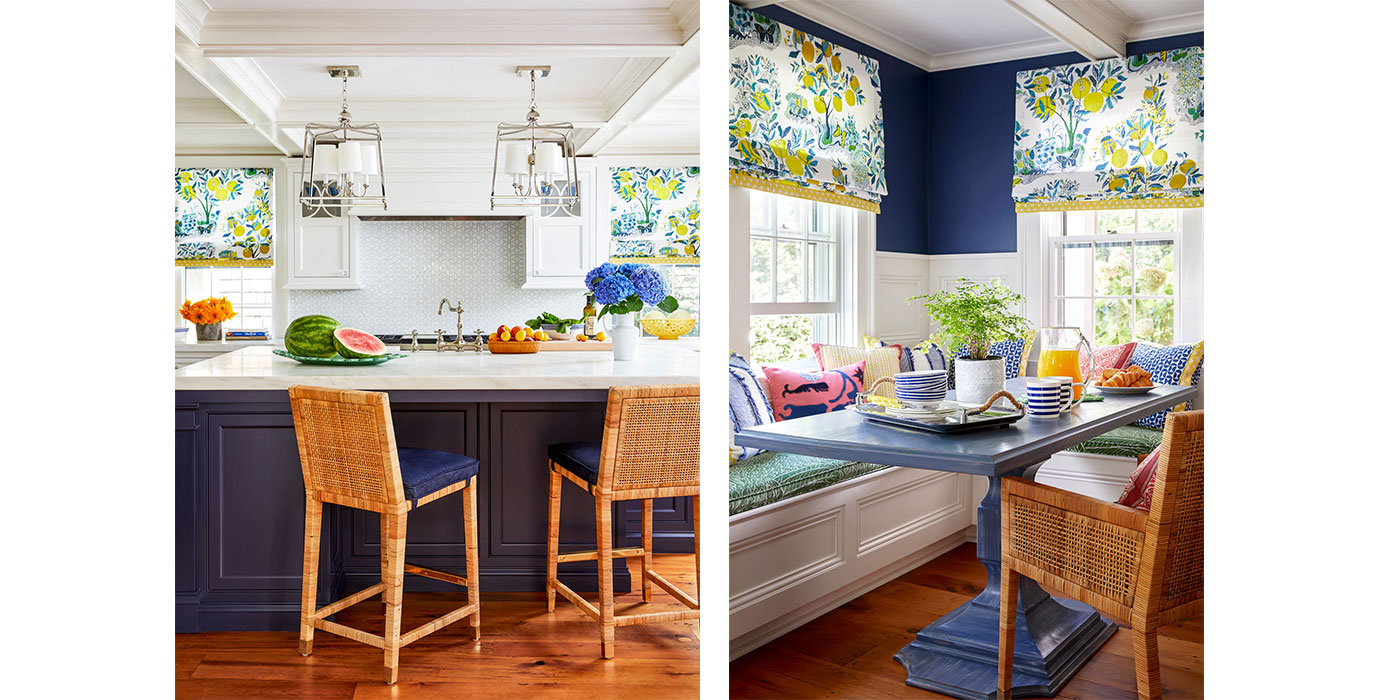 Above, left: The backsplash, from Artistic Tile, was chosen because it sparkled like the homeowner. Counters are Imperial Danby marble, Elle's go-to surface for its soft blues and browns that speak to the sea and sand of Nantucket. Ricciardi Marble & Granite finished the marble, and Boston Stone Restoration applied an epoxy "that makes it foolproof." Right: The island and breakfast nook showcase Elle's unabashed love of blue—navy so deep you can dive in, cornflower and sky—while the Roman shades show Elle's winning way with window treatments.
Elle scoured a library of textiles from her go-to vendors—such as Schumacher, Cowtan & Tout, Quadrille, Studio 534 and Merida Rugs—back in her studio, and created room schematics and color schemes with fervor that spoke to the heart of her adroit design execution. The clients offered their enthusiastic approval and complete trust, and the nine-month project, which had already taken on an energy of its own, had begun.
The renovation went deeper than the surface selections. Initially, the intention was to maintain most of the home's interior elements, but a significant amount of structural repair was needed. In order to preserve the home's historic character, Deuberry, who oversaw the construction on the project, shipped the original 200-year-old framing and floorboards to Ohio, where they were stripped and re-milled by renowned Amish craftspeople and reinvented as the flooring, wall paneling, cabinetry, built-ins and fireplace mantels.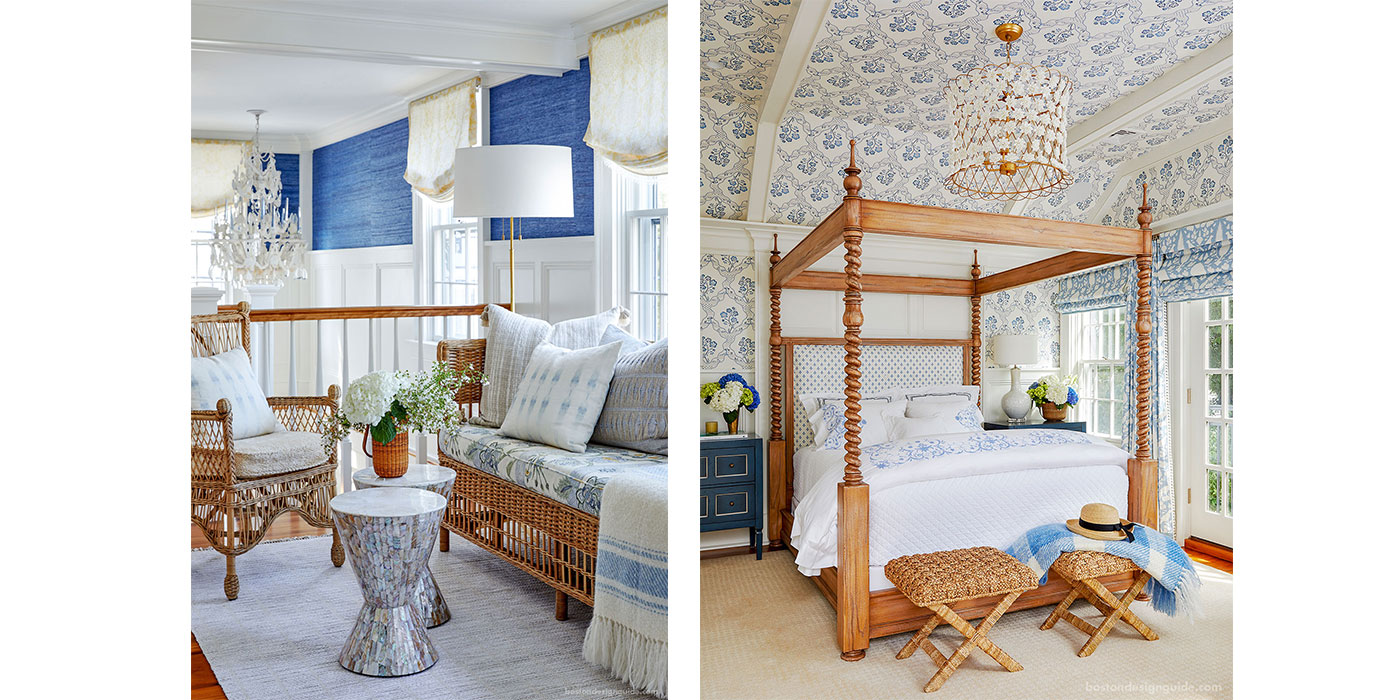 Above, left: The loft is breezy and restful, its rich indigo grass cloth softened by floral upholstery, wovens, rattan furnishings and iridescent shell "drink drops." Right: the master bedroom, with its custom bed and headboard, Schumacher wallpaper that ascends to the ceiling and cylindrical chandelier, was fashioned as a cocoon of sorts, and a retreat made for two.
Given that the architects and builder were working largely from Ohio offices, Elle found herself in a secondary leadership role, serving as their liaison and facilitating day-to-day operations alongside builder and carpenter Junior Froes. She relished it. "The architects, builders and subcontractors looked to Elle to guide the decisions," Williams explains. Elle had become the project's compass and translator, and ensured that the client's vision was brought to life.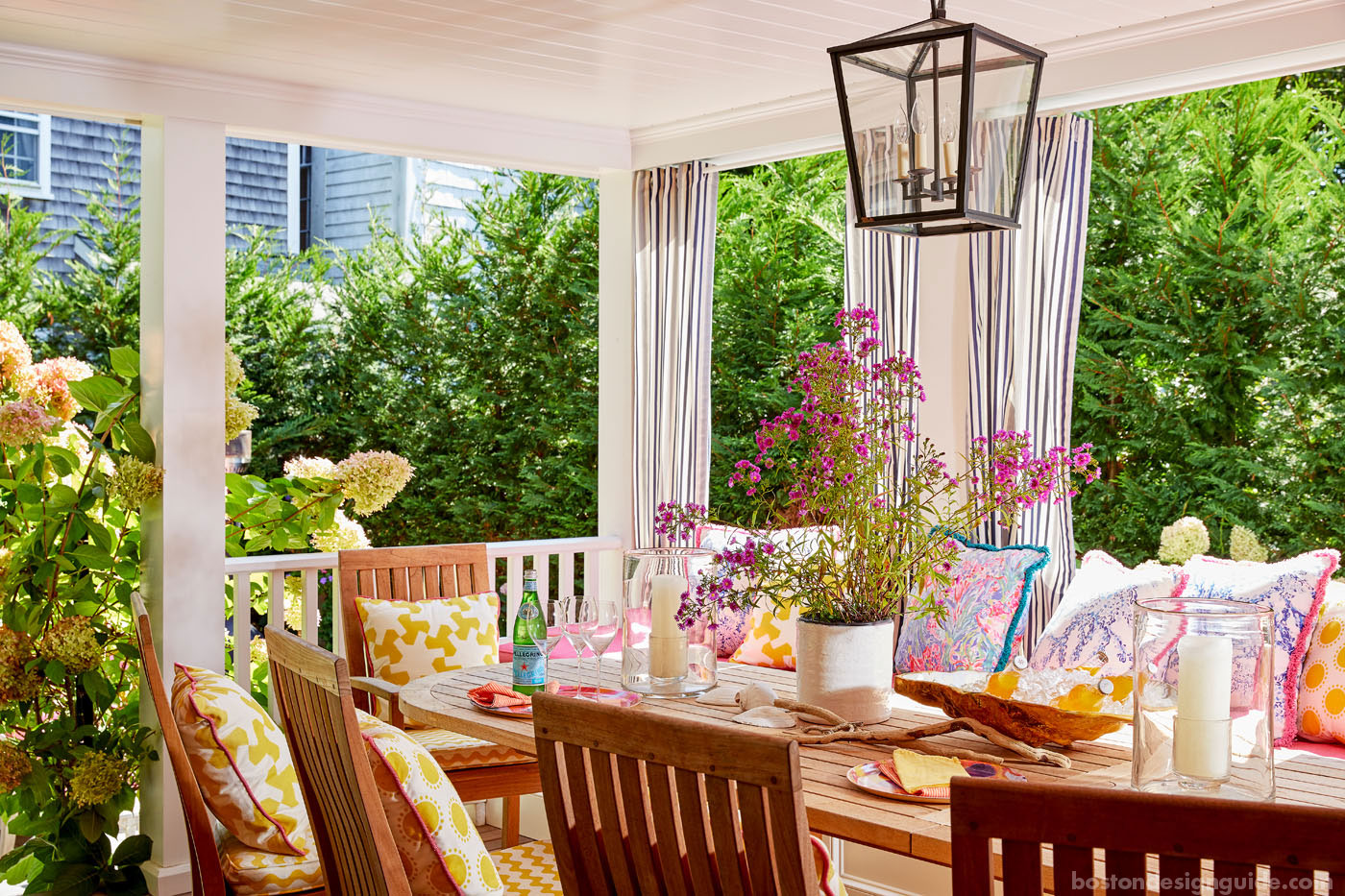 As the historic homes of this enclave are so tightly knit, Elle's vision for custom drapes in an outdoor acrylic fabric were hung on the porch for privacy.
The result is a "symphony," says Elle, a joyful home dripping with "pattern play" and a "tension," albeit stress-free, between past and present. Every room is unique and treated to a high level of detail. The window treatments alone, with their trims, fringes, borders and drapery pulls, put the designers in another league, while the fact that they shopped Nantucket retailers for the majority of the furnishings, accents and necessities only adds to what Elle calls "a happy project."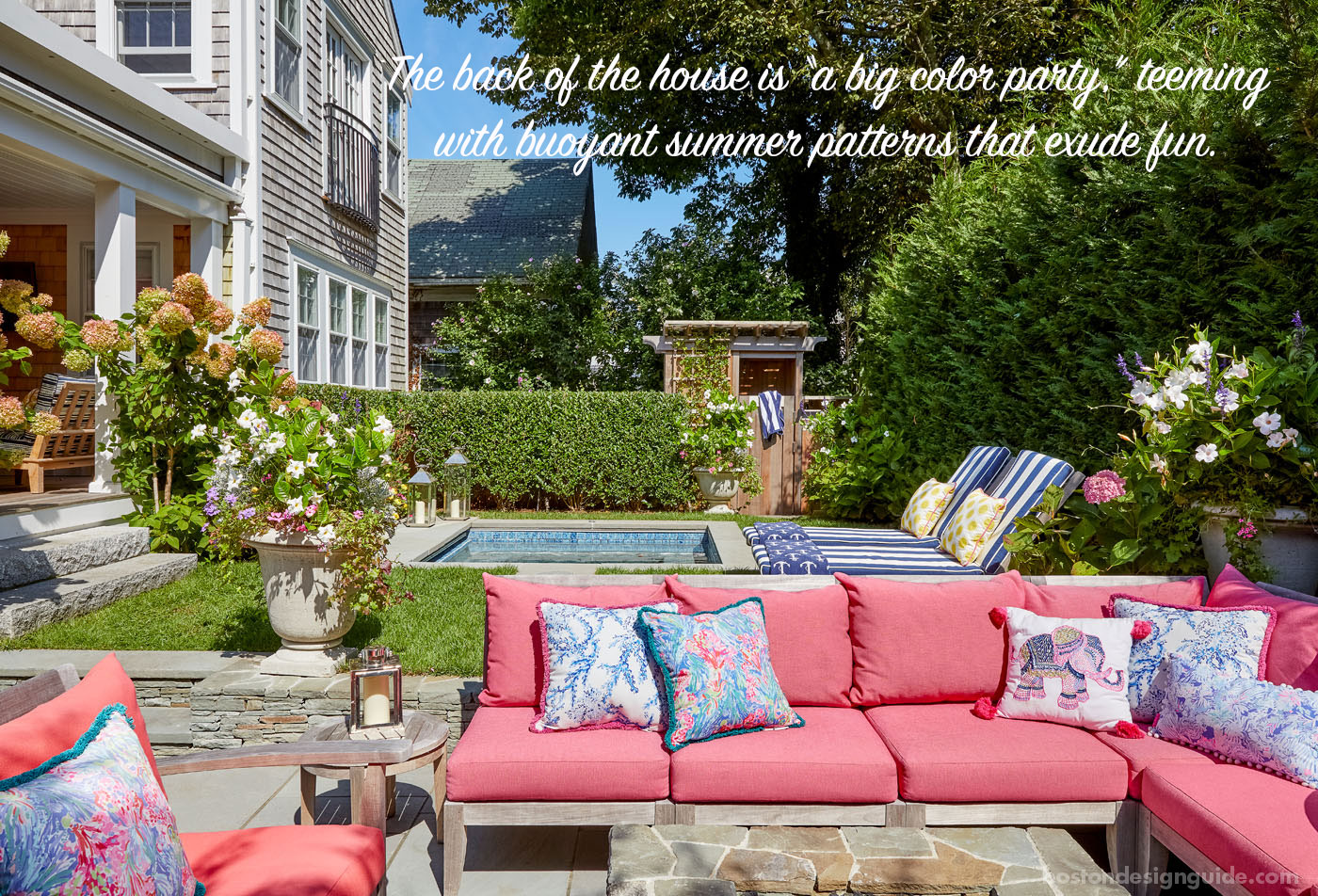 A gem of an intimate backyard boasts an 8x8-foot gunite spa, outdoor shower and teak furniture for lounging.​
With its big, bold use of color and cheerful composition, the home and its kick-up-your-heels vibe redefine coastal interior design. The client deserves much of the credit, however, asserts the mother-daughter team, for allowing Elle to execute her craft in a way that was creative and limitless. Not unlike Nantucket itself, that freedom created magic.
Photography by Read McKendree / JBSA
Additional collaborators: architecture: Peninsula Architects (OH); Two Hudson Architects (OH); general contractor: Robert Deuberry of Charter St. Properties; carpentry: Junior Froes (Cape Cod/Nantucket): landscape architecture: Tanya McInerney; stylist: Frences Bailey