June 1, 2015 | Sandy Giardi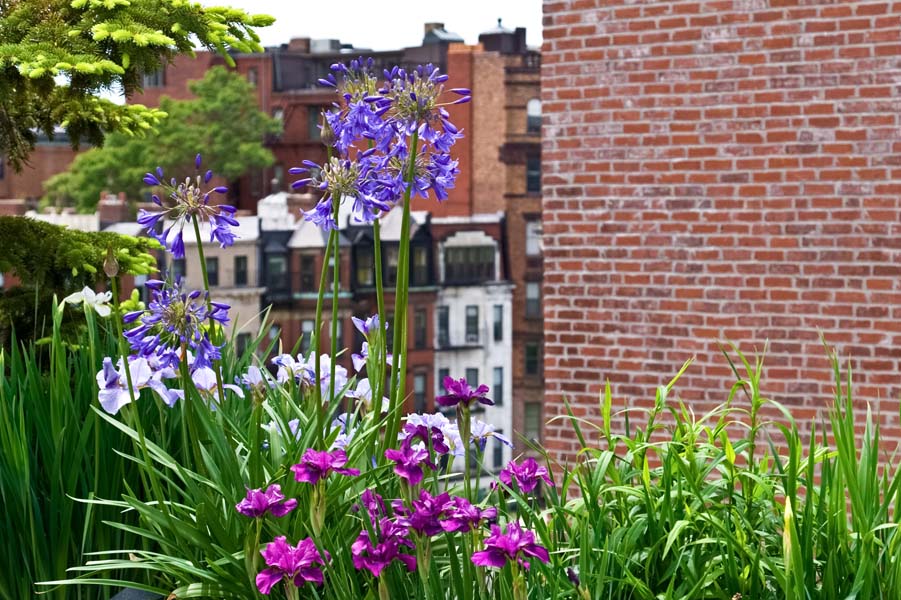 Matthew Cunningham Landscape Design
The very idea of a roof deck captivates us. Perhaps it's because no matter how many we've seen, we still get a small jolt of surprise when we're greeted by an Eden where there might have been asphalt.
To us, roof decks are glorious paradoxes, or near ones. The perfect marriage of city and suburban life, roof decks offer an escape from the urban bustle, yet they're still in the thick of things. Whether modeled as an elevated garden oasis or a clean-lined cloister that puts the focus on the skyline, the water or the stars, this time of year roof decks are just where we want to be.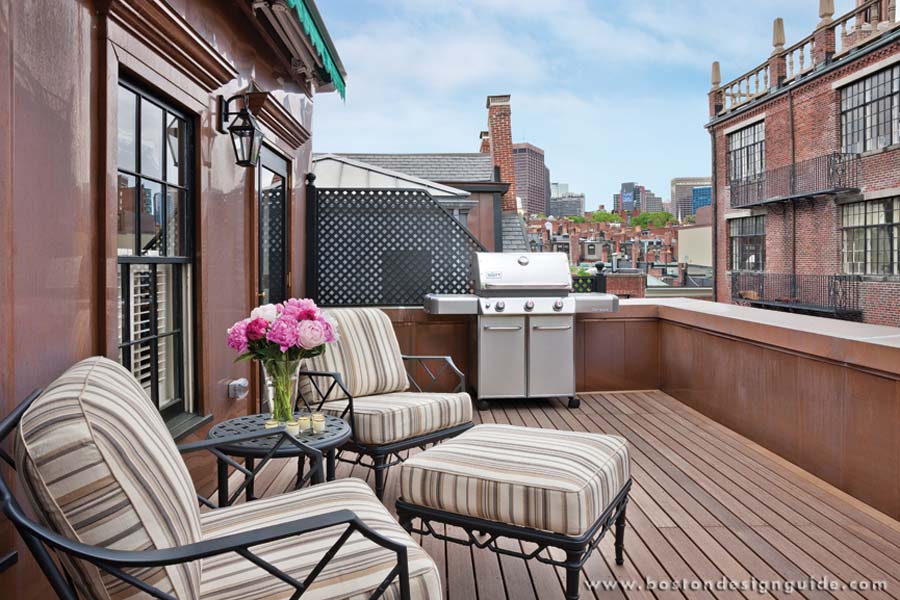 F.H. Perry Builder; photo by Warren Patterson
This tailored aerie by F.H. Perry Builder is as classic as its Beacon Hill locale, and a seamless extension of the residence's living space. The premier builder incorporated the existing windows, privacy screens and awning with gorgeous red copper and mahogany decking, tones right at home among its fellow brick Federal style and Greek Revival row houses. Its wrought-iron furnishings mingle beautifully with the gas-lit lantern and black trim here and ubiquitous throughout the coveted neighborhood.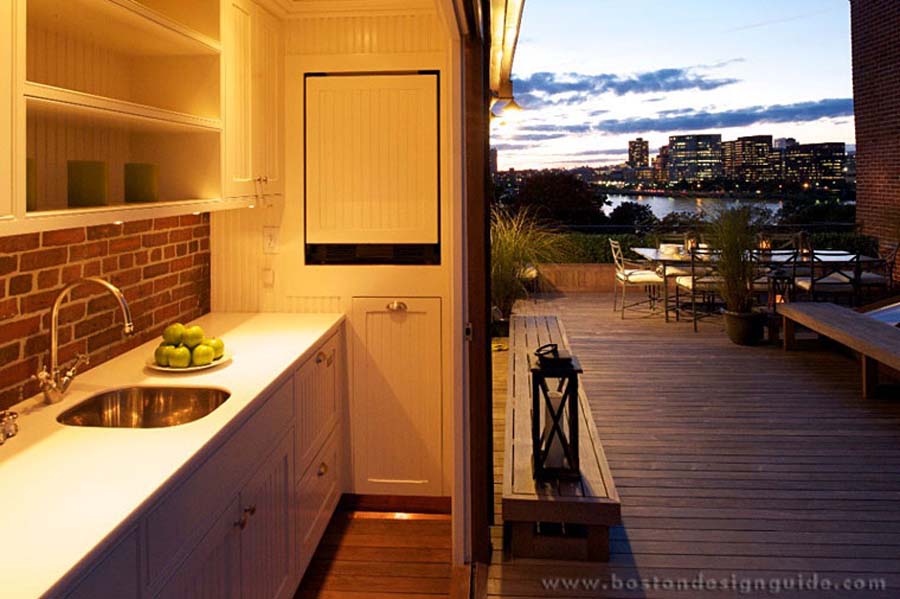 C.H. Newton Builders; photo by Cheryle St. Onge
With the water and skyline in the distance, this striking roof deck in the Back Bay by C.H. Newton Builders is like having your favorite table at a restaurant—every time. A well-lit alcove kitchen ensures that the roof deck is as functional as it is inviting, while its long, lean benches and plush chaises provide plenty of seating for outdoor soirees.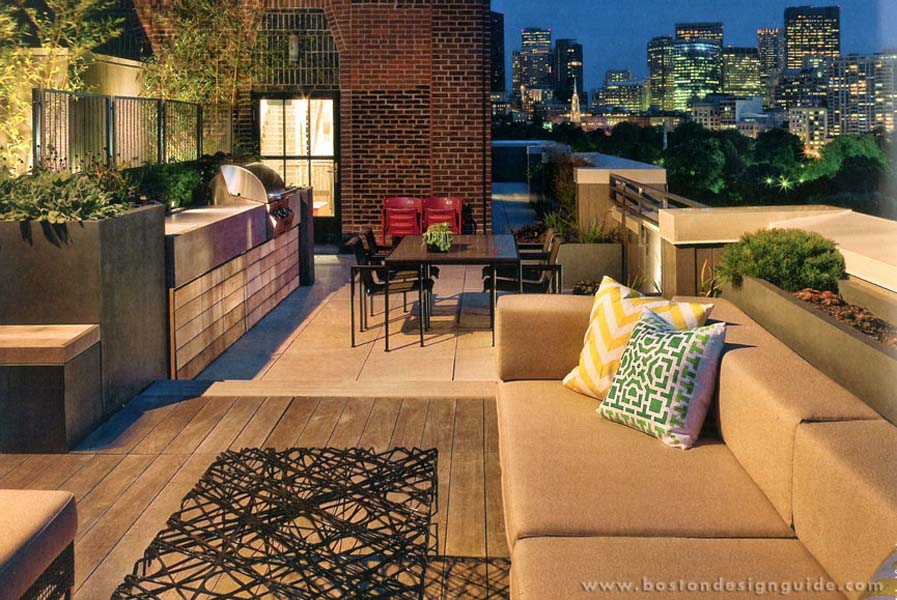 In this modern roof deck design, landscape architect Gregory Lombardi makes certain that every inch of real estate lives up to its potential. The effect is sweeping and well programmed, with varied and intentionally intimate spaces and seating arrangements. The built-in outdoor kitchen (perfectly situated to plate and serve hot food at the table) gives this exterior space polish, and the industrial accents are softened by lush greens and container plantings.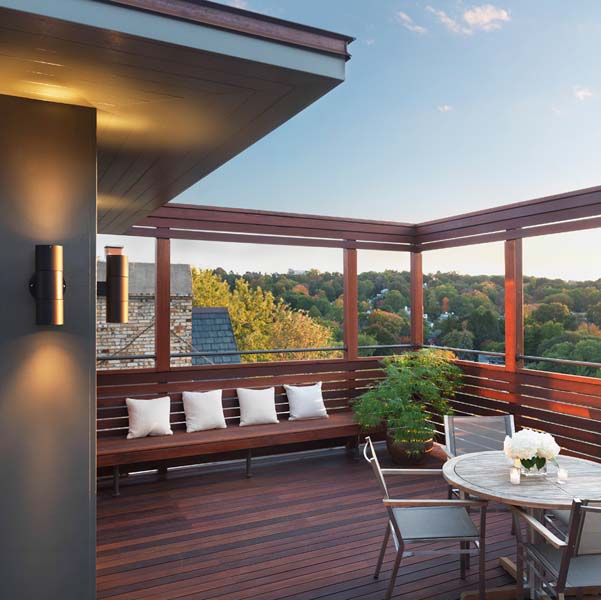 This addition to a row house's rooftop by Flavin Architects is a modern idyll of form and setting. Though airy and open, the mahogany roof deck is also exceptionally private. The rich variations in the wood are a striking counterpoint to a steel and glass staircase that connects the deck to the main house, giving the top floor a sun-splashed "loft" feel. We just love how the trellis and railing of the deck's perimeter frames the arbors in the backdrop.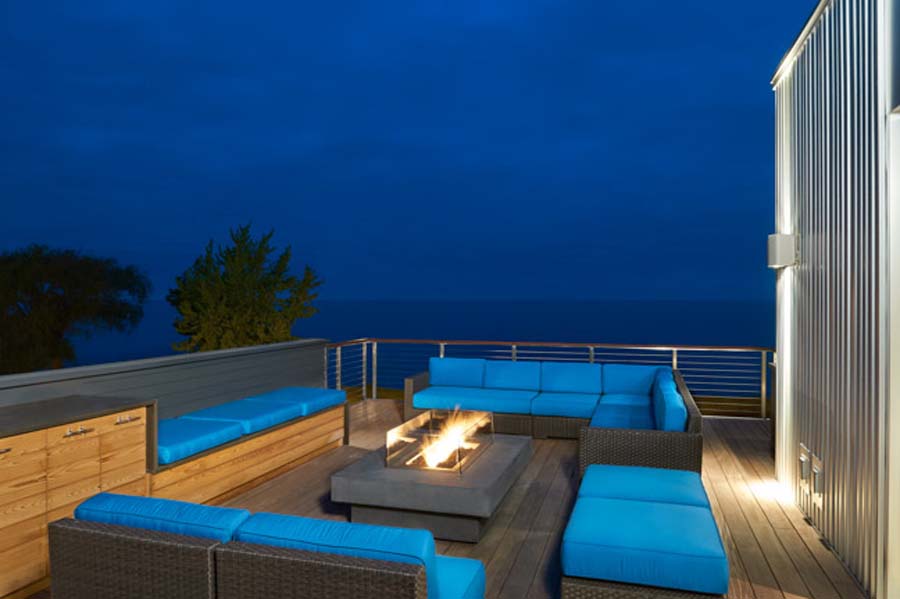 Speaking of backdrops, this stunner was designed to be the life of the party and flows to the other levels of the home by a freestanding sculptural stair. This expansive deck showcases "a beautiful open view of Lake Ontario on the North side and a more intimate view of the bay on the south side," offers architect Paul Fiore of Foley Fiore Architecture. Open cable railings to the north and south capitalize on the azure water views, while the cabinetry of the eastern wall holds entertaining essentials like a bar, refrigerator, glasses and tableware. The fire feature at center lends both warmth and drama.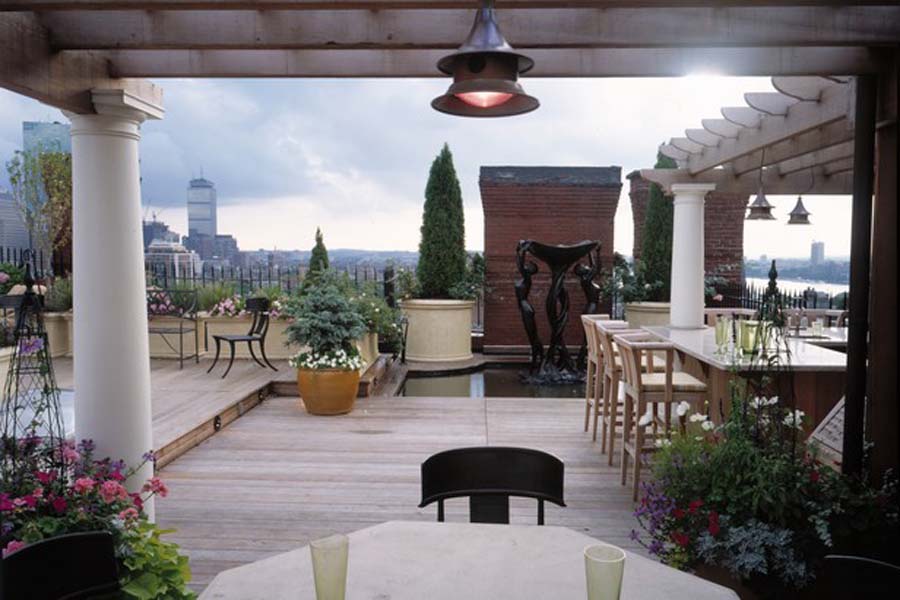 At 2,400 square feet and with panoramic views from every angle, Sudbury Design Group's rooftop garden is a slice of heaven. This is outdoor living at full flourish, as the penthouse oasis brims with every amenity, including a full bar and outdoor kitchen and reflecting pool with a Bronze Art Nouveau fountain that brings the soothing sounds of falling water into the mix. Thoughtfully placed seating arrangements and containers of annuals and perennials create the allusion of "rooms," as does a pergola, which both shelters and filters in the light for a private dining area.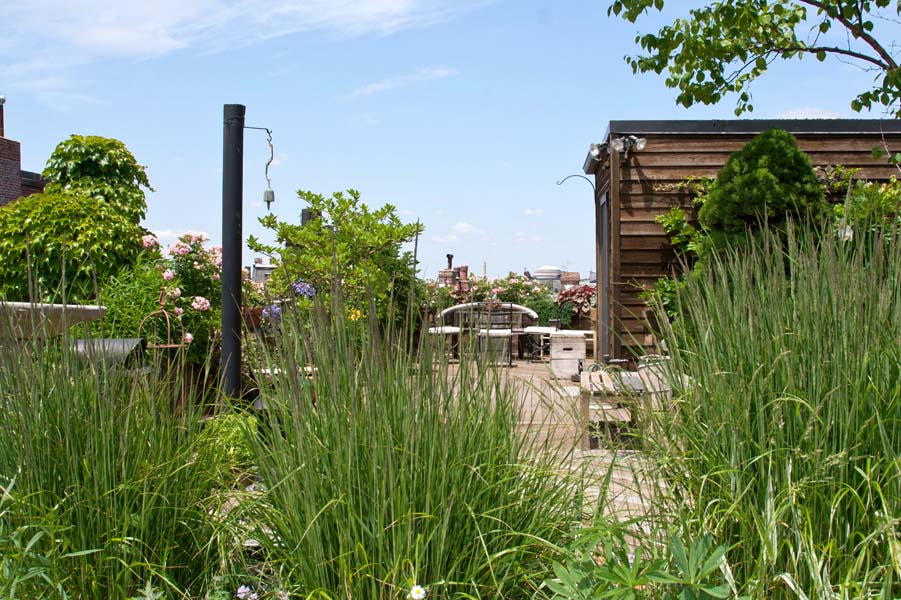 Matthew Cunningham Landscape Design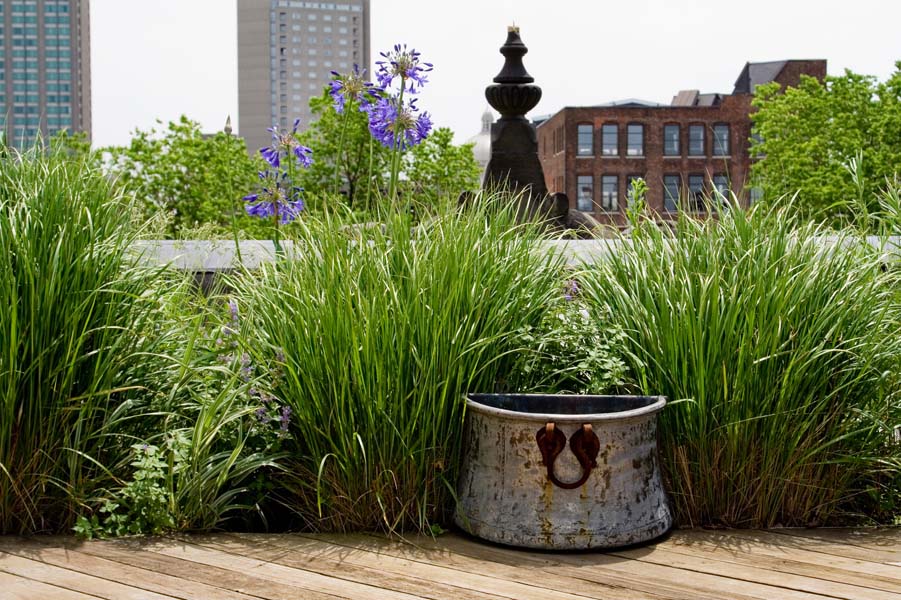 Matthew Cunningham Landscape Design
For this luxuriant rooftop in the heart of Back Bay, the goal was to deliver a thriving garden environment that required minimal irrigation or upkeep. Landscape architect Matthew Cunningham landed on a "robust planting palette comprised of hardy shrub roses, iris, peony, daylily and several ornamental grasses," he says. To gorgeous effect! People tend to forget that Boston is a coastal city, Cunningham maintains, so the landscape needs to be able to withstand salt and wind. To say nothing of fireworks—this is a sweet spot indeed to take them in.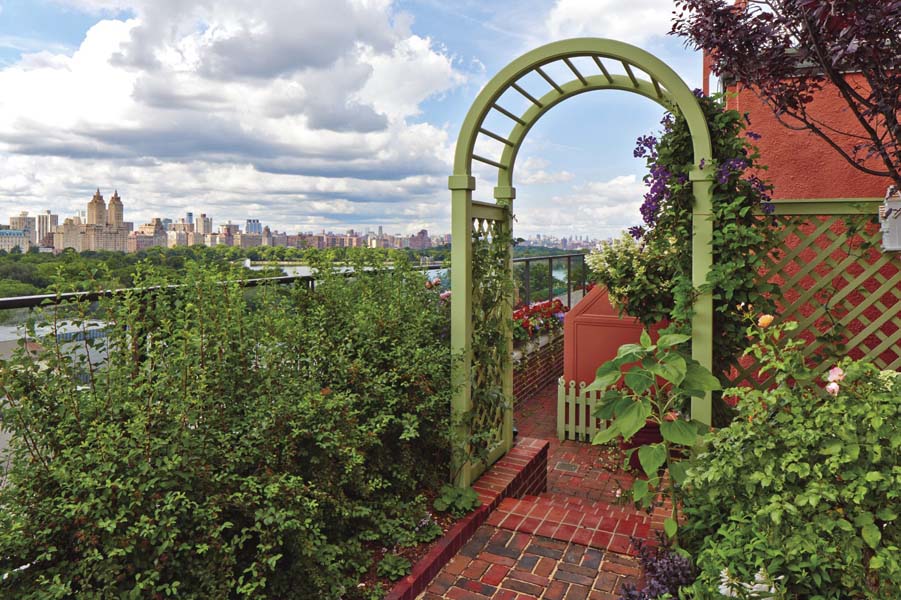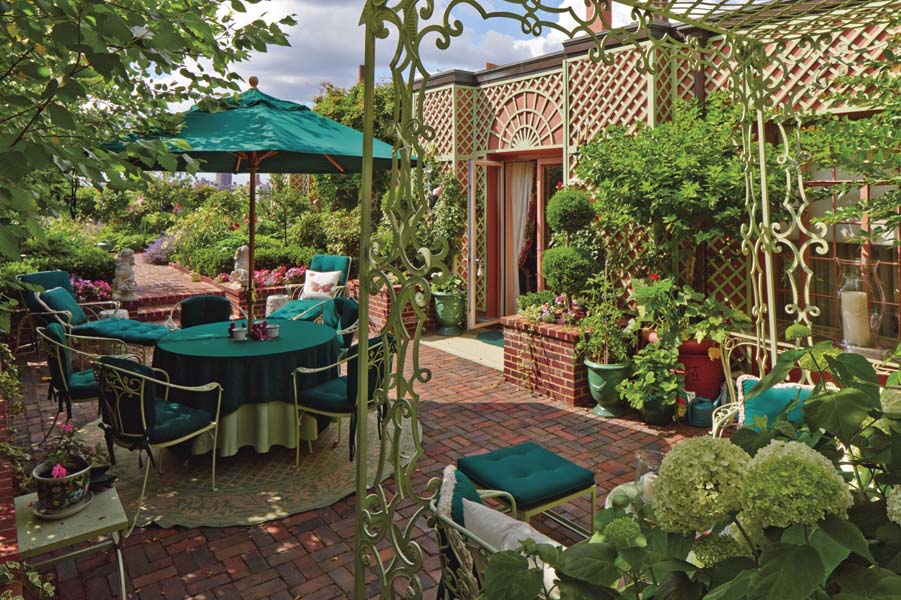 For a rooftop garden in New York City, homeowners looked to Walpole Outdoors to incorporate elements that many might save for a yard. Creativity was given free rein in this outdoor space that's embellished with a historic appliqué lattice motif and paneling, a spindle-top arbor and even a picket fence. Plus, it's all crafted by hand in PVC, so there's very little maintenance. As the saying goes, if you've got it, flaunt it!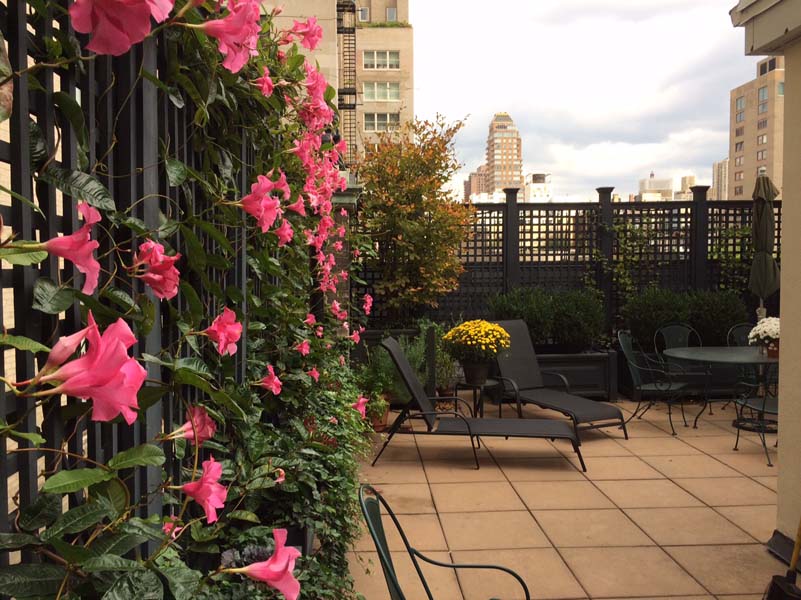 When you're honing your rooftop retreat, carving out a secret garden from a semi-public space can be challenging. Walpole Outdoors suggests including a wide expanse of trellis to create secure, privacy screens. When at the hands of an avid gardener, these structures can become brilliant display walls for climbing flowers and ivy. 
This breathtaking outdoor terrace, with plants cultivated by a Blade of Grass, is as spectacular for what it lacks as for what it possesses. A study of marble and nature, this resplendent outdoor space overlooking the Charles River has an almost European sensibility. We are captivated by how the curves of the sculpted benches echo the circular plantings that pop with tulips and blue pansies. As for the way the juniper cascades to the ground in a gentle fight against form? It alone make us want to stay and sit awhile.