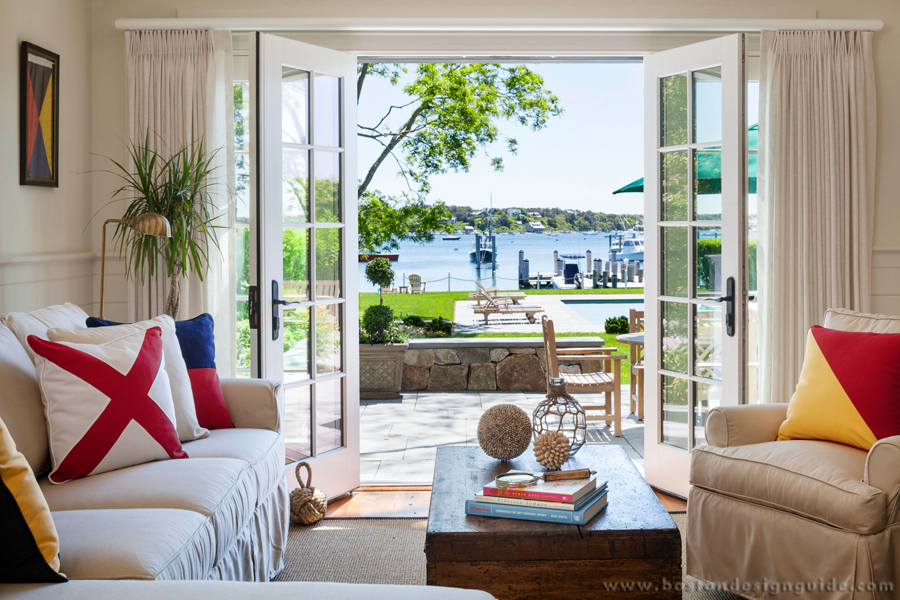 Architecture by Patrick Ahearn Architect, Built by Colonial Reproductions, Photo by Greg Premru
Summer ­­has officially arrived, and 'tis the season for nautical accents in the home. When done well, nautical accents have a rustic feel that evoke the calmness of a breezy morning, the beauty of the shimmering waves, and the spirit of the sea. We've curated some of our favorite beach-inspired accents here.
Below, this space not only takes full advantage of a waterfront view, it also complements the vista with bold-hued pillows, knotted ropes, and seashell creations. These nautical accents are fun and on-theme, but also subtle enough to fit with the neutral furniture, wall color, and drapery.
Below, the brass ship's wheel makes a bold and fun statement in this home's transitional space. When paired with the coral and seashell-inspired upholstered ottoman, a gilded seashell accessory, and a ropey candle, the feel is decidedly beachy.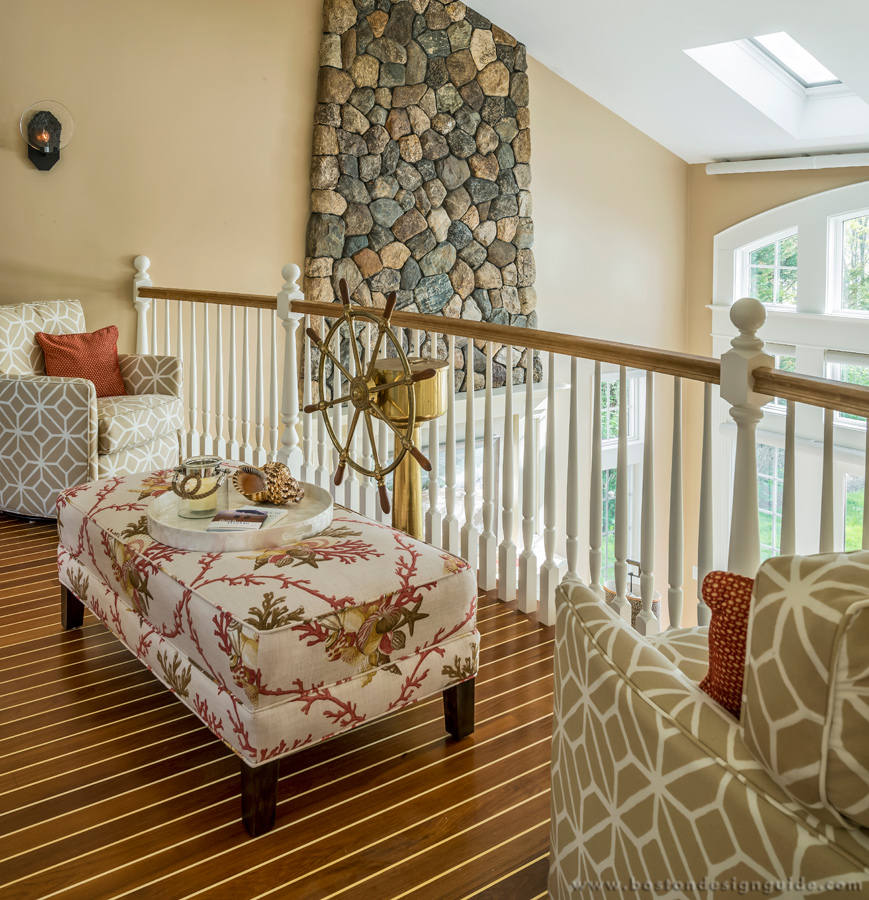 Interior Design by New England Lifestyles Design
The bright, white kitchen and living space below has nautical accents and accessories scattered throughout, including lots of white and blue patterns, a beachy print hung on the wall, and seashell decor. This look is classic and traditional but also young and fun, making it the perfect space for a young family vacation home. 
Interior Design by SLC Interiors
On the more neutral side of the spectrum, this space below takes a cue from the sea with shades of blue, green, seafoam, teal, and grey. Distressed exposed millwork gives a rustic feel, especially when combined with the wrought iron hanging chandelier and the driftwood-inspired coffee table.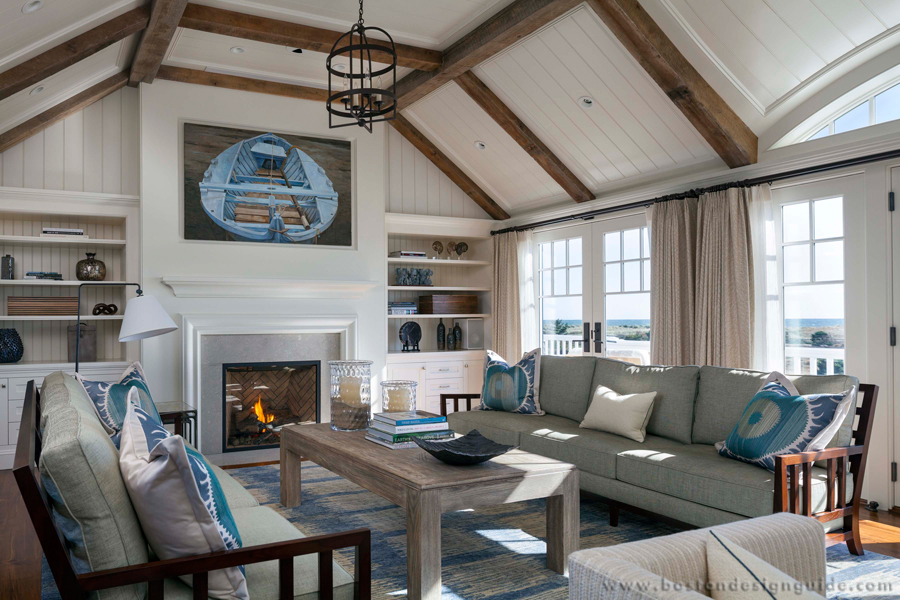 Architecture by Patrick Ahearn Architect, Photo by Greg Premru
The smallest details are just as important as the big accessories in a room. Take a cue from SLC Interiors, who have perfected the art of creating nautical vignettes for the home. Keep it simple by pairing a white sea urchin bowl with faux, off-white starfish.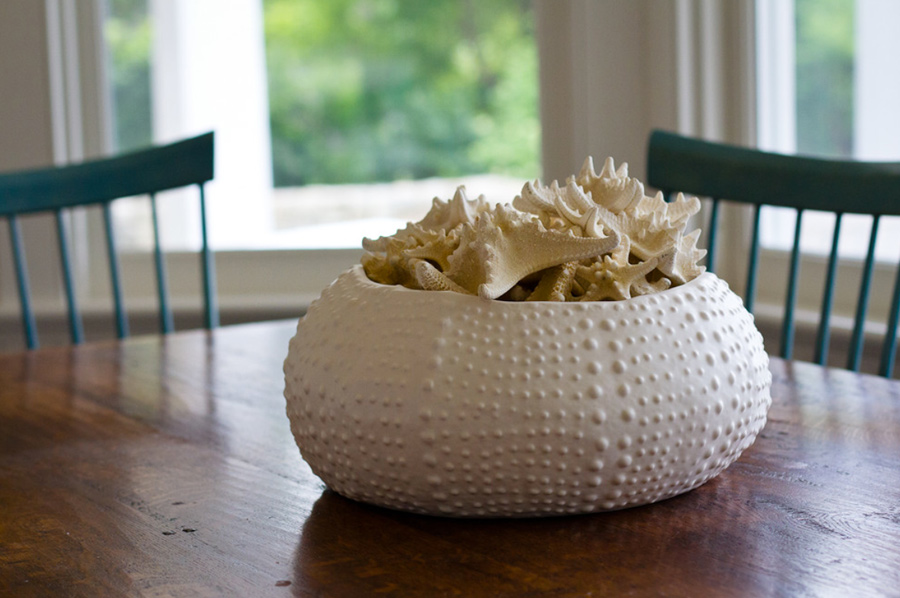 Interior Design by SLC Interiors
A glass vase gets new life with a bundle of beachy dune grass, coastal sand, and small faux starfish scattered throughout. We love this look for a side table, hallway console, or bookcase.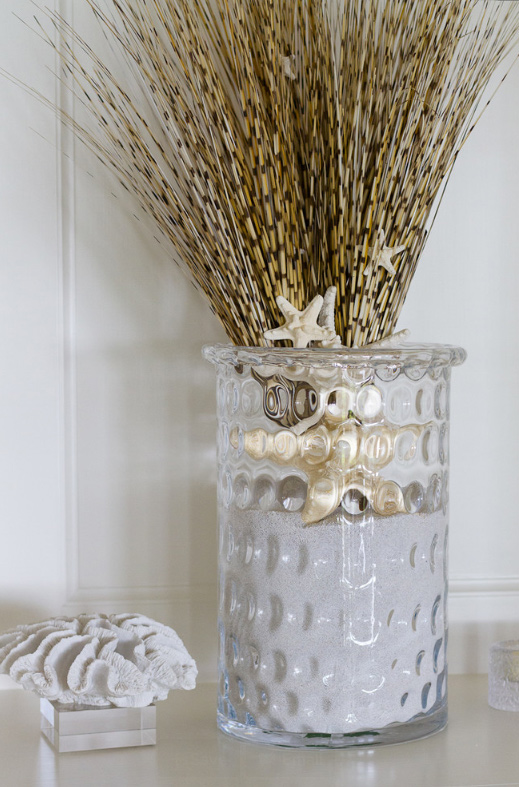 Interior Design by SLC Interiors
Finally, don't neglect the exterior of your home! Especially if you live on the coast, buoys are a fun and interesting way to make your home feel summery, colorful, and beachy for the season.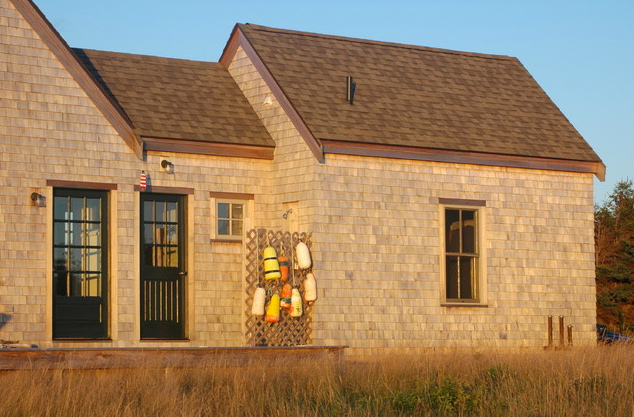 Architecture by Rob Bramhall Architects, Photo by Rob Bramhall