January 26, 2014 | Sandy Giardi
(Architecture by Catalano Architects; Built by E.W. Tarca Construction; Photography by Warren Patterson)
February's here and that means so is the Super Bowl and the Olympic Winter Games. And since we're not headed to Sochi or even MetLife Stadium, for that matter, we've turned our attention to the next best seat in the house: the man cave.
Peter Fallon of Fallon Custom Homes & Renovations would like to sideline the term "cave" and sub in the word "retreat," joking that men could stand to shake their knuckle-dragging image. And since we're good sports, and because there's nothing prehistoric about the following designs, we're more than game to reflect on what makes a masterful man's retreat.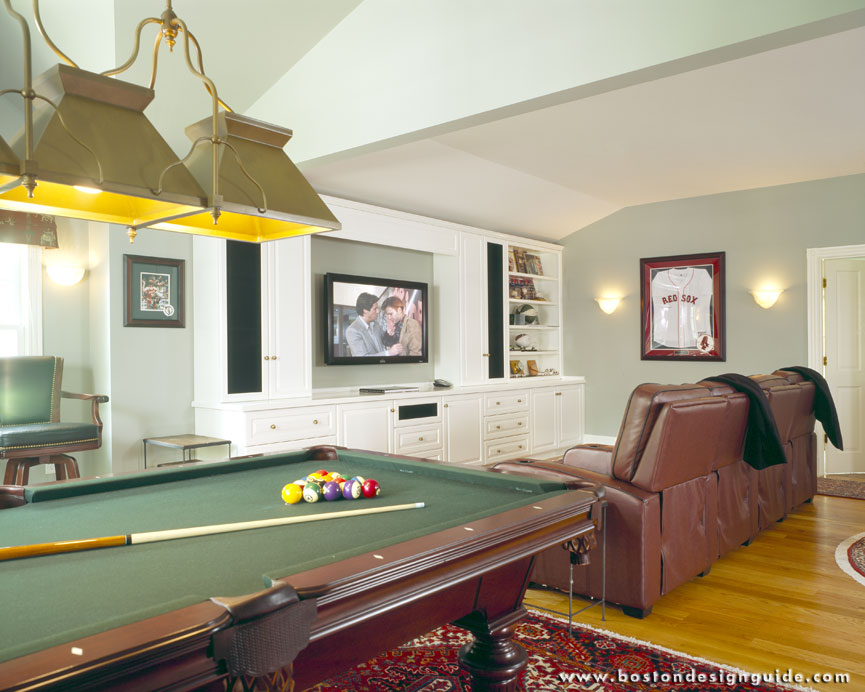 (Fallon Custom Homes & Renovations) 
While any space can be fashioned into a man's retreat, the designated room should be "wired correctly and insulated correctly" at the build stage, says Fallon to limit any "impact on the family." In basements, Fallon insulates flooring to handle the boom of the audio and puts in full-height windows with deep wells to let in light. His company has even turned a full carriage house into a gentleman's getaway, complete with an office trading center featuring multiple screens, a pool table in one bay area and a wine cellar.
As for what to put in them? Seating you can sink into. Comfortable couches, modular seating that can accommodate groups, and, quite possibly, leather club chairs that can't. Rugs and carpeting are also key, as they help absorb sound, whether from audio or the roar of the crowd.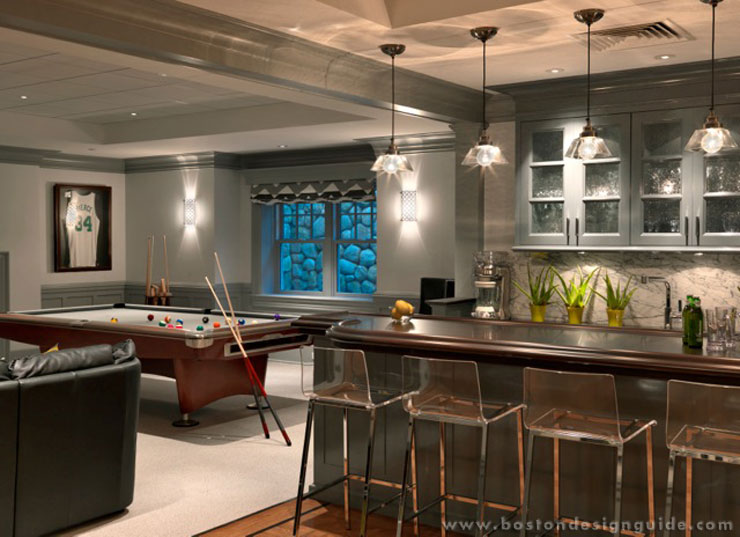 (Architecture by Jan Gleysteen Architects; Construction Gilbanes Development Company; Interior Design by Kate Coughlin Interiors; Photography by Richard Mandelkorn)
And speaking of audio… "My feeling" says Fallon, "is that a man's retreat should have a large-screen TV [the larger the better!] and a wonderful sound system." This is a space where homeowners can go to tune out their day-to-day hassles and tune in to entertainment.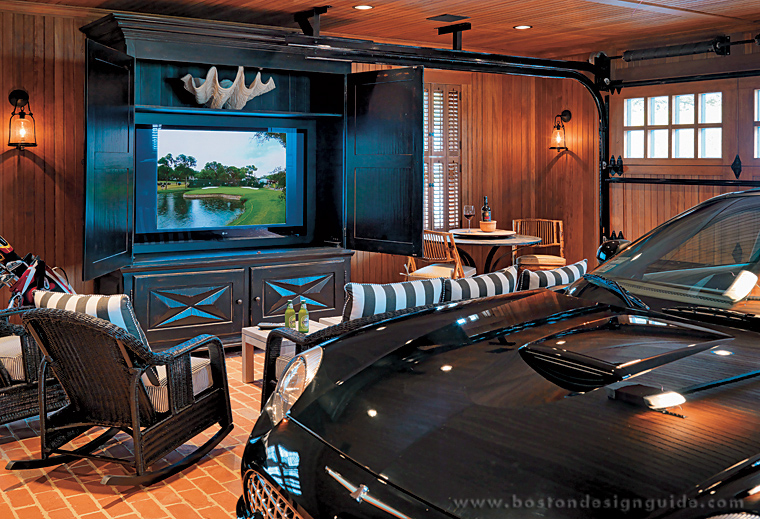 (Home Integration by Maverick Integration; Interior Design by Anthony Catalfano Interiors; Custom Built by Woodmeister Master Builders; Photography by Richard Mandelkorn)
Enter Maverick Integration. This cutting-edge home integration company customizes fully automated systems that turn living spaces into media playgrounds. Simply put? "Watching the game" takes on a whole new meaning. Maverick Integration design consultant John Bray explains that the solutions are there and fully customizable. For a man's retreat, he'd leverage the technology of the company's dedicated home theatres by incorporating a 12-foot-wide screen that drops down in front of the TV and a hidden projector. This effect completely "transforms the space," he says, as the characters you're watching are nearly "life-sized"—almost as if you're on the sidelines of the gridiron or at the foot of an Alpine ski slope.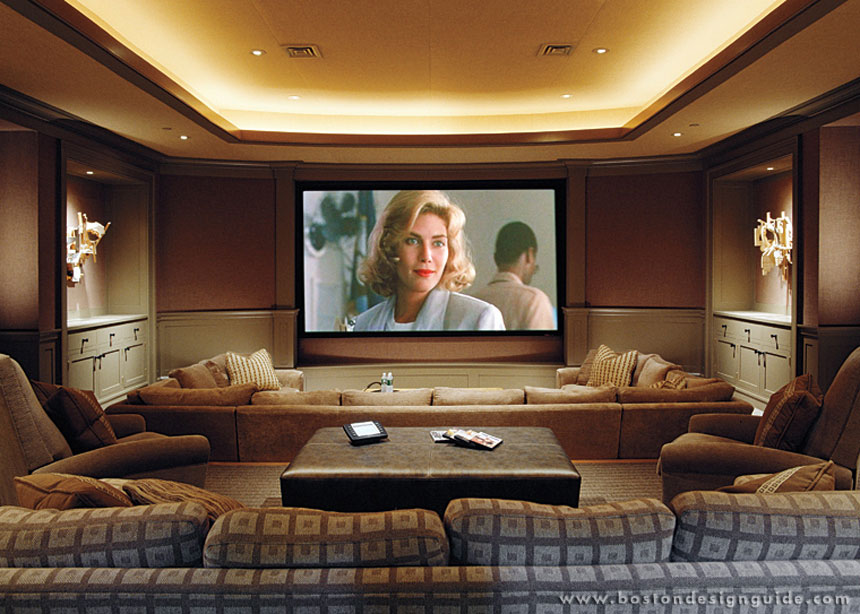 (Home Integration by Maverick Integration; Architecture by Mellowes & Paladino Architects; Built by Kenneth Vona Construction; Interior Design by Deysher Advisory Services; Photography by Greg Premru)
"The sounds should be as big as your screen," Bray adds. Having pumped-up audio through their state-of-the-art sound systems—synced to your video, gaming consoles, iPod, tablets and in-wall touchscreens—makes the experience. Music lovers, suggests Bray, can pop in Blu-Ray DVD, lower the screen (and the lights!) and experience a concert in full surround sound.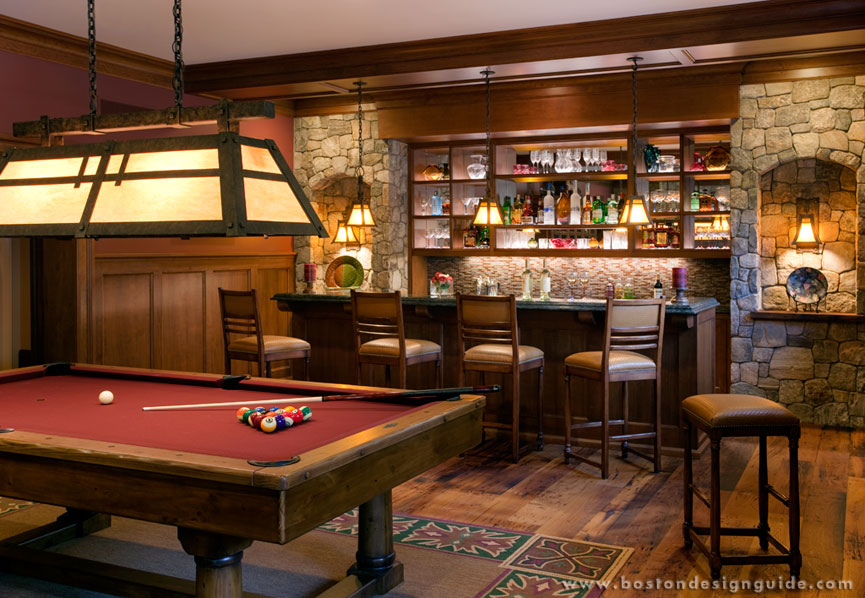 (Architecture by Catalano Architects; Photography by Eric Roth)
Now, let the games begin. Pool tables are the most popular choice, though Fallon has built in bowling alleys and putting greens as well, and Jan Gleysteen's man's retreat has a hoops court in his design. Stephen Kelly of Boston Billiard Emporium says that "he has seen designers and architects plan a whole room around the pool table," no doubt because his company, the oldest of its kind in the area, purveys beautiful antique tables as well as custom new designs.
Restored in his in-house wood shop, Kelly stresses that his antique tables are usable "pieces of furniture" that have "stood the test of time." Boston Billiard Emporium can also make any repairs needed—from slate to inlays—to refurbish an ailing pool table and get it back in play. Antique cue sticks, billiard balls and accessories are also available, and perfect to display alongside sports memorabilia.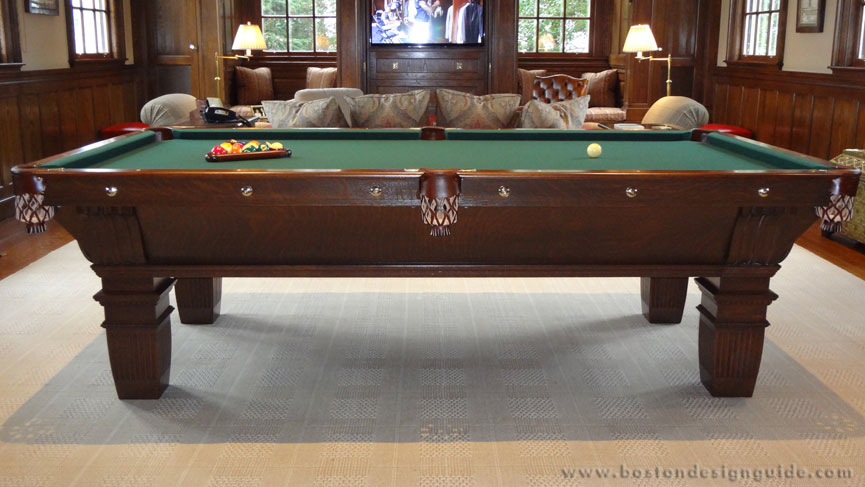 (Image courtesy of Boston Billiard Emporium)
New pool tables and accessories can be customized to the client's specifications—from the "species of hardwood to the color of the cloth to the stain of the finish," says Kelly. Now gamers have a pool table that blends in seamlessly with the woodwork, wainscoting or color palette in place.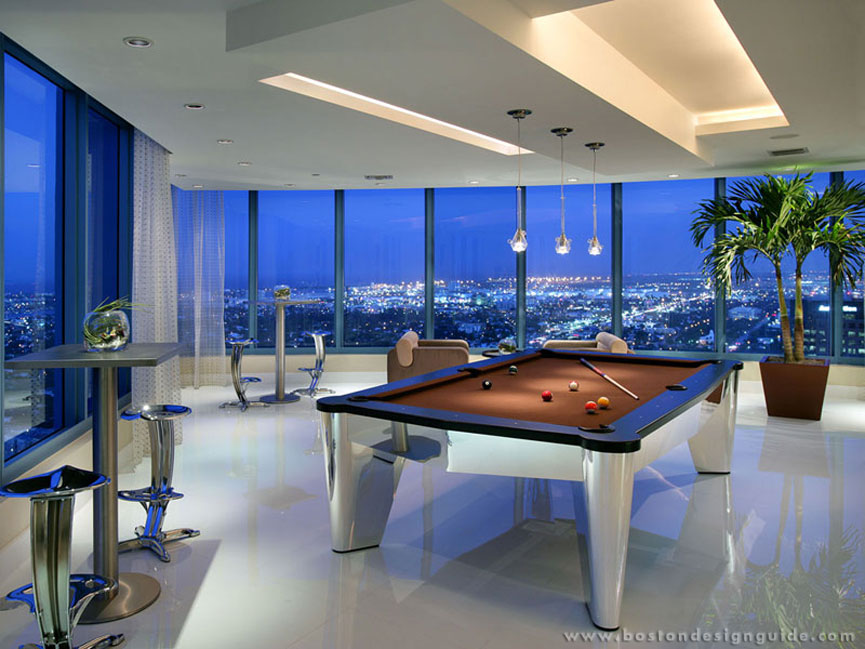 (Image courtesy of Boston Billiard Emporium)
Fallon Custom Homes has incorporated some incredible bars in retreats they've designed. These spaces are virtually luxury suites in the home, offering an alternative vantage point to watch the game, and a spot to grab a beer and talk shop. Better yet, add in a built-in food prep area where you can serve up snacks and contain the kids—when they're invited.
Bars and mini kitchens aren't a necessity, but a refrigerator is a must for keeping those brews close at hand and ice-cold. Christian Jason, owner-operator of Boston Appliance, recommends outfitting your man's retreat with Sub-Zero's  UC-24BGO 24-inch Undercounter Beverage Center with Glass Door. This all-in-one unit comes complete with wine shelves (accommodating temps needed for both reds and whites), show-stopping LED lighting and even a custom panel to match to your cabinets.