March 30, 2017 | Sandy Giardi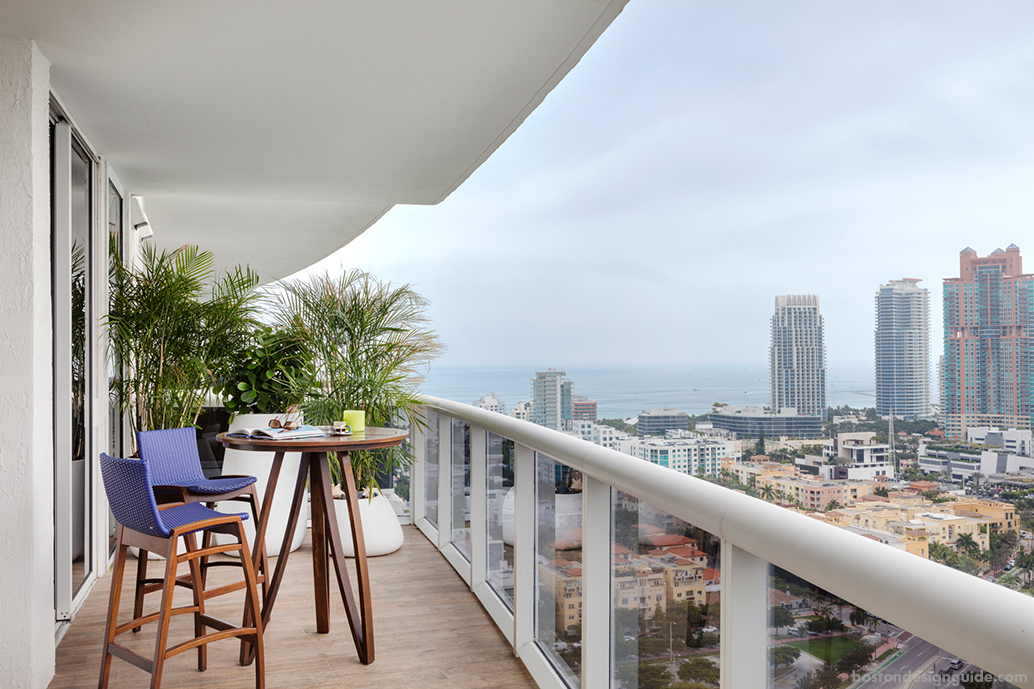 Globe-Trotting to Miami, Florida
Interiors by LDa Architecture & Interiors; original architecture and interiors by Mayer + Associates
In Miami's South Beach, it's the dramatic vantage—of the coast toward the Florida Keys, and the docklands and Miami skyline—that makes waves. LDa Architecture & Interiors, the firm that worked in the client's Newton, Mass., home, was commissioned to inject some playful character into a penthouse suite on the 25th floor, where a more Miami look had come to roost.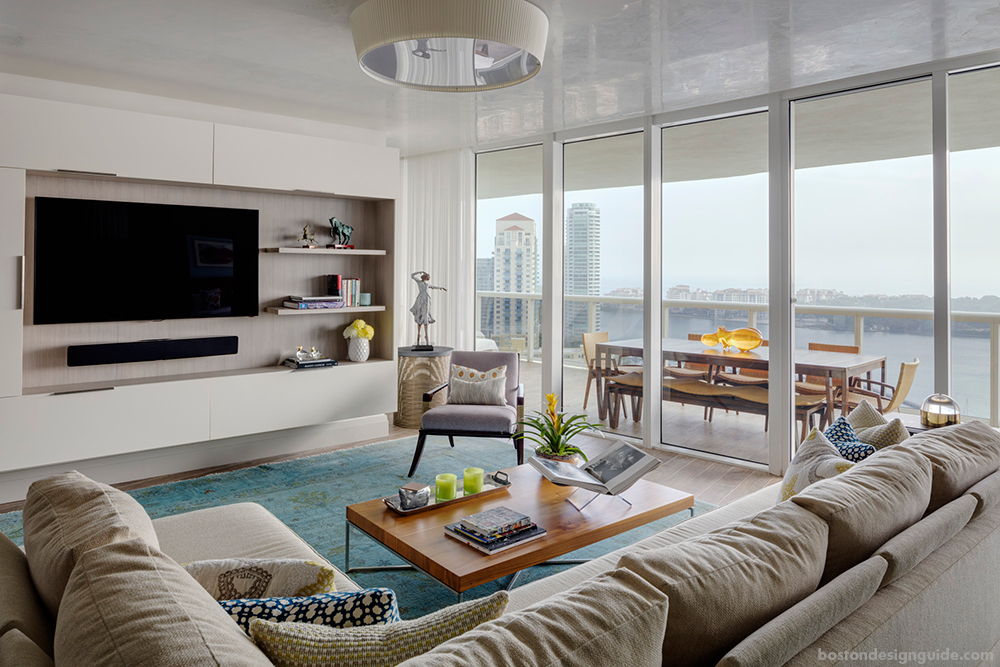 After spending time in this Floridian jewel of a second home, appointed with silver metallics and a purple glass wall, the new residents discovered that, while beautiful, their home was a reflection of Miami, but not of them. They soon determined that they preferred a more personable living space, so LDa Architecture & Interiors reworked the setting to achieve a more casual aesthetic. The facelift would express "the balance of who they are," explains principal John Day of LDa, and suit the homeowners' great sense of humor, style and character.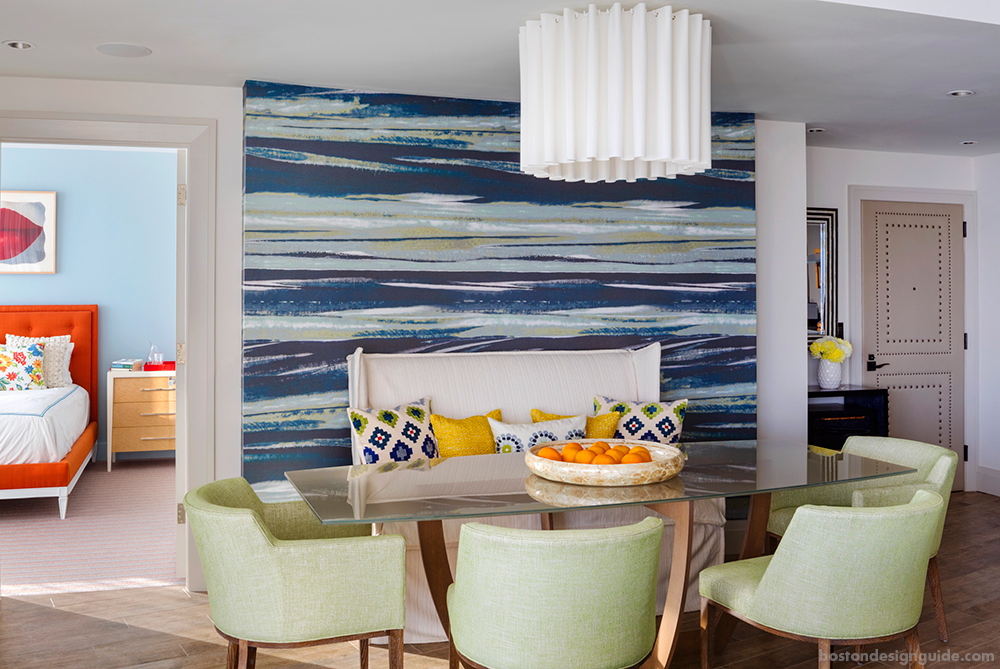 The firm took a "deeper design approach," explains Day, and punched up the color and the playfulness to create a feel-good setting that reads 'vacation mode.' Shades of persimmon, lime green and topaz blue—from the bedframes to the dynamite ROMO Black Edition Virdis wallpaper that backs the dining area—dance with the daylight and conjure a tropical flavor. A "kick-your-sandals-off" sensibility was favored over anything too precious. Appointments give permission to lounge, and include a white terry-cloth banquette with big fluffy pillows and indoor-outdoor fabric on the terrace furniture.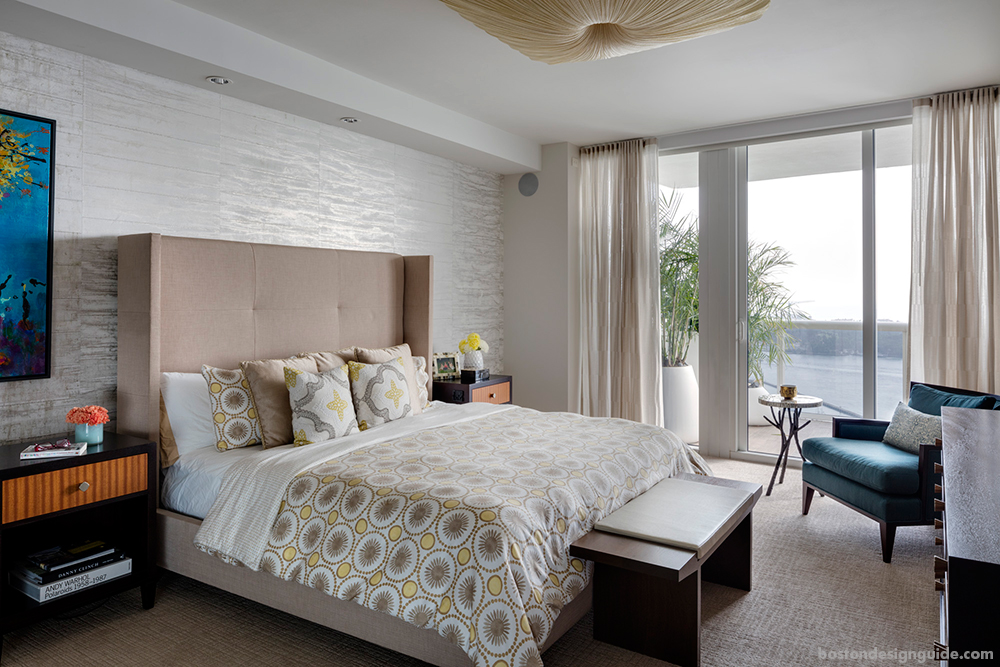 Hard edges were softened (cue the dressmaker light over the dining table and the buff-colored leather door) and the glass wall traded for an oak and white lacquer built-in to house the TV and assorted treasures. LDa was careful to fine-tune the space rather than make wholesale edits, and worked in draperies, some furniture and bedding already owned into the bedroom design. At the project's end, the homeowners were given "my Miami, not just Miami," reveals Day, and a space that feels like home.
(Interiors by LDa Architecture & Interiors; original architecture and interiors by Mayer + Associates; photos by Greg Premru)
See more Local Architects Making Their Mark Beyond New England:
Abaco, Bahamas
Santa Barbara, California
Montecito, California
New York City