September 23, 2016 | Sandy Giardi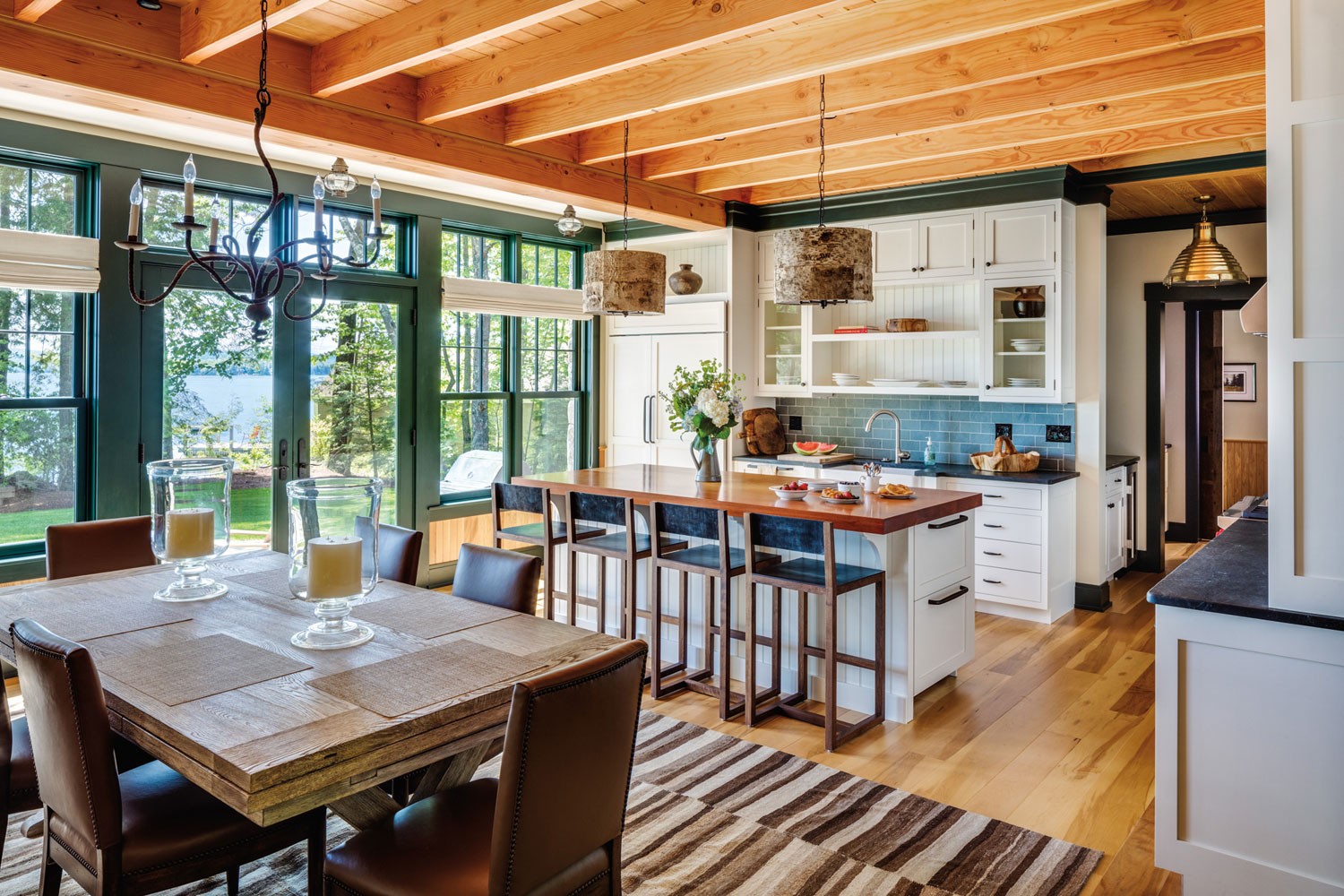 RIPPLE EFFECT: An escape at a New Hampshire lake continues a family tradition
Walk into any general store or kitschy gift shop in New Hampshire's Lakes Region and you'll see vintage, hand painted signs announcing: "Life is Better at the Lake." After spending time amid the pine-laden hills and silvery waters of Lake Winnipesaukee—a heaven-sent terrain of misty blues and moss greens where vacationers flock to swim, boat, hike or simply get off the grid for awhile—you're bound to agree.
A new homeowner, who spent many lazy summer days at his parents' lake home as a child, is a believer. While his career carried this young man and his family west, come July he feels the pull of the East Coast and an instinct to gather lakeside with friends and family. This inclination, along with happy memories, compelled him to build a restful retreat and roots of his own.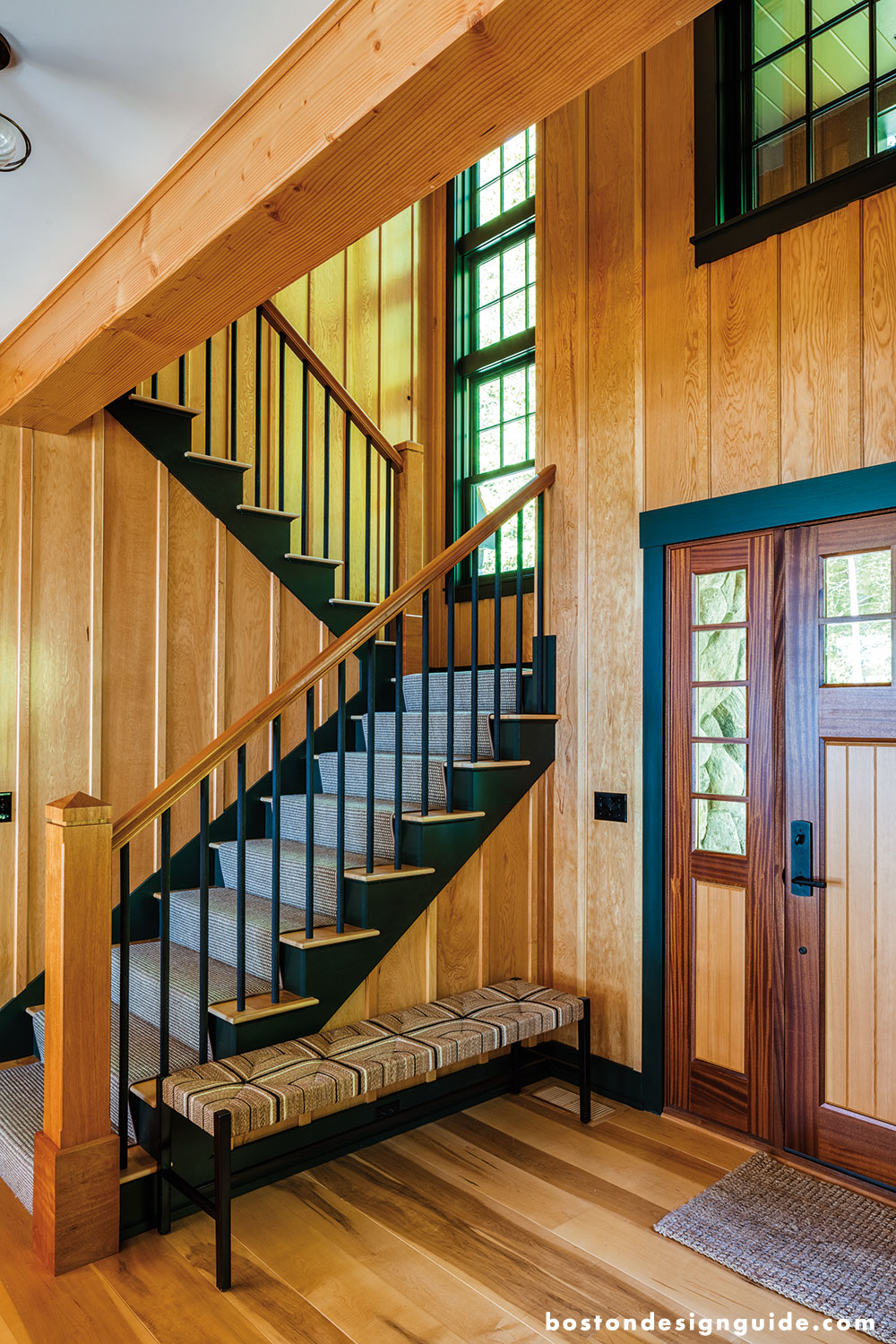 He reassembled the team that built his father's lake house—Battle Associates Architects, Wood & Clay and Mollie Johnson Interiors—along with Millwork Masters and Ponders Hollow, to craft a gleaming getaway on a private slip of land with two-mile views of the glacier-carved lake. Owner/Principal John Battle told his new client from the start that he wouldn't design him a home just like Dad's. (The premier architect makes a point of "not doing anything twice.") No matter, mimicry was never the goal; the only vestiges would be the spirit of the home and the client's fondness for it.
The aim was, however, to construct a handsome play on "the old summer camp style," explains Battle, replete with natural woods and an architectural design with plenty of structure. It would be a "very comforting, very inviting gathering place," says interior designer Mollie Johnson. "A setting for special occasions."
Mission accomplished, confirms Kevin Beland, owner and president of Wood & Clay, a family-run general contracting firm known for its high-end custom homes on Winnipesaukee and Squam Lake. The retreat has a relaxed feel and features varied "wood tones, nice, clean simple lines and a lot of glass, drinking in the beautiful views."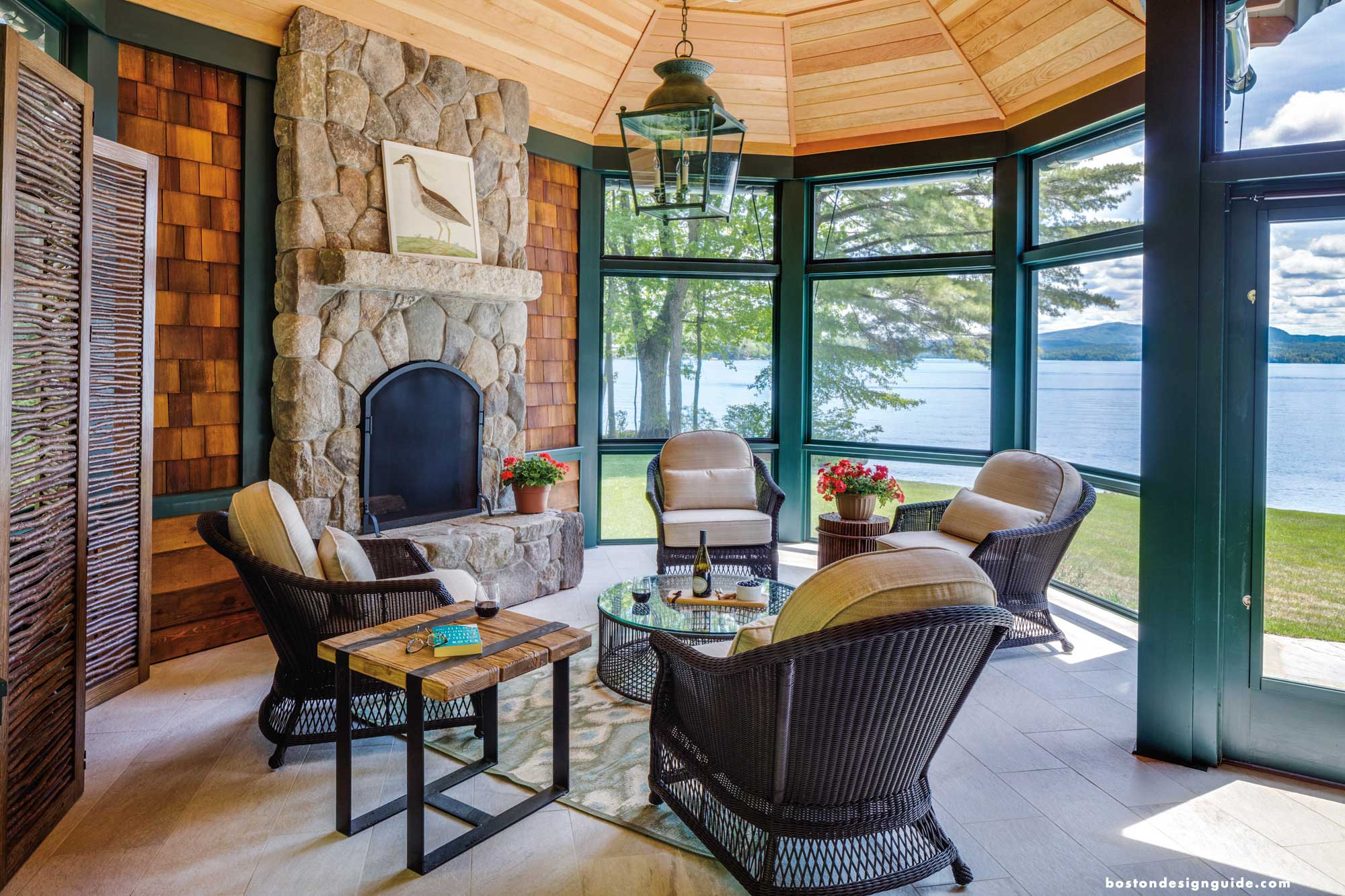 The organic construct is one with its environment and comprised of cedar and skirl siding, Douglas fir and a deeper-than-forest green painted trim that's both standard yet special in this locale. Peter Brnger, general manager of Millwork Masters, the company that supplied the Marvin Windows and Doors, and the interior and exterior door systems, hails how Battle Associates Architects works the design into the landscape. Battle is a master, says Brnger; this home "looks like it grew right out of the earth." 
It was determined early that the public spaces would have the best views of the lake's sun-dappled waters and that the screened-in porch—where most days begin and end—would be positioned "right on the sweet spot of the property," says Battle. The homeowners knew that the porch, with its rustic outdoor stone fireplace, "would be one of the most important gathering spots," explains Battle. It's the hinge that drives the home's layout, and is, essentially, a second living room outdoors.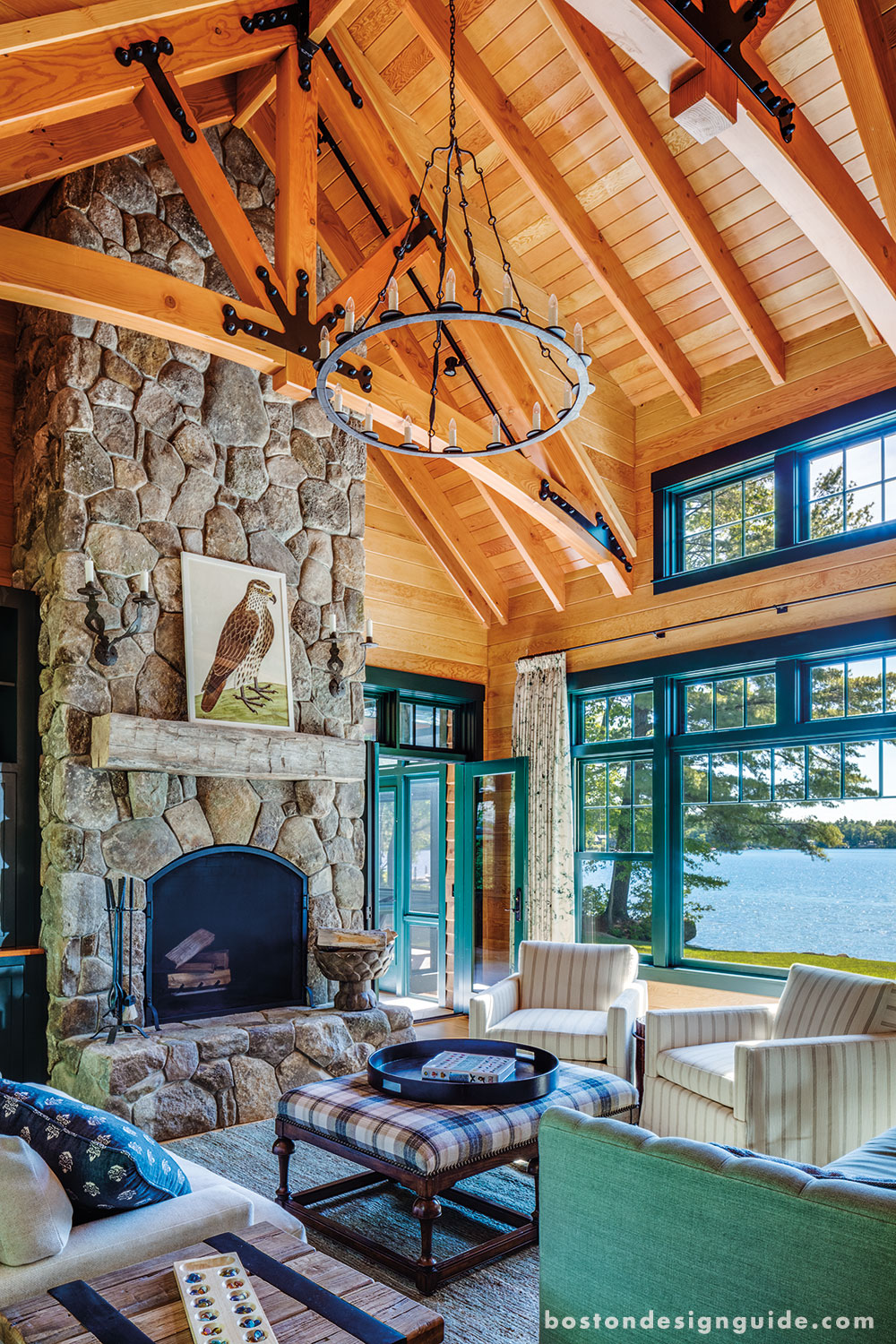 The great room—a high-volume space that's open to the dining and kitchen areas—also takes a lead role. "It's a public domain with no walls at all," says Battle, utilizing columns to differentiate the spaces. "From the client's point of view, that design was about providing a space where everyone could reunite and gather together."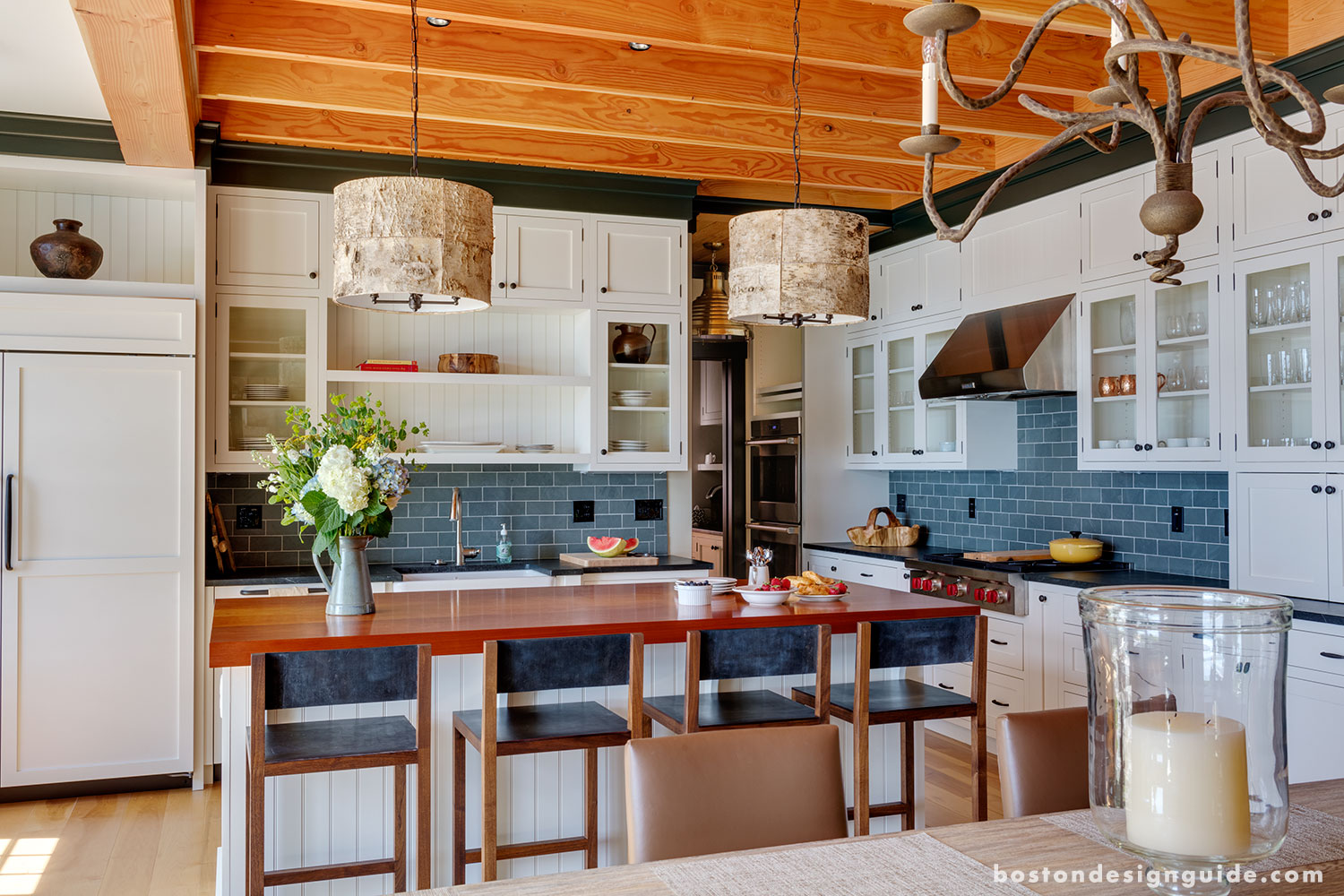 It's also a study in craftsmanship, and Beland's favorite room in the house. He applauds the use of stone in that space, the curved truss built onsite by Wood & Clay and the glorious feature window. Straddled by a rustic, "pickled looking" dinner table that accommodates a crowd when extended and the kitchen on one end and the porch—doors swung wide—on the other, it creates a beautiful space to congregate and enjoy.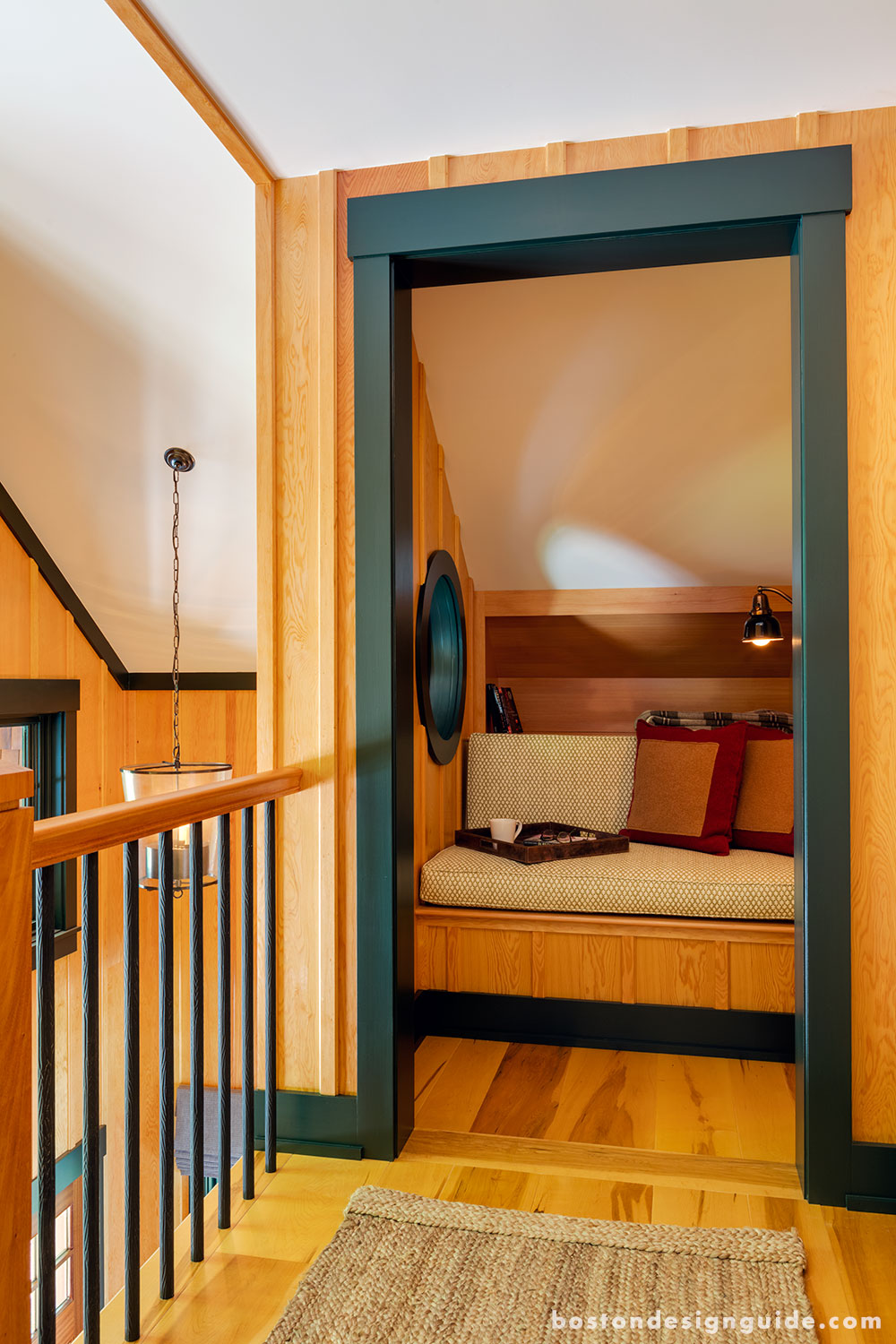 A few places aren't fit for crowds, such as a reading alcove in a cozy spot above the front hall stairs on the second landing. "I try to create these little spaces where someone could retreat and have a private moment," says Battle. Doing so means that residents and guests can keep their sunny dispositions even when it rains.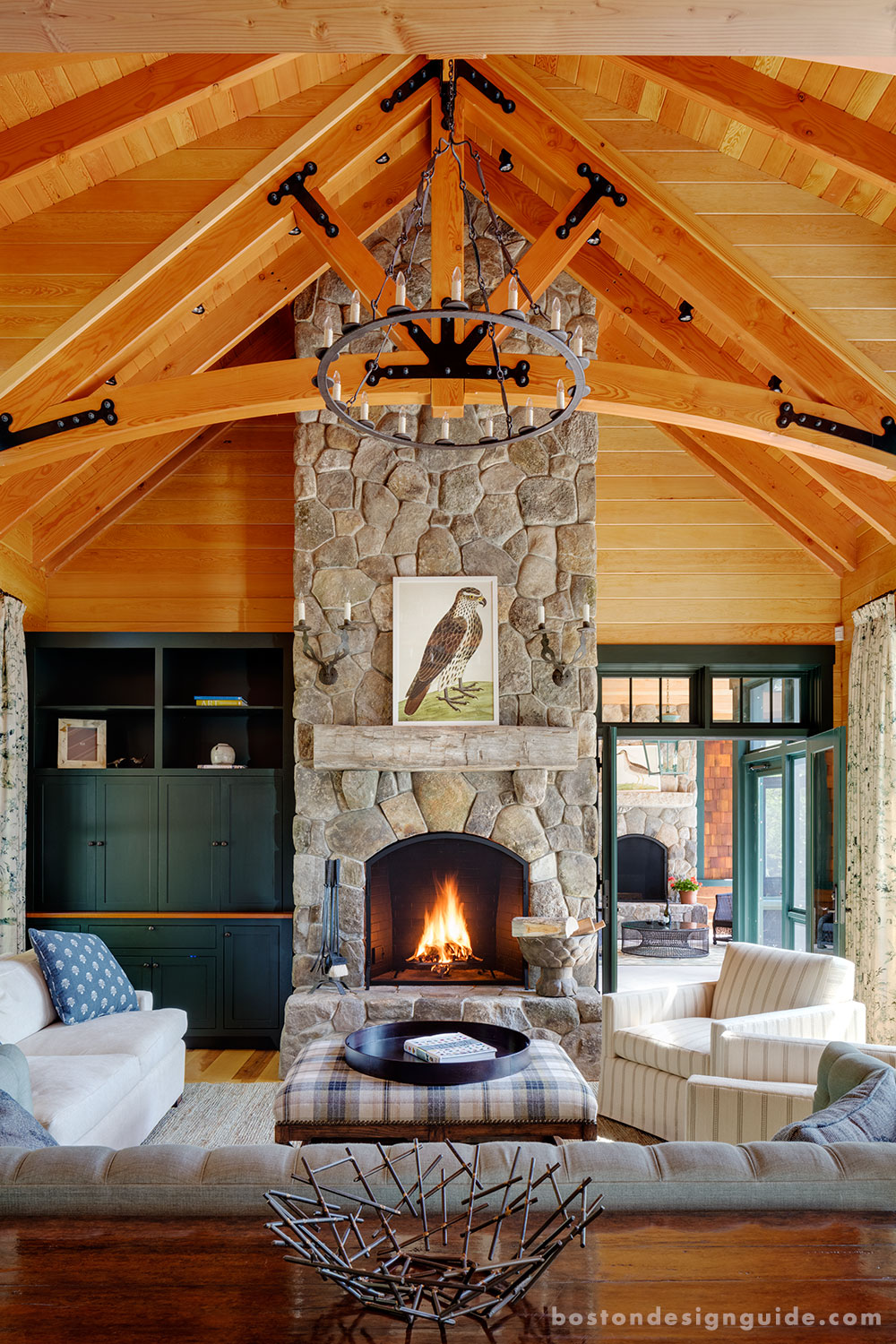 For the interior design, earth tones were selected for a natural look, as "the home was sited so beautifully on the water," reveals Johnson. The limpid blue-greens of the lake and sand tones are reflected inside, coloring welcoming "mix-and-match" furniture. Johnson "worked from the ground up" to achieve the overall eclectic vision, finding fabulously unique, casual rugs to protect Ponders Hollow's wide-plank sugar maple hardwood floors throughout the home. "This is their getaway house. They didn't want it formal, but they wanted it to be nicely done," says Johnson.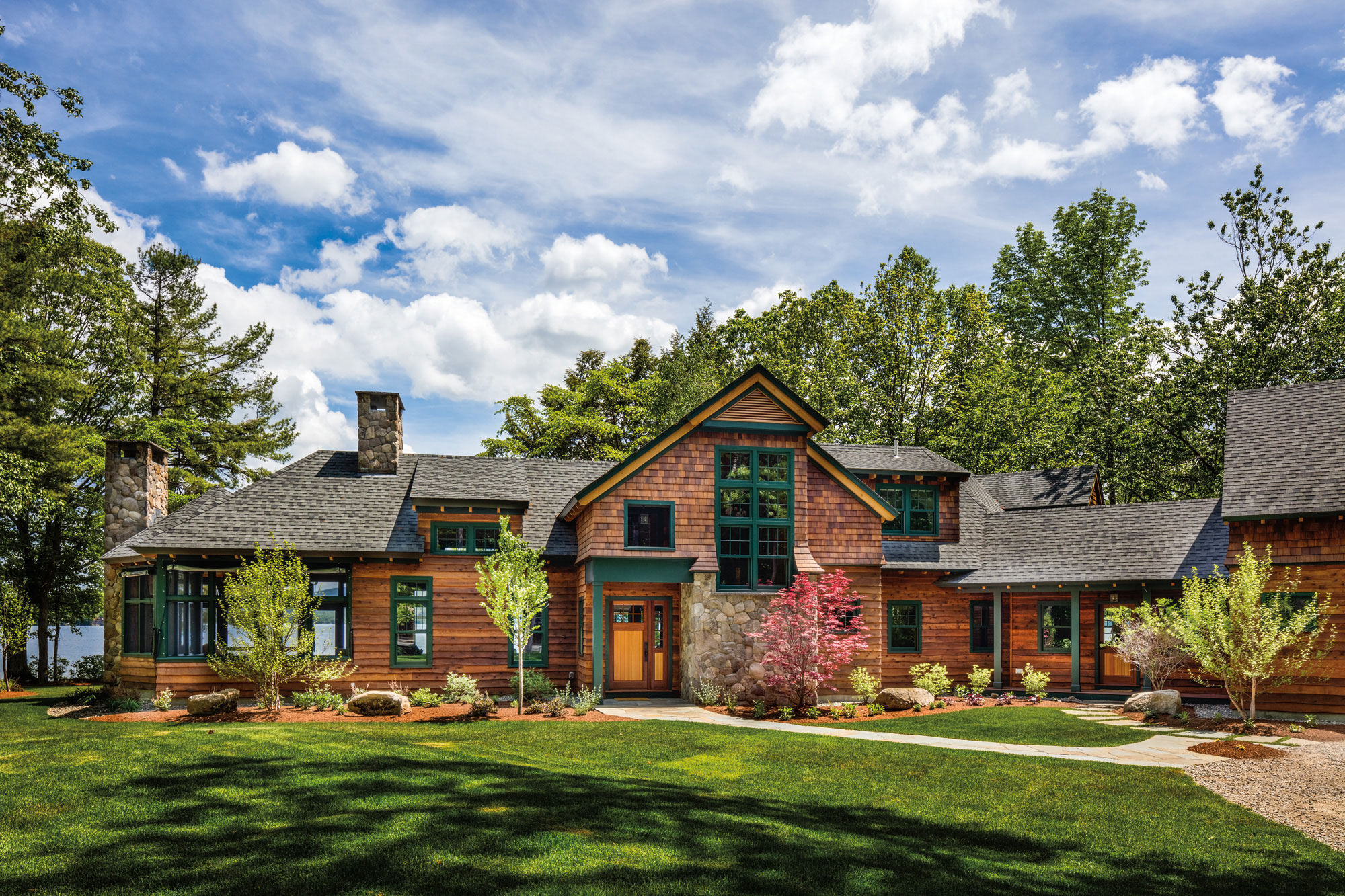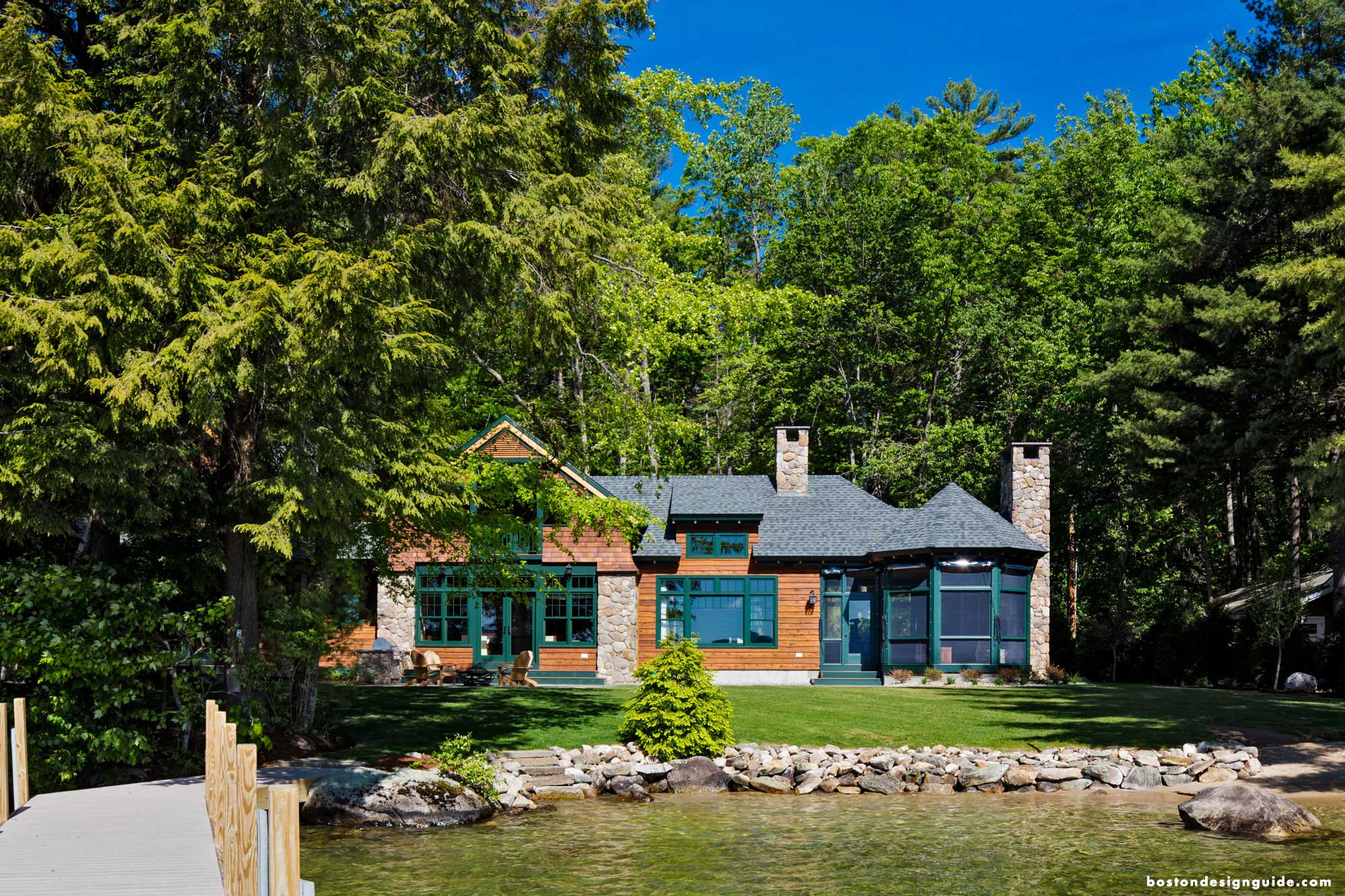 Wood & Clay is not shy about experimenting with a lot of woods and getting a unique look," says Ray Boelig, Director of Sales at Ponders Hollow. "They think outside the playbook." This philosophy is shared by the entire team, all of whom enjoyed working on a property that's styled so differently from a primary residence. After all, says Beland, "You're on the lake. It should feel like a vacation." 
Architect: Battle Associates Architects - Interior Design: Mollie Johnson Interiors - Builder: Wood & Clay, Inc. - Doors/Windows: Millwork Masters - Flooring: Ponders Hollow - Appliances: Baron's Major Brands Appliances - Kitchen Fixtures: Splash - Photography: Greg Premru