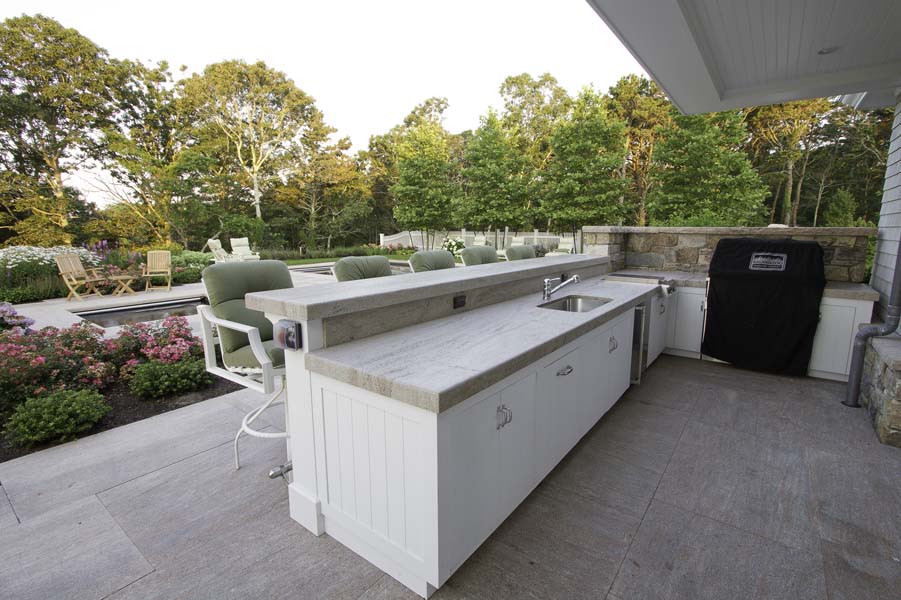 The experts at Schumacher Companies have shared their findings with us on how to create a beautiful and functional outdoor kitchen. Here's everything you need to know:
A recent survey by the American Society of Landscape Architects revealed that outdoor kitchens and entertainment spaces (92.0%) have almost equaled gardens and landscaped spaces (94.2%) in popularity.  The 2014 Houzz Spring Landscaping Trends Study reflected this trend, as 83% of respondents to their survey considered their backyard "an ideal entertaining space."  Consequently, the outdoor entertaining area design is becoming more sophisticated.  Where once the small charcoal grill held court, the outdoor kitchen now reigns as king, complete with drop-in gas grill, multiple appliances, cabinets, and conveniences. If not for its all-weather materials, today's outdoor kitchen would be almost indistinguishable from the one that resides in your house.  If you are thinking of upgrading your outdoor grilling area and installing an outdoor kitchen, here are some tips to help you build one that you'll use and love year after year.
Placement
Where you place your kitchen can have the greatest influence on how often you use it.  If it's placed too far from access to the house and your indoor kitchen, shuttling food and dishes back and forth will feel like a chore.  Prepping, cooking, and cleaning up outside your house should be as easy as dining in.  If it's not, you might still use the grill for cooking, but you probably won't use the space for dining and entertaining.  If you do place your kitchen far from the house, you'll want to make it as self-sufficient as possible, installing a sink with hot water, refrigerator, and ample storage for dry goods, dishes, and utensils. This will increase your costs, but these conveniences will also ensure that you use your kitchen often enough to get the best return on your investment.
Once you've determined its proximity to the house, you'll want to think about how it incorporates into the rest of your landscaping.  Just as your indoor kitchen flows into dining and living areas, so, too, should your outdoor kitchen work in harmony with outdoor entertainment and recreation areas. Make sure that guests and cooks alike have easy access to the house as well as your yard and pool, if you have one. Your kitchen and dining areas shouldn't create a barrier around which your guests have to navigate to access your home or yard.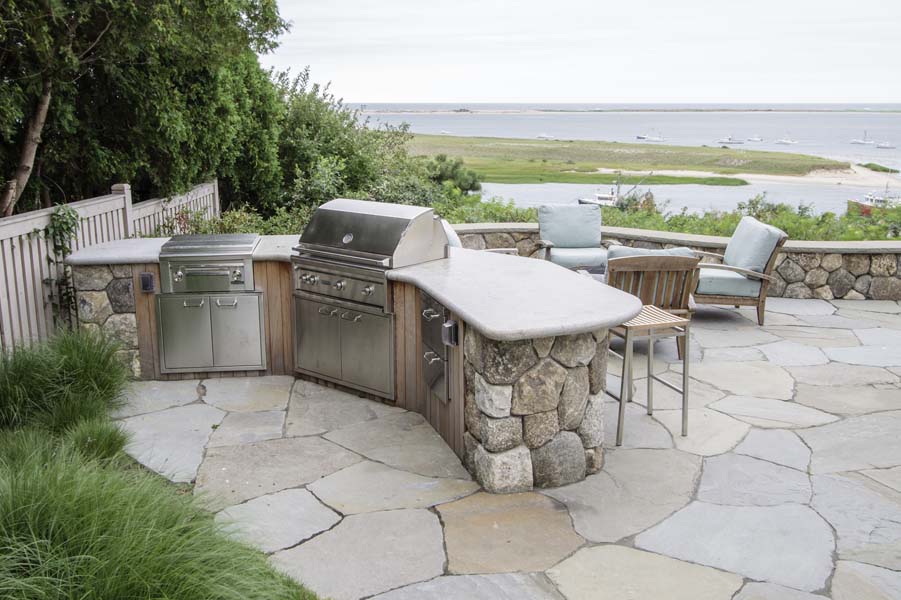 Lastly, when placing your kitchen, you'll want to take advantage of your landscape's vistas.  Try to situate your kitchen so that both guests and cooks are able to view your landscaping. If you are limited in your placement and someone has to look at a house or garage wall, make sure it's the cook and not your guests. And protect diners from the smoke coming from your cooking area.  Identify your property's prevailing winds and make sure that all seating and dining areas are not downwind where smoke will overwhelm them. Lastly, keep your own privacy in mind.  You'll appreciate and use your outdoor kitchen more if it has a cozy, private feel.  You'll not want your neighbors having a front row seat to all of your parties. If your current landscaping does not provide privacy, you may want to include in your budget some funds to install plants for screening.
With its placement set, you'll next need to plan the elements your kitchen should contain. One way to approach this task is to think of organizing your outdoor kicthen into three zones: food prep, cooking, and clean-up.  A fourth zone of entertainment should also be considered, especially if you plan on having a bar area near the cooking and preparation zones.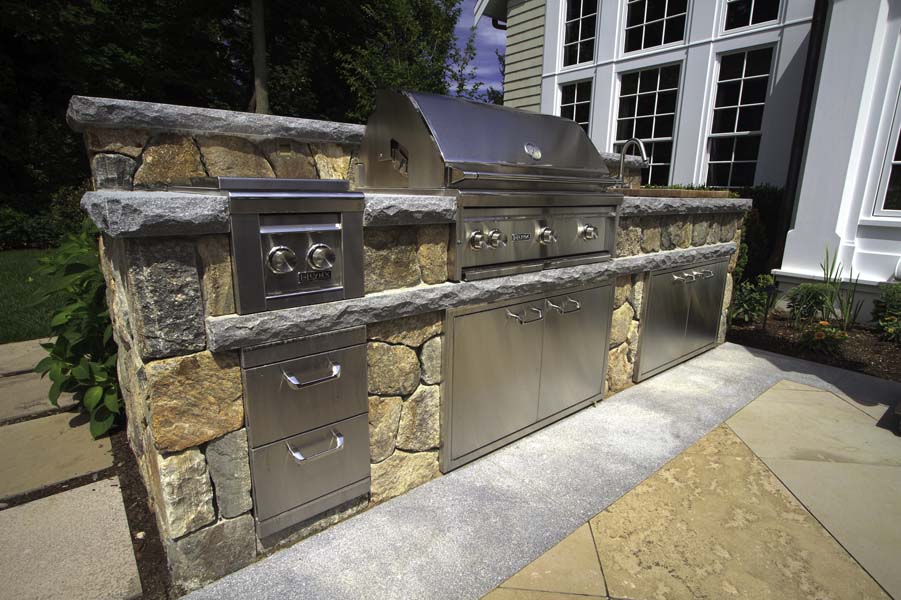 Cooking Zone
The grill of course is the centerpiece, and a quality grill can cost anywhere from $1,000 to $10,000 depending on the brand, number of burners, and the level of customization involved.  But there are other elements to this zone that you'll need to consider.  How many side-burners will you want for sauteing and boiling?  Do you want a built-in or stand-alone smoker?  A hot trend right now for many homeowners is the wood burning brick pizza oven, which can be made of cement or brick. If burning wood for cooking is not something you want to tackle, you can also find stainless steel pizza ovens that use gas for fuel and are designed to recreate the radiant heat, convection, and conduction properties of a traditional stone oven. There are many options when it comes to cooking outside.  Just remember, if it can be found in an indoor kitchen, it can be found for an outdoor kitchen.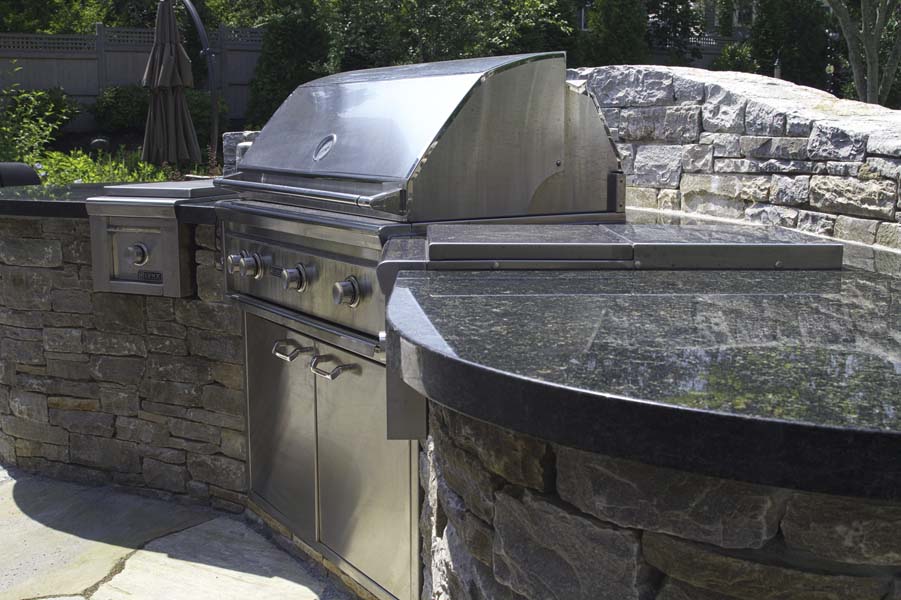 Food Prep Zone
The core of this zone is countertop space. You'll want 3-4 feet of clear space for food preparation in addition to 16" on each side of any element such as a side-burner or the grill proper. Storage cabinets for utensils, dishes, flatware and even dry goods are a must if you wish to get the most out of your kitchen.  If you entertain large groups on a regular basis, you may want to think about a refrigerator, beverage center, and/or ice maker, appliances that are also very nice to have if you own a pool. A warming drawer might be considered a luxury item, but if you own a pool, keep in mind that some drawers hide the heating element allowing them to warm towels or robes, a nice feature for cool mornings and evenings.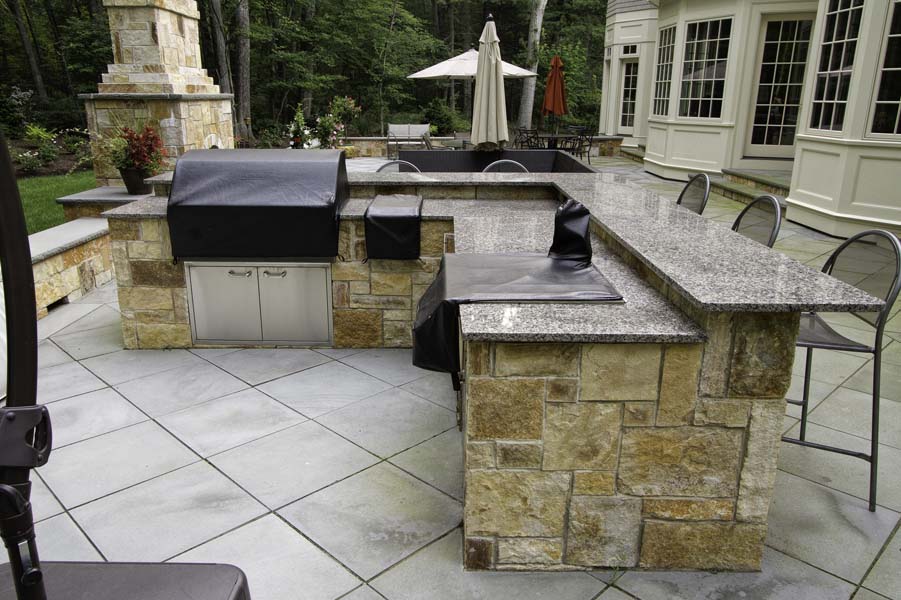 Clean-up Zone
This can be nothing more than an area to stack dirty dishes before bringing them inside or it can consist of a hot water sink with garbage disposal and trash receptacles. You may find having a dishwasher in your outdoor kitchen is a valuable convenience if you often entertain large groups. Even if you don't install a dishwasher, having a built-in trash receptacle outside will allow you to easily clear and organize dirty dishes without having to immediately carry them inside for cleaning. And a built-in receptacle isn't unsightly and can help keep bees from flying around your guests.
Entertainment Zone
Having an area for your guests to dine and convene is obvious, but you may want to think about including space for your guests to sit and dine comfortably in the kitchen area.  Specifically, you may want to include into your design an island bar area for your guests to sit and dine with you while you prepare and cook. And no matter where your guests convene, make sure that there is ample shade for them.  Trees, a patio cover, or a pergola are a few ideas but you can also just employ umbrellas, which give you great flexibility.
Don't Forget
Even when you think you have all of your planning done, keep in mind the following:
Utility work can quickly blow your budget.  Sinks need hot water and sewage connections, refrigerators need 110 voltage, and gas grills need natural gas lines.  The farther these utilities have to extend out from the house to connect, the more costly the work will be to install them.
Make sure that your outdoor kitchen is not a museum piece.  If cleaning your kitchen is difficult and a chore, you'll probably use it less that you planned.  Avoid porous stones like limestone which can absorb stains easily.  Sealed granite and stainless steel are good choices for materials to use in your outdoor kitchen.
Don't forget about lighting.  Much of your backyard entertaining will either occur at night or end as the sun is setting.  Include a thorough lighting plan for cooking and entertainment areas so chefs can cook and guests can dine and socialize comfortably.
Plan for the installation of a TV or an outdoor sound system and install the wiring for one even if you won't be installing them.  It's a lot easier to install wire for these items while your outdoor kitchen is under construction than later after your space is finished.  And if you ever plan to sell your home, having the wiring in place will be an enticement to prospective buyers who may want those items in homes they are considering buying.
If you'd like to use your space in the early spring and into the fall, consider buying gas patio heaters like you see at many restaurants, and plan for their placement in the design phase. They are very effective but they are also large.  If you don't account for their locations when you design your space, you may find later after construction that there is no place for them near your guest seating areas.
Endless Possibilities
Advancements in technology, materials, and design methods will allow you to have an outdoor kitchen that can survive years of harsh New England weather. Even the most expensive kitchen, however, won't be worth the investment if its design is lacking.  Be thorough in the design phase and you'll ensure that you get the outdoor space of your dreams.