April 14, 2015 | Anonymous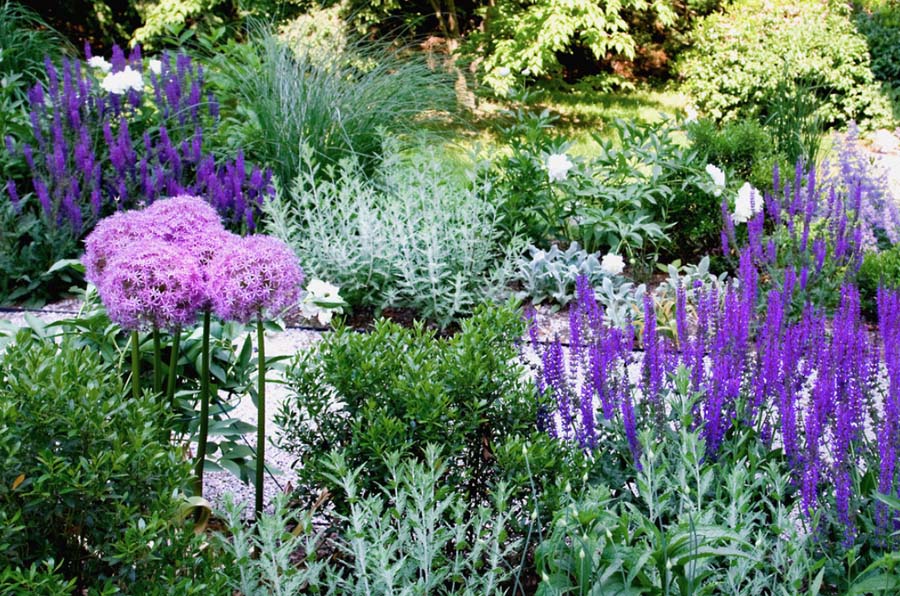 Landscape Architecture by Matthew Cunningham Landscape Design
English gardens occupy a unique space in the world of landscape design—they're both formal and informal, and evolved as a reaction to the highly symmetrical French gardens of the 17th century. English gardens are recognized by their sweeping views of rolling hills and distant forests, their beautiful water elements, curving paths and walkways, and decorative accents that hint of ancient times—Greek and Roman urns, statuaries, and fountains. However, you don't have to cross borders or oceans to enjoy the beauty of an English garden. Here, some wonderful examples and inspirations from all over New England.
Below, this beautiful woodland residence is located in Belmont, Massachusetts. Rustic twigs of lavender and other herbs create a wonderfully wild border to the stone gravel walkway.
A bluestone border gives this lawn structure and a sense of formality that is wonderfully offset by lush, vibrant gardens. The stonewall looks rustic and slightly distressed, evoking an ancient castle wall.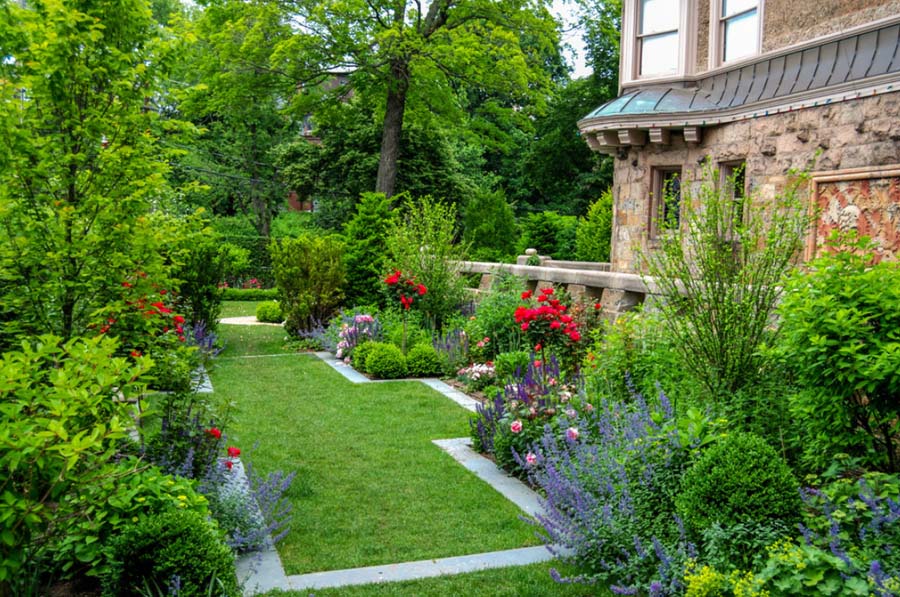 Landscape by a Blade of Grass
This home's front entry is charming and full of character, with vines overgrowing the stone façade. A stone pathway leads to the front door, framed by two artfully distressed stone planters.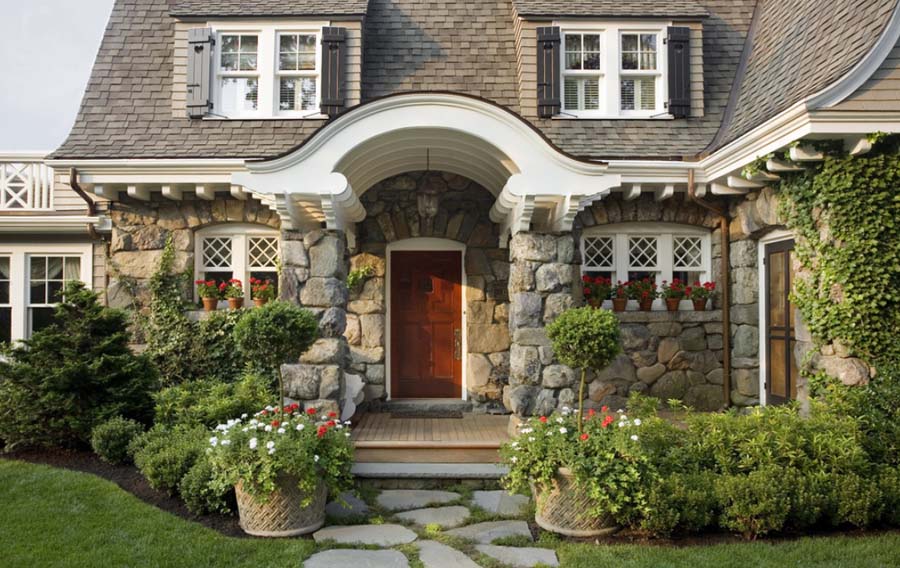 Architecture by Oak Hill Architects
A large, lush front lawn provides the perfect entrance to this grand country estate. The landscape's circular fountain looks like a miniature pond, dotted with lily pads and bordered by a bluestone edge.
Architecture by Meyer & Meyer Architects & Interiors
Stone pathways and staircases divide this Tudor-style garden into distinct areas—a pool, dining area, and lounge space. A combination of manicured hedges and small trees give this landscape an air of English formality.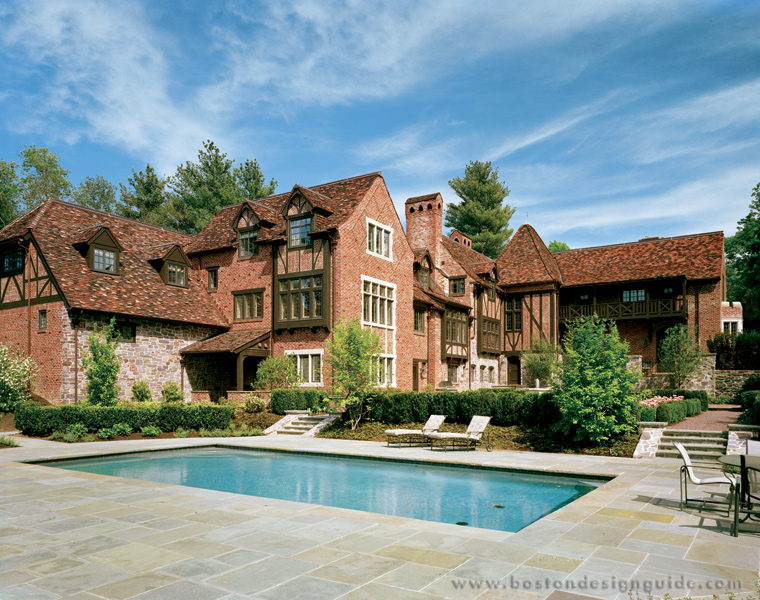 Landscape by Schumacher Companies; Custom Built by Kenneth Vona Construction; Stonework by O'Hara and Company; Landscape Architecture by Dan K. Gordan Landscape Architects; Photography by Richard Mandelkorn
Clean lines in the stone pathway and manicured hedges create structure in this outdoor space, as the mature trees and evergreens in the forest seem to be bursting forth from the wild forest's edge.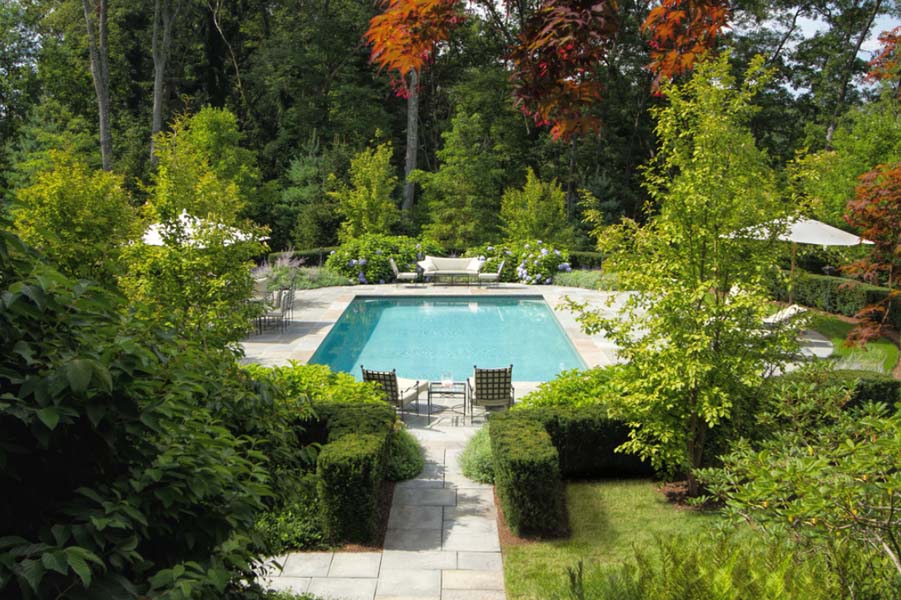 Landscape Architecture by Dan K. Gordon
Statues and urns are another defining feature of traditional English gardens. Meant to evoke the distant Greek and Roman societies, these garden ornaments feel like old ruins, adding a feeling of otherworldliness to your garden space.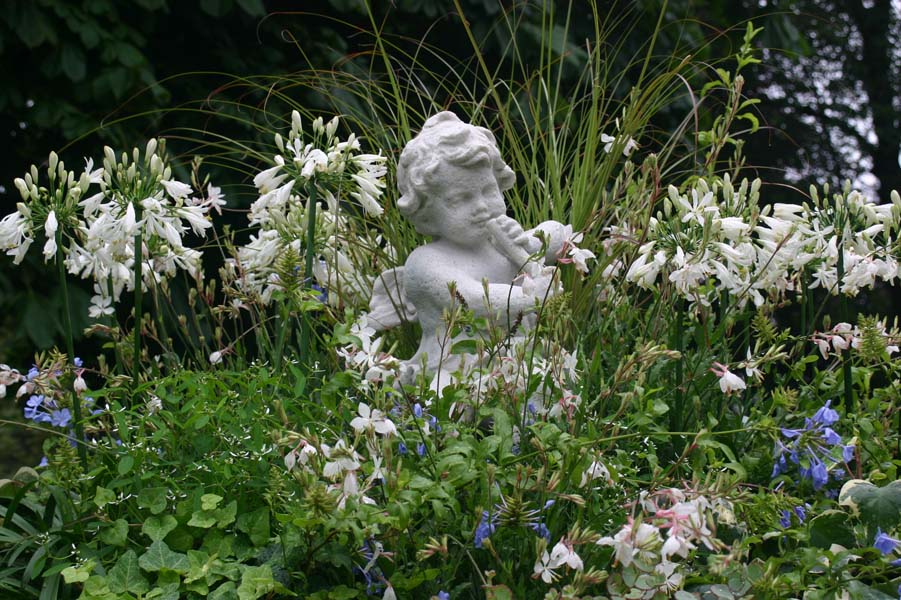 Statue from New England Garden Ornaments
This lovely urn, set against a backdrop of hazy mist, succeeds creating an enchanted and magical garden, and fits perfectly with the stone steps and wall.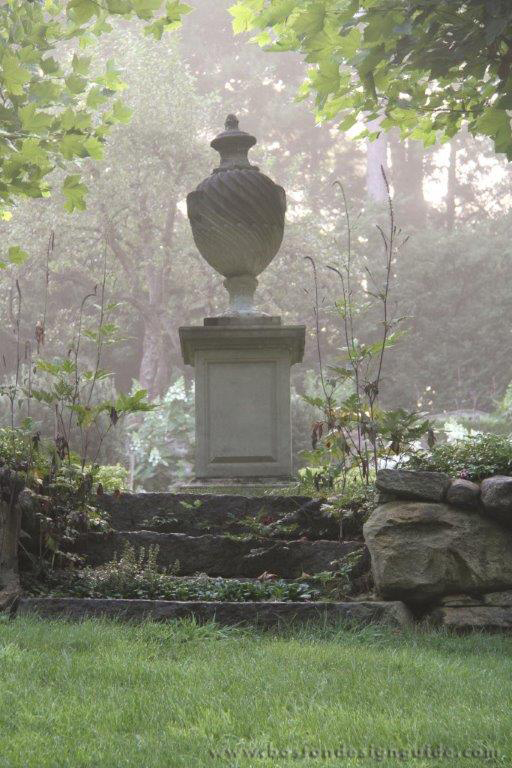 Urn from New England Garden Ornaments