May 30, 2017 | Sandy Giardi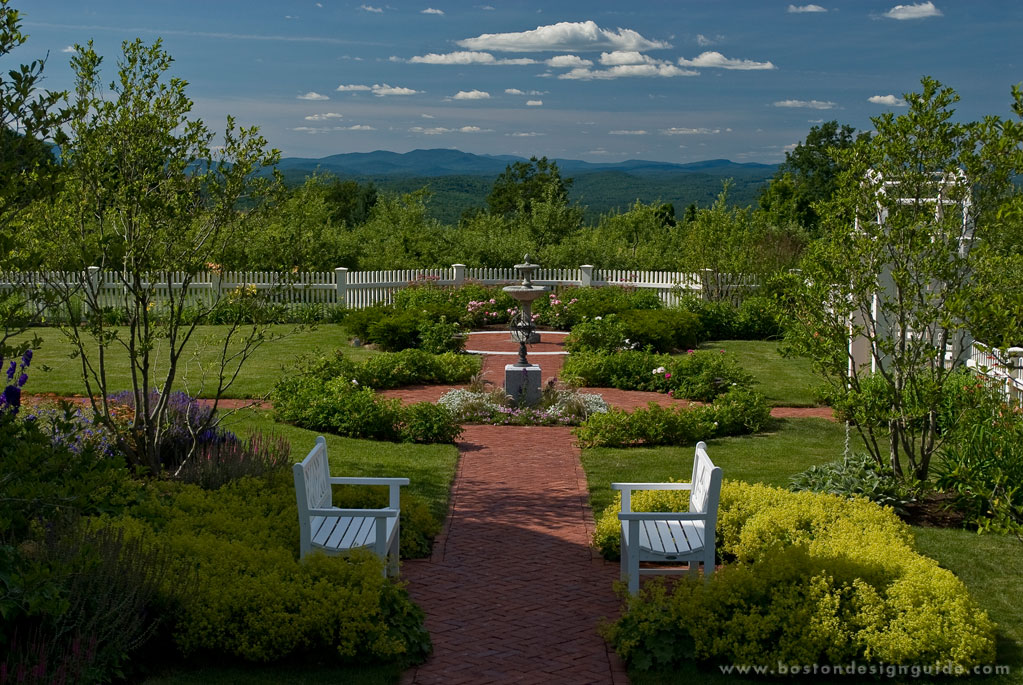 Glorious Gardens: New England Estate
Set on a stunning seven-acre former orchard in New Hampshire, Pellettieri Associates, Inc. gave a grand new estate a landscape of equal merit. The mission of the elegant manor was to create a home of "presence and permanence" and the grounds followed suit. The property capitalized on the site's breathtaking northern views as it realized an ambitious roster of outdoor programs including a pool, pool house, outdoor kitchen, recessed spa, tennis court and barn.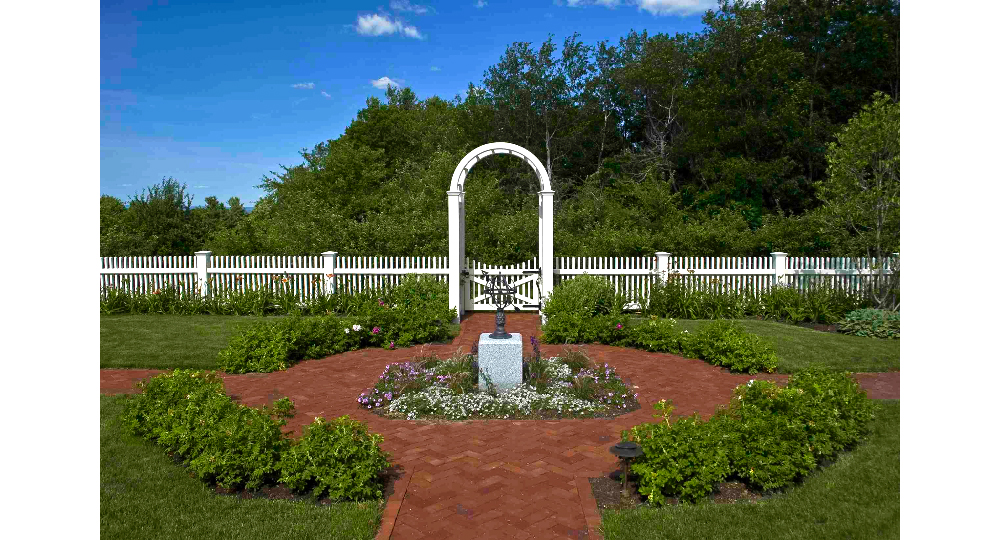 As for the gardens, Pellettieri Associates installed a mix of styles. The formal library garden, with its manicured symmetry, central sculpture and mirror-image benches, boasts a traditional air. Its tidy rose beds, herringbone bricked pathways and bright white fencing are all the more striking when juxtaposed with the thick forested backdrop beyond the gate.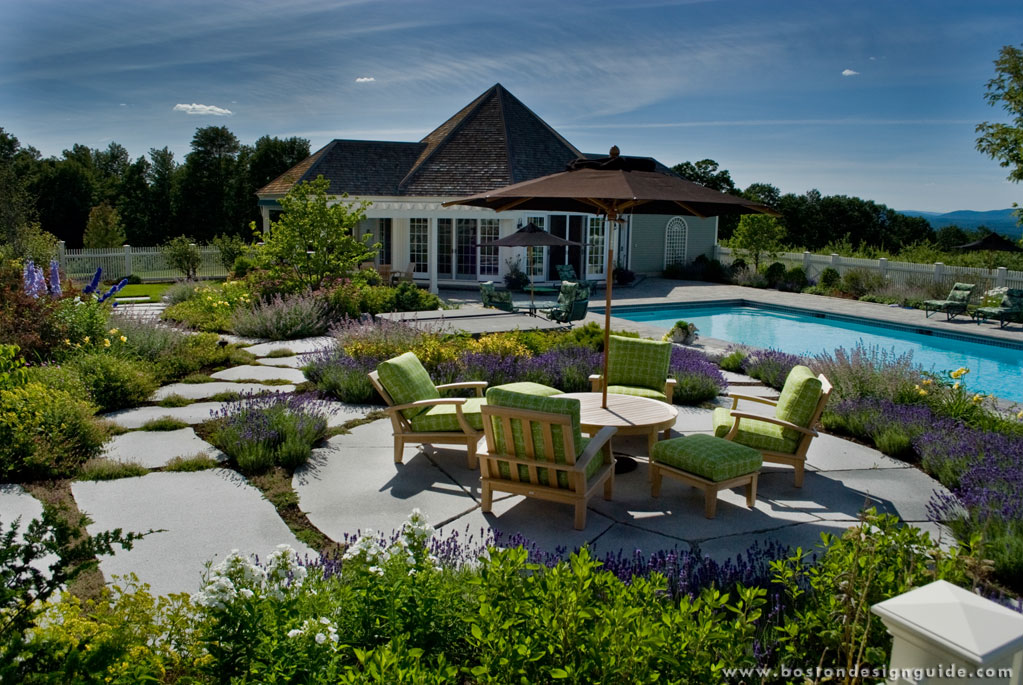 Poolside, the team relaxed the garden to conjure a casual, sunny vibe. Shrubs and cheerful blossoms encircle the patio, while groundcover peeking out of the stonework softens the hardscape. The effect is a little less structured, and perfect for bare feet and recreation.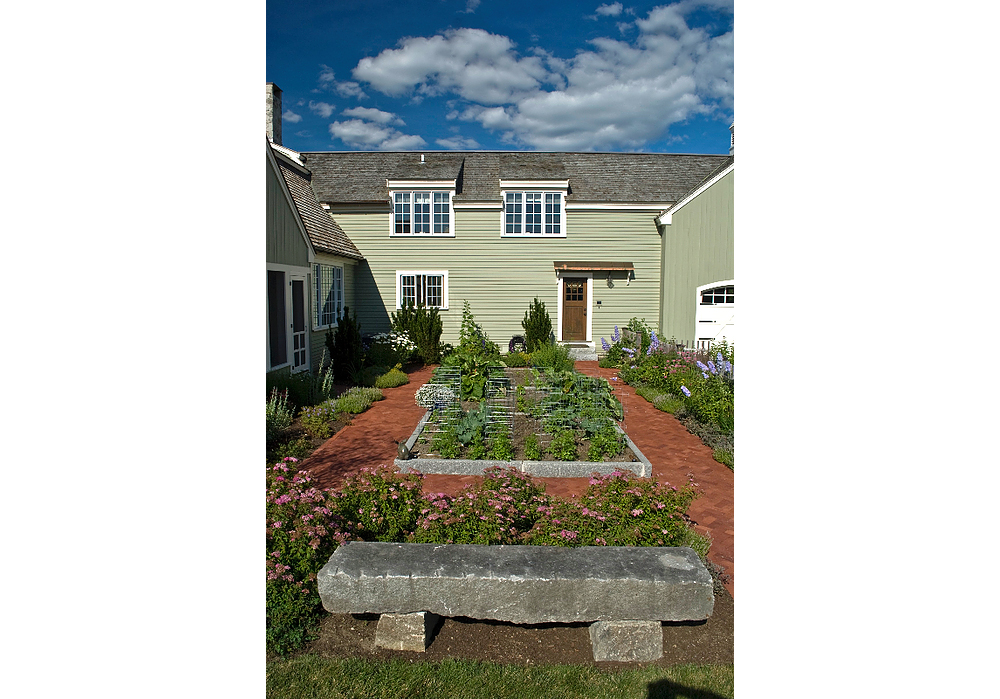 For the resident chef, a kitchen garden is nestled alongside the home. The outdoor space again incorporates that classic red brick, yet also works in granite, paying homage to the area's heritage. While the center soil sprouts homegrown vegetables and herbs, long-stemmed flowers frame the courtyard for fresh-cut bouquets.
Landscape Architecture by Pellettieri Associates
See more Glorious Gardens:
Bosque Court
Pond's Edge Estate
Backyard Eden
Made in the Shade
The Blue Garden, Newport
Suburban Outdoor Oasis
Riverside Farmhouse