February 23, 2021 | Marykate Forte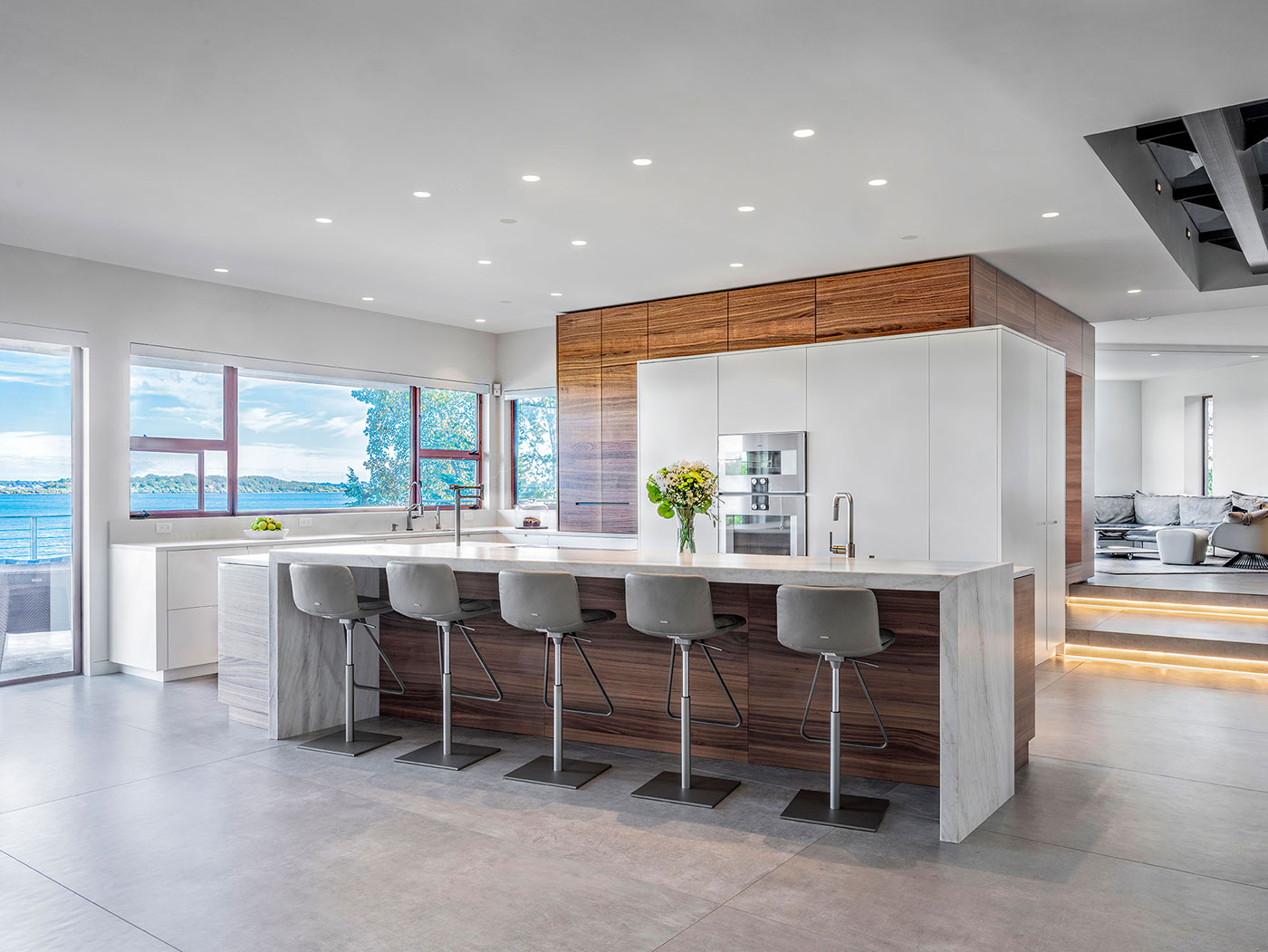 A Jamestown kitchen overlooking Narragansett Bay embodies originality.
With its majestic ocean views, it was important that the elements of this kitchen in Jamestown, Rhode Island didn't detract from the outdoor perspective. Equally important, according to Samantha DeMarco, the senior designer at Divine Design Center who was contracted by the homeowners to execute the first floor redesign, was that the kitchen exude a sophisticated minimalist aesthetic with a calm and inviting appeal.
The homeowners are avid cooks who love to entertain, says DeMarco, noting that they were very involved in the design phase. "They wanted the kitchen to be reflective of them and it was important that it have a modern vibe."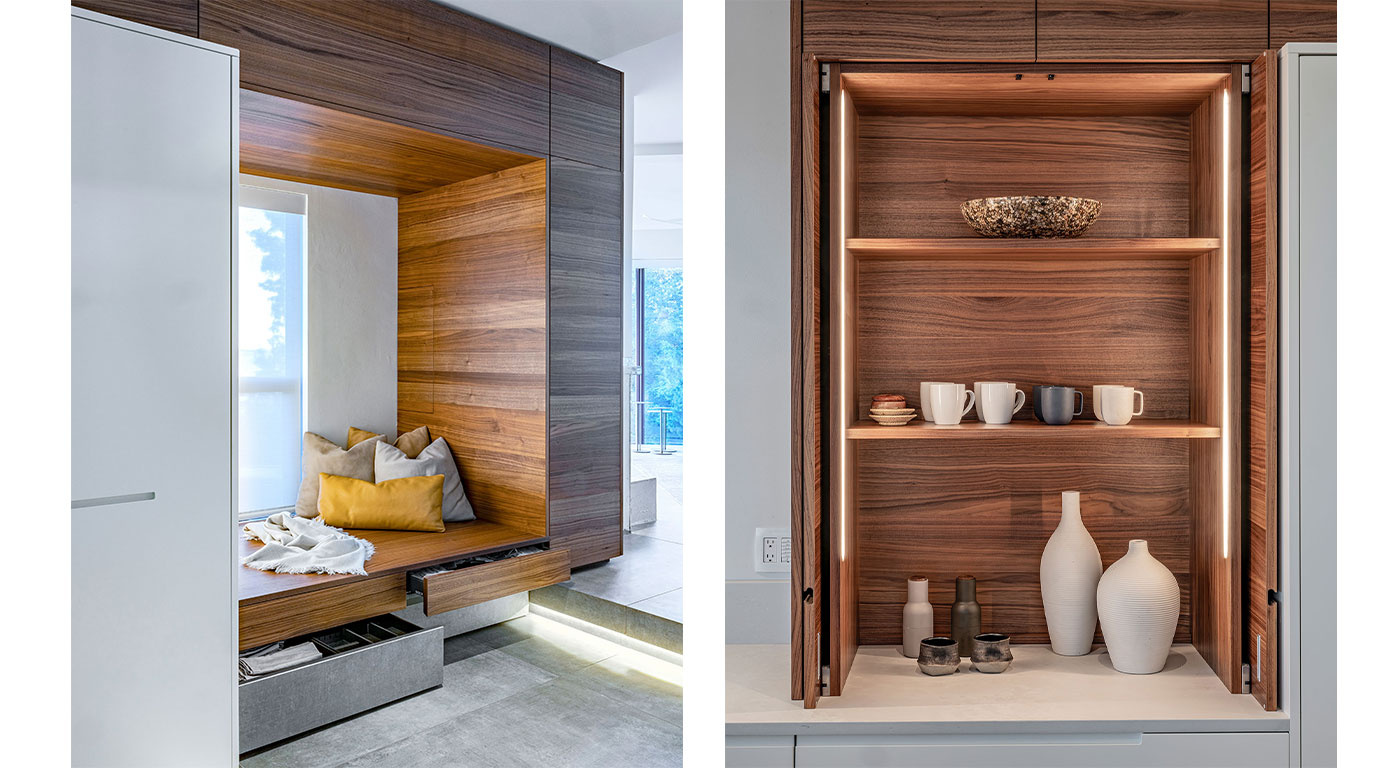 Walnut continuous horizontal grain veneer frames the white matte lacquer cabinetry, exuding a subtle sense of warmth. All of the Doca cabinets feature custom Bunotte doors with cut-out handles that are discreet and sleek. The Arketipo Auto-Reverse sofa and the Leolux Parabolica add casual sophistication to the living room.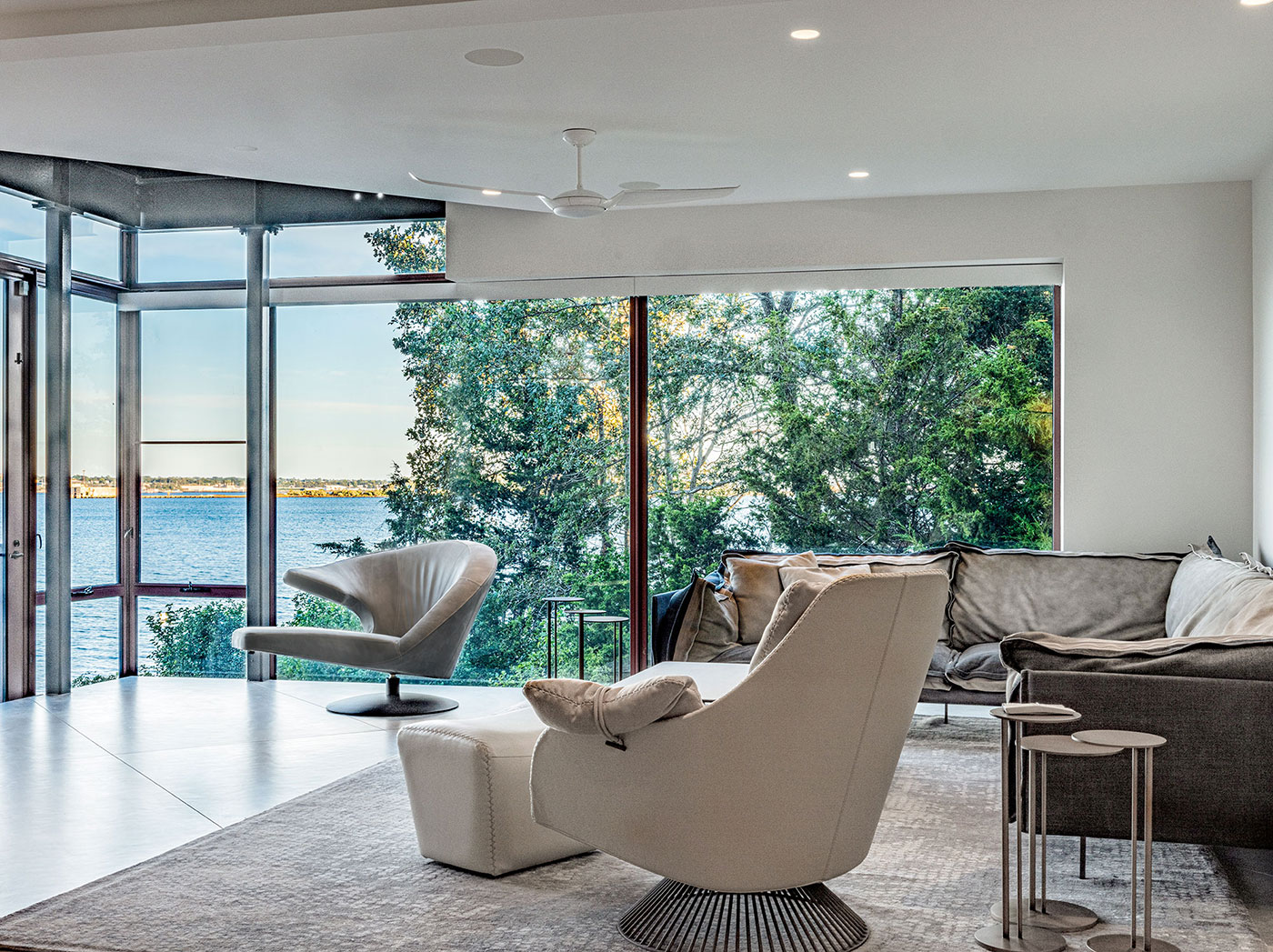 The Gaggenau steam and convection oven commands attention. The hand-crafted steel and glass oven is a utilitarian work of art that is as efficient as it is luxurious. With a touch to open feature for ultimate convenience, the Gaggenau refrigerator and freezer are clean and minimal with no handles. The appliance is encased discreetly behind the white panels, creating no interruption in the cabinetry.
The quartzite island, which has a full surface induction cooktop at the center, comfortably seats the family's four children and also serves as a great spot for adults to congregate and entertain. Designed at a slight angle, the island is oriented to capture an expansive view of the water.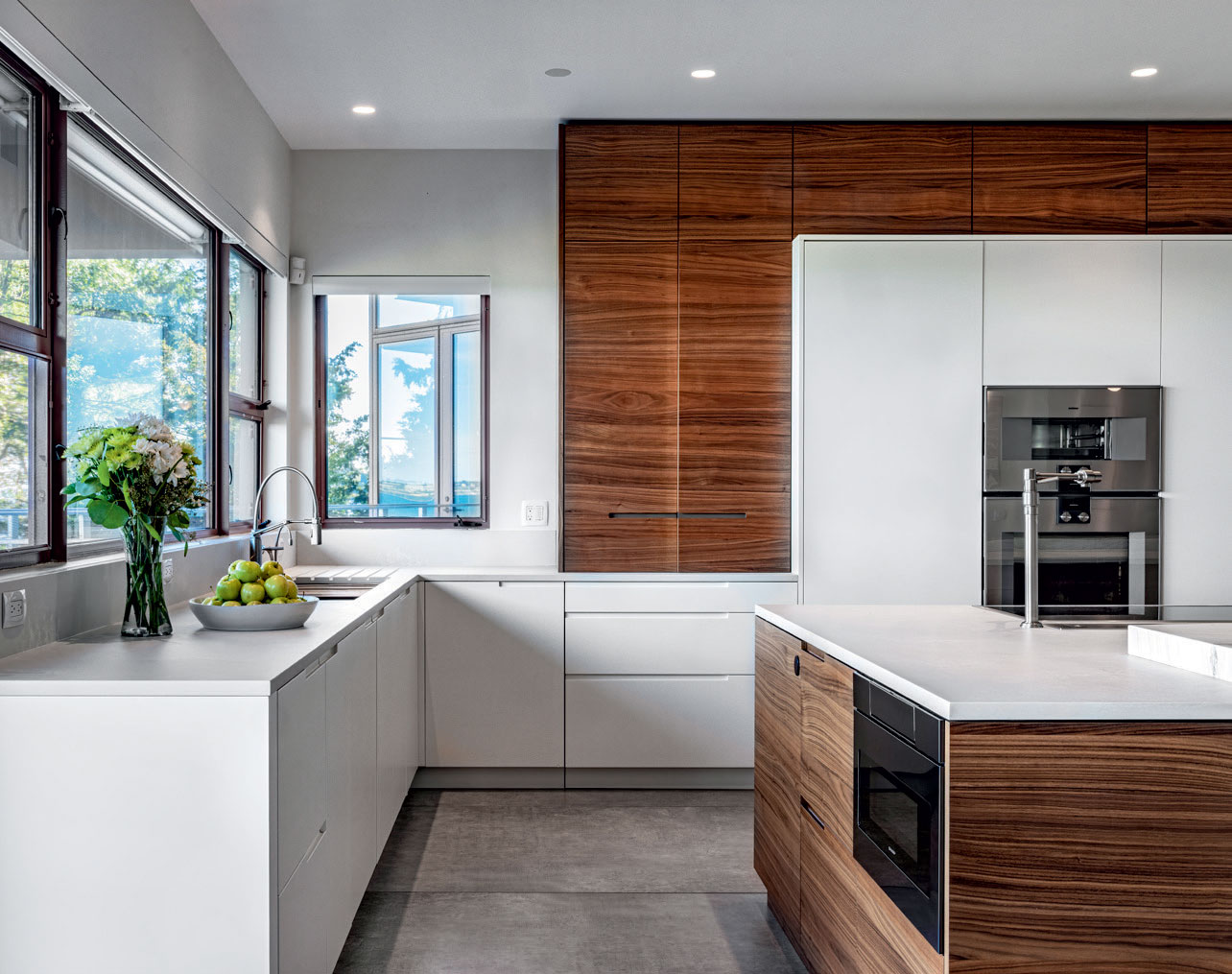 "Working with my clients on this project was truly a rewarding experience in that we shared the same passion for bringing this design to life. It was extremely fulfilling to see it come together." says DeMarco.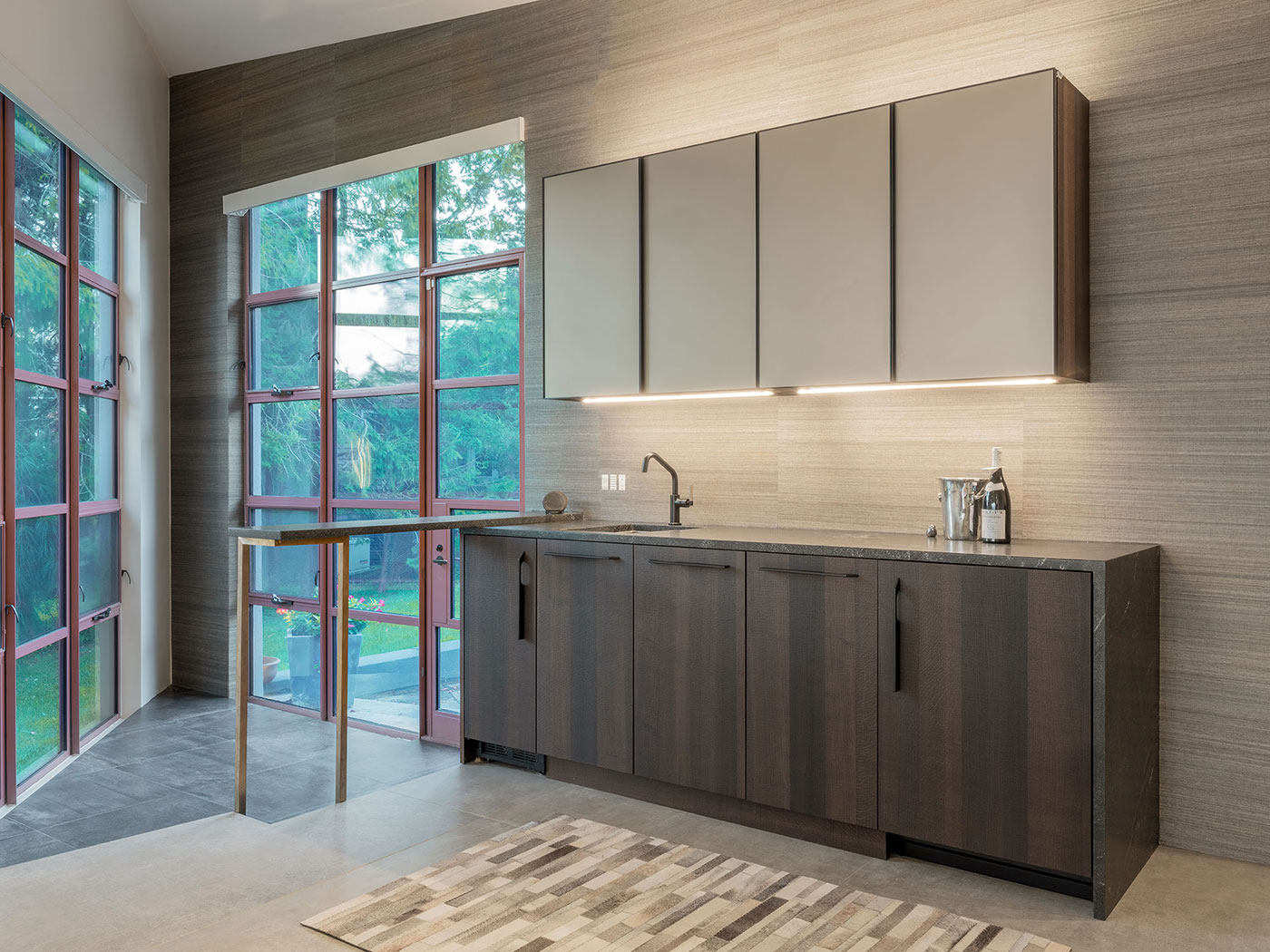 To learn more about Divine Design Center, visit divinedesigncenter.com.
Photography by Keitaro Yoshioka