July 20, 2017 | Sandy Giardi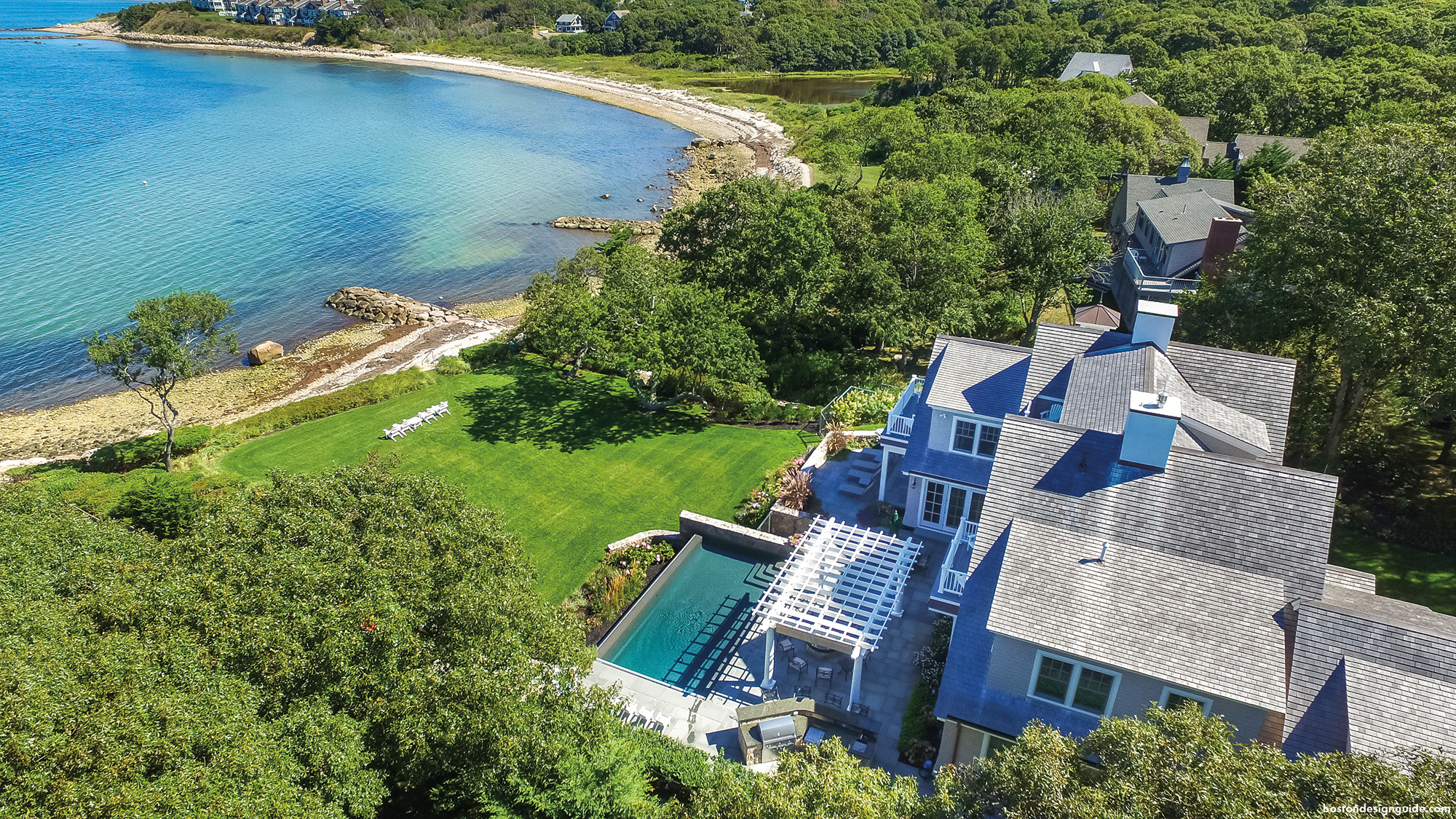 A reimagined family compound offers an ocean full of memories.
As a gracious new Shingle Style home was being constructed alongside the glistening waters of Buzzards Bay, the homeowners' first grandchild was welcomed into the world. The timing was apt, almost poetic, considering the Cape Cod retreat was designed to be an oceanfront destination to happily house three generations.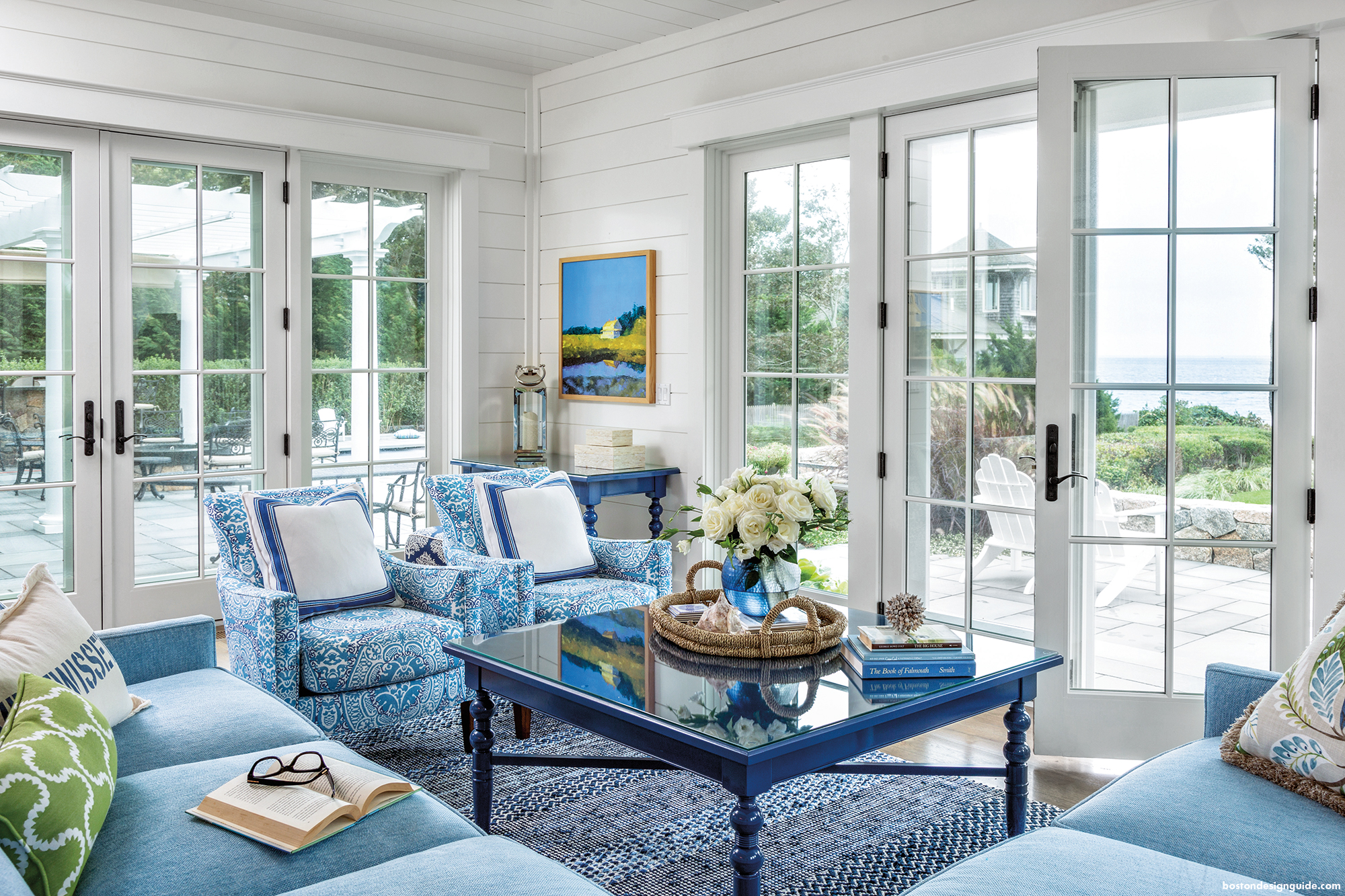 The owners had owned a Cape style home on the elevated north-facing point that couldn't accommodate their growing clan. After looking elsewhere, they ultimately circled back to their familiar seaside vantage and decided they were already home. They'd tear down the former residence and start anew.
Architect Bill Lee of William Lee Architects & Associates gave the extended family the structural equivalent of wish fulfillment that "would take full advantage of what they had available to them," says Lee. Its Shingle Style form allowed the firm to break the rules a bit, he explains, and express the floor plan differently to embrace the outside views.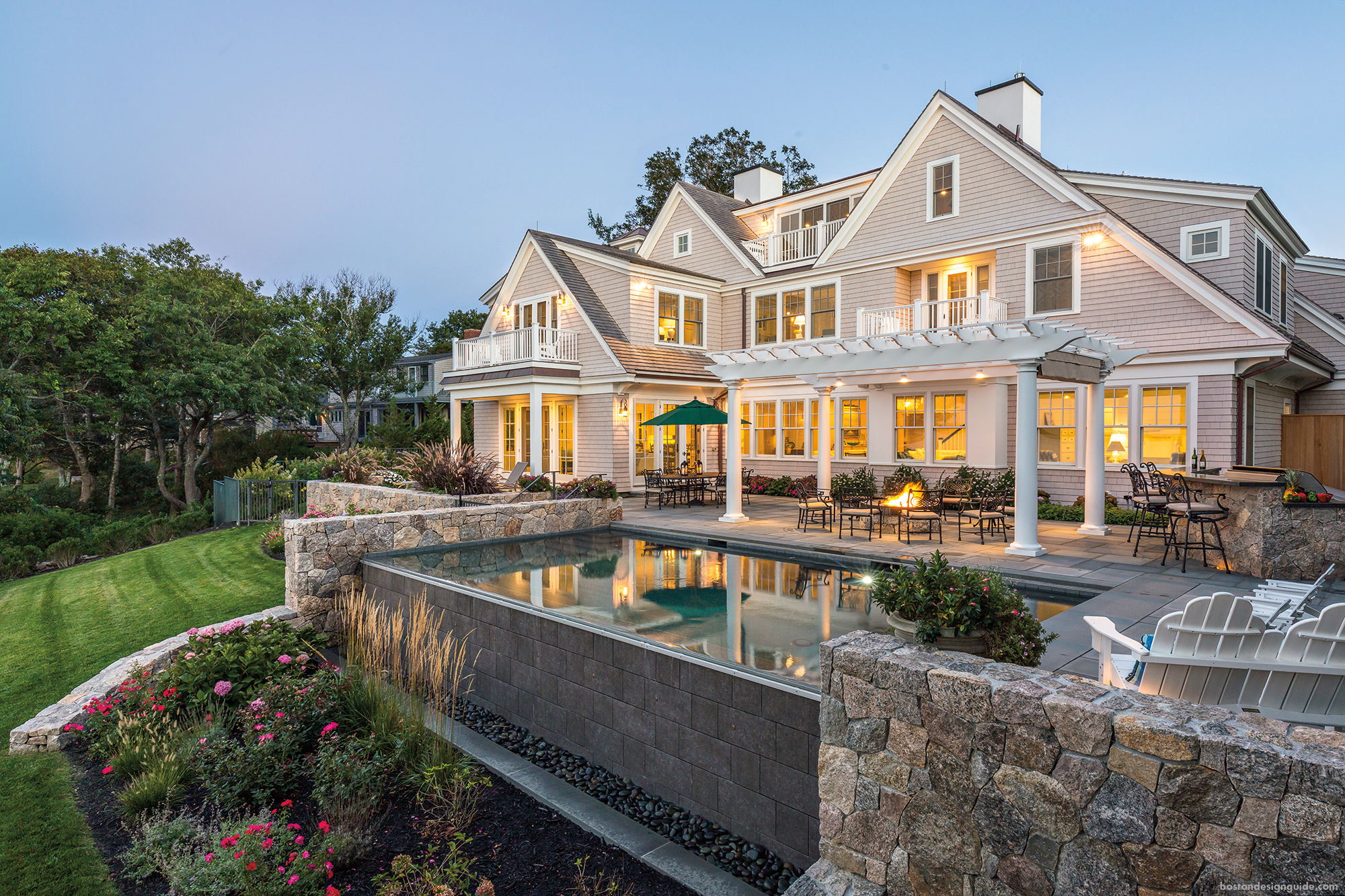 An ambitious landscape design includes an outdoor kitchen by Ferguson, an infinity-edge pool and a rolling lawn that spills to the sea.
The home would have a kicked-back, summer sandal sensibility, and it would be spectacular.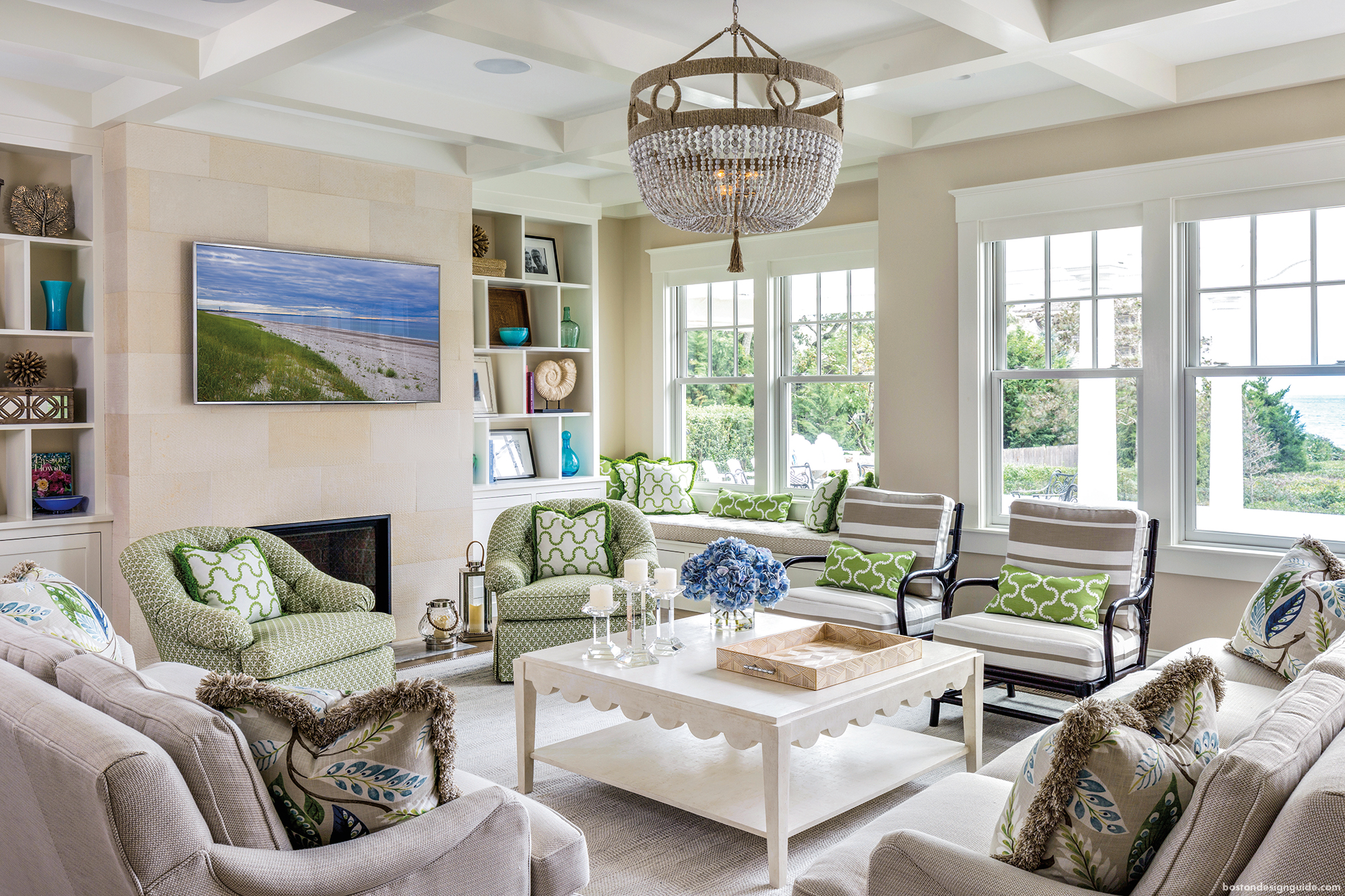 Donna Elle imbued the home with an easy elegance, selecting a dulcet palette with tones of dune and sea, and the occasional sprig of green. In the living room, she juxtaposes a modern limestone fireplace against traditional appointments, and designed a pair of built-in bookcases to display the homeowners' treasures.
Cataldo Custom Builders, Inc. of East Falmouth would see to it, and assemble a great team for this delicate project. Together with active and grateful homeowners, it stands among the best president Ralph Cataldo has seen in 30 years in the business of building waterfront homes. The home's consultants and subcontractors, headed by Construction Supervisor Peter Sarkinen and Senior Project Manager Julie Christenson, navigated an impossibly tight site and schedule, as well as a historically harsh winter, with aplomb.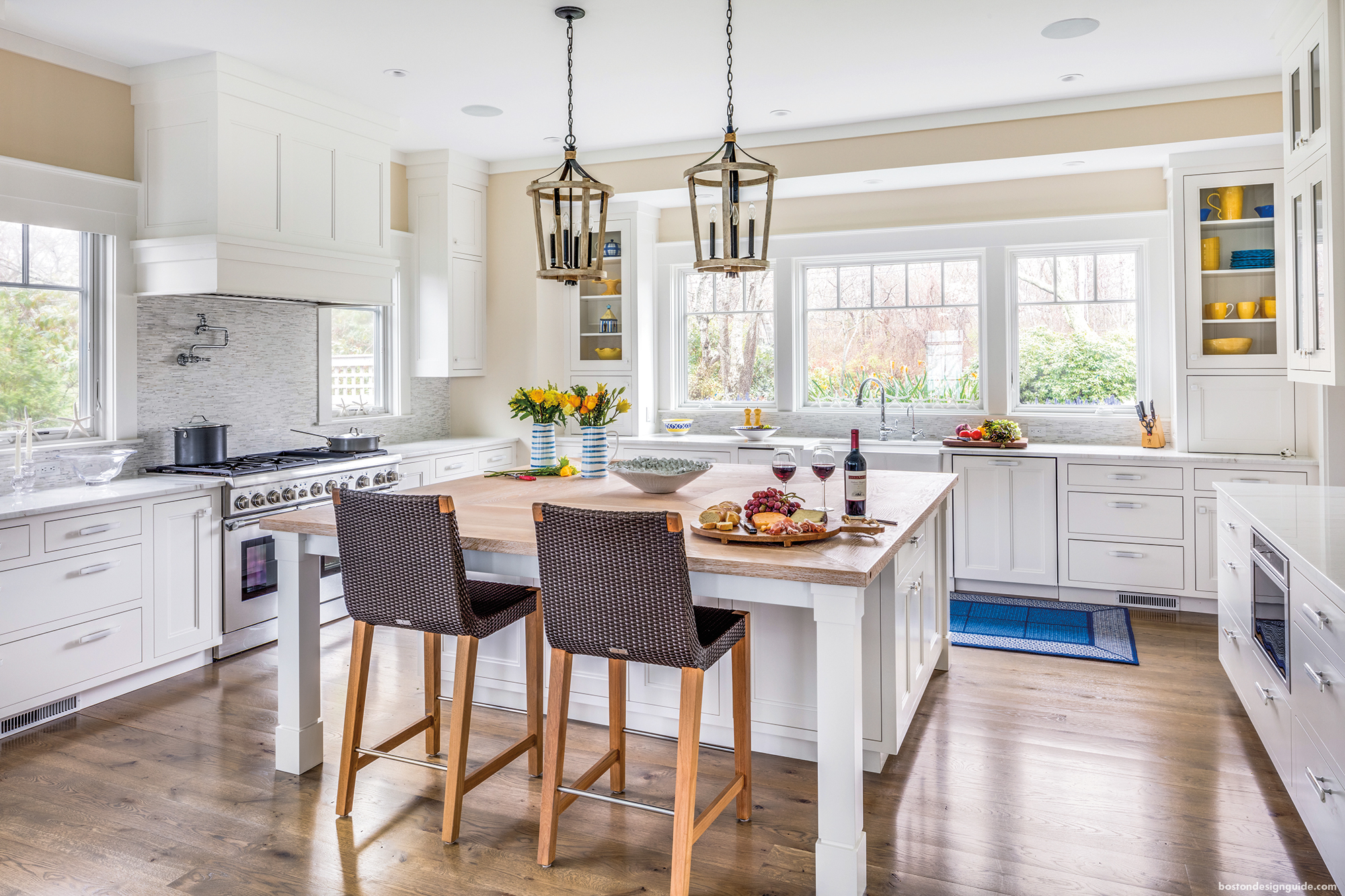 Faneuil Kitchen Cabinet used framed inset cabinetry throughout, and a TV is hidden in the millwork. The cerused oak island, in driftwood with mitered edges, was designed by Elle and constructed by Faneuil Kitchen Cabinet. Ricciardi Marble & Granite fabricated and installed the gleaming marble Calacatta cremo countertops. Nantucket Lightshop's white-washed wood lanterns over the island and the linear bronze chandelier over the table are an updated take on traditional lantern lighting.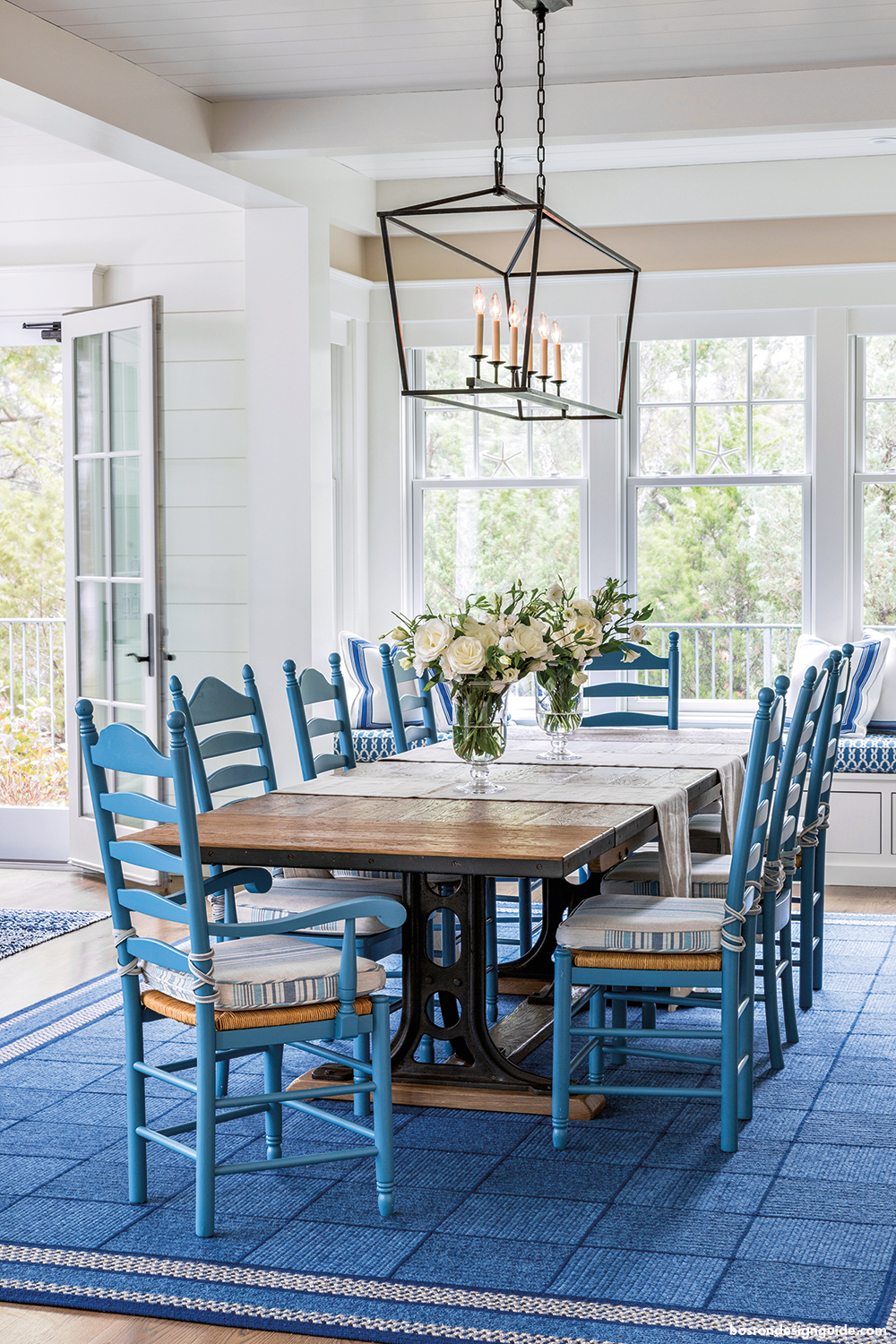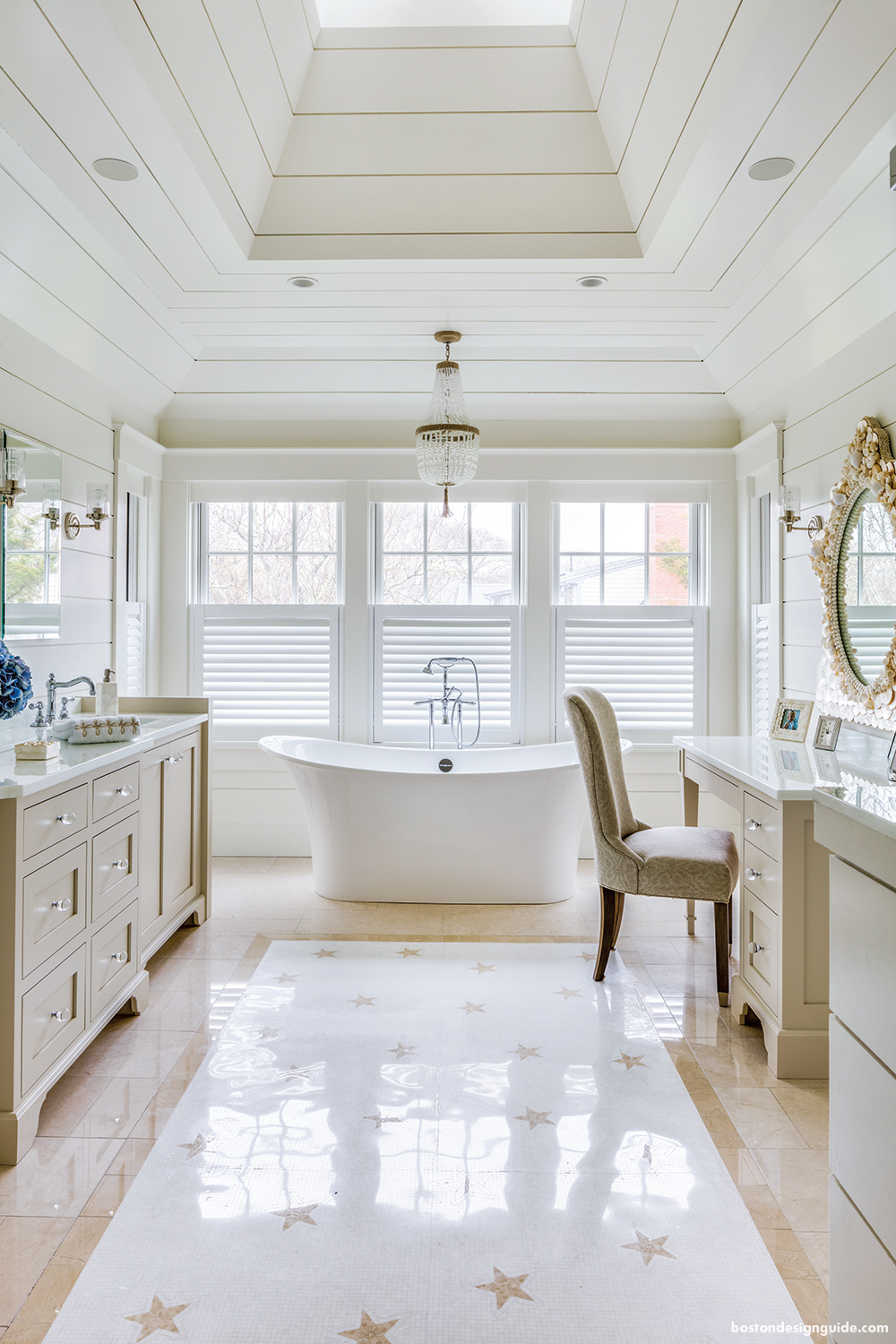 The master bath, a vision in millwork and Bursa Beige stone by Ricciardi Marble & Granite, boasts paneling that wraps clear to the cupola, custom cabinetry by Faneuil Kitchen Cabinet, and bespoke mirrors. The white and clear glass chandelier above the tub was customized by Nantucket Lightshop.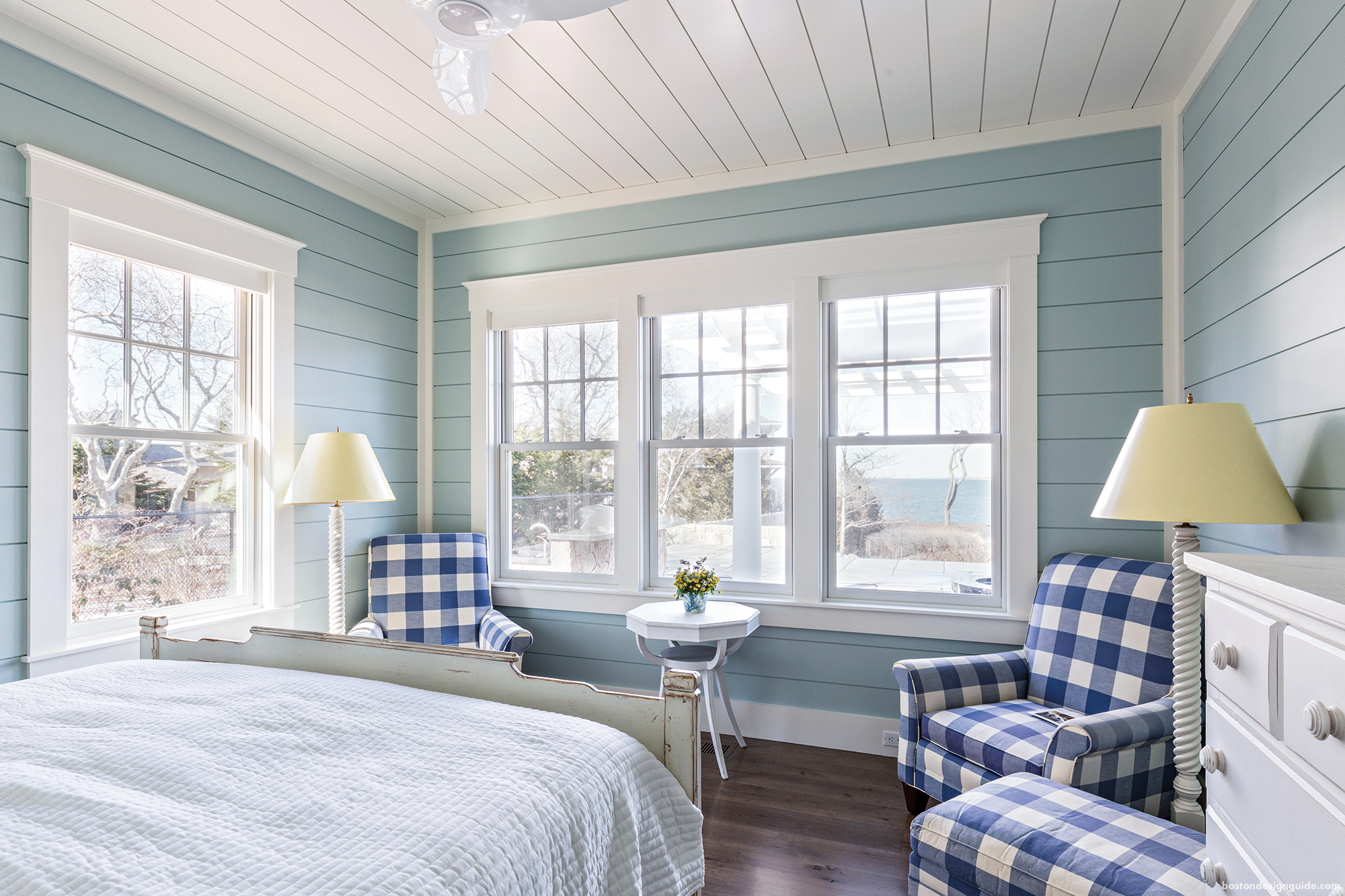 With its Alaskan Yellow Cedar shingles, native fieldstone walls handcrafted by local stonemasons and premium finishes, "it's the ultimate Cape Cod home," says Cataldo. Along with multiple bedrooms and baths, "you've got the fire pit, the pool, pergola, the beach, the outdoor kitchen, a golf simulator, play areas and privacy. The house has everything an extended family could dream of."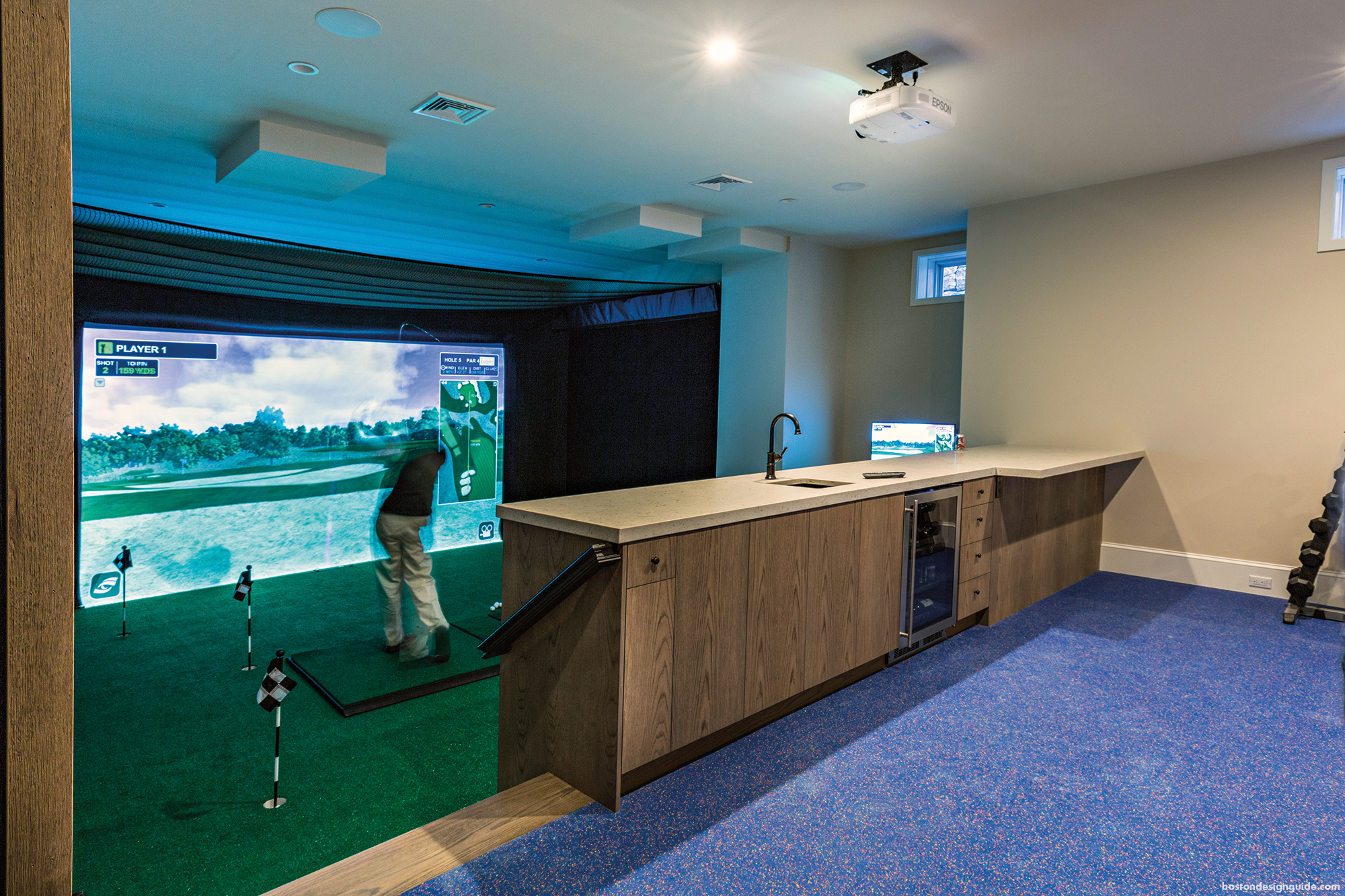 Including an exquisite interior, complete with a gleaming light-filled kitchen by Faneuil Kitchen Cabinet, and antique oak hardwoods, custom cabinets, vanities and furniture, glass, tile and marble and show-stopping lighting fixtures specified by interior designer Donna Elle. The home is laden with custom millwork from board and batten to shiplap for a "clean and contemporary look that is tweaked with traditional interiors," offers Elle.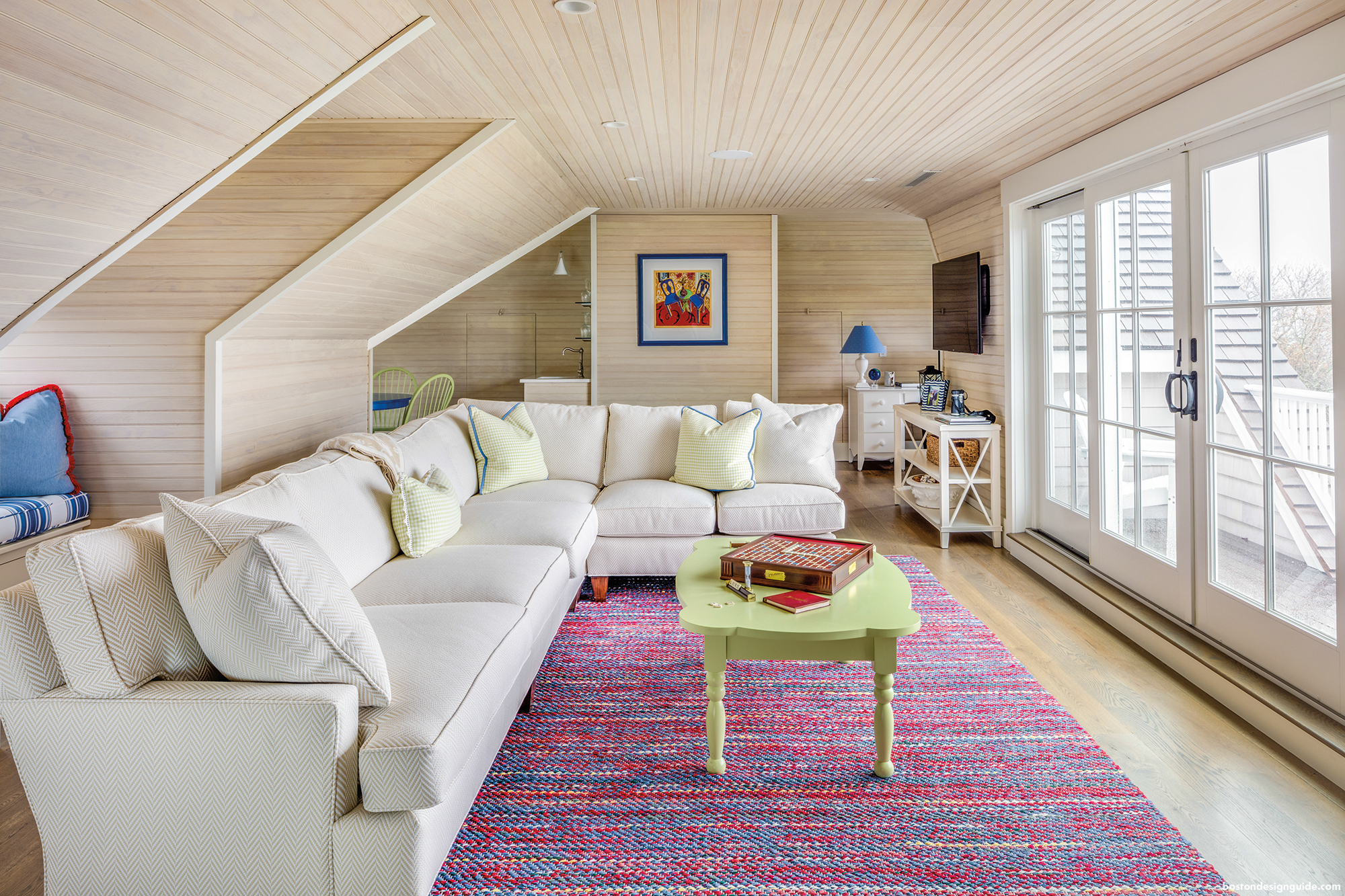 The third-floor family space, with spectacular ocean views, was added as a destination. Its sideways beadboard with a pickle finish is meant to evoke a family attic. 
There's a flow to the architecture, lines and palette of this home, as well as character, which is then translated in the third dimension. "Everything about this house is the homeowner," says Elle. She's gracious and proper and always has room for one more. Which is, of course, expressly the point.
Architect: William Lee Architects & Associates
Builder: Cataldo Custom Builders, Inc.
Interiors: Donna Elle
Landscape Architect: Horiuchi Solien Landscape Architects
Kitchen and Cabinetry: Faneuil Kitchen Cabinet
Outdoor Kitchen and Plumbing: Ferguson
Lighting: Nantucket Lightshop
Stone & Tile: Ricciardi Marble & Granite
Photography: Dan Cutrona; Greg Premru
As seen in the BDG Cape & Islands 2nd edition.
View the Digital Edition here. (Pages 66-77)