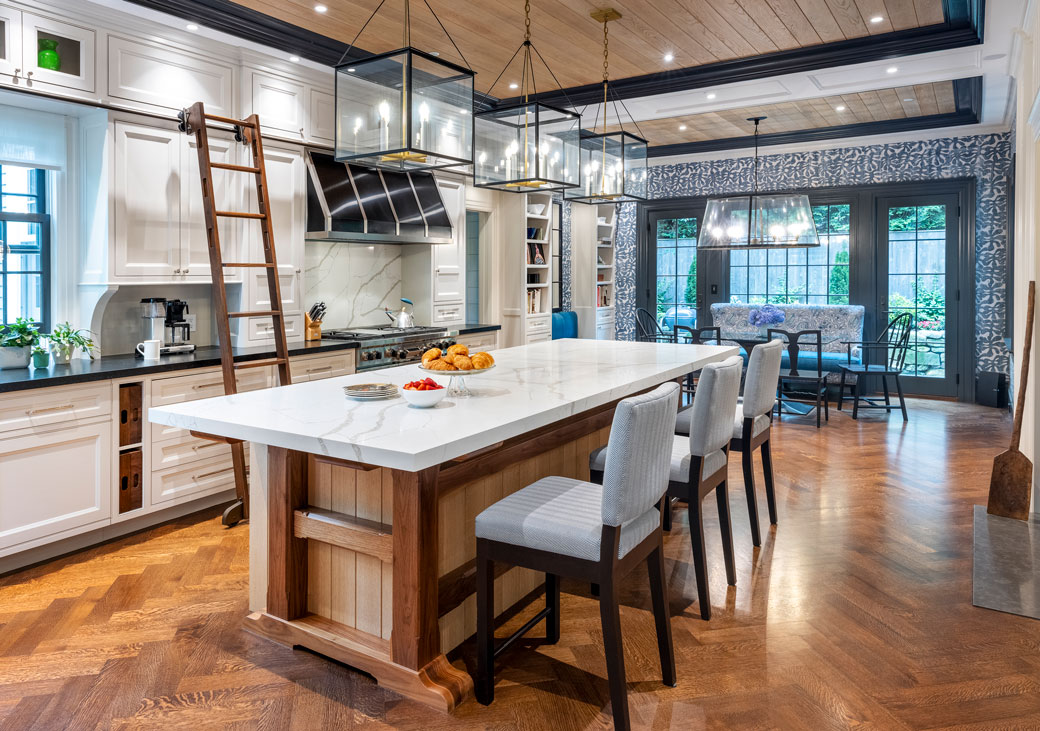 The Modern Farmhouse Kitchen:
A space where rustic charm meets modern sophistication.
The modern farmhouse kitchen exudes a sense of timeless style, casual luxury, and practicality seamlessly blended in a space that is both rustically chic and flawlessly sophisticated. Modern farmhouse kitchens are deliciously useful spaces designed to capture the inviting feeling of old-world farmhouses within the clean elegance of today's modern kitchens. Natural materials, bright lighting, and refined craftsmanship abound, as does space to prep, cook, eat, and entertain. What are the key ingredients that make this exceptional space?
Cover photo: A chic modern farmhouse kitchen by Fallon Custom Homes & Renovations, Duckham Architecture & Interiors, Liz Caan Interiors, and Warren Patterson Photography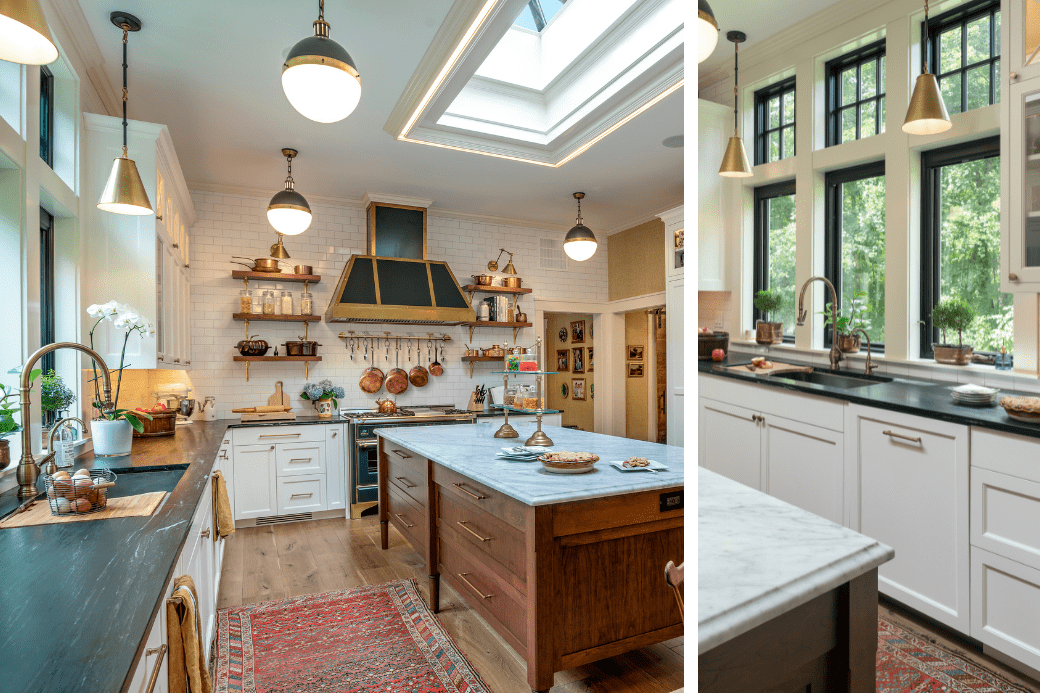 Bright atrium lighting showcases brass accents and oak wood floors in this stunning example of modern farmhouse design by JH Klein Wassink.
6 Elements of an Effortlessly Elegant Modern Farmhouse Kitchen
1. The Apron Sink
Everyone loves this farmhouse staple, which leaves the front of the sink exposed. But as eye-catching as they are, the large, deep basin allows for easy clean-up. Just think: in traditional farmhouses a century ago, the kitchen sink was command central for most household chores (including bathtime!).
2. The Kitchen Island or Table… Or Why Not Both! 
An expansive island and/or table is ideal for gathering and a sense of community. We love the idea of slicing, dicing, chopping, and washing up while sharing a chat with family or friends who are drawn in by the homey atmosphere. Including both an island and table allows you freedom and flexibility to prepare meals and entertain without missing a beat.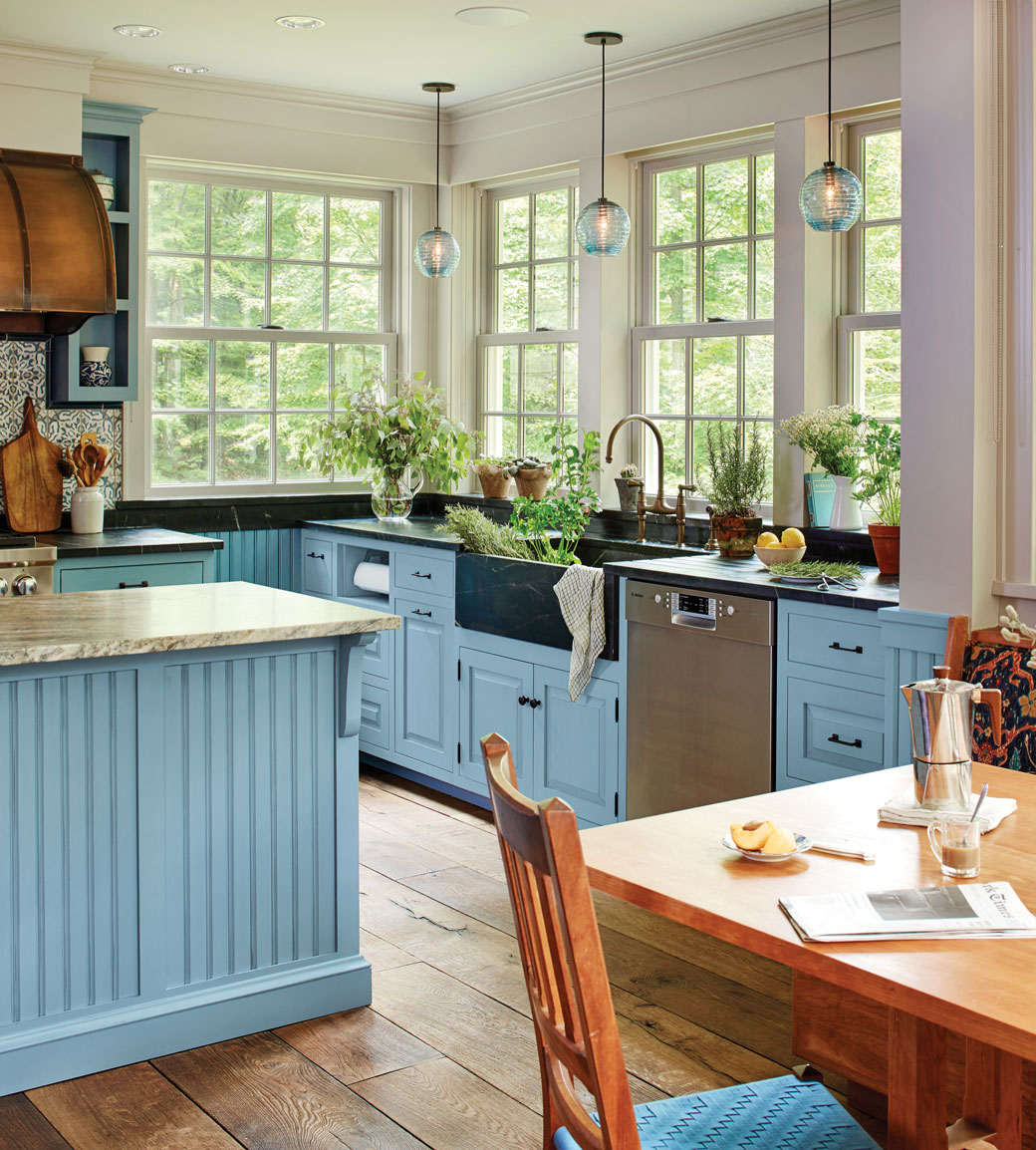 Dusty blue hues complement the natural wood flooring and oil-rubbed bronze finishes in this farmhouse kitchen by Crown Point Cabinetry.
3. Natural Materials and Finishes
From flooring to exposed ceiling beams, warm wood creates a cozy, rustic look. Reclaimed and wide-plank solutions emphasize the classic farmhouse aesthetic and can be perfectly paired with soapstone countertops for a sophisticated but comfortable feel.
4. Farmhouse-Worthy Cook Space
Hardworking farm families woke before the sun to work and came back to a breakfast worthy of their efforts. Eggs, bacon, sausage, potatoes, beans, cheese, toast, coffee - and coffee cake - fueled them for the day ahead. Today's modern farmhouse kitchens are equipped to handle large meals with ease (though maybe Thanksgiving or dinner parties rather than our hurried mornings!). They tend to feature separate cook areas, complete with a commercial style gas range, hood, and tile/stone backsplash. With six (or up to nine) burners, dual ovens, warming drawers, and other features, feeding a hungry crowd is a breeze.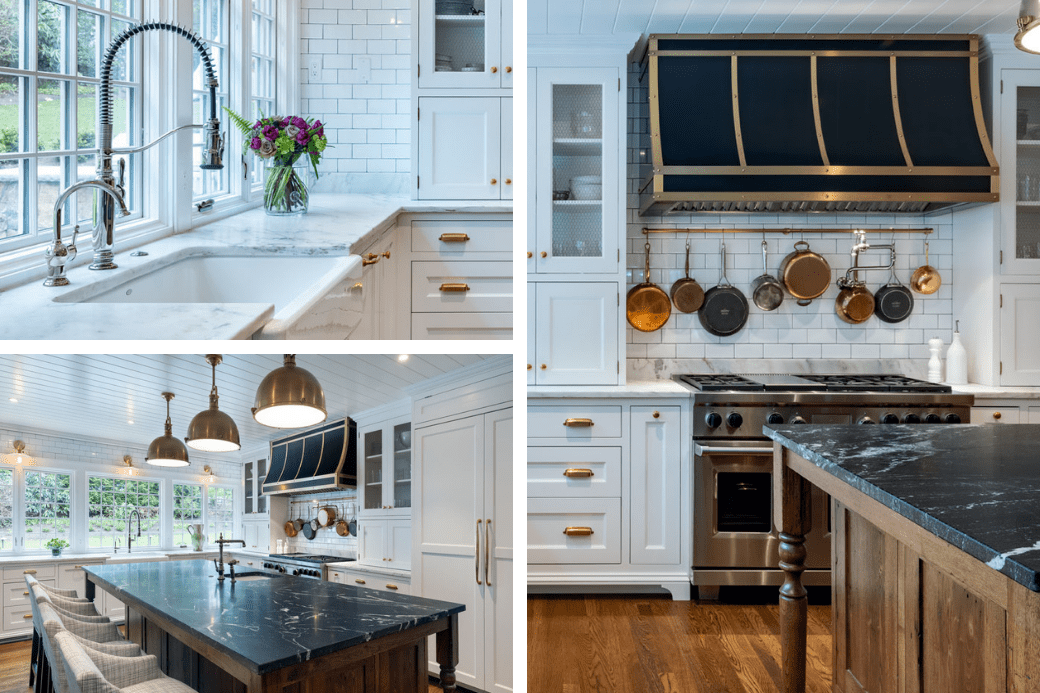 A sleek take on the farmhouse kitchen by Onyx Marble & Granite, showcasing wood and marble accents. Photo by Warren Patterson Photography, additional credits to The Chelsea Company, Frank Shirley Architects, Katie Rosenfeld and Company.
5. Open Shelves or Glass Cabinets
Simple open shelves or glass-fronted cabinets allow you to show off your dishes, glasses, and personality! Accessorizing cream or white cabinets with an accent color (we suggest light blues or elegant greens) on the island or base cabinets is simple - and a simply wonderful way to infuse your space with its own unique charm.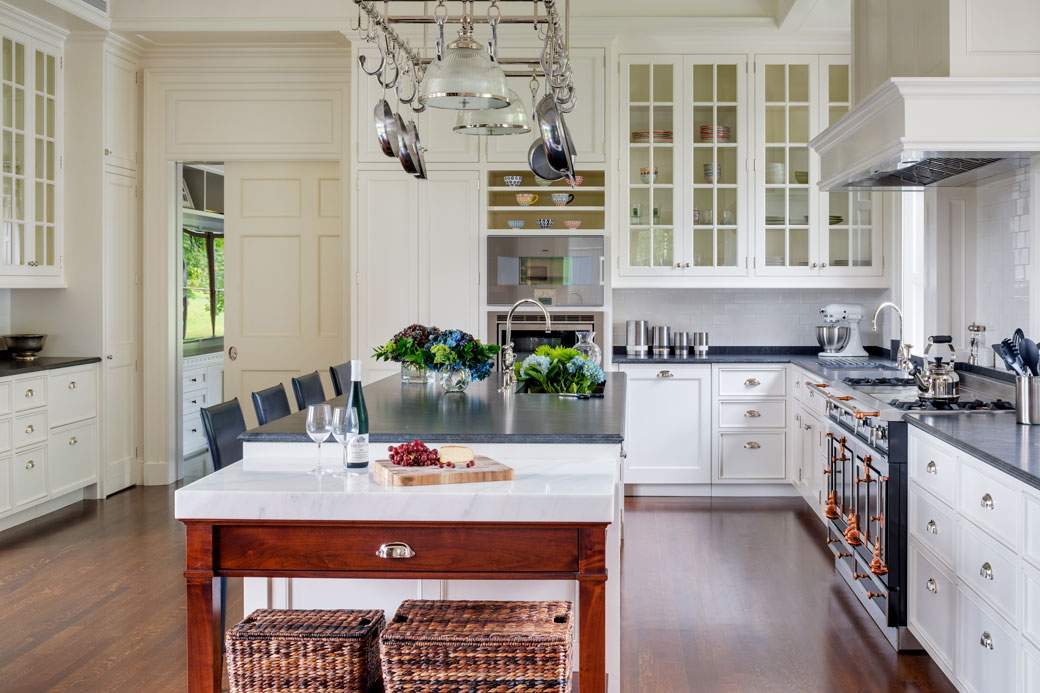 Glass cabinetry and ample cooking space give this kitchen by KRH-Kochman Reidt + Haigh Cabinetmakers a classic take on the farmhouse stye. Additional credits to Youngblood Builders, Dell Mitchell Architects, and Greg Premru Photography.
6. Abundant Natural Lighting
Today's modern farmhouse kitchens are not the dark hideaways they once were. The best kitchens within this style embrace lighting not just as an accessory, but as an integral part of the design process for creating a space that is both beautiful and inviting. Combine the warmth of natural lighting with the elegance of modern finishes for a kitchen that is as charming as it is luxurious.
Written by: Katie Mientka
Need inspiration for your own farmhouse kitchen? Subscribe to our email newsletter or browse our directory to find professionals for your next project!