October 9, 2017 | Sandy Giardi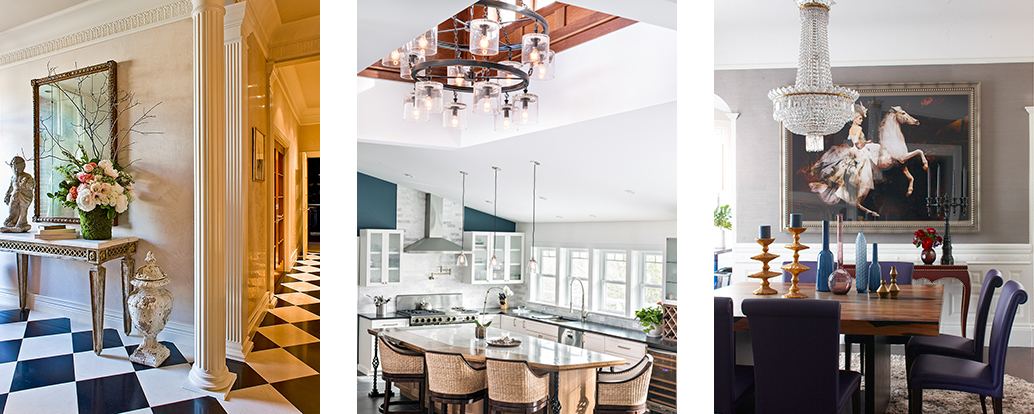 Wander Lust
Sometimes we're so enamored of a locale that we want to bring it—or a slice of it—home. We love the style of that particular place, the feeling it conjures and, of course, the memories. Kudos to the creators who are making these joys daily experiences. The following designs are steeped in a sense of place—whether reflecting favorite vacation spots, personal journeys or a bit of both.
You'll Always Have Paris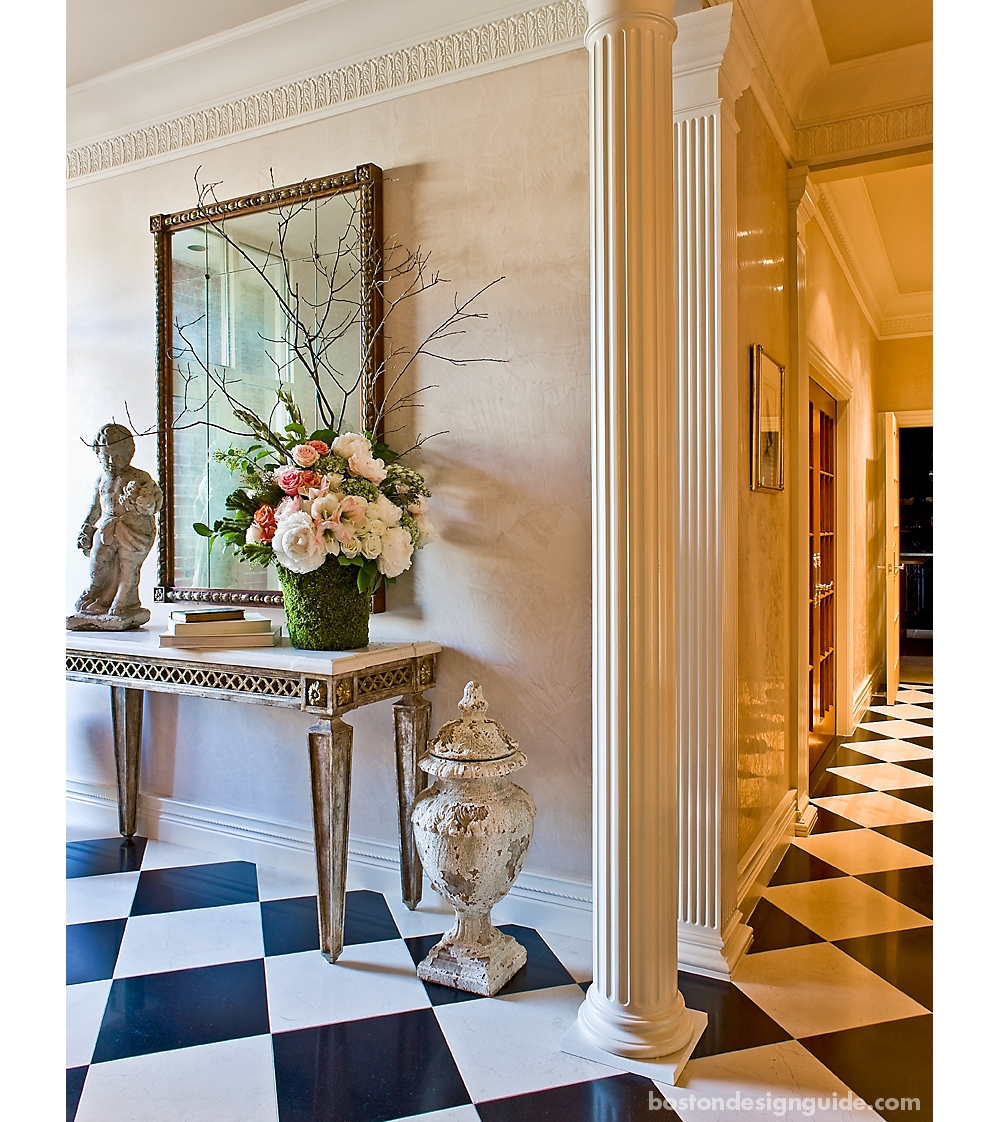 Interior Design by Wilson Kelsey Design, Inc.
Trained modernists-turned-devout-classicists John Kelsey and Sally Wilson, co-owners and principals of Wilson Kelsey Design, Inc. are masters at weaving Parisian style and elegance into their interiors. The duo has jetted to Paris to explore profiles, forms and confirm for themselves the hypotheses swirling in their minds, or, as John Kelsey so aptly puts it: "to wrap our arms and our minds around" the design practices and sensibilities of buildings and interiors that pictures can't do justice to.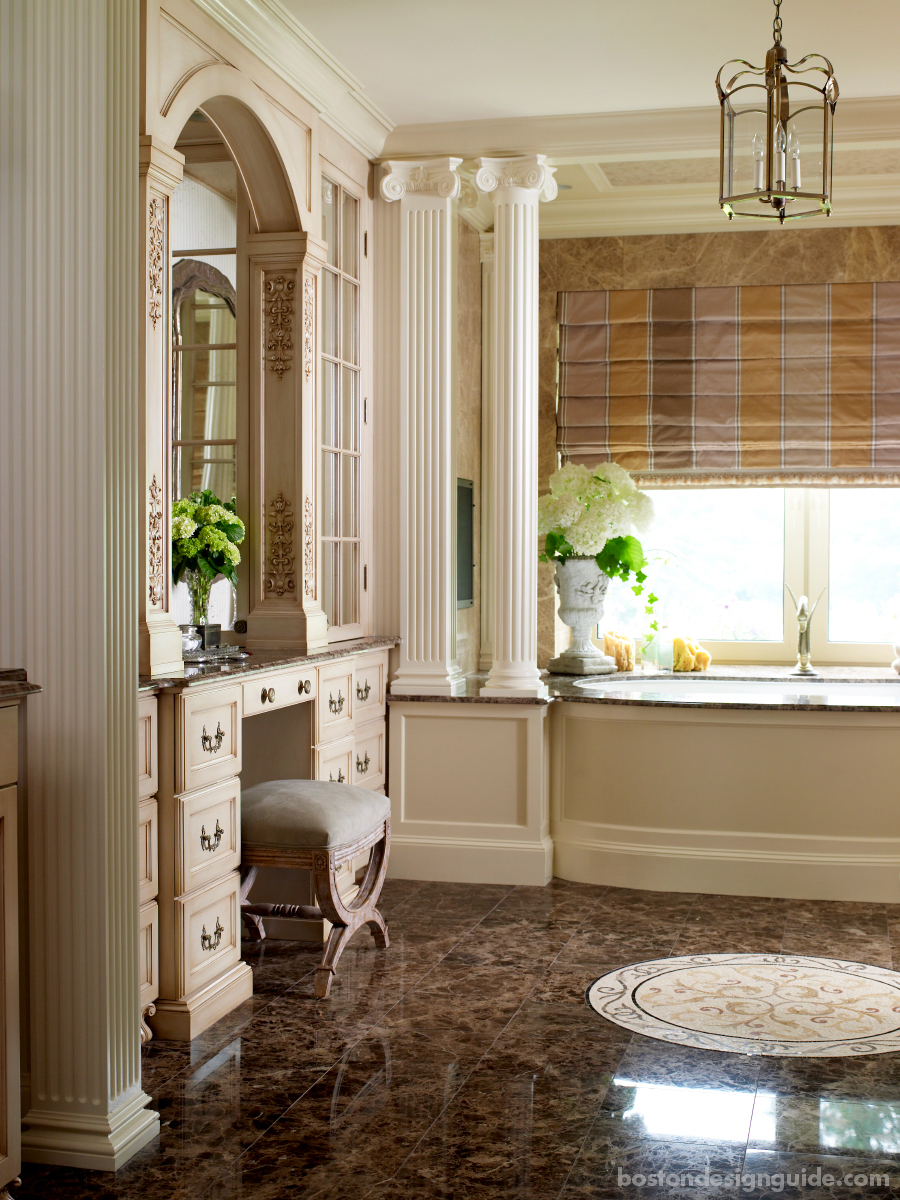 Over in Paris, they've taken note of French floor-to-ceiling doors that open up to overlook the boulevards, the symmetry of settings, the use of lighting and mirrors, as well as the "softer" profiles and "voluptuous" contours of spaces. In settings like the Louvre, there's a mix of details and profiles in the same room, explains Kelsey. You might say there's a joie de vivre—an unmistakable style that is far more the sum of its parts.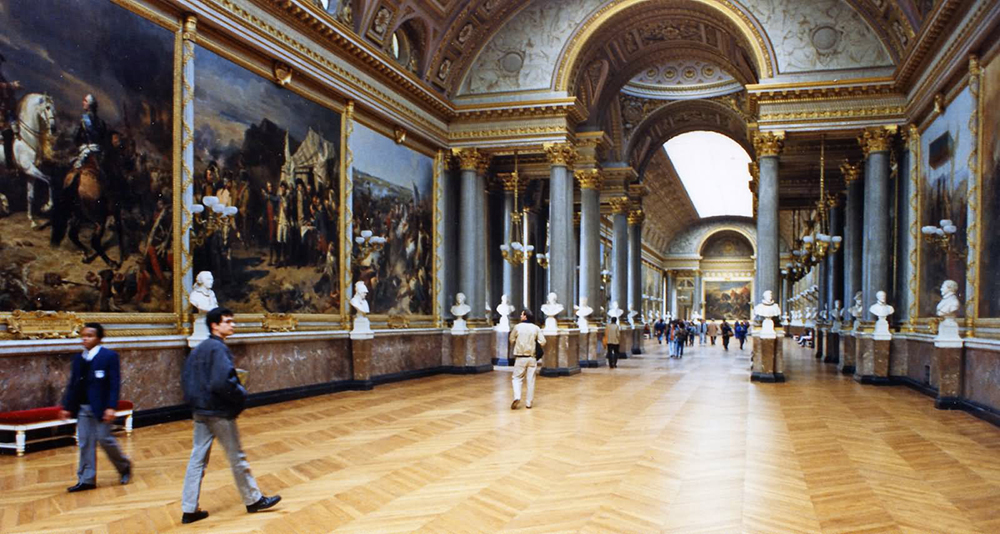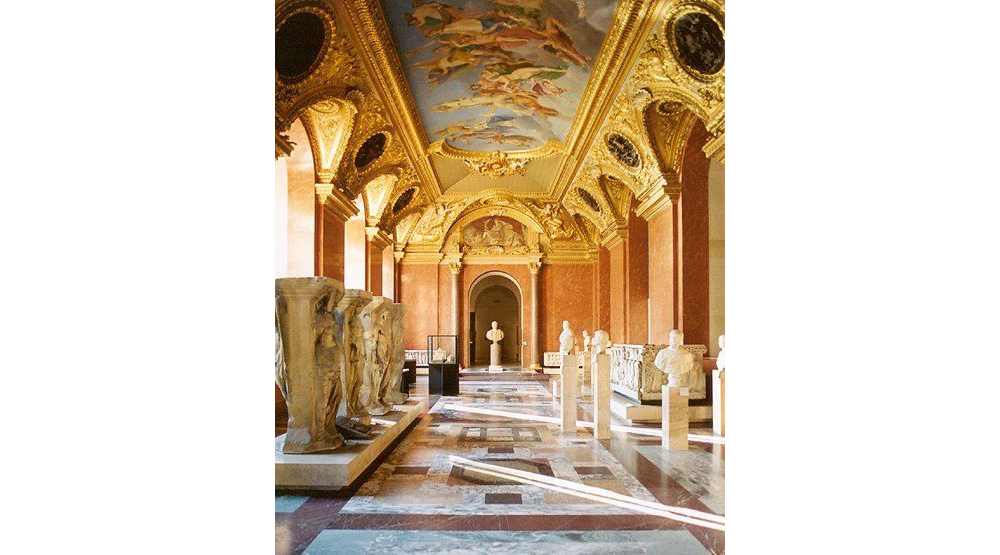 The Louvre
These principles have made their way back to New England, informing Wilson and Kelsey's way of thinking and their designs, much to the delight of area Francophiles. The firm solves tile pattern conundrums by turning to Parisian examples and even has their own knives made at times to produce architectural details with a true French flair (they've found that the U.S. has more restrained British-centric profiles available but little else).

Interior Design by Wilson Kelsey Design, Inc.
One look at the hall above, and there is no denying that the studio is adept at channeling The City of Light. The grand space has it all: the quintessential white and gray checkerboard marble floor ("which is all over Paris," says Kelsey); a refined symmetry; gilded sconces and chandeliers; Venetian plaster walls; and, mais, bien sûr, sophisticated, sybaritic furnishings like the stunning parler à deux chairs. 
New Zealand Appeal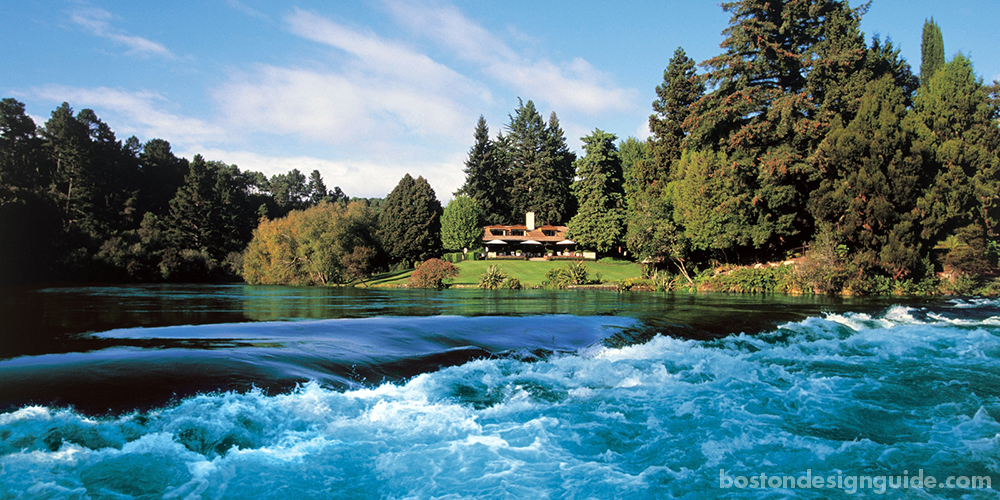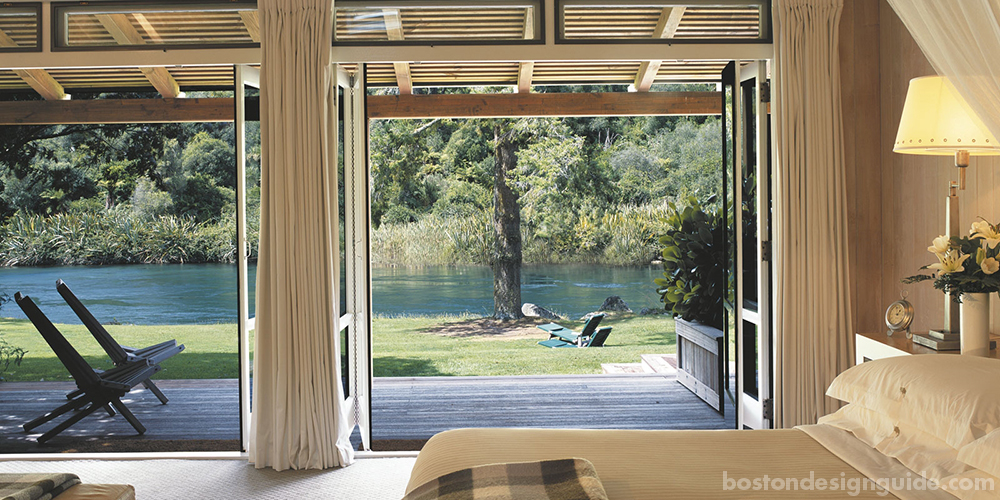 Huka Lodge
When a couple who had spent time in Australia, Hong Kong and Singapore found a sprawling ranch on a setting high over a lake on Marstons Mills, it made them think of an enchanting luxury retreat in New Zealand they know and love—Huka Lodge in Taupo, New Zealand. They enlisted full-service builder Thomas J. O'Neill, Inc. to design and realize a home inspired by the incomparable setting—known as one of the world's best—for the renovation of their early '70s ranch.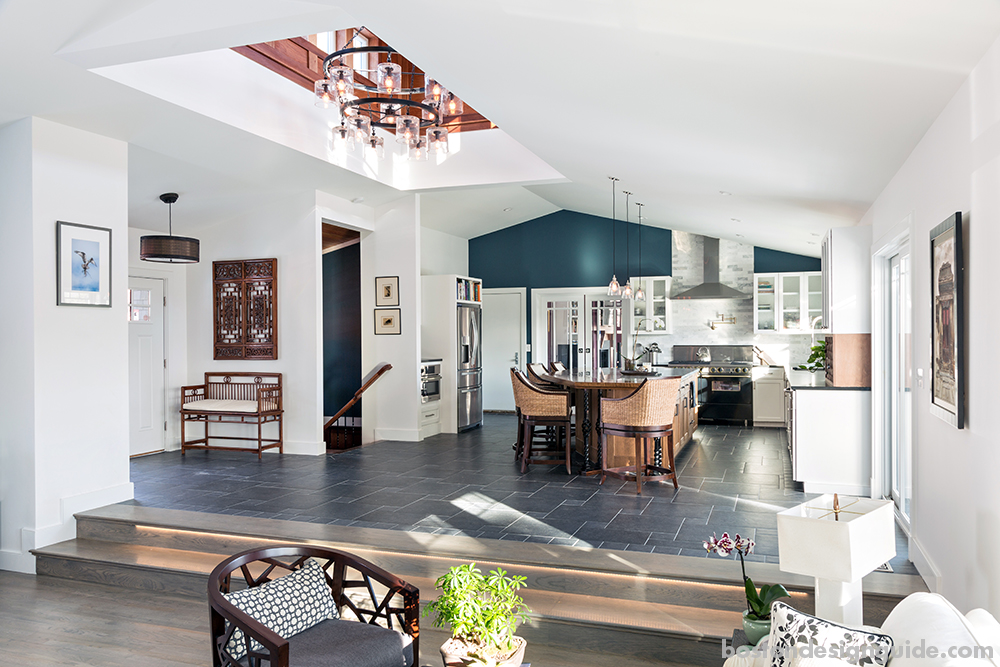 Thomas J. O'Neill; photo by Dan Cutrona
After scouring the subject, the custom design/builder created a home in the style of Huka Lodge that also reflects the personal tastes of the owners. While a one-story, the home includes a walkout to the lake (a boon for guests!) similar to the New Zealand destination, as well as a cutout in the roof to bathe the open-concept space in light. Owner Thomas J. O'Neill, who was unenthused by the existing home's low roofline, essentially "did surgery and cut a hole in the roof," he explains, "popping the top like a camper, panelizing it and adding clerestory windows."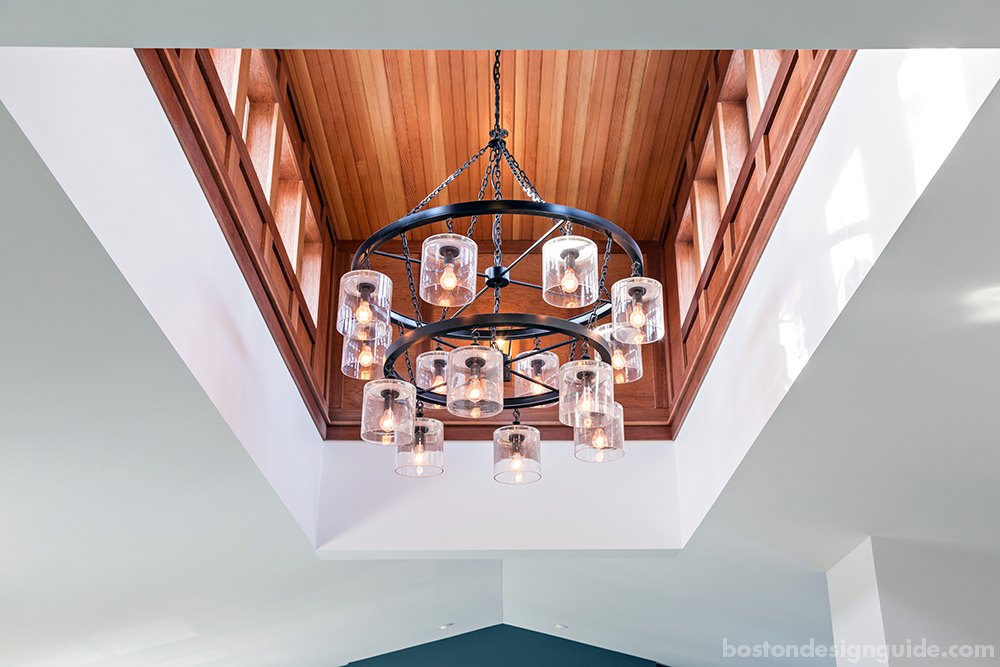 Thomas J. O'Neill; photo by Dan Cutrona
Within the home, furnishings represent the pair's "travelogue"—nothing is local—culminating in a setting packed with special bits and pieces that came by container from Sydney. Art from New Zealand and furniture from Singapore and Hong Kong is offset by beautiful mahogany and fir hardwoods, slate flooring with a distressed, pebbled leather finish and custom cabinetry—fabricated in-shop—in mahogany, fir and sapele.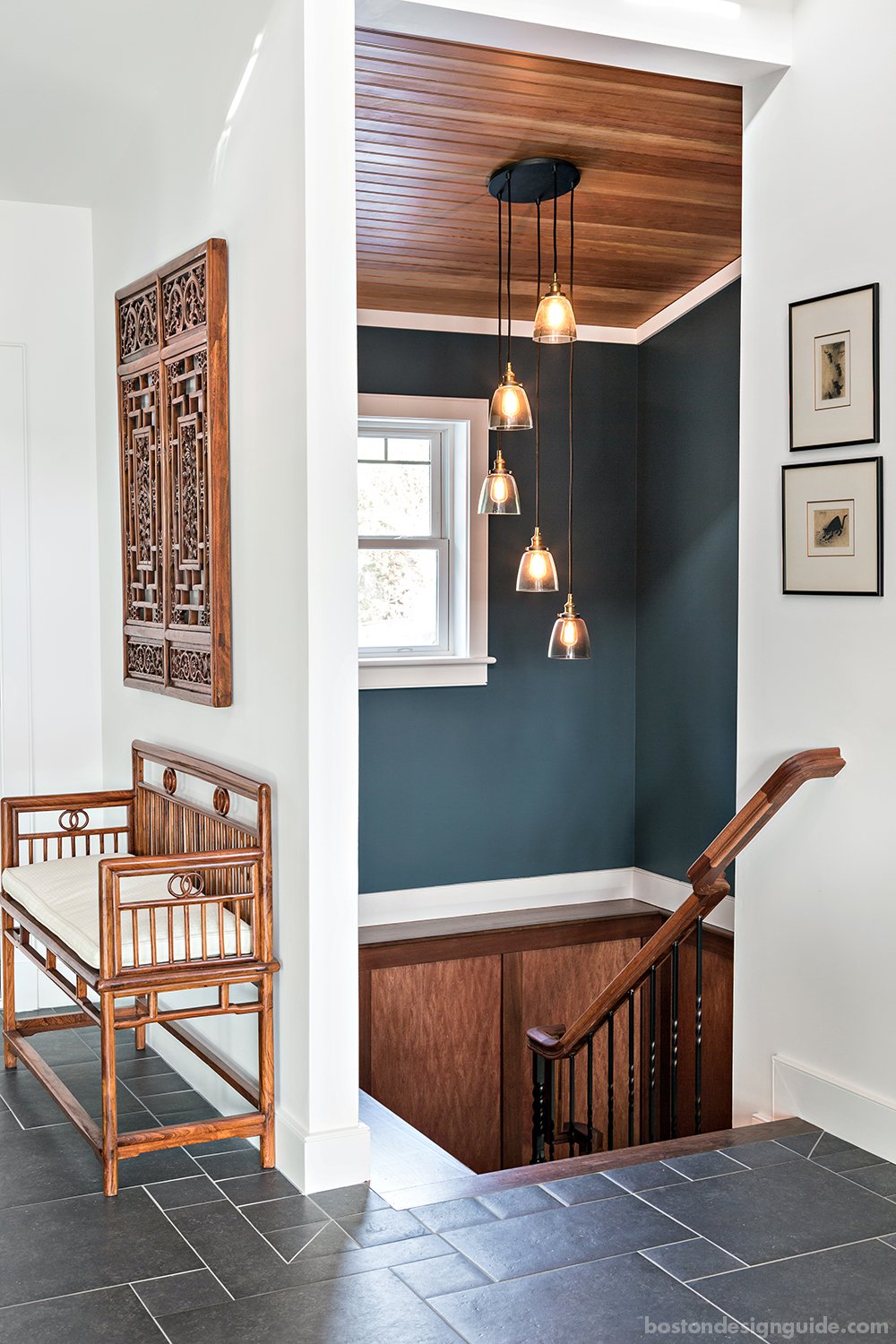 Thomas J. O'Neill; photo by Dan Cutrona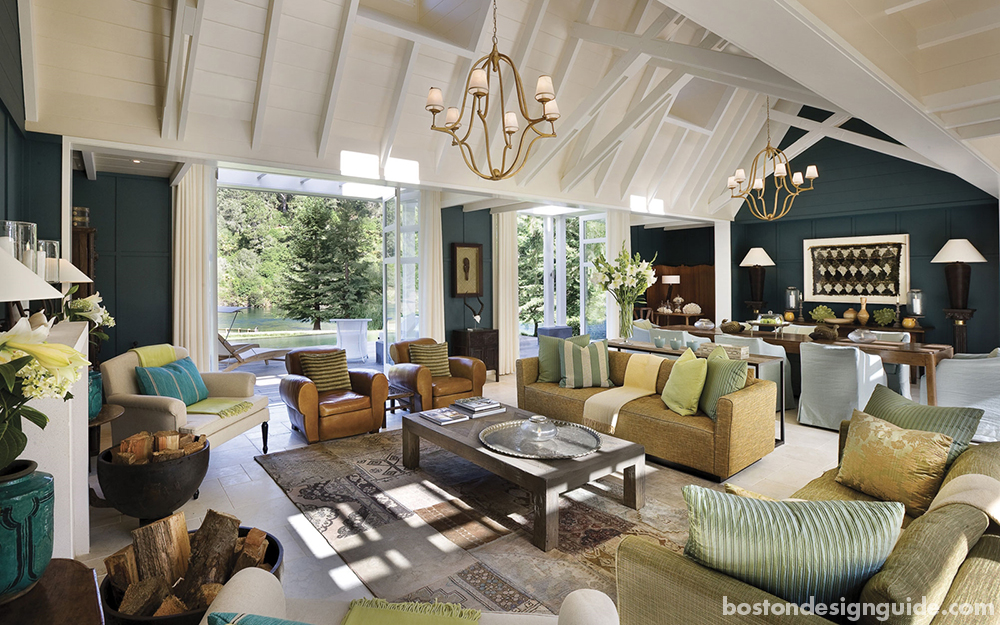 Huka Lodge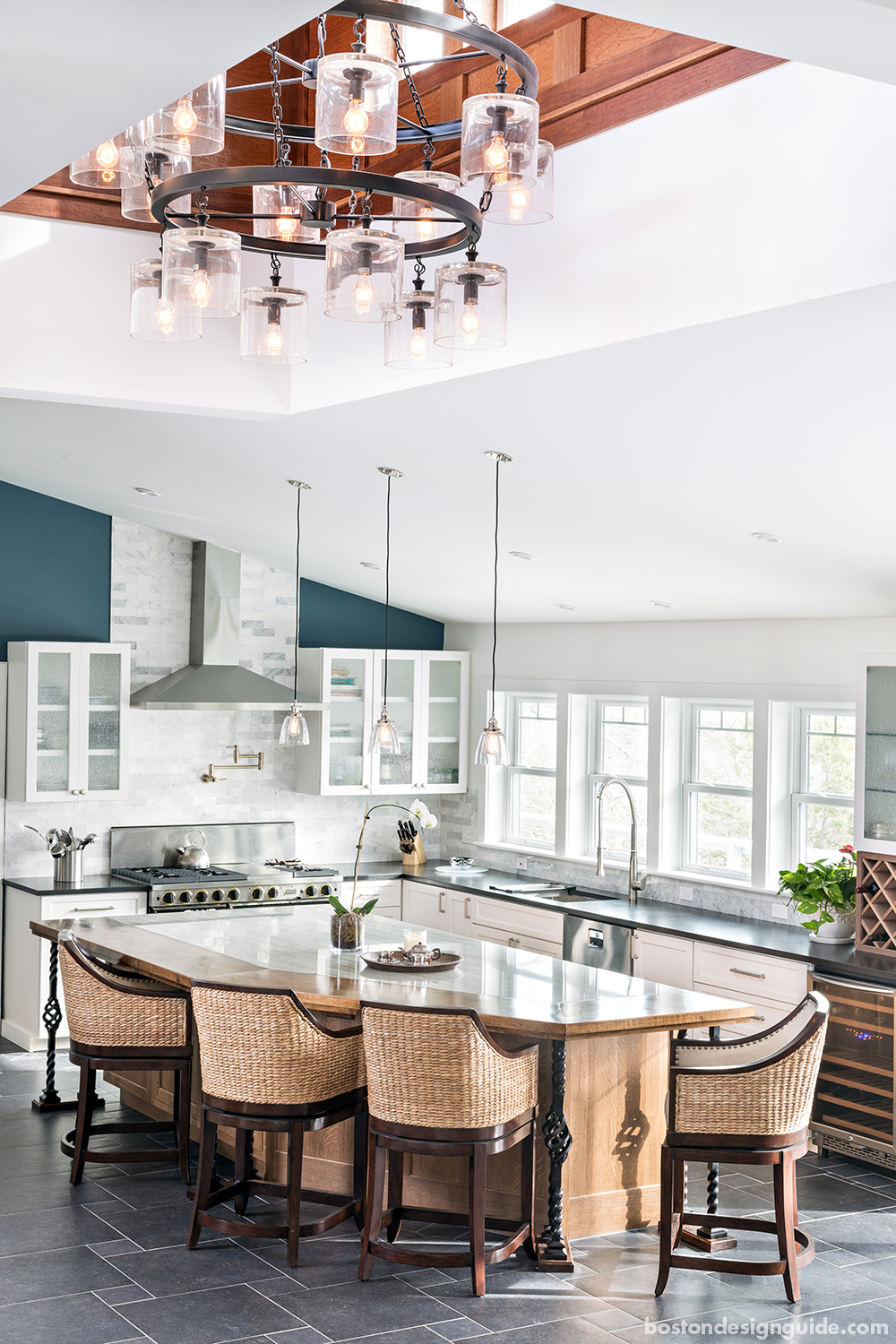 Thomas J. O'Neill; photo by Dan Cutrona
The color palette, dark teal blue in the kitchen and stair, and aubergine in the family room, is all kiwi and echoes the rich and soothing tones found at the Huka Lodge. Other features are O'Neill's own take on the unspoiled splendor of the site, like the ribbed rain glass of the glass cabinets and the marbleized sea-green quartz of the kitchen island enhanced by distressed sapele to warm up the seating section.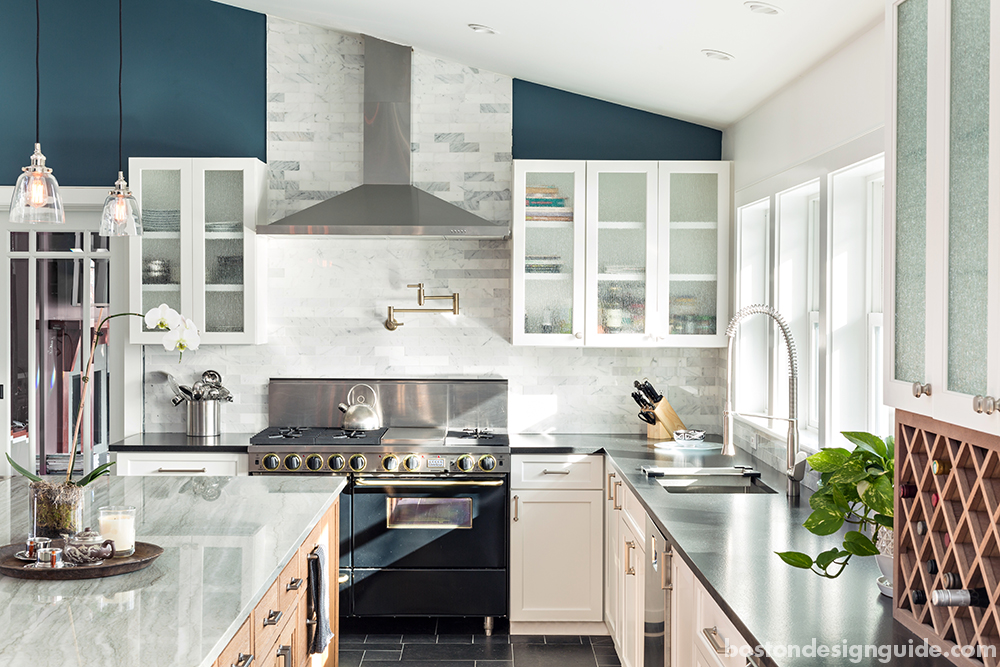 Thomas J. O'Neill; photo by Dan Cutrona
A Home Well-Traveled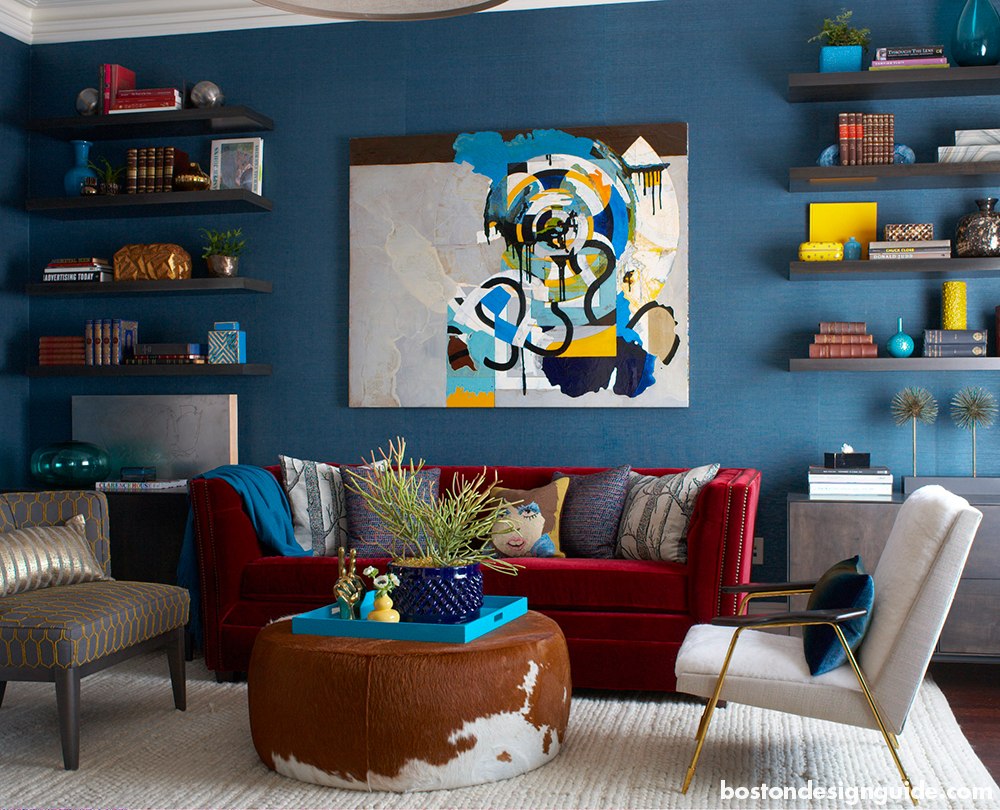 Rachel Reider Interiors; photo by Michael Partenio
When the time came for a pair of globetrotters to relocate to Boston's Back Bay from Paris they sought to create a home that is warm yet worldly. With a new child, the family would be settling down for a time, but that wouldn't mean they would have to settle. Rachel Reider Interiors would see to it.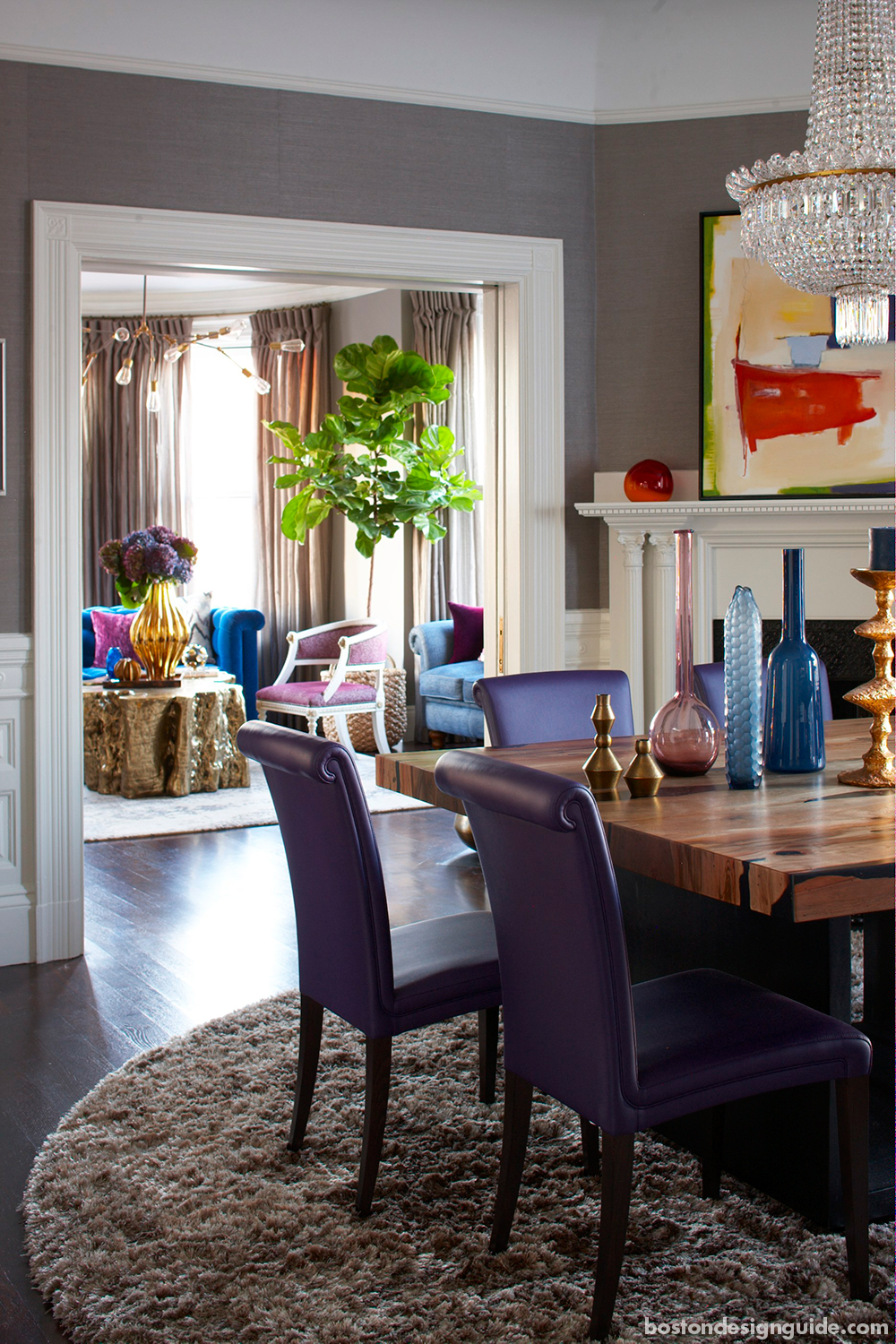 Rachel Reider Interiors; photo by Michael Partenio
The team set about creating a destination in and of itself—"a layered but eclectic mix spanning different time periods and continents," says principal Rachel Reider. Family treasures as well as objects culled from their worldwide travels sit comfortably with one another in interesting, sophisticated spaces that at once prize history and the home's traditional architecture yet also speak to the owners' modern leanings.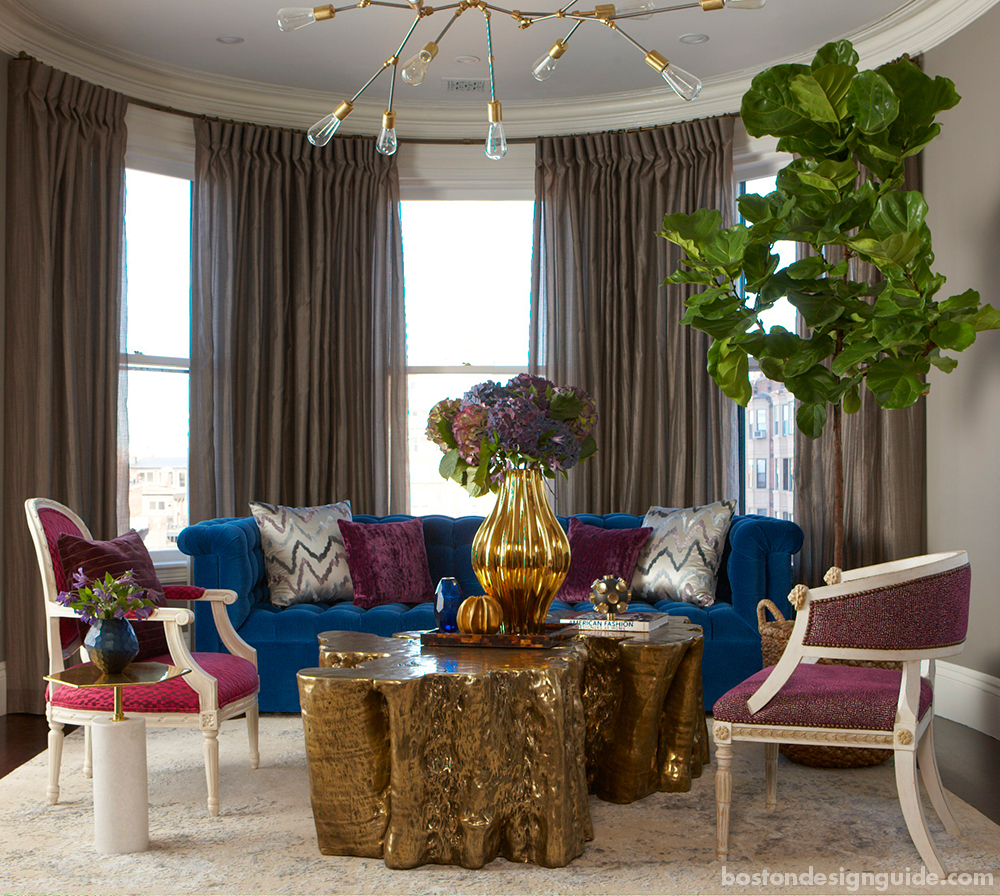 Rachel Reider Interiors; Photo by Michael Partenio
Throughout the home, the old and new is at play, forming a melting pot of heirlooms, antiques and modern forms and silhouettes. In the dining room, a chandelier passed down through generations hangs above a more modern dining table and chairs by a French designer that bridge the two realms. The chairs have a modern sensibility, informs Reider, yet the scrolled backs have classical undertones. The same might be said for the accent table underneath an arresting work of art: with its cabriole leg and nail-head detail, the piece is a nod to a traditional design, yet it is swathed in red leather for a decided update.
While the family room (pictured earlier), with its Jonathan Adler Art Deco-esque chair, animal print ottoman, and bold graphic pillows amid an antique book collection is, by design, the most kid-friendly lair, all of the spaces were crafted with a luxe yet comfortable state of mind. The rooms work cohesively from one space to the next but have their own individual spirit. In the living room, the "bones" of the room and time-tested traditional moldings are juxtaposed with current flourishes, like oversized sculptural sconces by Brabbu and a pair of gilded resin coffee tables. A few pieces, like the Louis XIV chair reupholstered in a more modern fabric and its curved-back companion, as well as a custom rug—"a deconstructed damask print that feels very antique" says Reider—tow the line, representing the best of both worlds.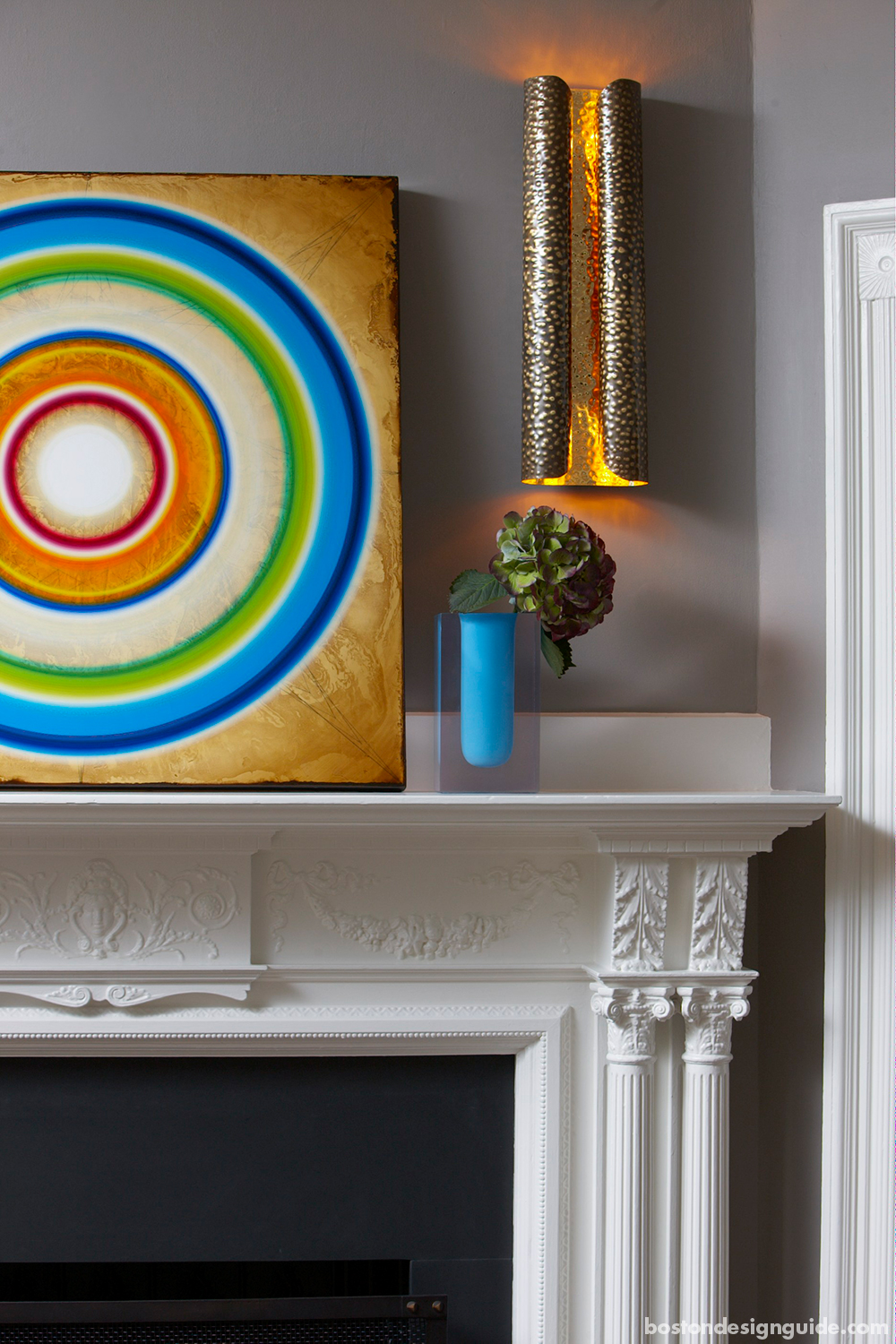 Rachel Reider Interiors; photo by Michael Partenio