January 26, 2021 | Marykate Forte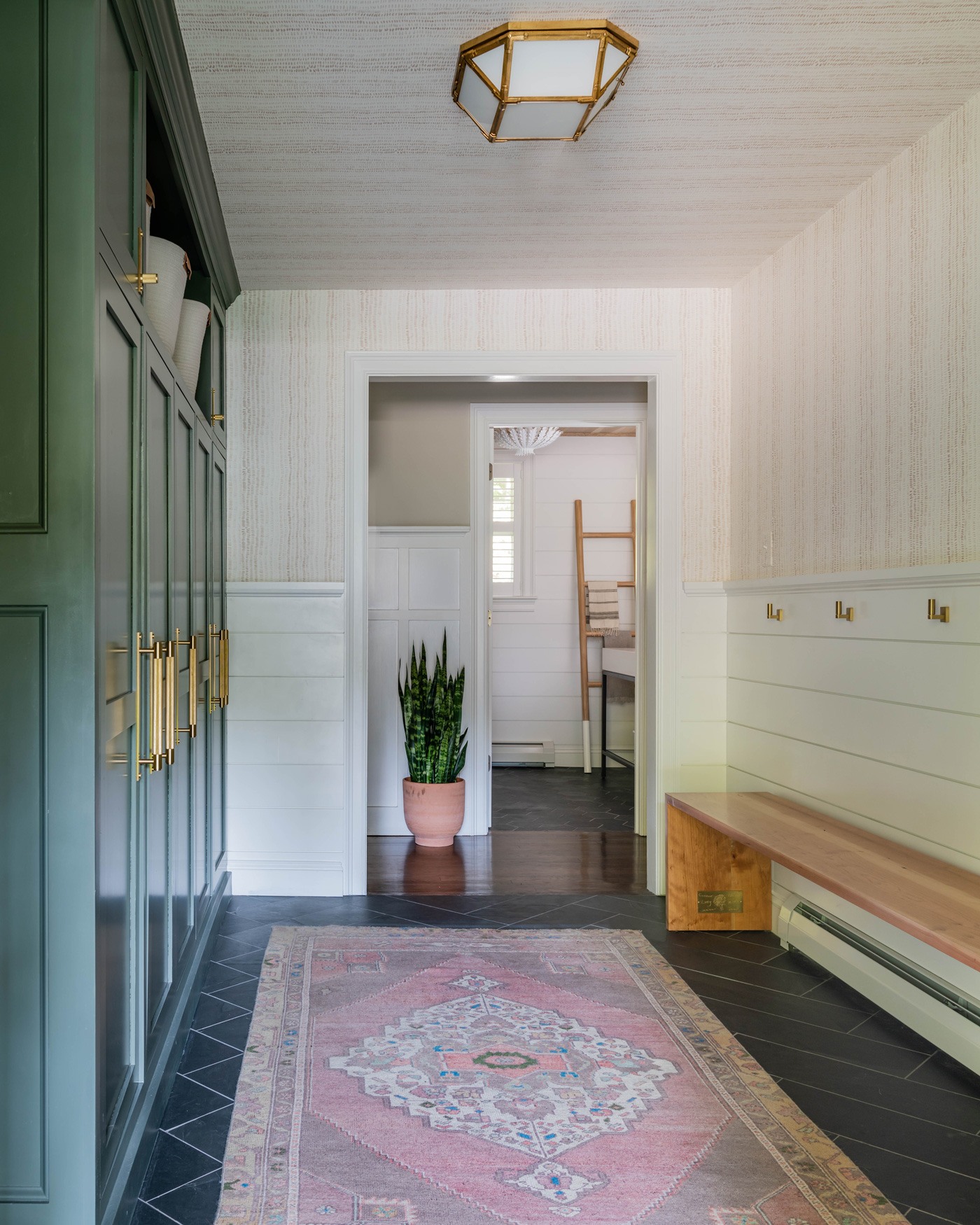 A mudroom on the South Shore embodies elegance and sophistication.
With earthy tones and pops of natural color inspired by nature, it was important that the elements in this South Shore mudroom find a good balance of masculine and feminine design. Equally important, according to Jaime Moore, the founder and lead designer at James Studio Residential Interiors who was contracted by the homeowners to execute the room's design, was that the mudroom serve its function without compromising on style.
The homeowners have three children and needed a durable mudroom, says Moore, noting that they were very collaborative in the design phase. "My clients had the space, but it was very dated, so we needed to figure out how it would function but also look really good."
Olive green high-gloss painted cabinets that emulate the size and shape of lockers, are accentuated with textured brass Buster and Punch door pulls. Complimenting the lockers is a terracotta-toned Rebecca Atwood wallpaper, with a blush accent that is soft and simple. The ceiling is also wallpapered, adding a unique touch.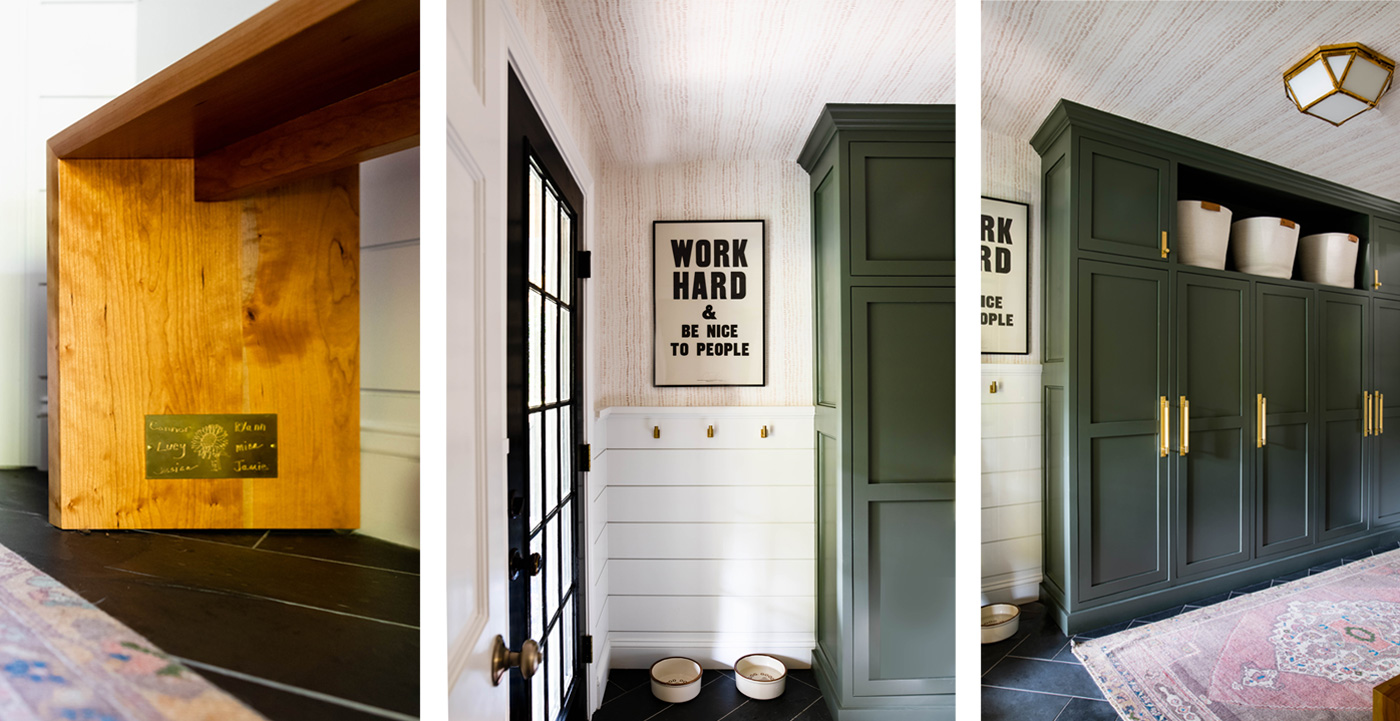 "I'm a big believer in wallpapering the ceiling because it's one of those spots that you don't notice unless you do something cool like that," says Moore. "There are so many opportunities in a home to use wallpaper on a ceiling to create something fun."
The slate flooring is laid in a herringbone pattern and is durable and eye-catching. Clean lines, with a little pop of brass, make the ceiling light fixture from Visual Comfort complement the hardware on the locker doors, without rivaling any of the other design elements. The vintage rug ties all of the colors of the room together.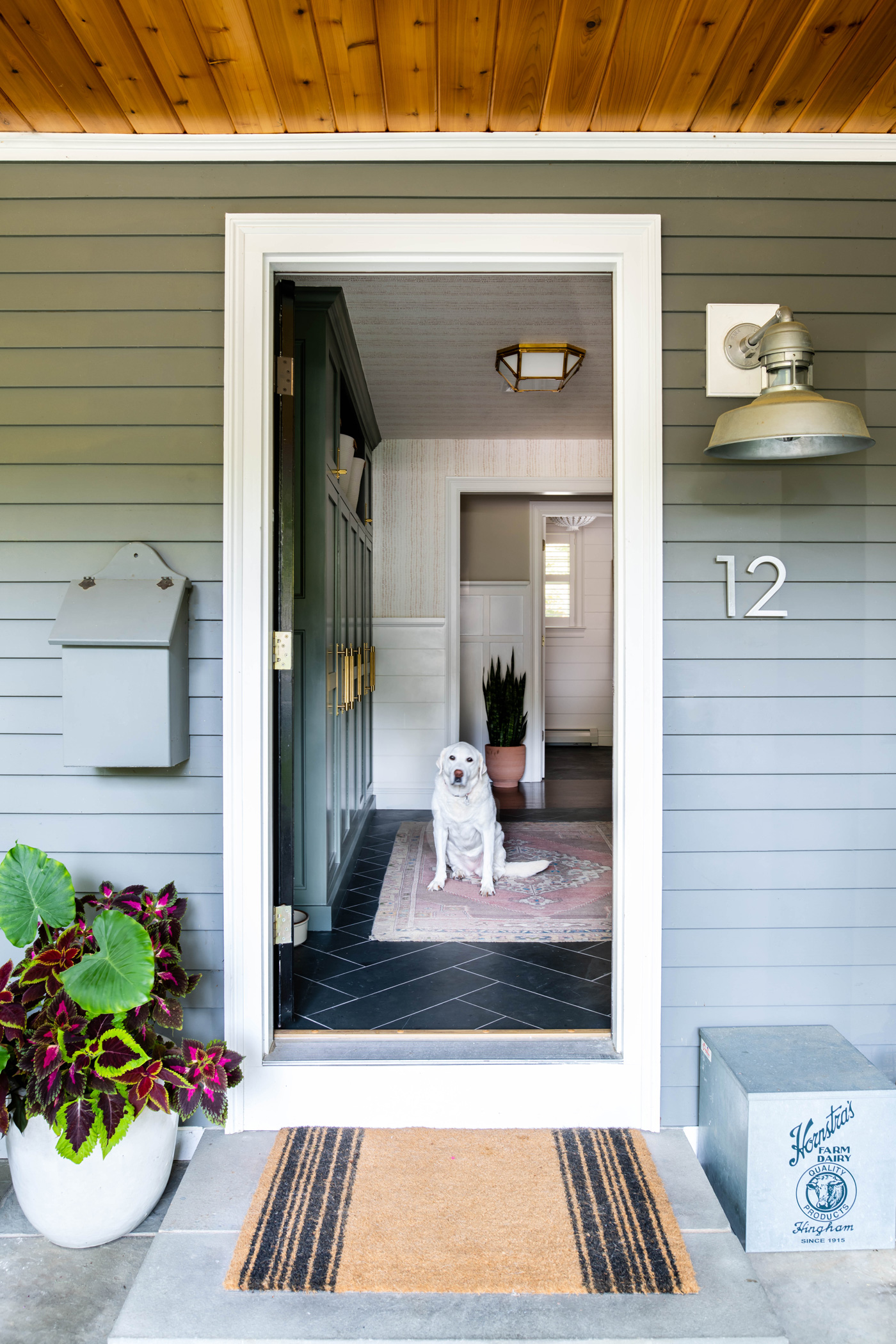 A plaque on the bench created by Sawtimber Woodworks features the homeowner's signatures, along with a sunflower, which is symbolic to the family. The artwork was selected by the homeowners and signifies who they are, says Moore. "This space is a perfect representation of my client and her family and how they live their life."
For more information, visit https://www.jamesstudiointeriors.com. 
Photography by Jessica Delaney