March 17, 2016 | Sandy Giardi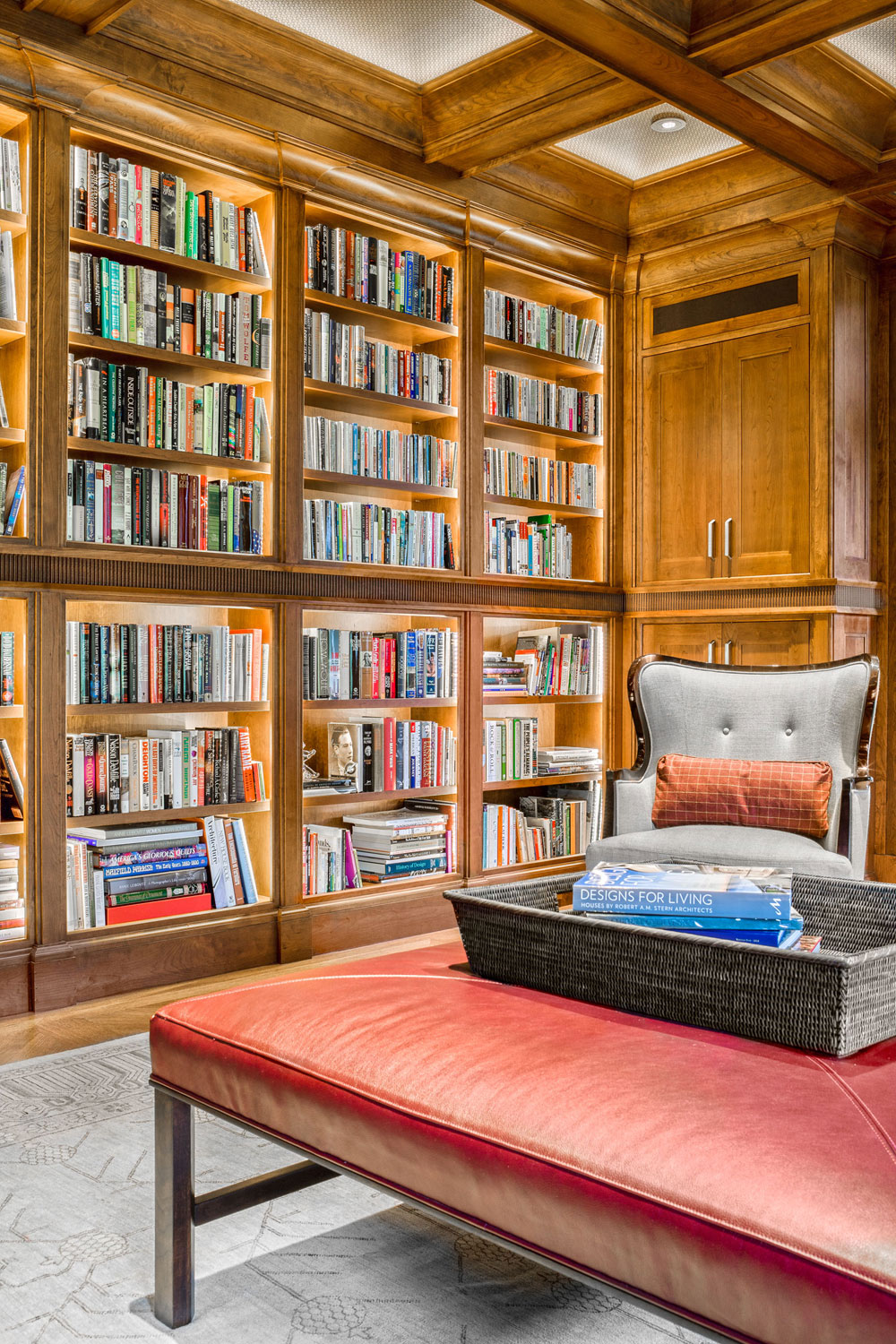 (Architectural millwork and construction by Fallon Custom Homes & Renovations; interior design: Sharon Staley Interiors; photo by Greg Premru)
"Millwork is an interesting category," says Paul Reidt, president and partner at Kochman, Reidt + Haigh Cabinetmakers. "If you think about a home as a container and contents, you might say that the architecture is the container, and the furnishings and artwork brought in are the contents." Millwork is architectural. "It belongs to the house," says Reidt. Yet it injects character in the same way that furniture can. As part of the container, millwork becomes "a permanent component of the house, which raises the stakes," says Reidt. "You've got to get it right, because it's there forever."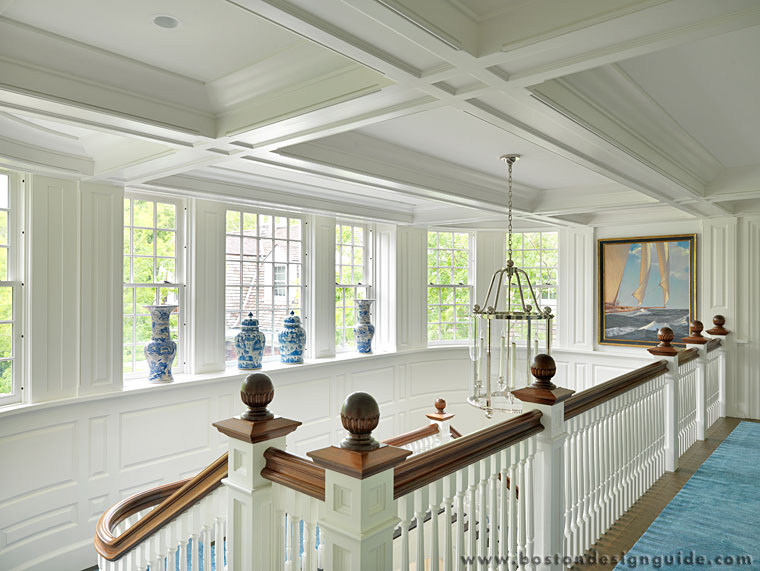 Architectural millwork by Toby Leary Fine Woodworking; Architect: Catalano Architects, Inc.; photo by Richard Mandelkorn
Here at Boston Design Guide, we know more than a few custom cabinetmakers and millworkers who "get it right," and then some. They transform homes by creating unique and beautiful spaces with bespoke designs of enduring craftsmanship. So, when we wanted to explore the many virtues of millwork, we put it to them. Here follows a few of the most compelling reasons to use millwork in your home.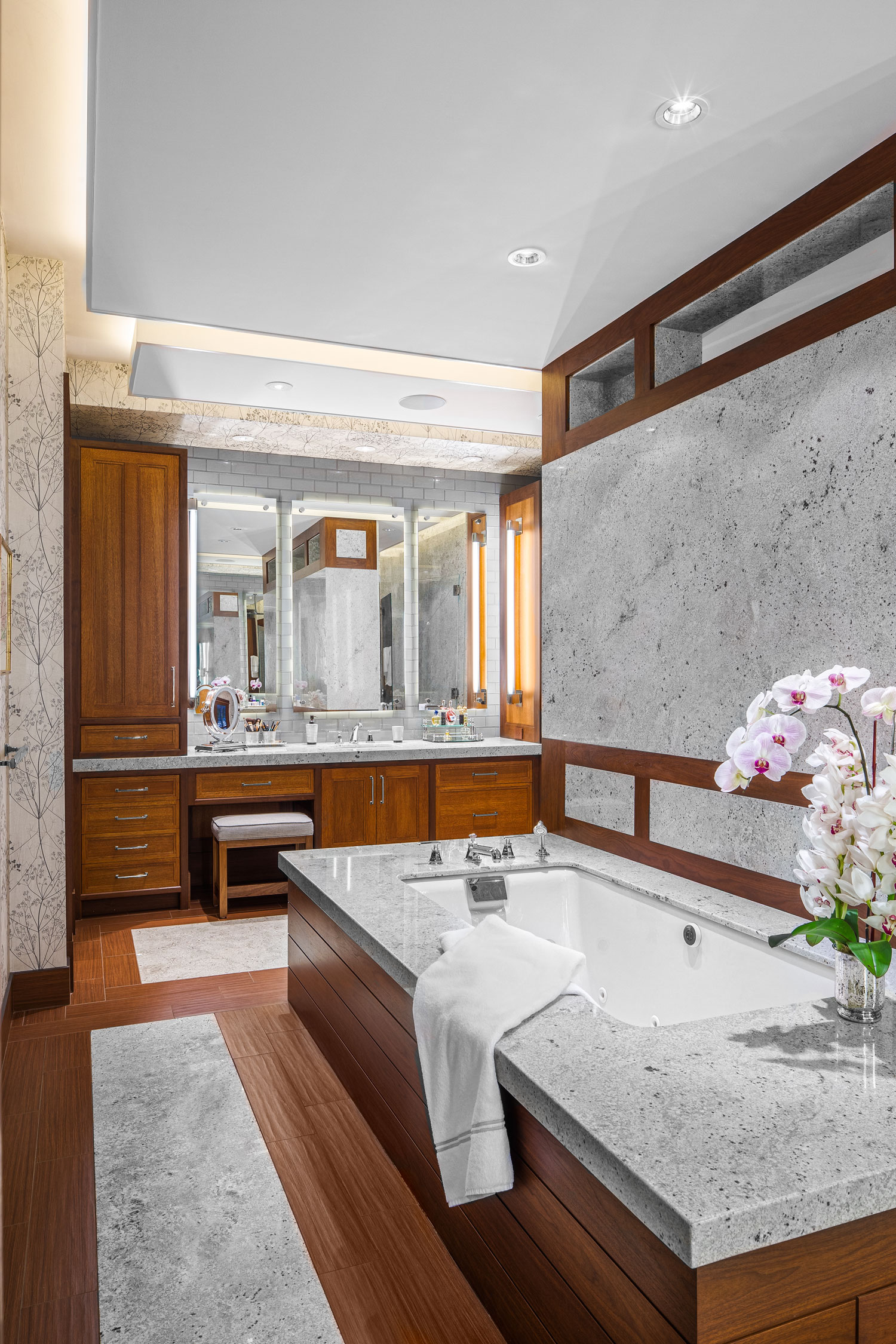 Architectural millwork and construction by Fallon Custom Homes & Renovations; interior design: Sharon Staley Interiors; photo by Greg Premru
To Add Character and Beauty
According to Reidt, one of the most significant things you can say about millwork is the way it offers "surface texture" and "a definition that a space would not otherwise have." It not only adds dimension, it "can establish the personality of a space," Reidt contends. Millwork makes spaces more interesting, dazzling even.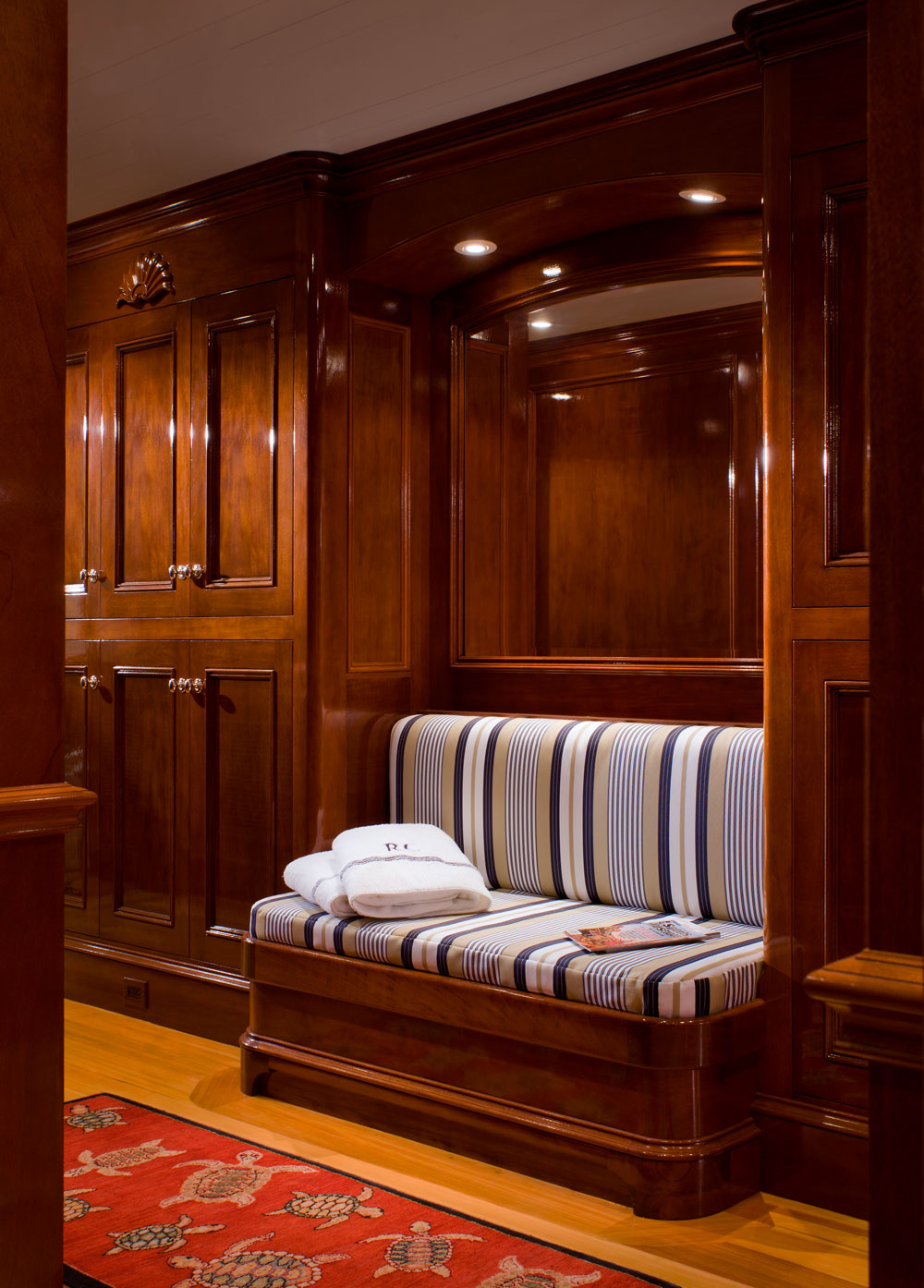 Millwork by Wetstone Design and Millwork; architect: Eifler Associates; photo by Larry Lambrecht
Take, for example, the work of Wetstone Design and Millwork, above. This detail from a magnificent renovation of a Newport mansion on famed Bellevue Avenue is a vision in genuine South American mahogany. Its inspired woodwork was a necessity in giving the lower entertainment level the super yacht feel its owners were after. The nautical details and rich woods amped up with a high sheen varnish bring the America's Cup right into the home.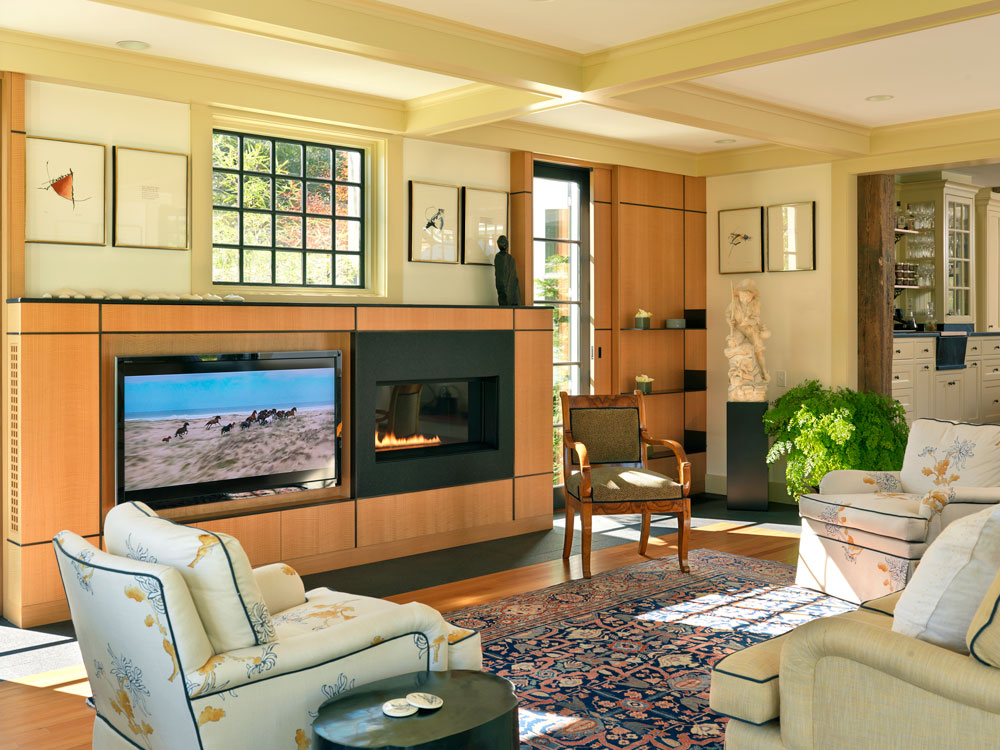 Millwork design: Paul Reidt, Kochman, Reidt + Haigh Cabinetmakers; architect: Dewing Schmid Kearns; builder: J.W. Adams Construction; photo by Richard Mandelkorn.
In the light-drenched garden room above, the homeowners sought a modern space that felt distinctly different from the rest of the 1770s manse. It had to be "serene and calming and quiet" said Reidt, so Kochman, Reidt + Haigh employed bronze details and anigre wood, which has an exotic air to it. Though the space is comprised largely of windows, it is warm and exceptionally inviting. That anigre wood, says Reidt, has "a lot of depth to it. It almost looks three-dimensional." There's a softness to the surfaces that "makes them feel deeper than they are. It's almost as if you were to upholster a wall."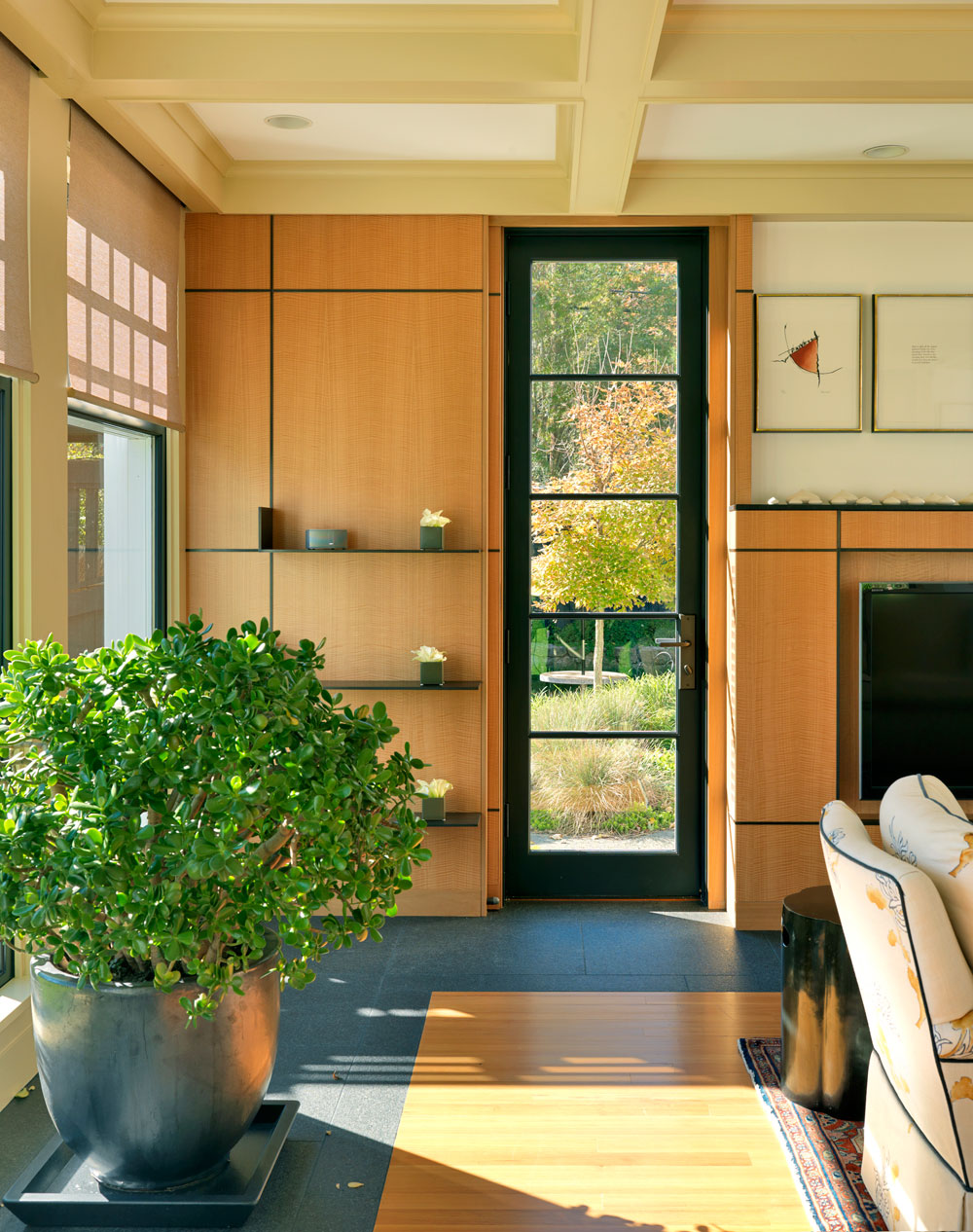 Millwork design: Paul Reidt, Kochman, Reidt + Haigh Cabinetmakers; architect: Dewing Schmid Kearns; builder: J.W. Adams Construction; photo by Richard Mandelkorn.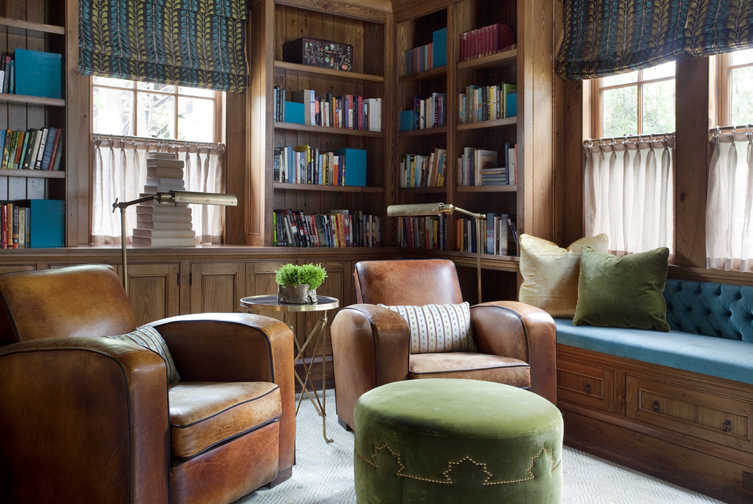 Millwork: Fallon Fine Cabinetry; Builder: Fallon Custom Homes; Interior Design by Liz Caan; Finish by Wayne Towle Master Refinishing and Restoration; Photo by Eric Roth
Millwork can also be used to further the story and historical context of a home. Peter Fallon, principal of Fallon Custom Builders, explains that this handsome office above was fashioned from the reclaimed wood of a barn in Maine that hails from the same era as this home. In this livable space, hand-hewn cypress graces much of the cabinetry and interior doors, while reclaimed spruce beams lend support and reclaimed antique chestnut comprise the ceiling boards. Because Fallon believes that millwork is so integral to custom building, he incorporated a cabinetry and millwork shop into his business's expansive square footage. It's an unusual move for a builder, he admits, but it allows his firm to construct a full wall of cabinetry in his shop and, when needed, gather the many players involved (interior decorator, architect, etc.) on his terrain, rather than the homeowner's.
To Define a Space and Bring Unity
Increasingly, today's homes are created with open floor plans and aligned with contemporary lifestyles. The roles of public versus private spaces have shifted. Says Reidt, "more parts of our homes are sort of public spaces; they're really for ourselves and our friends." With an open floor plan, instead of having a house of rooms, you have "a house of places," he says. Millwork allows you to create distinctive areas in the home within an overarching architectural context.
Millwork: Kochman, Reidt + Haigh Cabinetmakers; architect: D. Michael Collins Architects; builder: Mark Sevegny Construction; interior design: Andra Birkerts Design; photo by Eric Roth
This Narragansett Bay living room by Kochman, Reidt + Haigh Cabinetmakers beautifully illustrates his point. It's a shining example "of how you can use millwork to create different spaces within a single volume," says Reidt. Here, the blond woodwork not only emphasizes the fireplace, it also serves to separate the furniture grouping that's directly in front of the hearth from the arrangement to the left and the stairway circulation to the right.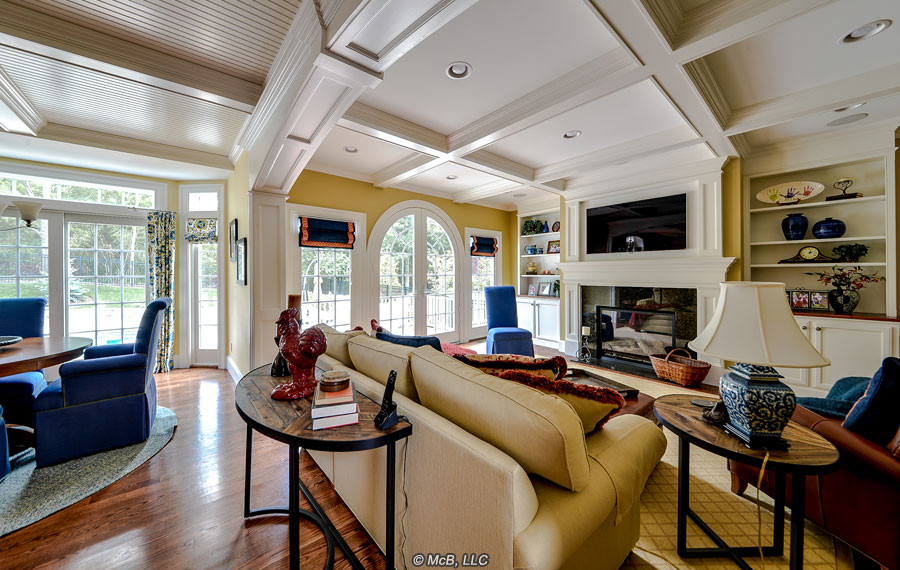 Millwork by Van Millwork
This charming great room featuring the interior millwork products of Van Millwork also individualizes its open-concept spaces by virtue of its fine finish work. Van Millwork "has a narrow focus," offers the firm, and purveys only interior millwork products—both custom and stock. In the home above, the casing, trim, crown moulding, mantel and paneling work in concert to deliver an elegant, contiguous space, yet each choice made also serves to differentiate the dining area from the living room.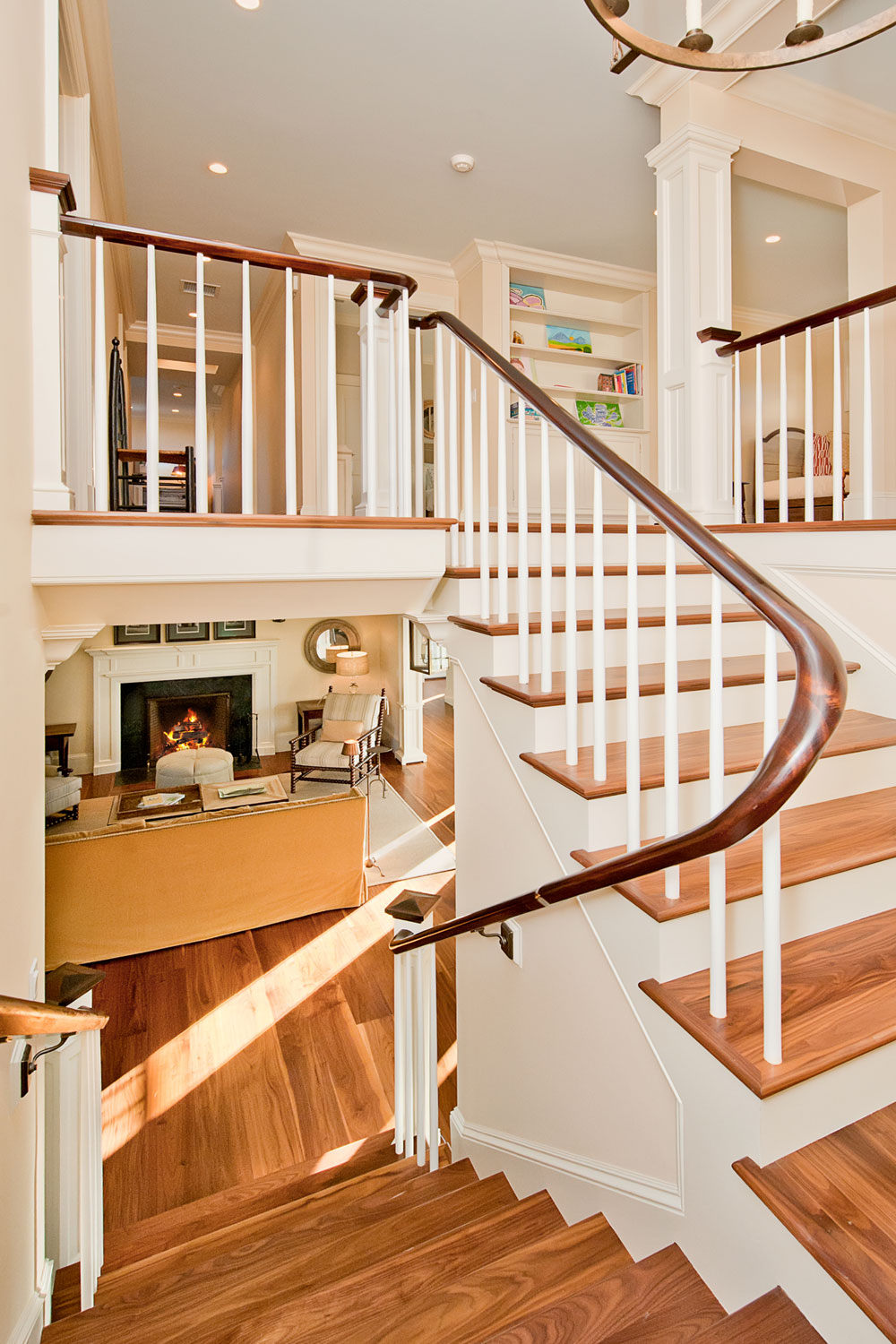 Architectural millwork by Toby Leary Fine Woodworking; photo by Julie Megnia Photography/TLFW
In the above Bass River home, featuring the millwork of Toby Leary Fine Woodworking, levels as well as spaces are conjoined. The cream-colored painted woodwork is echoed throughout the home for what Leary calls a "spectacularly homogenous" design. From the custom bookcase and cabinetry to the columns and mantel, every architectural detail relates to the overall effect. Local code mandates a continuous handrail on the walnut stair, but we feel that the beautiful mahogany detail becomes a powerful emblem of the unified whole.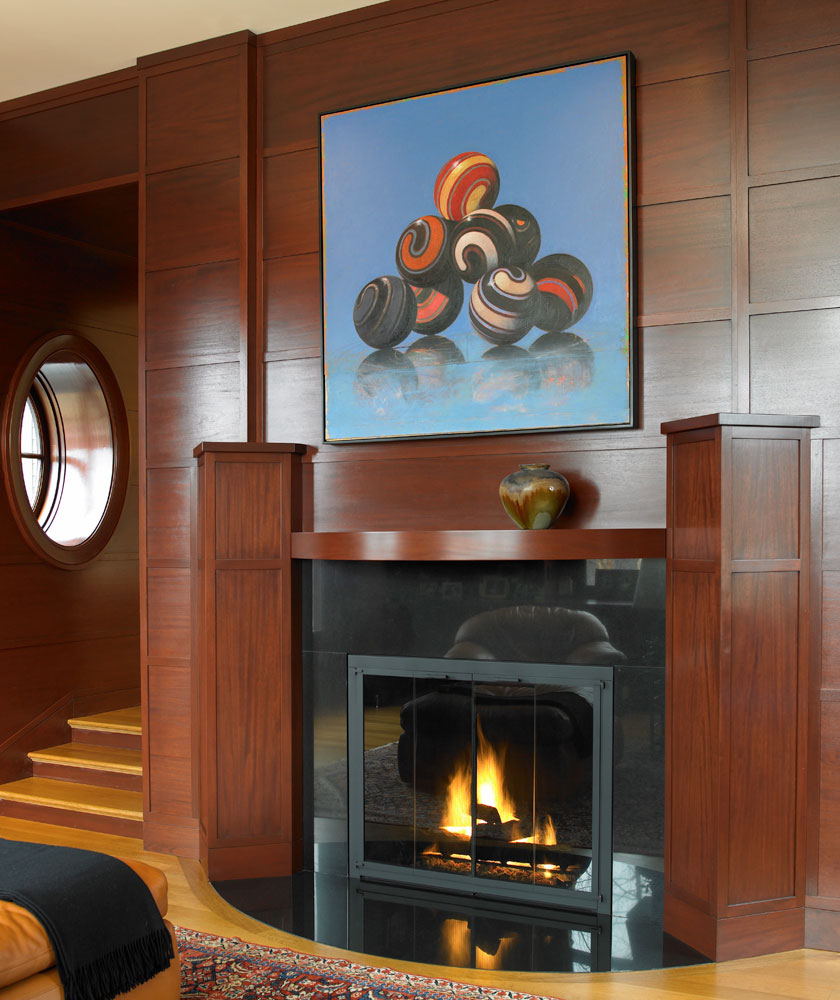 Fireplace millwork design: Doreve Nicholaeff and Paul Reidt; architect Nicholaeff Architecture + Design; builder: Cataldo Custom Builders; photo by Peter Vanderwarker
Often millwork takes what Reidt calls a "theme and variations kind of approach." The millwork details "form the vocabulary," he eloquently explains, "but each room has its own sentence structure and paragraph to control the narrative." The custom fireplace in the office of a Brookline Hill home, pictured here, speaks to Reidt's point. The striking sapele hearth certainly makes a statement on its own, but if you were to see the plan of the house, it is clear, says Reidt, that its components are a microcosm of the home itself.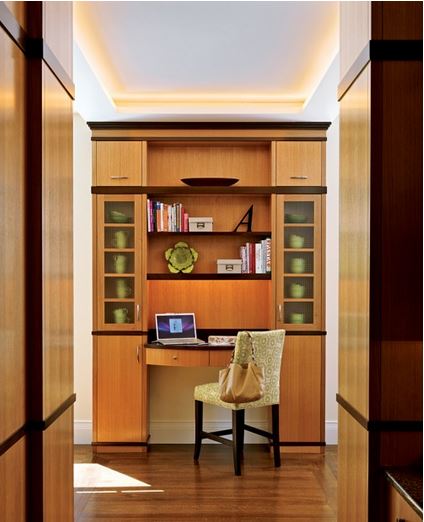 Cabinetry by Kochman Reidt + Haigh Cabinetmakers; architecture by Nicholaeff Architecture & Design; renovation by RCR Richard C. Rigoli & Company; photo by Richard Mandelkorn
Millwork can also create an individualized identity and that holds true for both spaces and rooms. The small desk area above, by Kochman, Reidt + Haigh Cabinetmakers, is just such a case. While it's part of a kitchen, family room and eating area, it has a "focused function," maintains Reidt, and it unquestionably commands the space it occupies.
To Comfort and Contain
Millwork can also be used to augment the sense of comfort in a dwelling, to bring coziness and containment into play, concepts that we all crave in a home. This can be a necessity in wide-open concept homes and lofty spaces.
Architectural millwork by Toby Leary Fine Woodworking
Toby Leary Fine Woodworking has fashioned a stunning example in the second-story family room, above, he created for an Oyster Way home. Leary contends that he crowned the octagonal, gazebo-shaped space in mahogany in a deliberate attempt to bring warmth into this transitional sitting area that filters into the guest quarters. Everyone can bask in its benefits, however, as the impressive wood feature can be viewed from the first floor as well.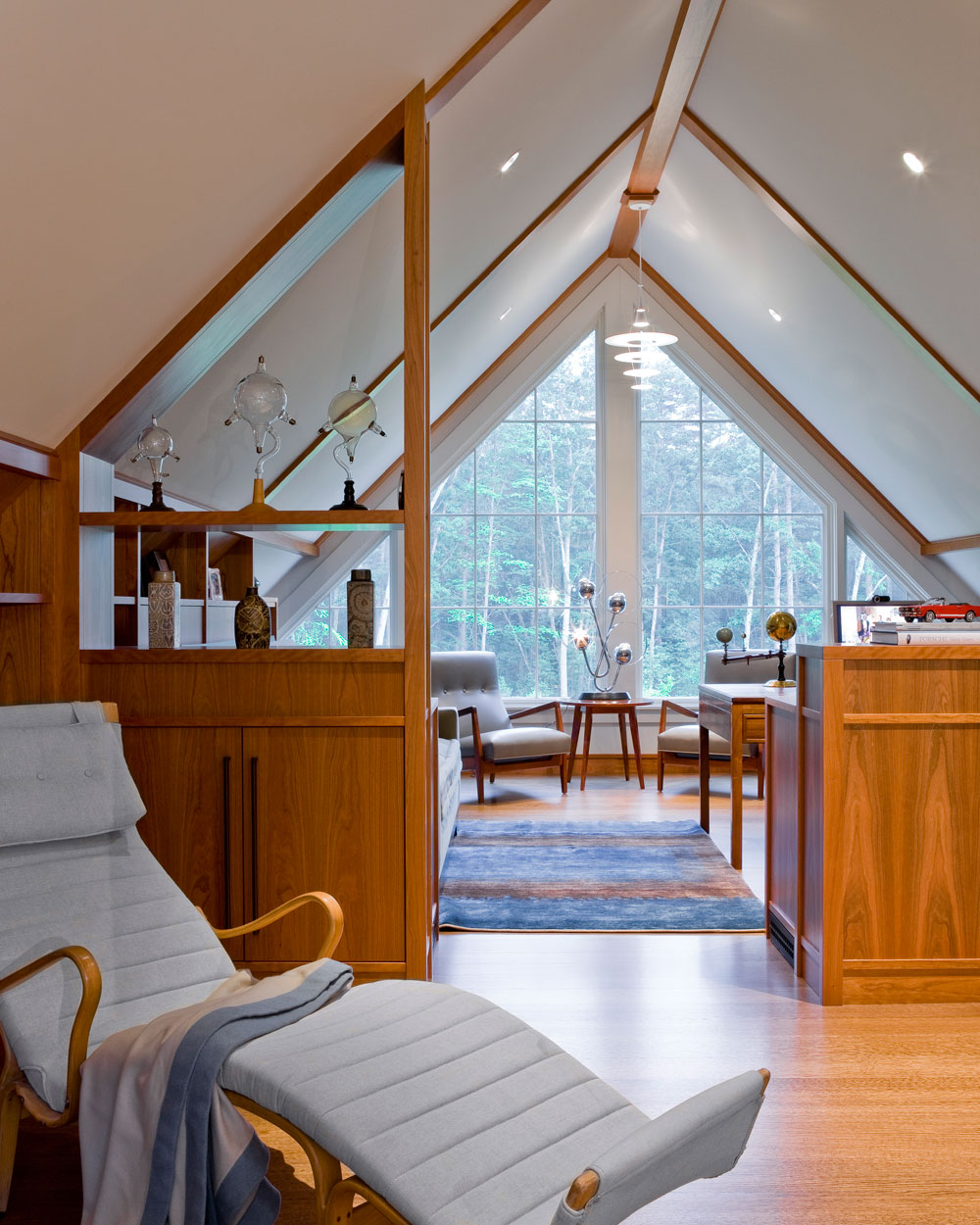 Millwork design by Paul Reidt, Kochman, Reidt + Haigh Cabinetmakers; Architecture by RBA Architecture; Interior Design by Susan B. Acton Interiors; Photo by Michael J. Lee
Kochman, Reidt + Haigh Cabinetmakers took a similar approach to the study space of an Acton A-frame with soaring ceilings. While incredibly picturesque, this loft space of a barn-like structure needed a "sense of human scale," says Reidt, so they separated it into spaces and integrated millwork that was intentionally dark—cherry—so that the wood "occupied the space even more." The firm ran bands of cherry right up to the ridge, accentuating that "beautiful prospect of that big gable window" but bringing a "quiet density" to the office itself.
To Place Value
It's no secret that millwork as a design element is an expensive proposition. Between the craftsmanship and the materials, it's an investment to be sure. It follows then that employing millwork lavishly can also be a literal demarcation of value—whether it's for the home as a whole or to signify that a particular room means something special to the owner.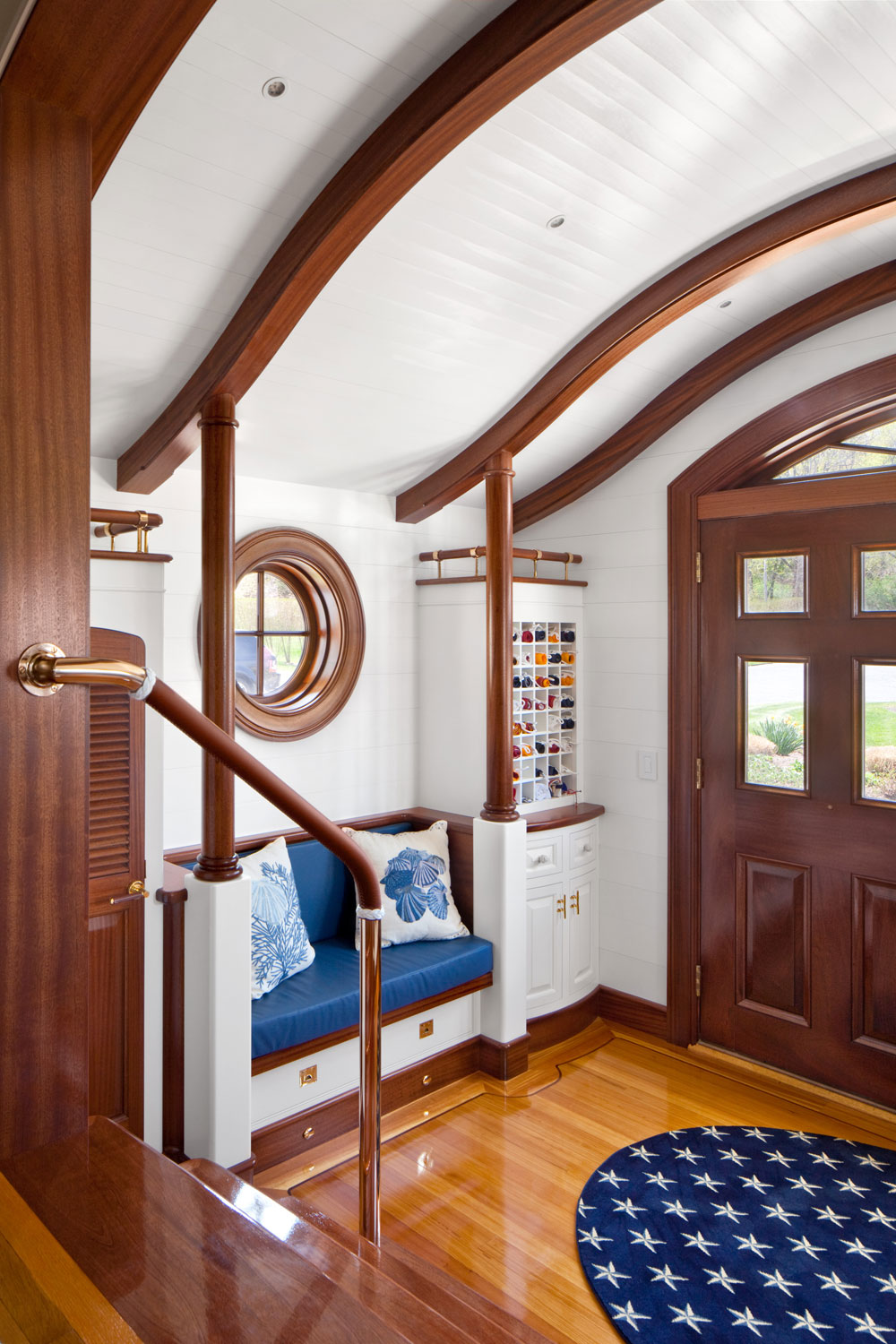 Millwork by Wetstone Design and Millwork
The woodwork in this flawless entryway by Wetstone accomplishes both. The level of thought and detail in this impressive space signals to all who enter that they aren't the only ones who've arrived, so to speak. However, its glorious elements also reveal that the owners hold the welcome extended to guests in high esteem. This portal was designed to be dramatic, as it juxtaposes stained, finished quarter sawn sapele mahogany against the bright white, painted, solid maple.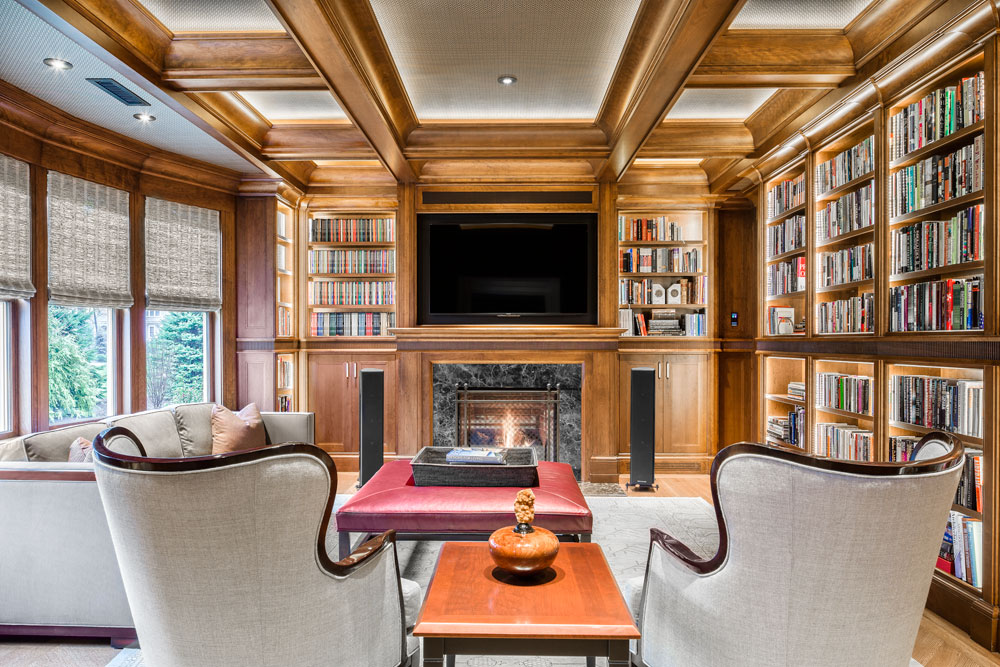 Architectural millwork and construction by Fallon Custom Homes & Renovations; interior design: Sharon Staley Interiors; photo by Greg Premru
This luxurious library, complete with LED lighting and wallpaper in the coffered ceiling, is unequivocally a showpiece for a Needham home built by Fallon Custom Builders and a beloved retreat for the homeowner. While Fallon contends that the new construction has "all of the bells and whistles" throughout the home, this space is truly exceptional. Replete in custom stained cherry, lineal shelving and embellished with a "custom reeded apron" that embraces the entire room, this library is a study in millwork mastery. The room also houses a custom-made cabinet to display the owner's coveted collection of paperweights, adding import to the artful assortment by virtue of its thoughtful construct.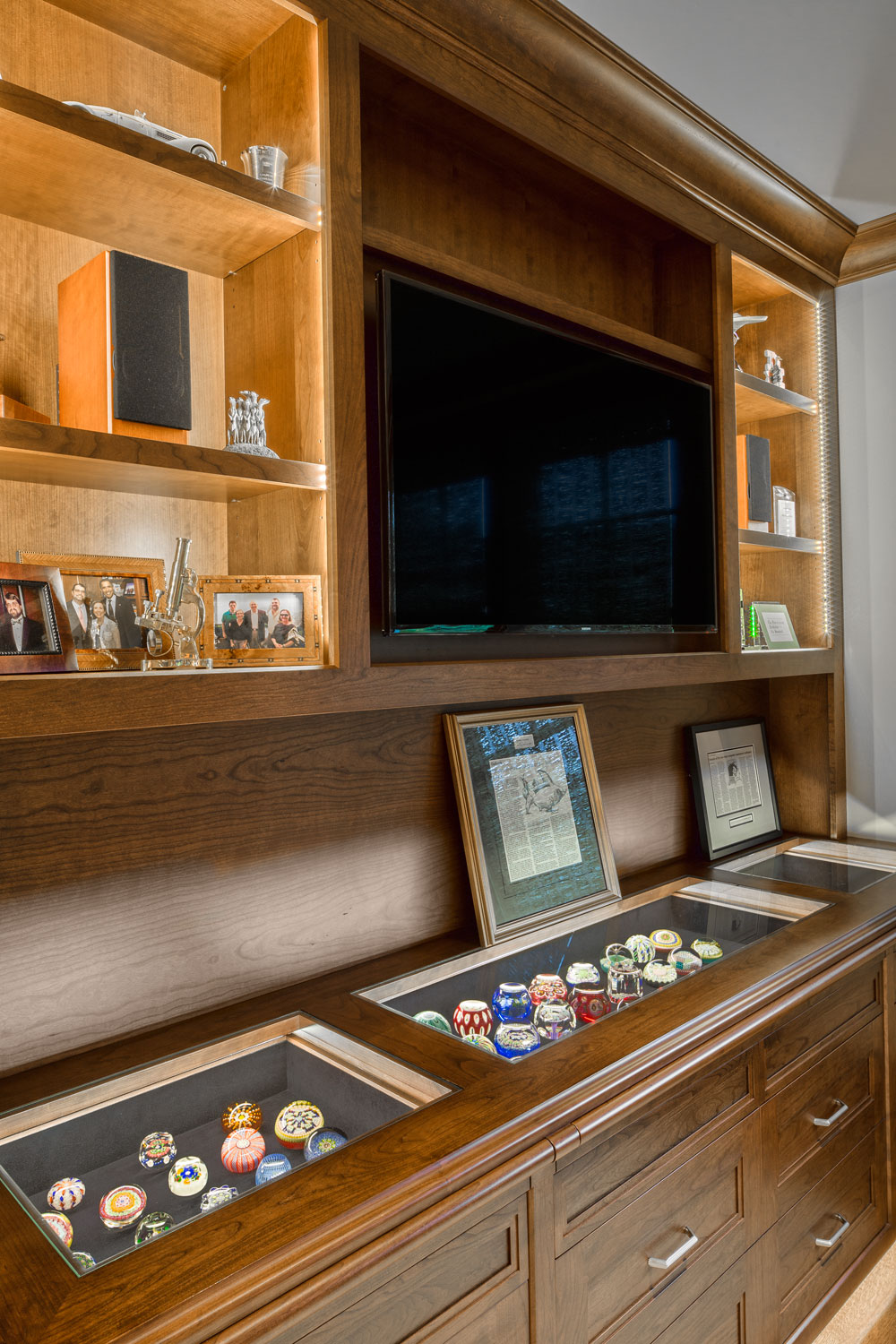 Architectural millwork and construction by Fallon Custom Homes & Renovations; interior design: Sharon Staley Interiors; photo by Greg Premru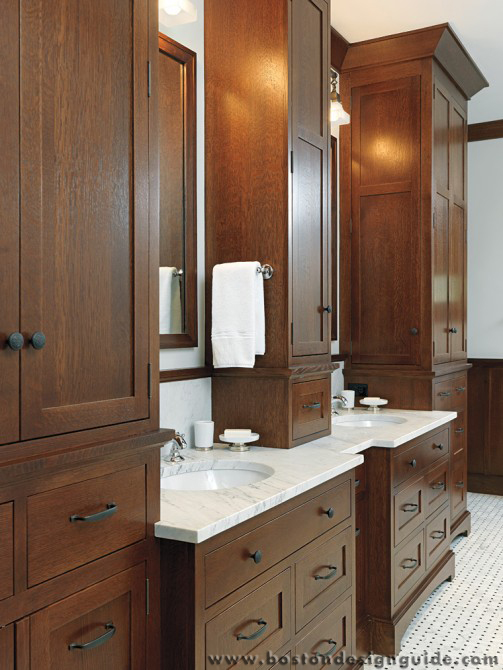 Architectural Millwork by Toby Leary Fine Woodworking; photography by Richard Mandelkorn
Even less-is-more spaces can be aggrandized by millwork. Take this spotless master bath with cabinetry by Toby Leary of Toby Leary Fine Woodworking, for instance. The home has a pared-down Stickley, Mission-style sensibility that carries over to the master bath as well, contends Leary. Here, "the wood adds the richness," as does the owners' mindset. This bath was conceived to be a luxury for the residents, reveals Leary, as they like to take their time when starting the day. Located just off the master suite, this bath may not look fussy, but it goes beyond his-and-her sinks to include a mini fridge and coffeemaker—all of the amenities needed to start the day in style.