November 6, 2015 | Sandy Giardi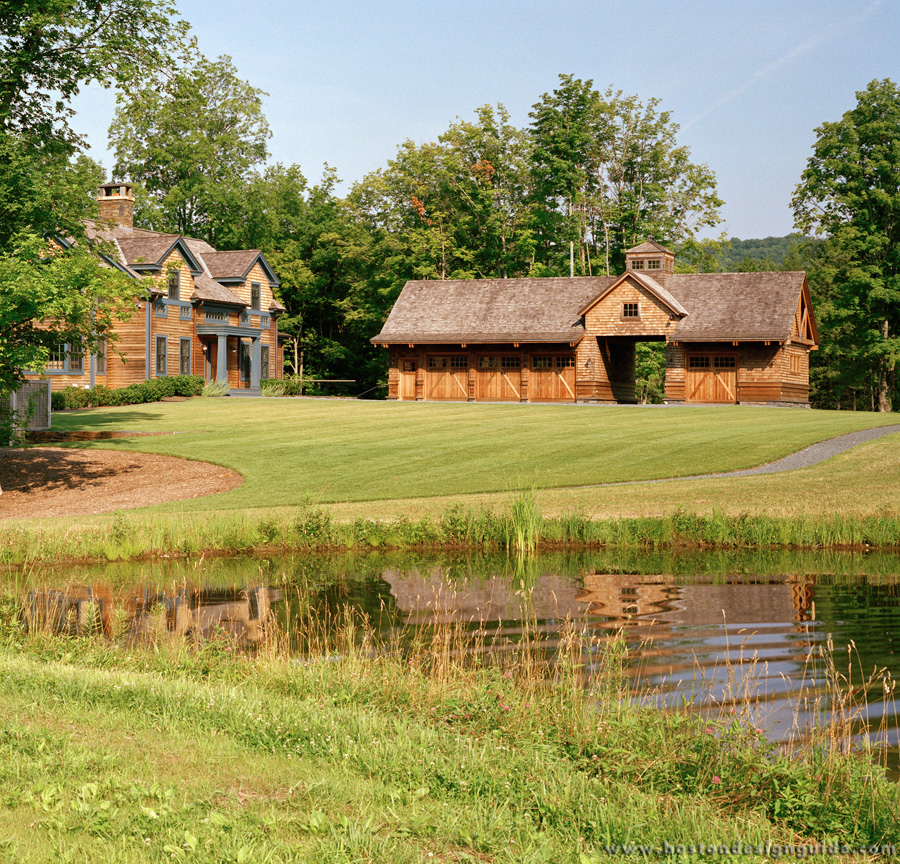 LDa Architecture & Interiors; photo by Woodruff/Brown Architectural Photography
From rustic to chic, traditionally used or repurposed—or somewhere in between—we've corralled seven inspired uses for the all-American architectural style.
With its post-and-beam simplicity and organic appeal, it's hard to deny the allure of a beautiful barn. The pastoral structures have a kinship with the land, a generations-deep connection to our nation's farming history and a sense of community. Tedd Benson of Bensonwood, a design/build firm that specializes in timber framing, calls barns "agrarian cathedrals." The following projects revere such structures, preserving, renovating or reimagining outbuildings that are imbued with Americana yet designed for today's living.
As a Gateway…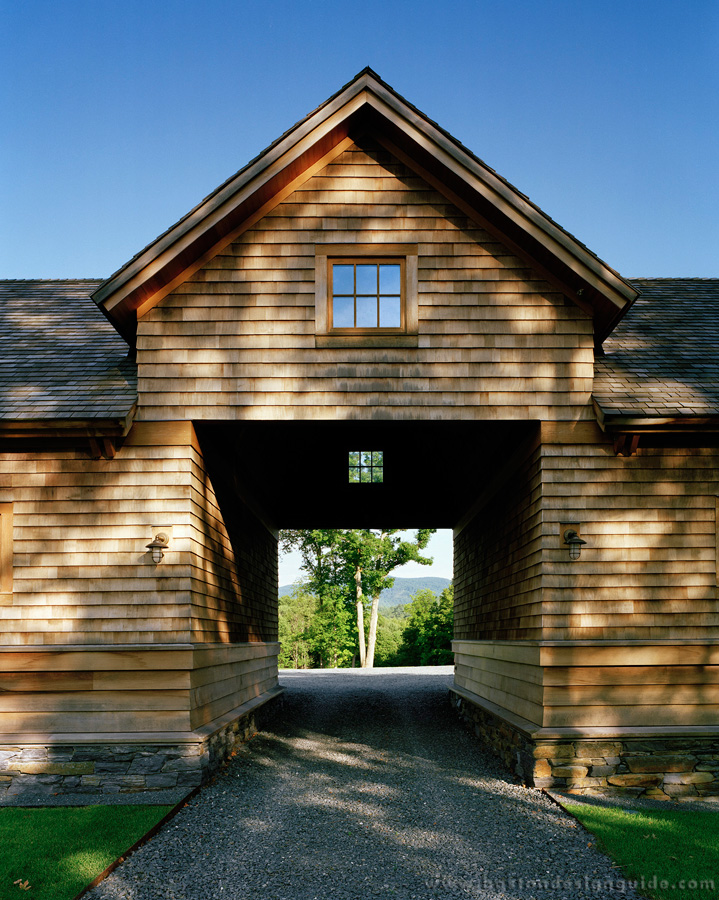 LDa Architecture & Interiors; photo by Woodruff/Brown Architectural Photography
For a New Yorker with aspirations of dabbling as a "gentleman farmer" at his picturesque weekend retreat in Petersburg, NY, LDa Architecture & Interiors renovated the existing main house and added a barn/workshop as well as a pool house to the estate. LDa founding partner Treff LaFleche explains that the client chose the property for the land "and wanted the architecture and the landscape to work as an integrated whole." The barn would "speak to craft" as well as nature, and, as with the rest of the property, use locally farmed materials: specifically, cedar. It would be a departure from a utilitarian structure and have flair, but, in keeping with its roots, nothing too elaborate or detailed.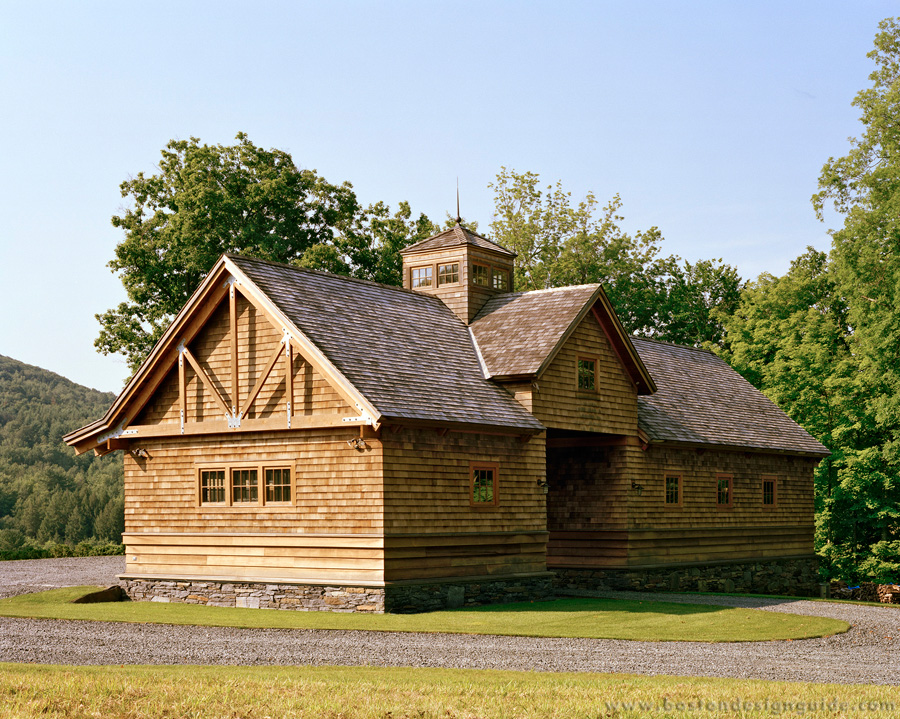 LDa Architecture & Interiors; photo by Woodruff/Brown Architectural Photography
Aside from functioning as a garage, workshop and a space to stow equipment, the barn was conceived as a portal that would frame the estate, a split oak tree and the mountains in the distance. Situated at a lower elevation than the rest of the property, the idea was "that you were meant to come through it and celebrate the sense of arrival," says LaFleche. There's a ceremony and symbolism to the handsome structure that immediately signals to the resident or guest that they've entered another realm, a weekend retreat worlds away from the bustle of the city.
As a Guesthouse…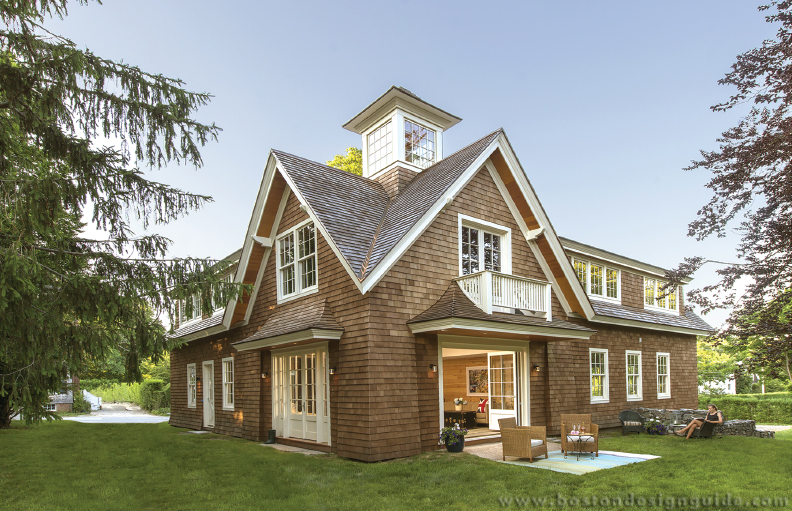 Paul Weber Architect, photo by Peter Vanderwarker
For his own property in Newport, Rhode Island, architect Paul Weber renovated a barn into a three-bedroom guesthouse with plenty of communal space, light and a full garage. Weber reused the framing lumber, exterior elements and existing beadboard but added updates including a Tischler trifold door that spills out onto a patio, playing up its connection to the landscape. The spirit of the barn, namely a sense of community and joviality, remains firmly intact; the lower level houses a large game room meant for gathering, with the rest of the apartment on the second tier.
As a Multipurpose Space…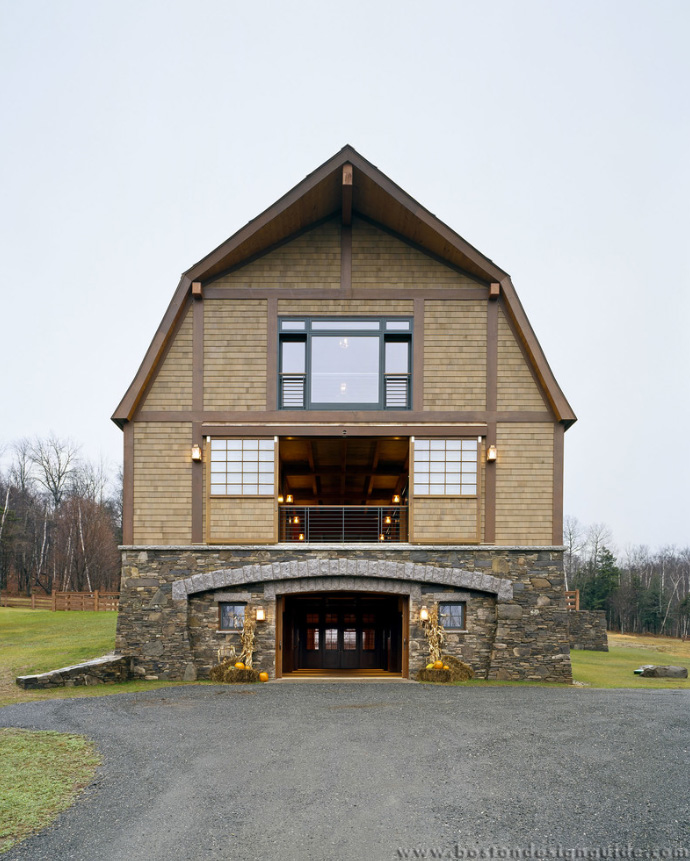 Morehouse, MacDonald and Associates, Inc.
Sweeping views of Mount Ascutney were front of mind when Morehouse, MacDonald and Associates, Inc. designed both the main house and the barn for a vacation lodge etched into the scenic and spectacular Vermont terrain. The barn structure above is a vision in stone and Douglas fir that meshes classic New England details, timber and stick framing with contemporary elements. This barn is unique, explains principal John MacDonald, in that it was created as a shared, multiuse space for residents and animals alike. Separate HVAC systems were installed that allow the horses, alpacas, llamas and other farm animals to reside on the first floor, while the family can congregate in a great family room and gathering place on the second floor. The structure boasts a decided "country home feel," offers the firm, as well as an air of sophistication.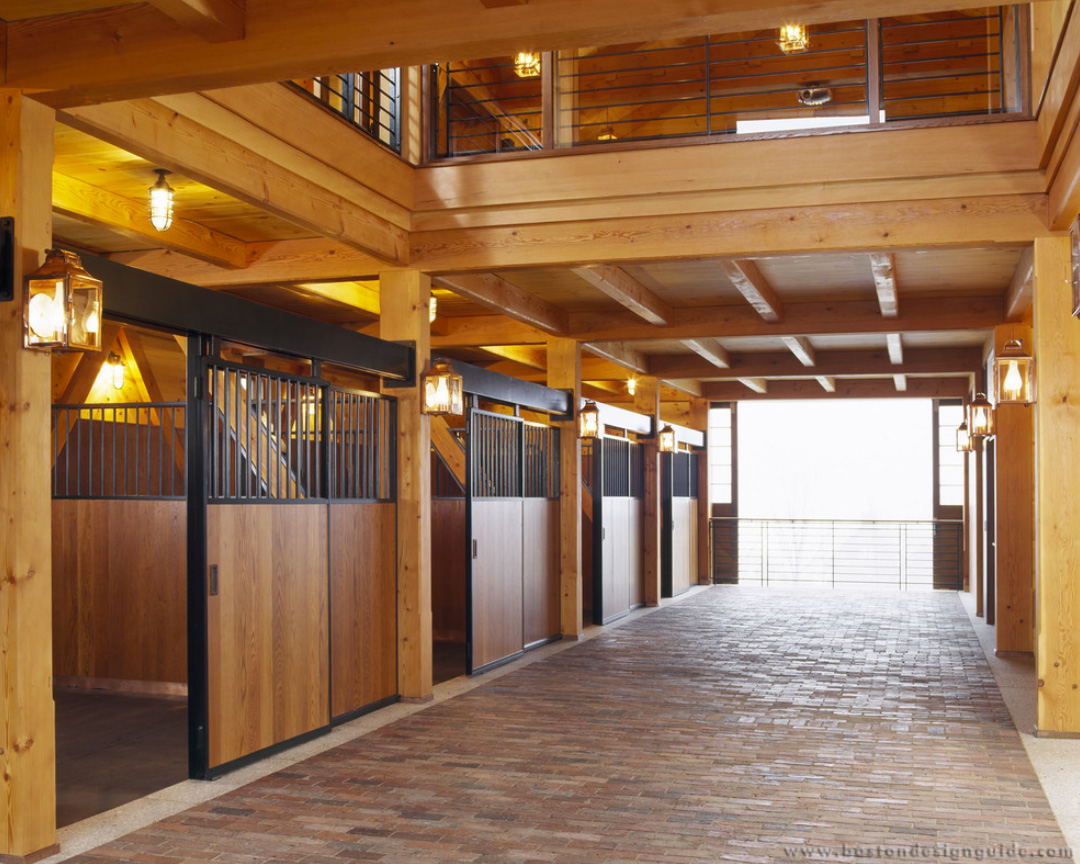 Morehouse, MacDonald and Associates, Inc.
As a Car Barn…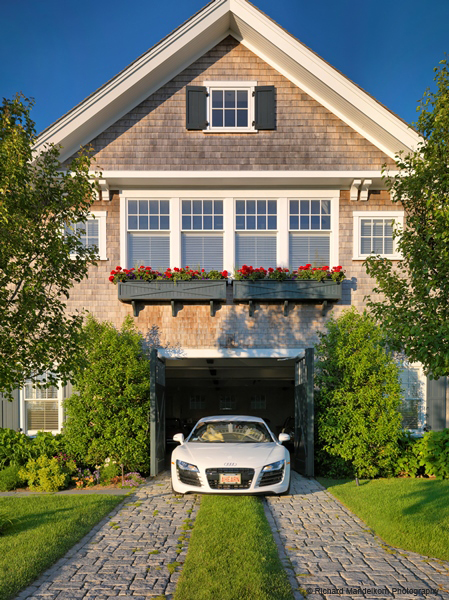 Patrick Ahearn Architect; photo by Richard Mandelkorn
When Patrick Ahearn designed the Boathouse and Field Club, a world-class private club and recreational facility on the waterfront of Edgartown in Martha's Vineyard, he was awarded a lot on the property for his services. An avid car enthusiast, Ahearn often finds inspiration for his architecture in the lines and design of vintage automobiles, so he jumped at the chance to reinvent the livery stables of old, and create a car barn to house the dream machines he has restored, including a fire-engine red 1960's corvette and a hunter green Porsche speedster.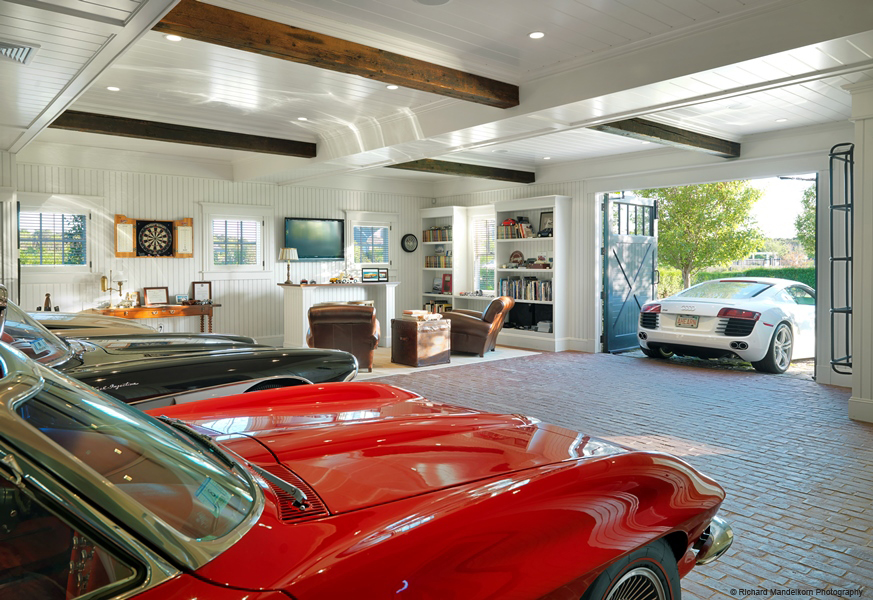 Patrick Ahearn Architect; photo by Richard Mandelkorn
The construct is modeled after the "upscale New England barns one would have found in historic towns like Concord, Mass.," says Ahearn, and, in keeping with tradition, reuses flooring from a mill building in Maine as well as other reclaimed materials including old beams and timbers, and a stone veneer on the exposed foundation.
Ahearn deliberately designed a freestanding first level, devoid of columns, to make access for the cars easy, and incorporated plenty of brick and beadboard, in keeping with the island setting. His addition of "man cave" elements, heating and air conditioning, TVs and a complete guest house on the upper level revs his design forward to the here and now. The interior design maximizes its barn-style "bones;" the living room décor plays well with the soaring ceilings and beams, while the guest bedrooms make good use of the structure's eaves and alcoves.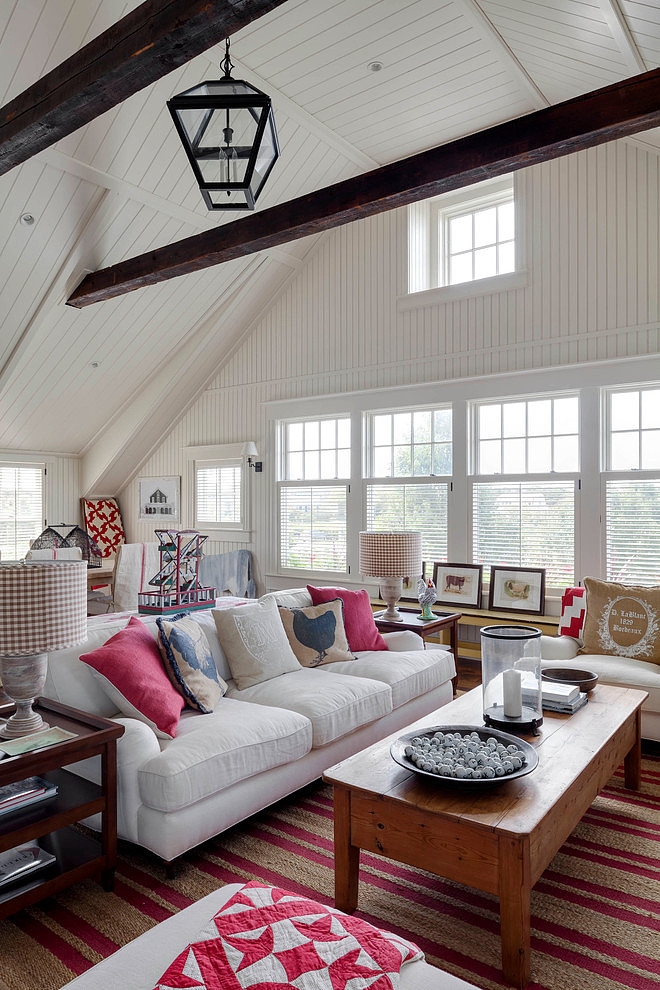 Patrick Ahearn Architect; photo by Greg Premru
As an Equestrian Center…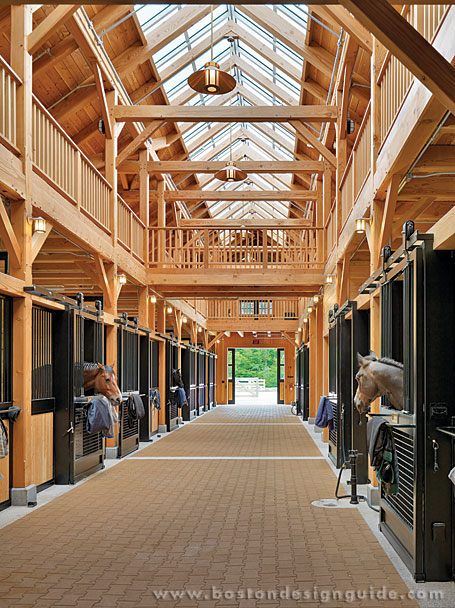 Architecture by MGA | Marcus Gleysteen Architects and Blackburn Architects, P.C.; construction by Kenneth Vona Construction; photo by Richard Mandelkorn
Marcus Gleysteen of MGA | Marcus Gleysteen Architects and Kenneth Vona Construction united to create a thoroughbred among arenas in Beechwood Stables, bringing horse country to Weston, Mass. This composite of three buildings blends traditional agricultural materials with contemporary techniques and is "a study in stone, timber and metal," offers the firm. The equestrian-minded complex includes a riding arena, service barn and horse barn, configured around a central stone courtyard and flanked by an outdoor riding ring.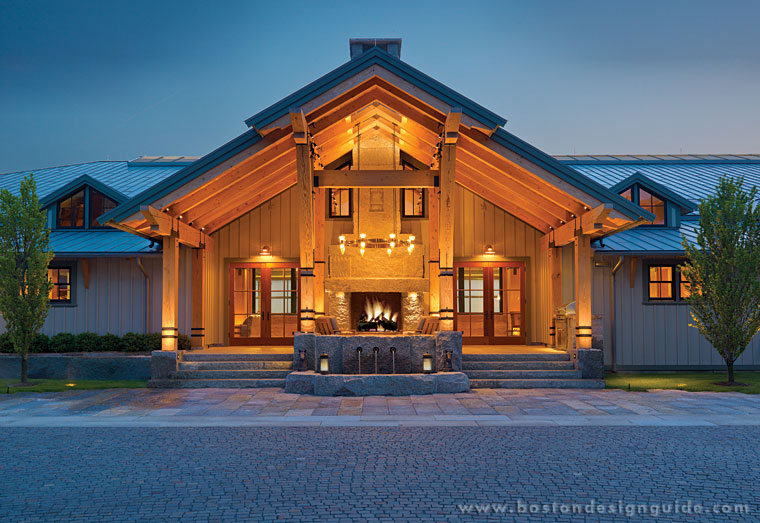 Architecture by MGA | Marcus Gleysteen Architects and Blackburn Architects, P.C.; construction by Kenneth Vona Construction; photo by Richard Mandelkorn
While the service barn is the public face of the equestrian center, the arena's entryway is the showstopper. A massive granite fireplace, water feature and Douglas fir columns dress the porch that leads to an observation room that overlooks the arena. The interior of each construct is immaculate, bathed in light and imbued with a sense of majesty worthy of the animals within.
As a Basketball Court…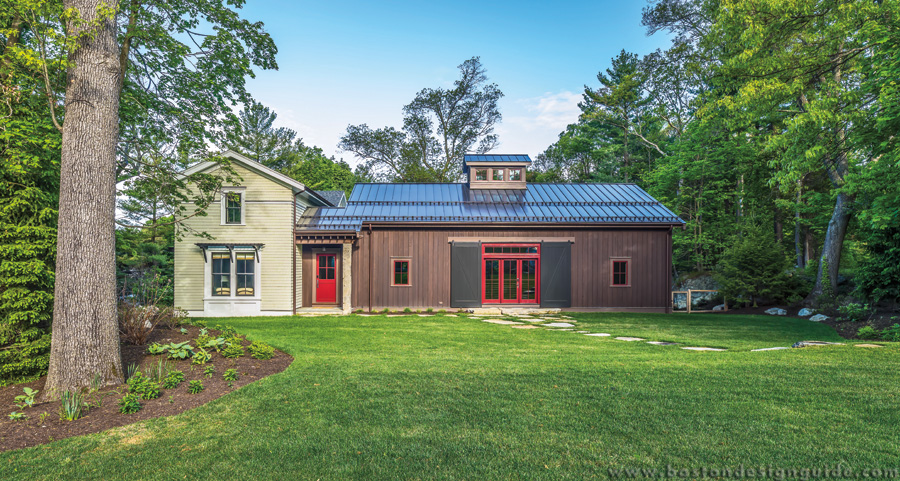 MGa | Marcus Gleysteen Architects, Photo by Richard Mandelkorn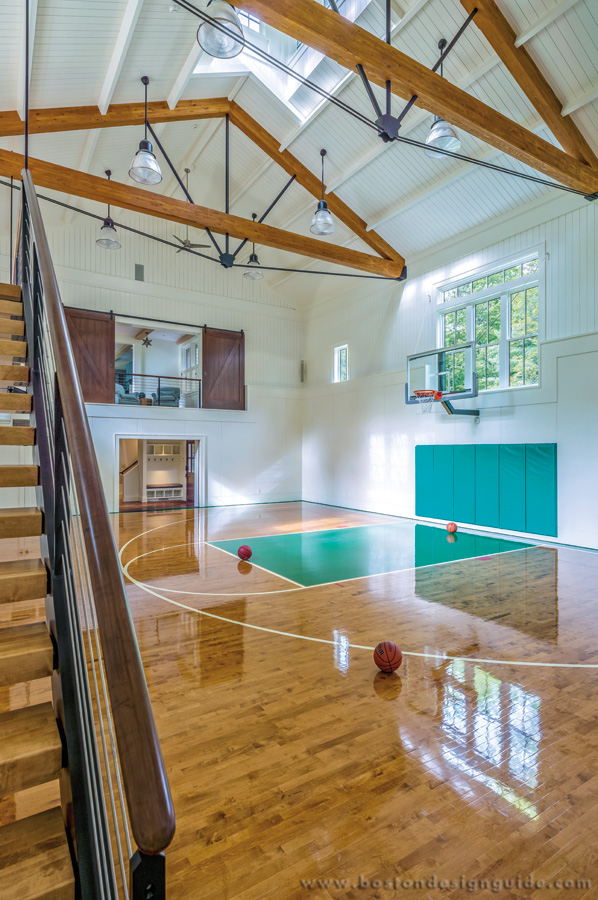 MGa | Marcus Gleysteen Architects, Photo by Richard Mandelkorn
MGa | Marcus Gleysteen Architects created this full-sized basketball court for a family in Weston, MA. Natural sunlight streams in through the high windows, and a living room on the second floor gives the audience an elevated courtside view of the game.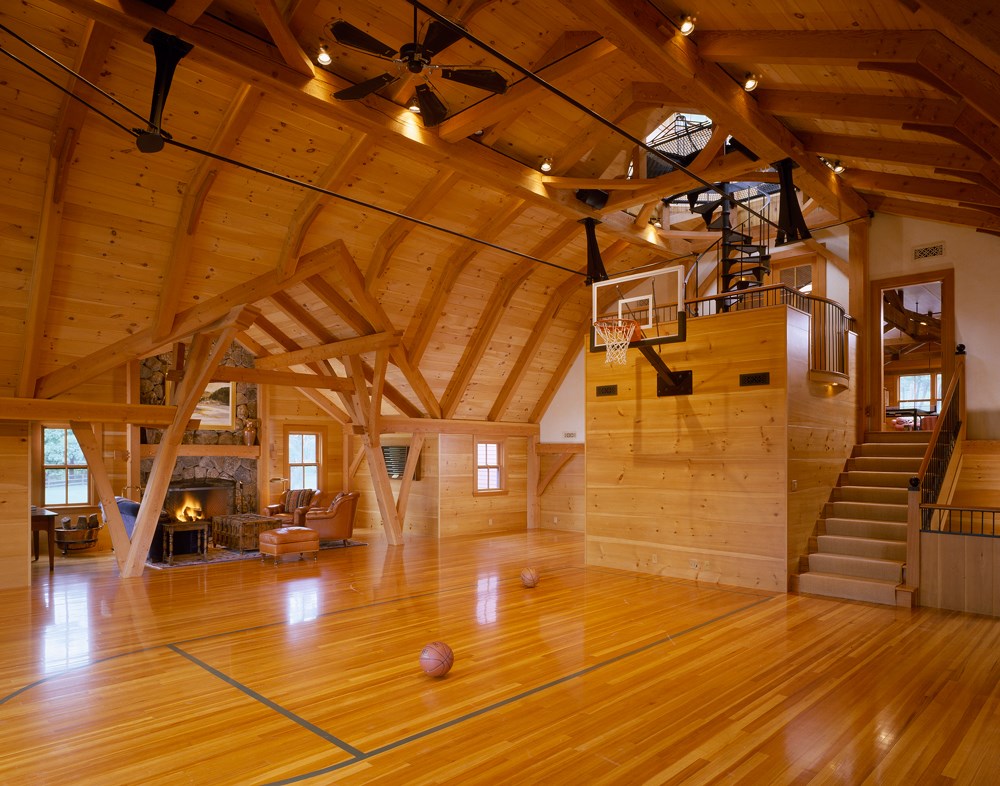 When a beautiful, brick-red antique barn in Concord, Mass., was to receive a new two-story addition, Bensonwood was commissioned to construct its timber frame. The barn-style space would function as a recreational area and home gym, and provide a living and dining space perfect for entertaining.
While some might maintain that a barn's architectural style can be limiting for interior design, here the construct's lines had a definite home-court advantage. The high ceilings and roofline made for an impressive basketball court that is stunning to view. Its rich grain and warm tones are a natural extension of the other programs in the farmhouse, which include a multiuse home gym, kitchen and family room space with a soaring stone fireplace.
As a Commercial Space…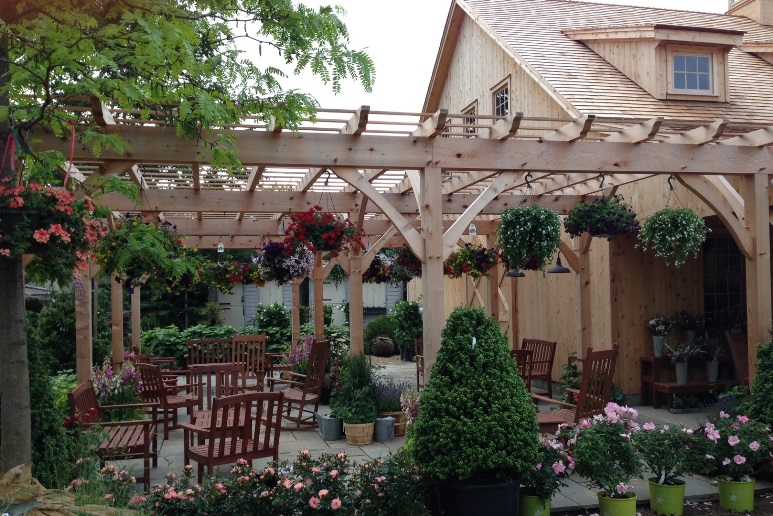 When Bad Martha Brewing Company sought a physical extension to showcase its craft beer and ales on Martha's Vineyard, Patrick Ahearn Architect stepped in to create the barn-style building for the microbrewery, tasting area and retail store. Ahearn selected a post-and-beam barn design, as he believes the barn imagery "matched up well with that of the craft brewery industry" and the fresh, hoppy offerings crafted from a 7-barrel brewing system.
Bad Martha's Farmer's Brewery & Tasting Room is situated on Donaroma's Nursery property amid blooms, native trees and plantings and even incorporates a portion of the ground's greenhouse in its design. Ahearn conceived the barn with its garden locale for its implied history, saying that it looks as though "it very well could have been part of the nursery for over 100 years." To ensure this sensibility, he retained the Amish in Pennsylvania to pre-cut the post and beam structure that would then be assembled and raised on site based on his design. A rustic jewel on the Edgartown landscape, Bad Martha's will endure as a feel-good destination for years to come.