April 28, 2017 | Sandy Giardi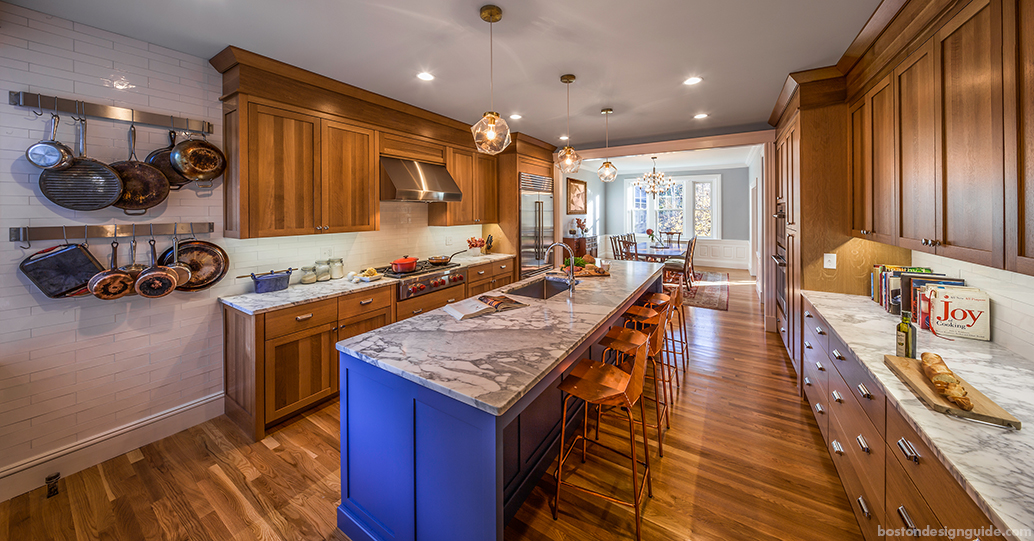 6 Magnificent Makeovers: Clutter Contained
When the chaotic and cumbersome kitchen of a top-floor condo in Brookline was crying out for an overhaul, Cutting Edge Homes answered its call. The fine homebuilder and remodeler reworked the cooking area, entry hall and surrounding closets to trade the disjointed layout for an open-concept plan that isn't cut off from the home's other spaces.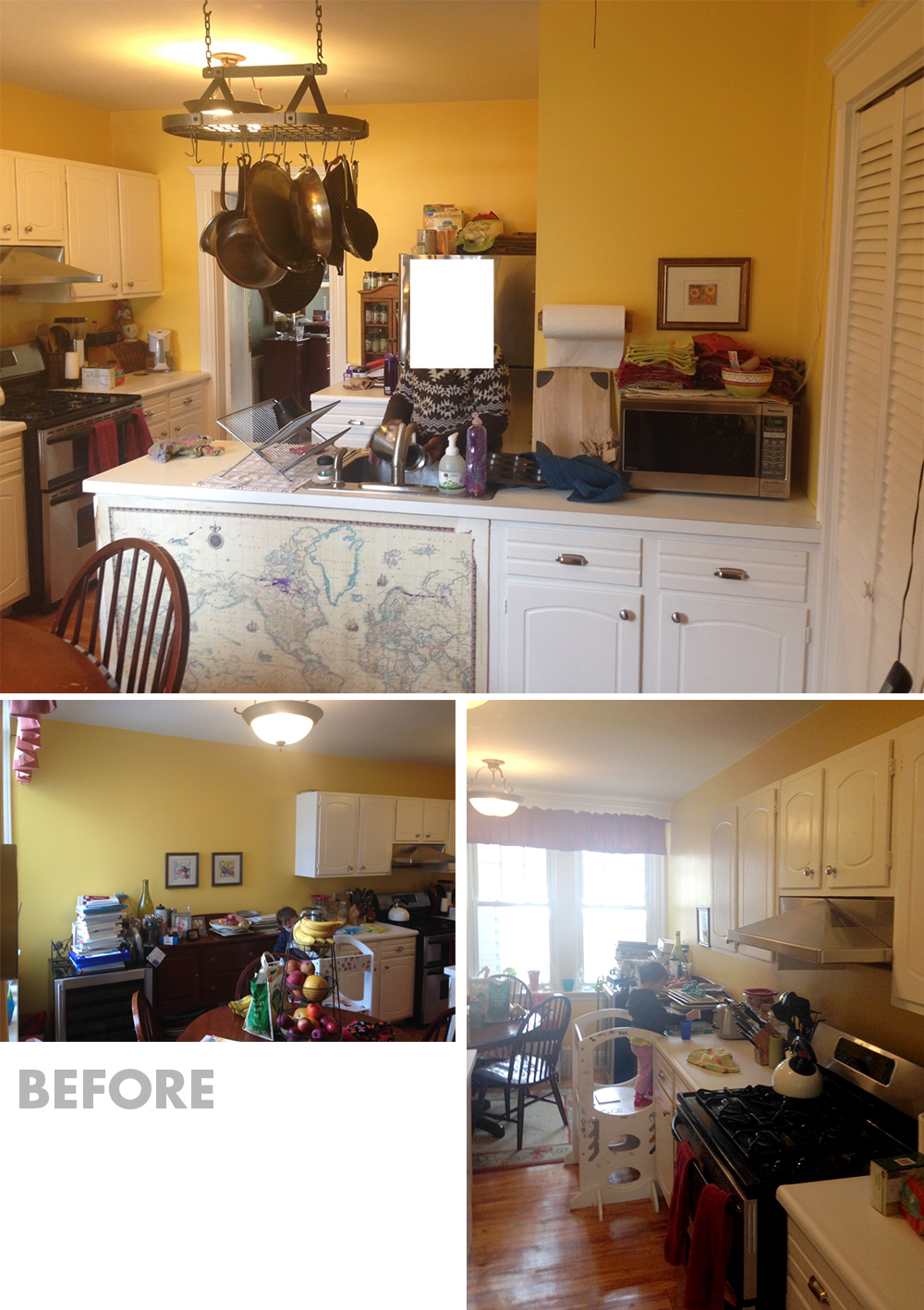 In addition to removing some walls, the firm borrowed a few feet from awkward kitchen closets that were deeper than they were useful and from a disproportionately oversized entry hall, explains Cutting Edge Homes' Chief Designer and COO Anu Shah. They also removed a structural bearing wall where the ovens are currently and flush-framed a beam into the existing roof to keep the kitchen streamlined and unobstructed.
The structural revisions bought the dream kitchen an additional two feet and significantly improved its functionality. The previously overwhelmed and underperforming space is now smartly configured; three slender stone counters yield plenty of workspace, the laundry(!) has been relocated by the bedrooms and the clutter has been tamed by rows of additional storage.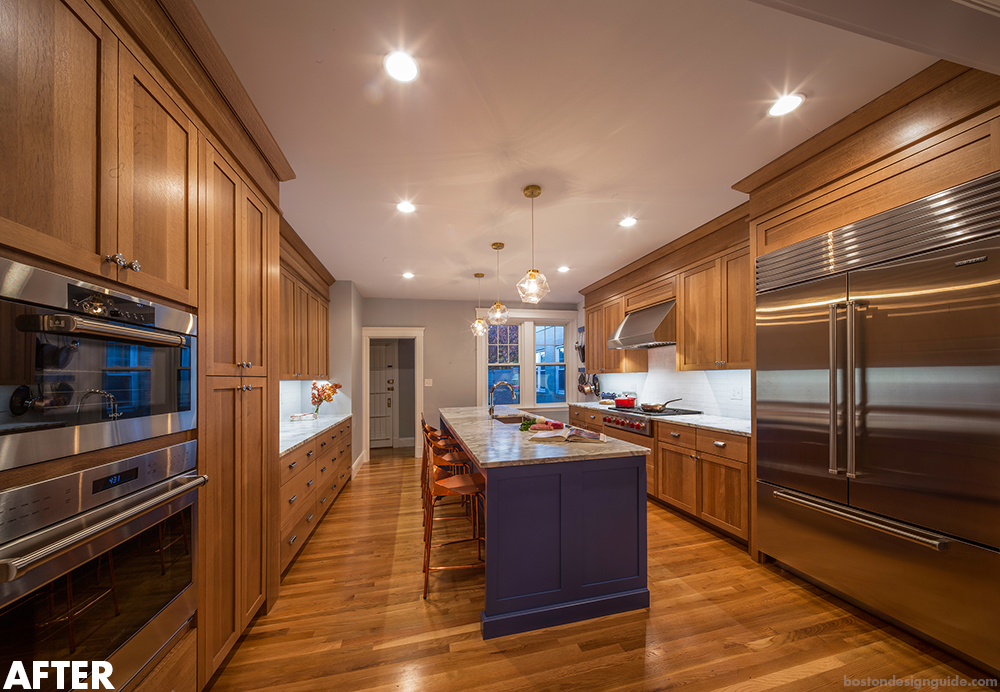 Photography by Patrick O'Malley
And that's not all Cutting Edge Homes had up its sleeve. The firm also incorporated a number of space-saving solutions, like choosing a Wolf rangetop over a full range to allow storage for pots and pans underneath and positioning the lesser-used wall and steam ovens to a less trafficked area. They tucked the microwave into the pantry to keep the counters clear, and built in refrigerated Sub-Zero drawers, in addition to the main refrigerator, that the kids can readily access for drinks and snacks.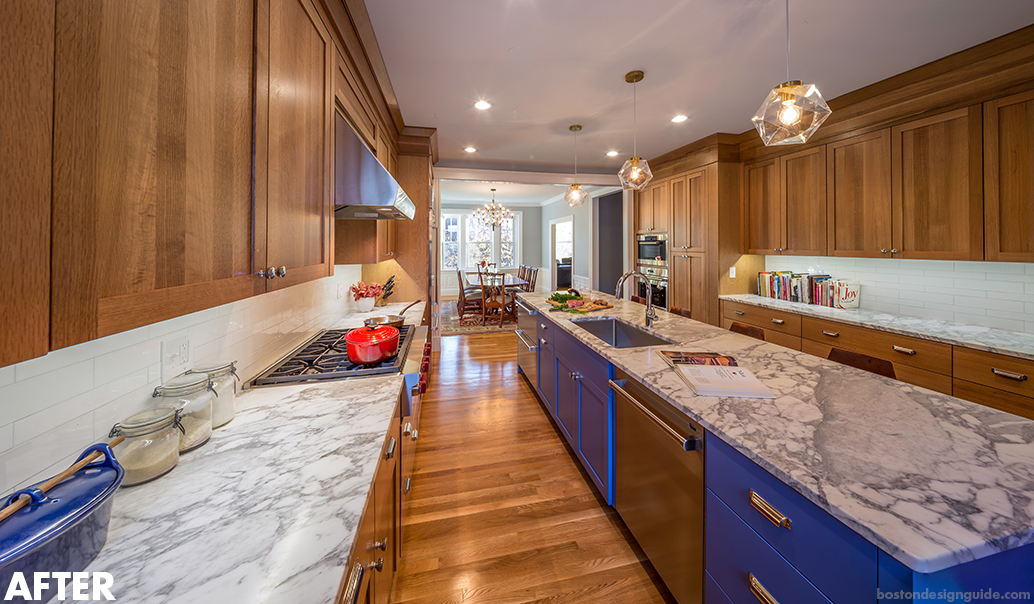 Photography by Patrick O'Malley
There are also, of course, the aesthetics. The new look is as immaculate as it is warm, with gleaming quartersawn white oak with a clear finish on the cabinetry and hardwoods and a spirited French blue on the center island. Yet perhaps the most gratifying part of the redesign, shares Shah, is that the scale and proportions of the redone rooms are spot on. The new spaces feel natural in the home, as if they were built today.
See all 6 Magnificent Makeovers:
Kitchen Sophisticate
Room with a View
Master(ful!) Bedroom
South Water Street Roots
Decked Out
Removing the Handicap in New Seabury