November 22, 2016 | Sandy Giardi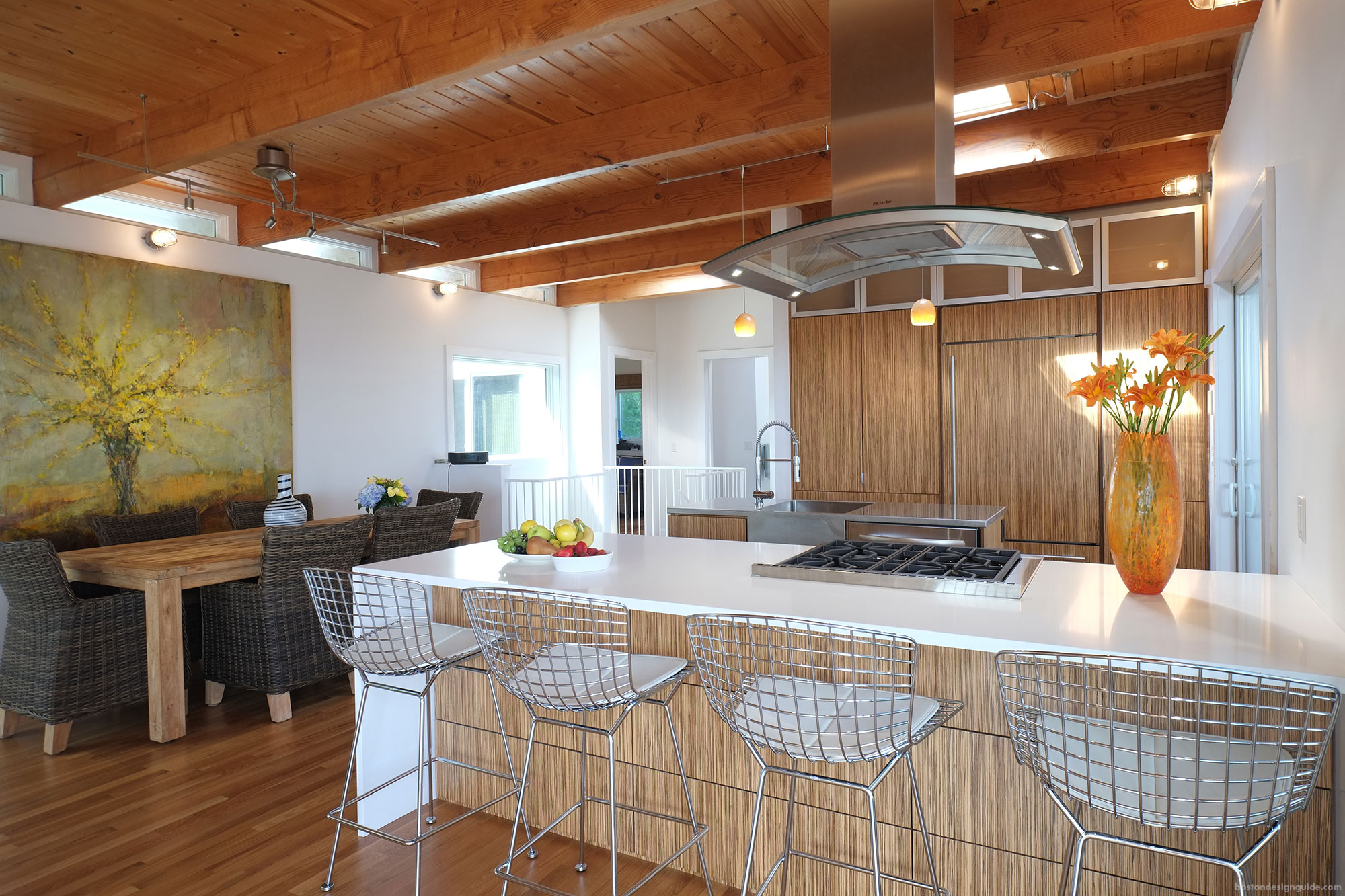 There's no place like the heart of the home for the holidays.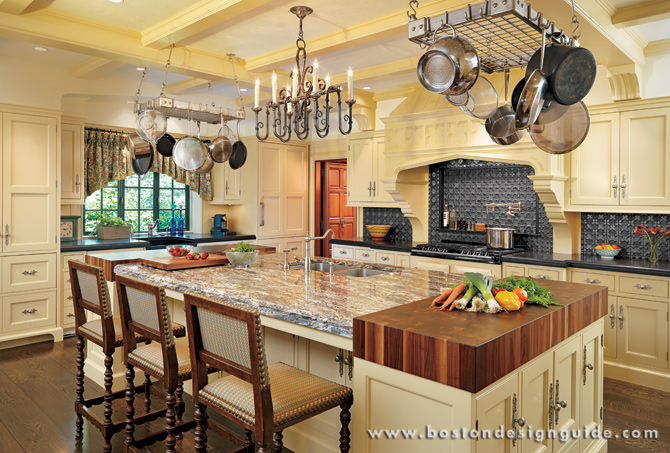 Architectural Kitchens; interior design by Anthony Catalfano Interiors; built by Kenneth Vona Construction; photo by Richard Mandelkorn
The turkey has been roasting in the oven for hours. The aroma fills the kitchen, mingling with the scent of sage and stuffing, and sweet freshly baked pies. Outside, there's a chill in the air that briefly makes its presence felt as each new guest is ushered in. Inside, it's unmistakably cozy. That's Thanksgiving in New England—a day (or, if you're lucky, weekend) all about food, and family and friends grateful to be gathering. We toast kitchens that are designed to be welcoming and functional for entertaining, inviting guests to linger long after the meal is served.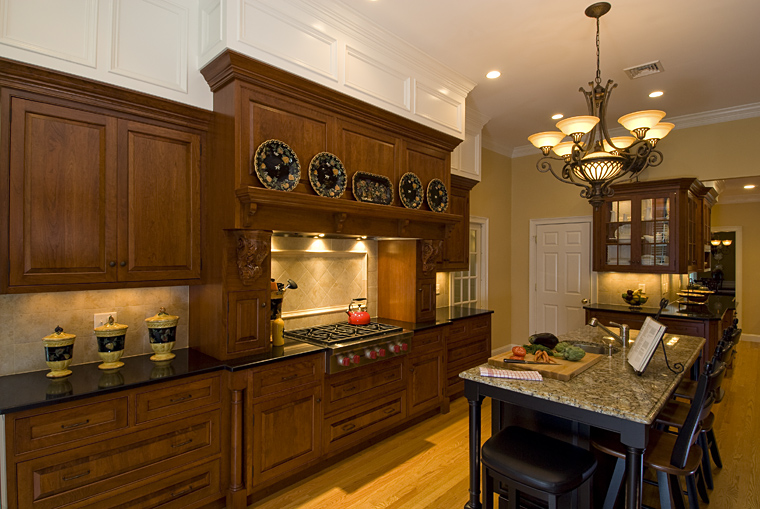 Scandia Kitchens; photo by Rosemary Fletcher
In today's sea of white palettes, this rich cherry kitchen by Scandia Kitchens is a standout for its timeless warmth and traditional framed inset cabinetry. Part of a 5,000-square-foot addition in Medfield, this open concept layout flows seamlessly from the kitchen into the dining area, incorporating a beautiful oversized hutch into the mix and culminating in a striking bar area finished in antiqued black paint.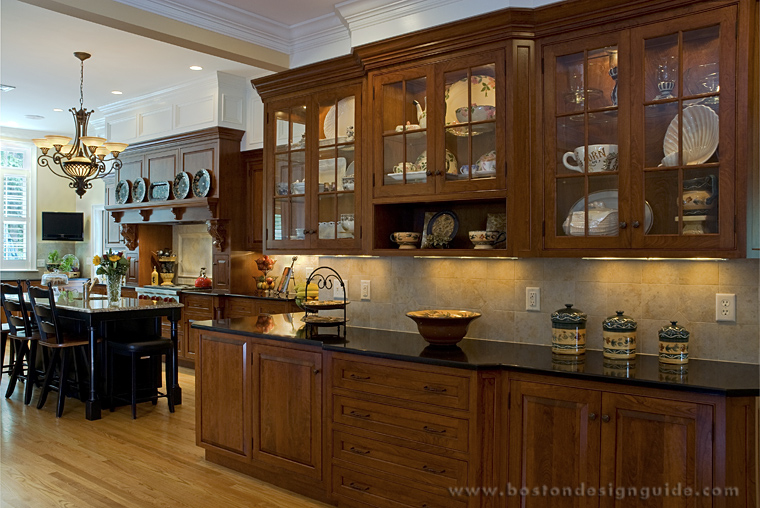 Scandia Kitchens; photo by Rosemary Fletcher
To tie it in with the kitchen and give the homeowners additional storage, Scandia Kitchens wrapped the hutch around the corner, explains Designer and Showroom Manager Colleen Lord. They also opted for a black kitchen island with a granite countertop to echo the hutch's surface and the dramatic black bar in the adjoining space.

Scandia Kitchens; photo by Rosemary Fletcher
This highly functional design was made for merriment. Cocktails and drinks can be served at the bar, which features plenty of storage for glassware, under-cabinet lighting and an under-counter wine cooler, while appetizers and desserts can be stationed at the hutch, leaving the kitchen free for prep work and the main event.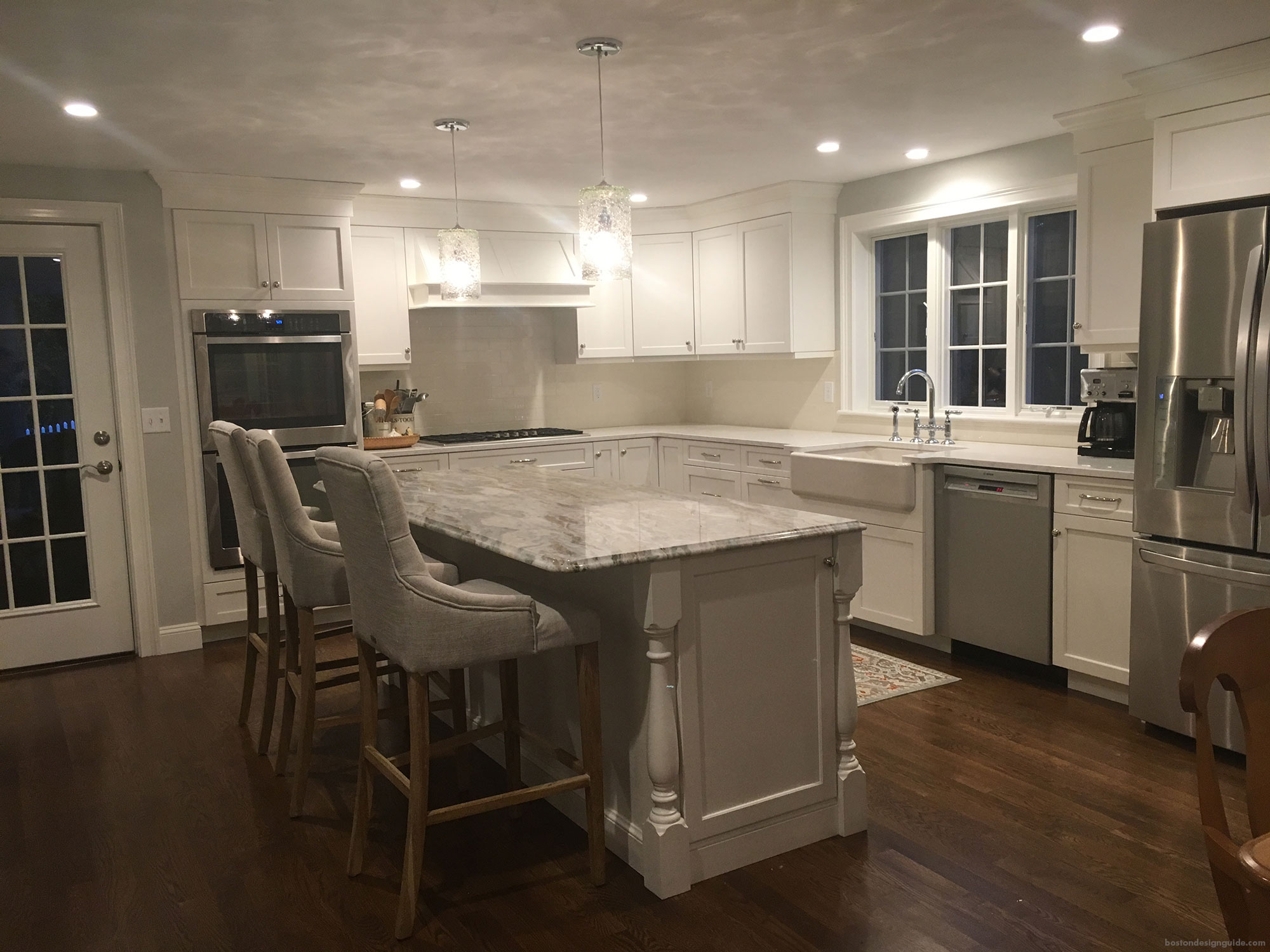 Photo courtesy of Snow and Jones Kitchen and Bath Solutions
A Snow and Jones client on Cape Cod also chose not to "overcommit" to the ubiquitous grey-white trend, offers Marketing Director and Designer/Builder/Architect liaison Danielle Jones, landing instead on an inviting mix of off-white and taupe for their kitchen project. While deliberately neutral, this color scheme brings warmth to the space, as well as plenty of visual interest, thanks to the use of stunning two-toned granite and Kohler's apron front sink in Dune (naturally!).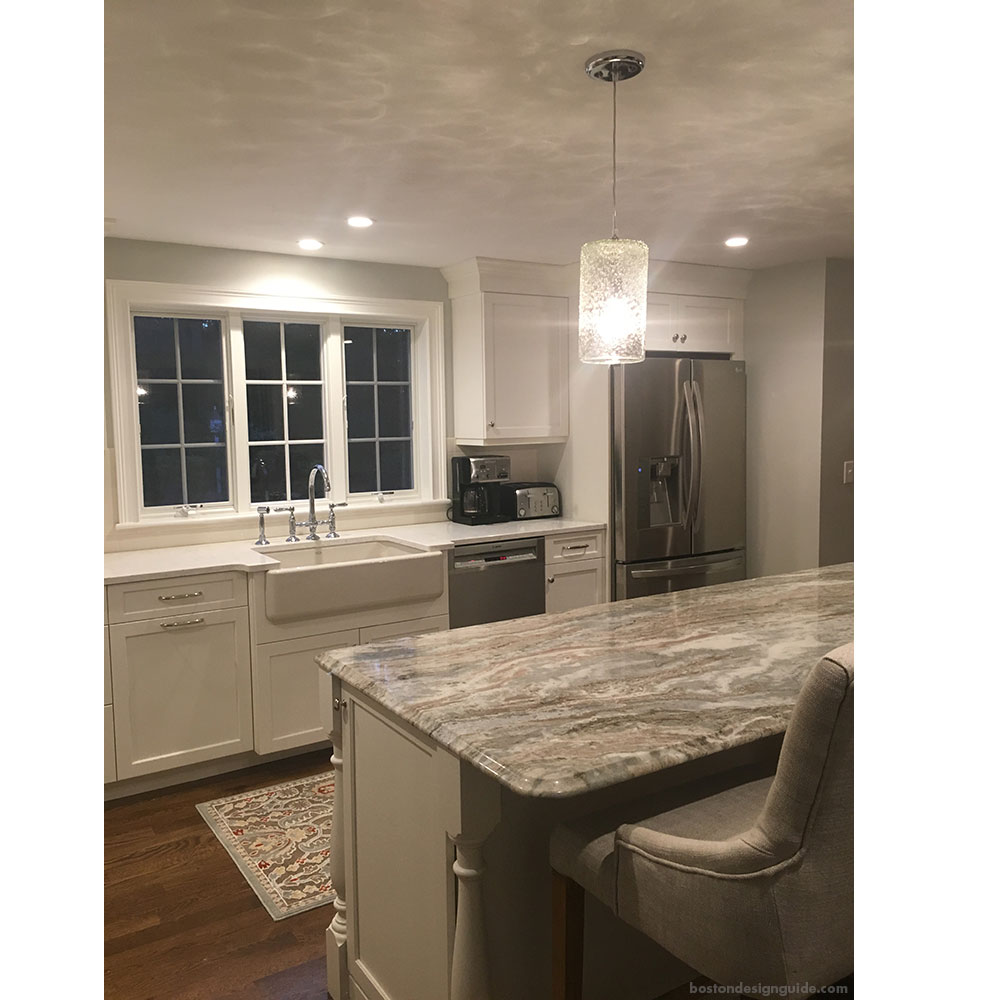 Photo courtesy of Snow and Jones Kitchen and Bath Solutions
In this intimate space, guests and family members can sink into the upholstered barstools of the island, a stone's throw from the dinner table, and get comfortable while the chef works his or her magic or cleans up afterward. And once coffee is served, there's no need to hurry off to the living or family room to find a cozier perch.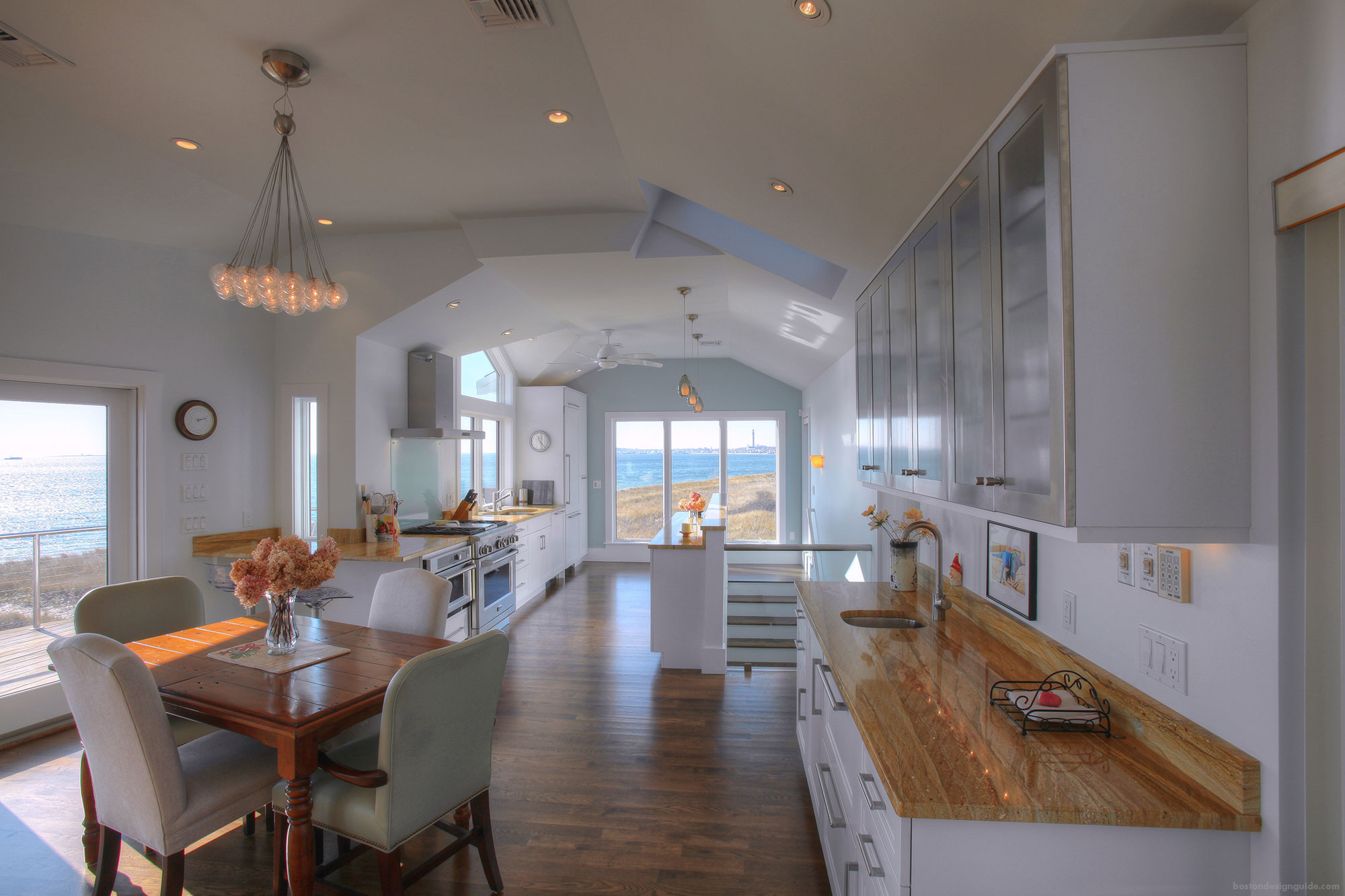 Photo courtesy of Deborah Paine
For the renovation of another Cape Cod kitchen, this one by the phenoms at Design & Build firm Deborah Paine, the principals reimagined the culinary space to maximize an extraordinary site on the shore of Cape Cod Bay. By eliminating the low ceiling along the west wall and "dead" kitchen space that wasn't working to its full potential, as well as adding a massive peaked window above the sink, they were able to cultivate an optimal space for gathering.
The remodel now features a wide-open layout befitting a "Great Room," with artful ceiling angles and a wall of cabinetry and a wet bar that runs the length of the space as it transitions from the kitchen to the dining area. Golden stone countertops line both sides of the room as if to continue the stretches of sand just beyond its doors.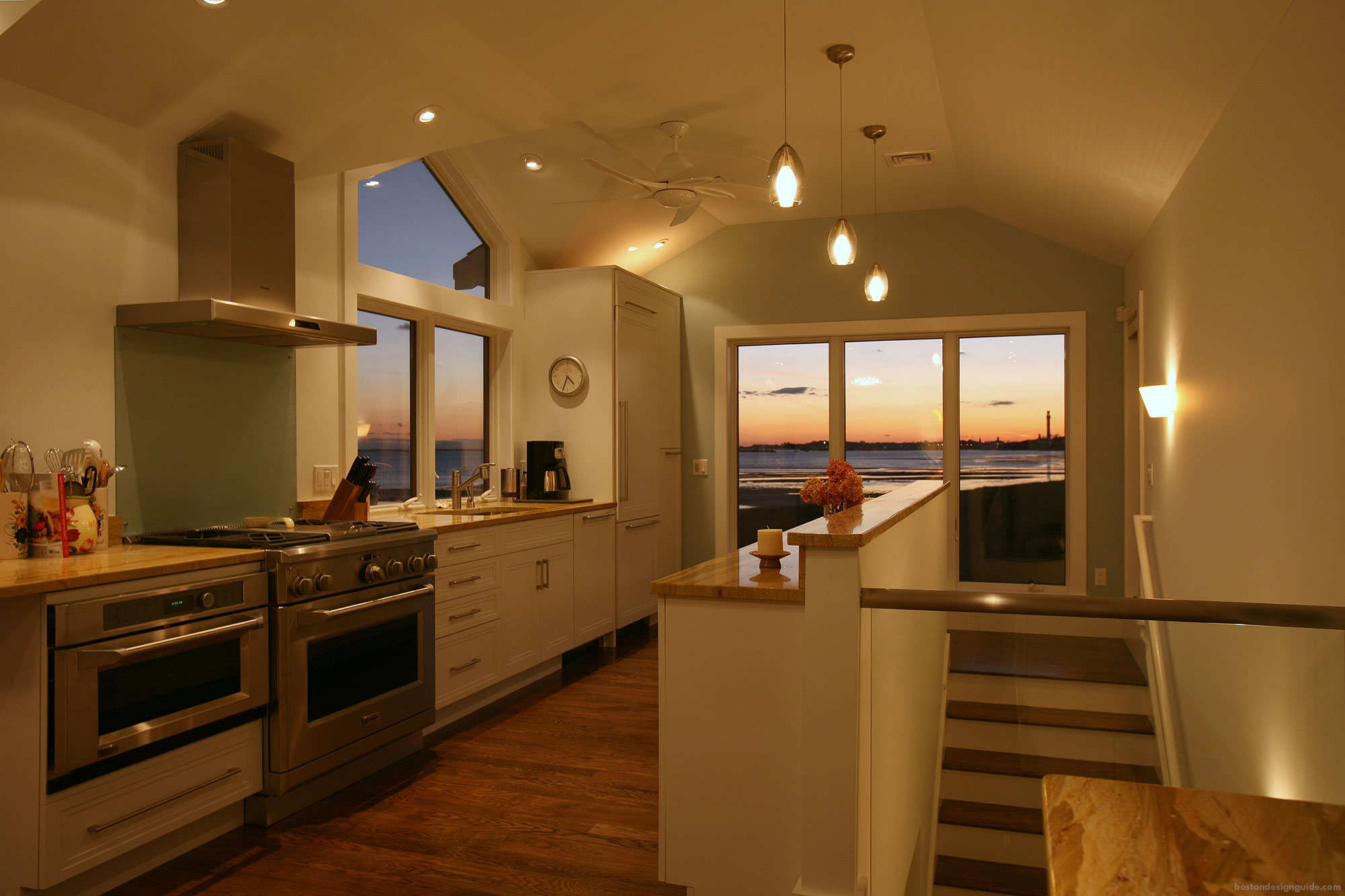 Photo courtesy of Deborah Paine
At every celebration, the guest of honor is undoubtedly the vistas—yes, that's Provincetown's Pilgrim Monument in the distance. With the home's new western wall of windows, pentagonal kitchen window and sliding doors out to the deck, occupants of this space are greeted by a panorama of water views. As for the sunsets? That glorious Cape Cod light is dished up—and devoured—nightly.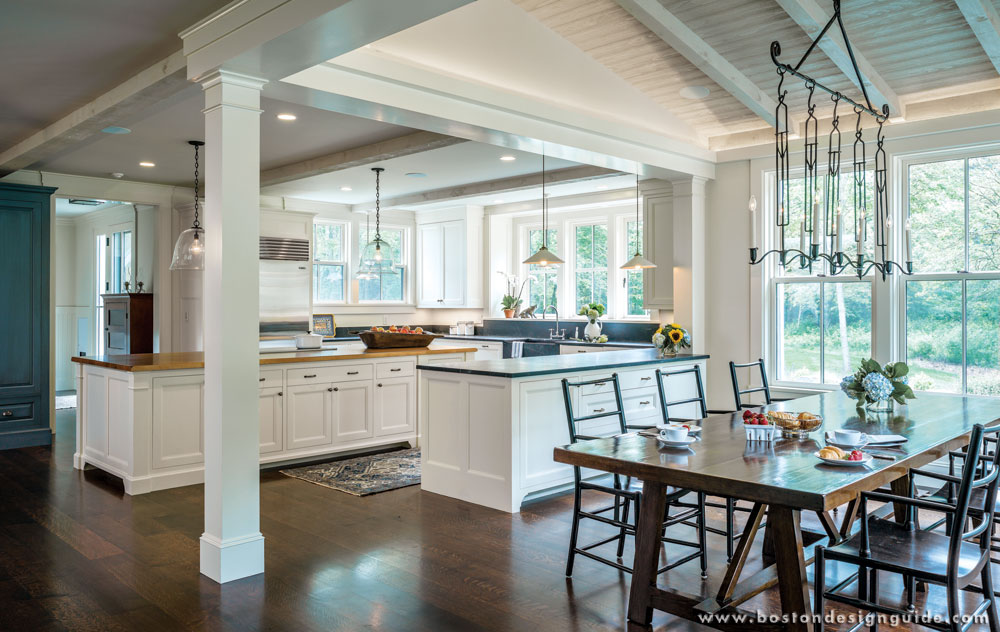 Kitchen by Architectural Kitchens; construction by Kenneth Vona Construction; photo by Richard Mandelkorn
The landscape also made the guest list in Architectural Kitchens' resplendent kitchen above. Breezy and washed in light, this dream of a kitchen is every bit the crowd pleaser. Its generous counter space allows many hands to make light work, and, if needed, the dual islands can double as buffet space. The contiguous space ensures that the home chef isn't cloistered in the kitchen or cut off from the conversation at the farm table.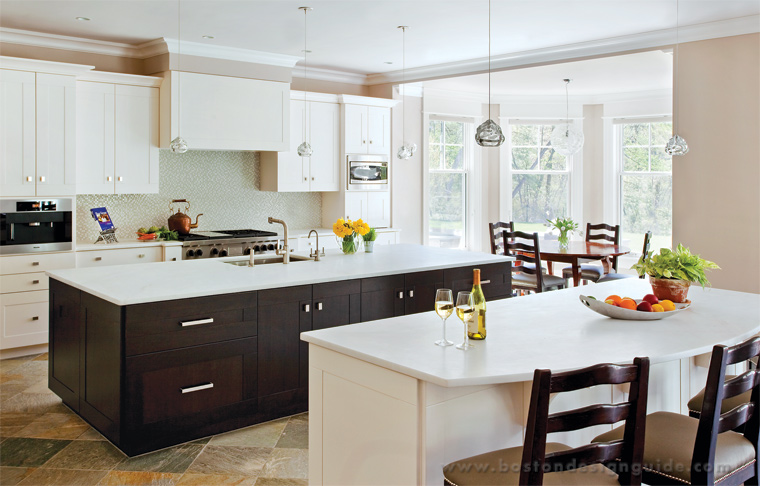 Photo courtesy of Scandia Kitchens
For a Weston home, Scandia Kitchens also employed the double island strategy, as well as a good many other amenities, when crafting this aesthetically pleasing, workable kitchen. The transitional space is rife with clean-lined frameless cabinetry and contains a dark island with a sink near the Wolf range for utilitarian needs (think dishwasher, trash, recycling, etc.), as well as a white one with a curved quartz counter for entertaining.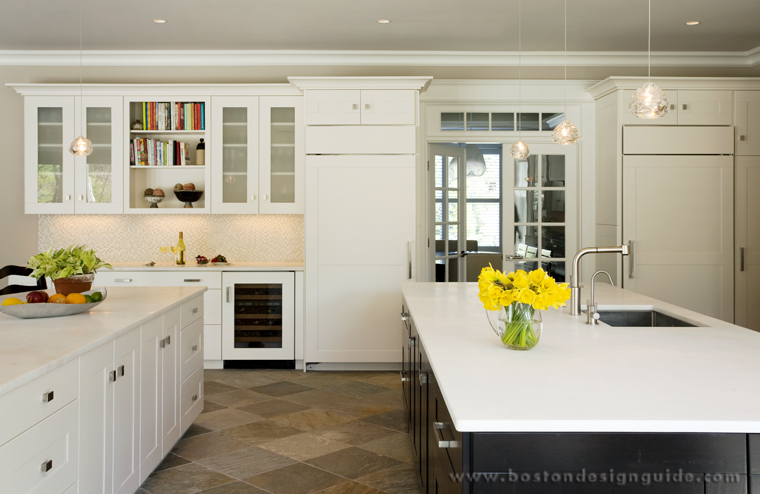 Photo courtesy of Scandia Kitchens
With its wall of additional cabinetry, which incorporates an all-wine unit Sub-Zero cooler, and a Sub-Zero 'all refrigerator' and 'all freezer' on either side of the French doors, this impressive kitchen has an advanced degree in traffic control. Because of its thoughtful configuration, those at the fridge don't interfere with those by the stove and ovens. The same goes for the island, says Lord. "The guests can be right near you, but not in your way." There are other bells and whistles, too, like the Miele coffeemaker with espresso at the ready after a long, leisurely meal, and radiant heating under foot (talk about warm environments!)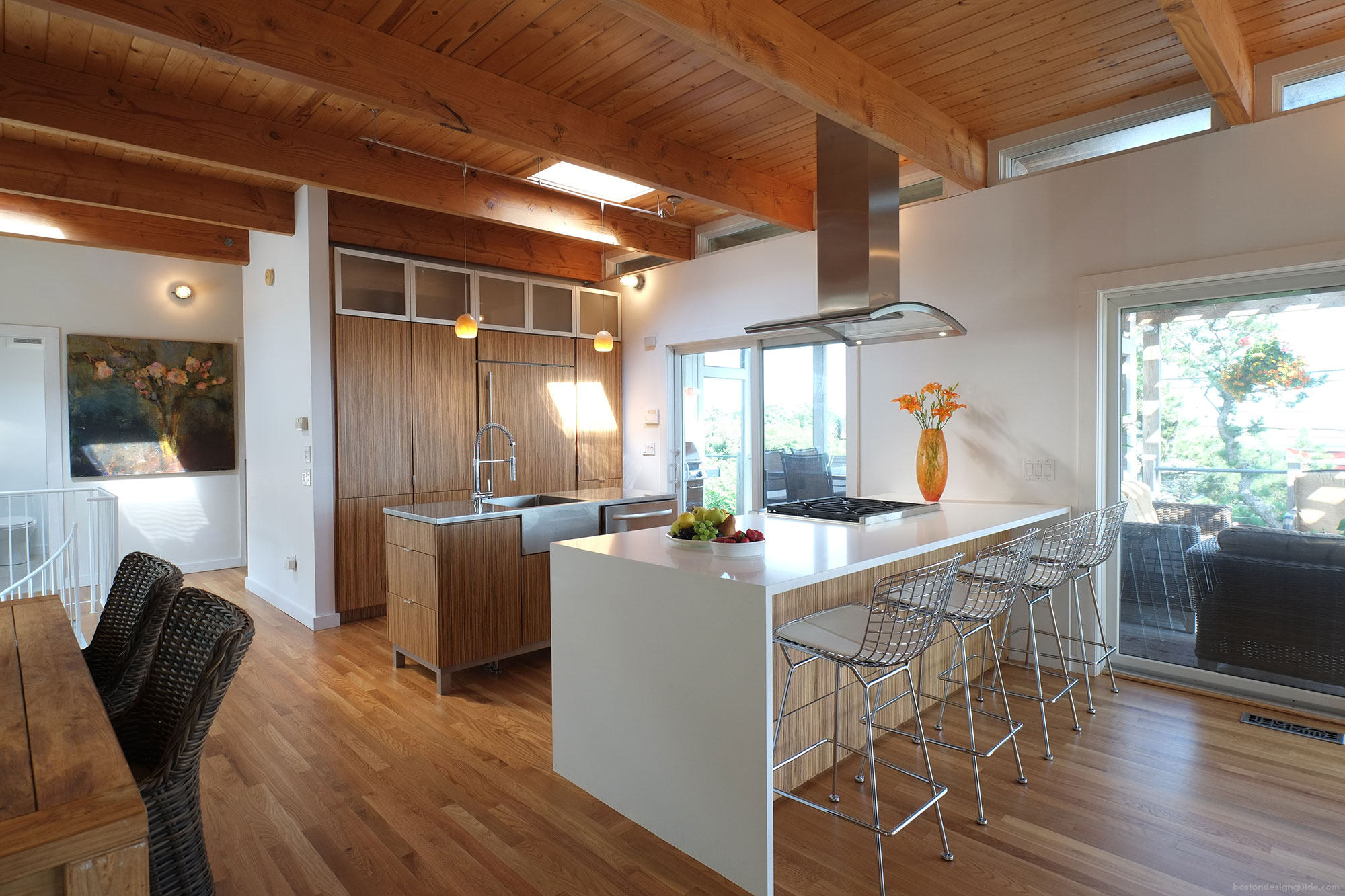 Photo courtesy of Deborah Paine
Functionality was also the name of the game for an impeccable mid-century modern kitchen reimagined for a client by Deborah Paine. The home's dated kitchen wasn't conducive to hosting; the owners wanted to work in the kitchen side by side, but not elbow to elbow.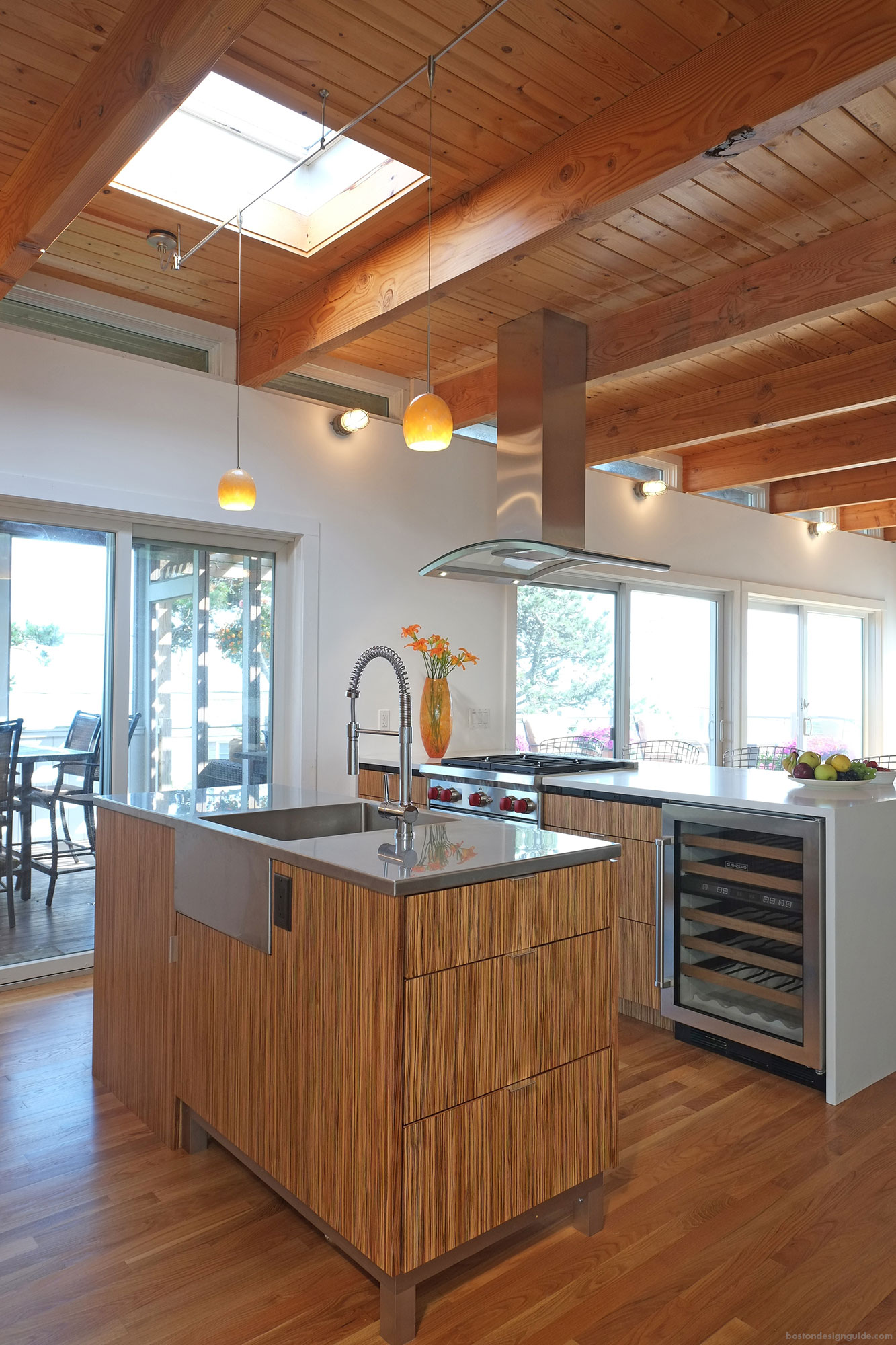 Photo courtesy of Deborah Paine
To remedy the issue, Deborah Paine created an island housing the sink and dishwasher, allowing a second station for prep and clean up between the preexisting custom Jay Rambo Co. cabinets and the peninsula, home of the range. Dated no longer, we just love how the streamlined space plays up its seating areas and all but conceals the appliances for a convivial, feel-good design.

Cypress Design Co.; photo by Denise Bass, www.denisebass.com.
When a client of Cypress Design Co. downsized from a palatial Colonial to a smaller Cape home, they did not want to give up hosting their children and grandchildren at the holidays. Thus, an open concept, dual-purpose custom kitchen was in order—one that would still allow the good times to roll, just at a smaller scale.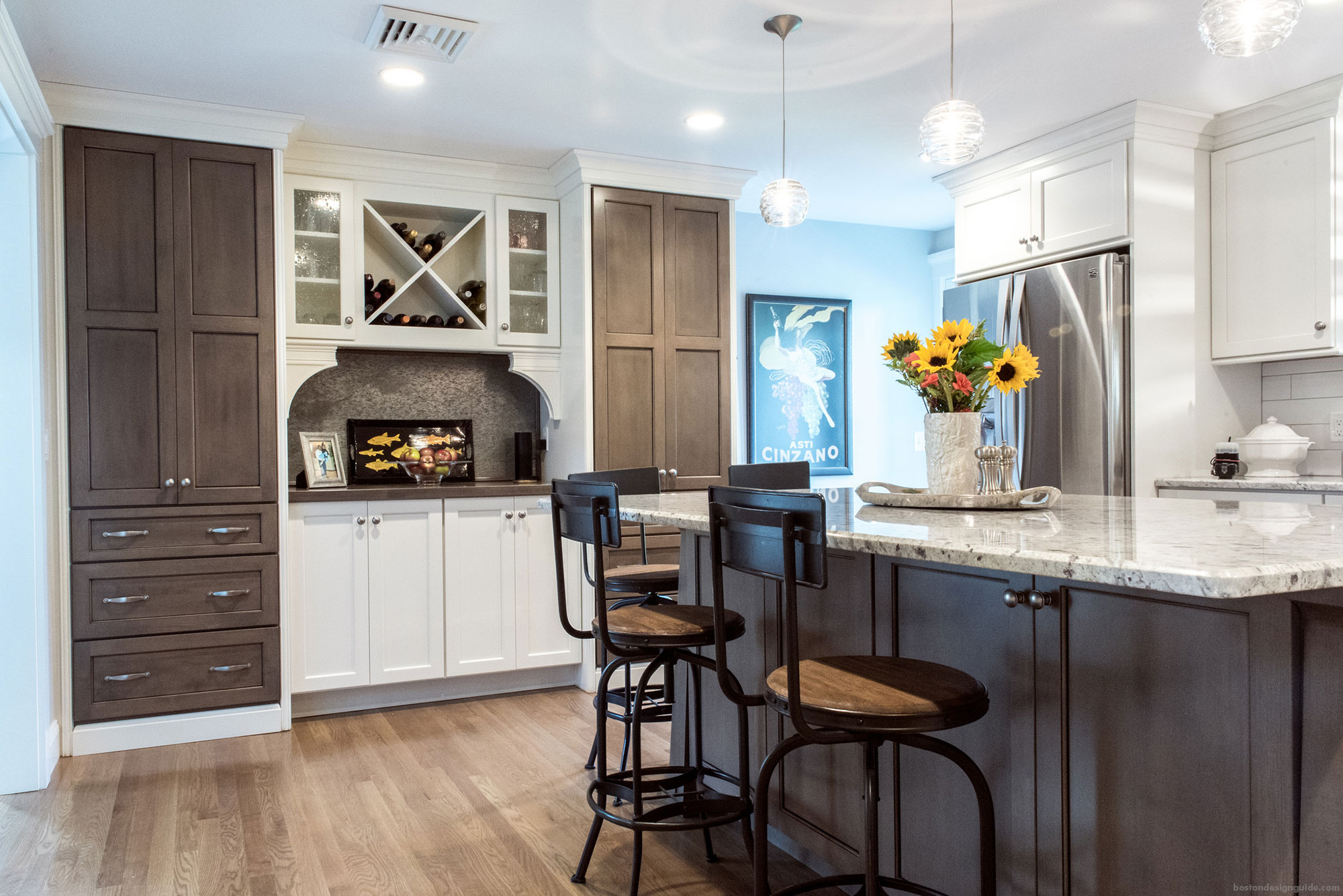 Cypress Design Co.; photo by Denise Bass, www.denisebass.com.
A generous center island by Candlelight Cabinetry was key to the kitchen's space-saving design and ensured that the family could still come together. Its Kashmir white granite countertop unites the Aurora White and Driftwood finishes of the space, as well other design elements including knockout Daltire Elevare and SlimLite tile. The island also boasts plenty of space for seating, a wealth of drawers for storage and plenty of surface area for cookie making.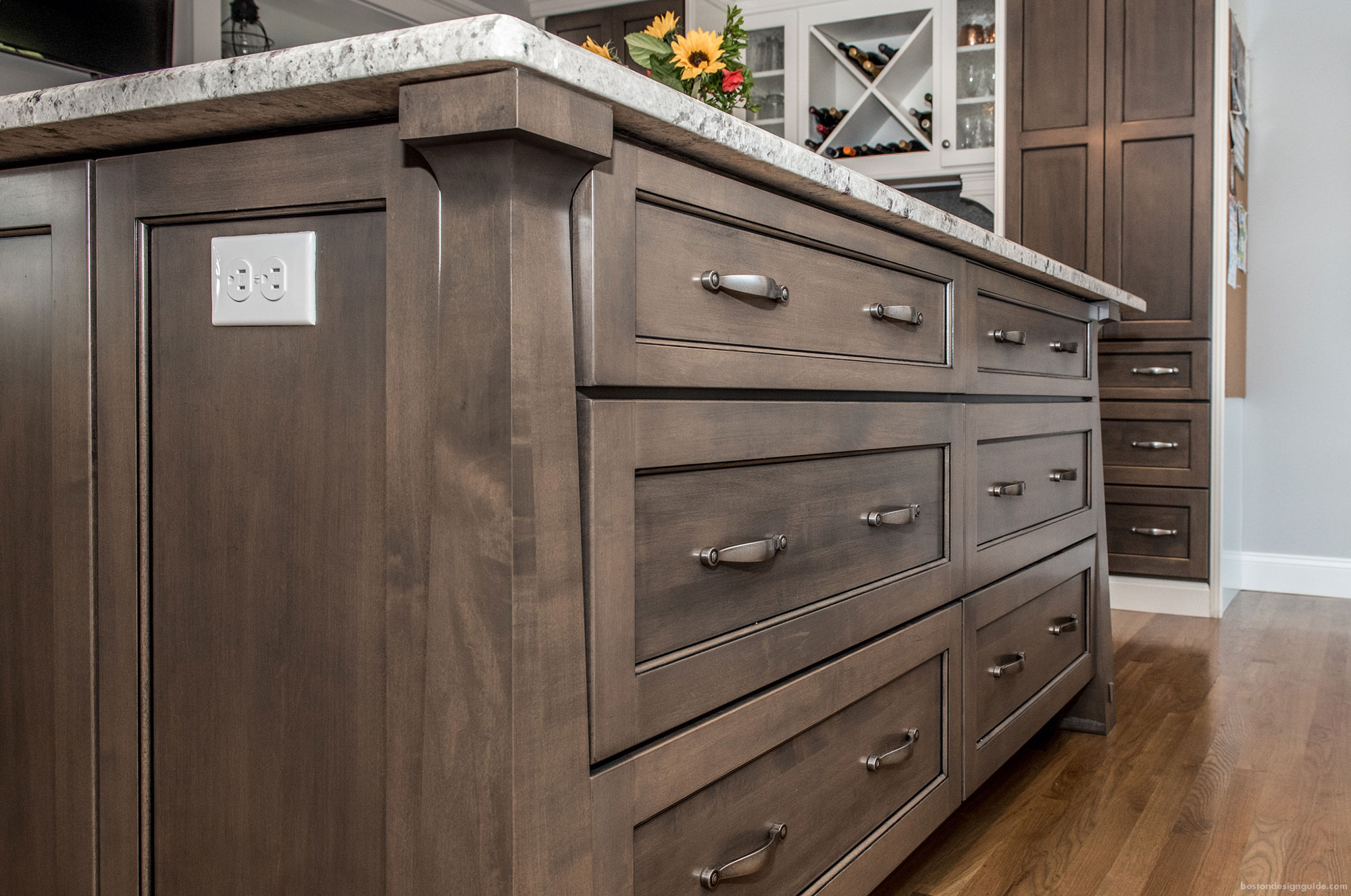 Cypress Design Co.; photo by Denise Bass, wwwdenisebass.com.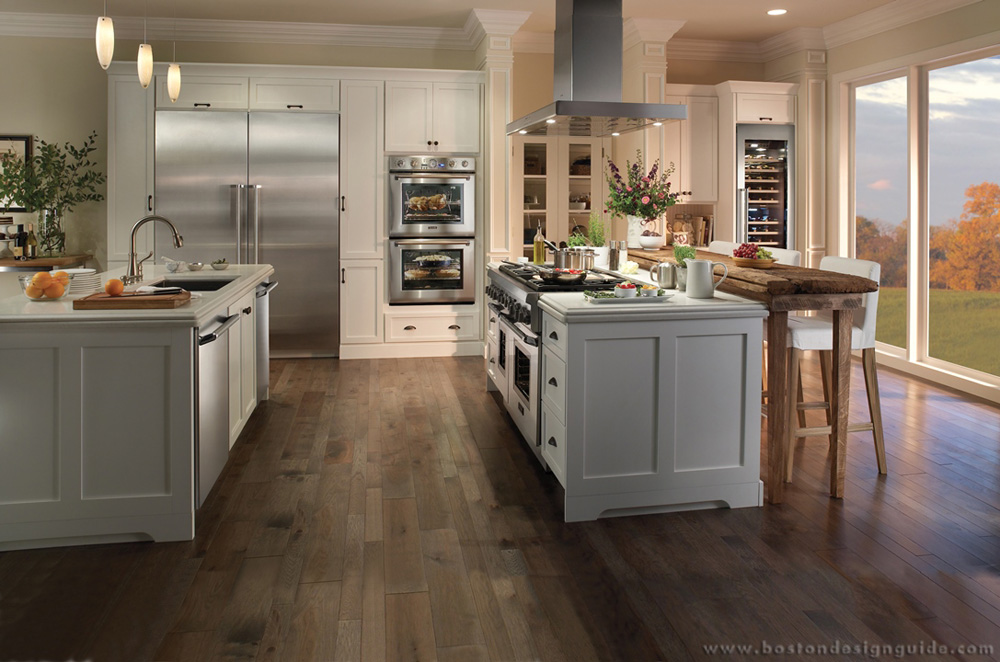 Crane Appliance's Thermador professional kitchen
And because the most important thing about coming together at Thanksgiving and the holidays, is, well, coming together, Crane Appliance offers professional grade kitchen amenities and appliances that make hosting the pleasure it was meant to be. Double ovens, oversized ranges and cooktops, warming drawers, freezing and wine preservation columns by luxury brands like Thermador and Bosch are just a few of the innovations available to home chefs today. Such designs not only deliver optimal tools for the feast, they also allow the cook to spend time with their guests. Dinner is served….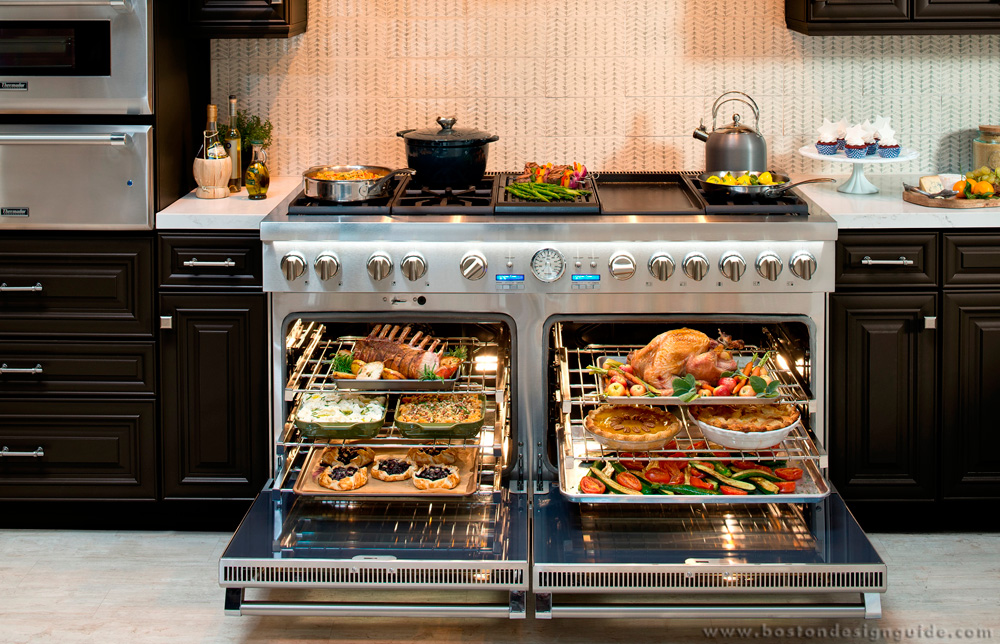 Crane Appliance's 60-inch range collection with double oven