October 26, 2017 | Sandy Giardi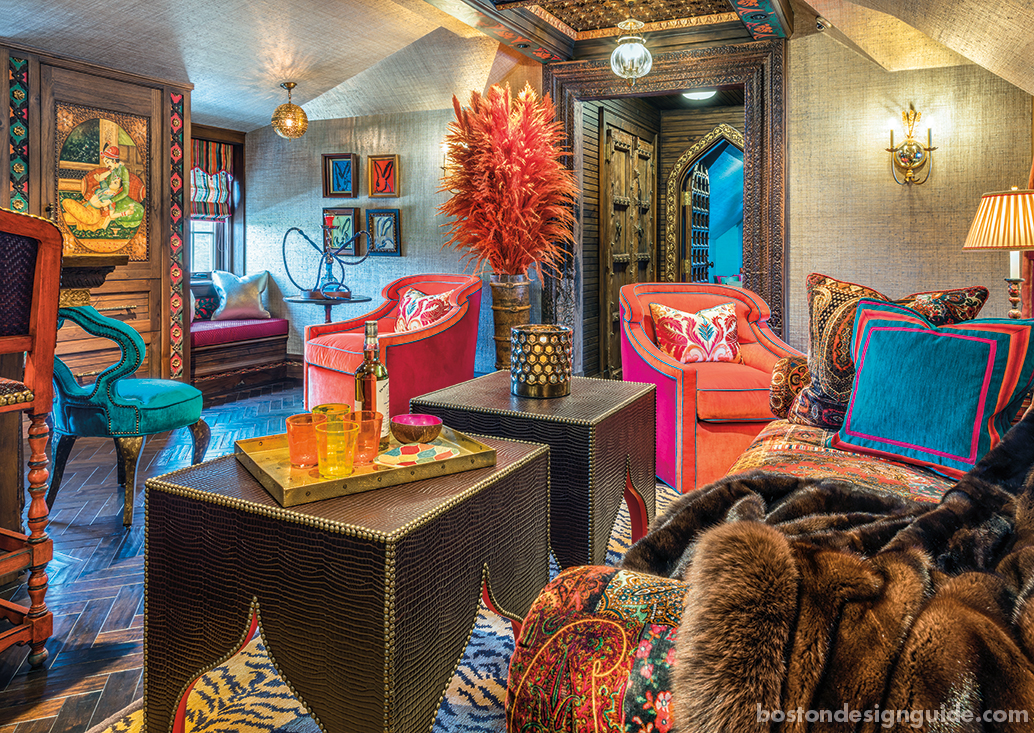 When auto scion, world traveler and culture seeker Ernie Boch, Jr. sought to channel a faraway land in an entertaining space on the top floor of his carriage house, he enlisted designer Anthony Catalfano of Anthony Catalfano Interiors, Inc. to weave magic. After they chose an Indian theme, Catalfano was given the freedom to create a luxurious den brimming with "hot and spicy colors" like persimmon, henna and magenta, warm metals and imported carvings, panels and antiques from India.
Catalfano was granted an interior designer's dream, and the exquisite jewel-toned lounge reveals the wild imagination of client and designer. Access is gained via a wood stair with a balustrade saturated with the hues of the realm inside. A stone tile floor embossed with 24K gold leaf awaits, as does a happy Buddha surrounded by incense.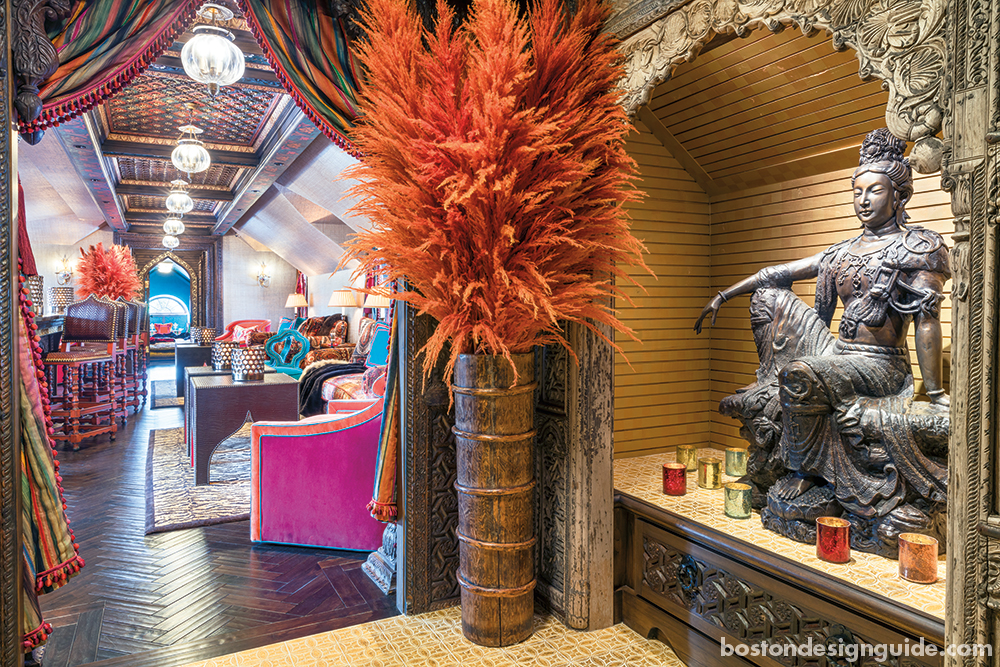 The main room unfolds as a series of intimate lounge-style spaces surrounding a central carved walnut antique bar, as driven by the architecture of Eric Daum. The space, built by Vona Construction, maximizes rooflines and is punctuated by alcoves with built-in banquettes. Surfaces were given further depth by the hand of a decorative artist who emboldened select panels with color.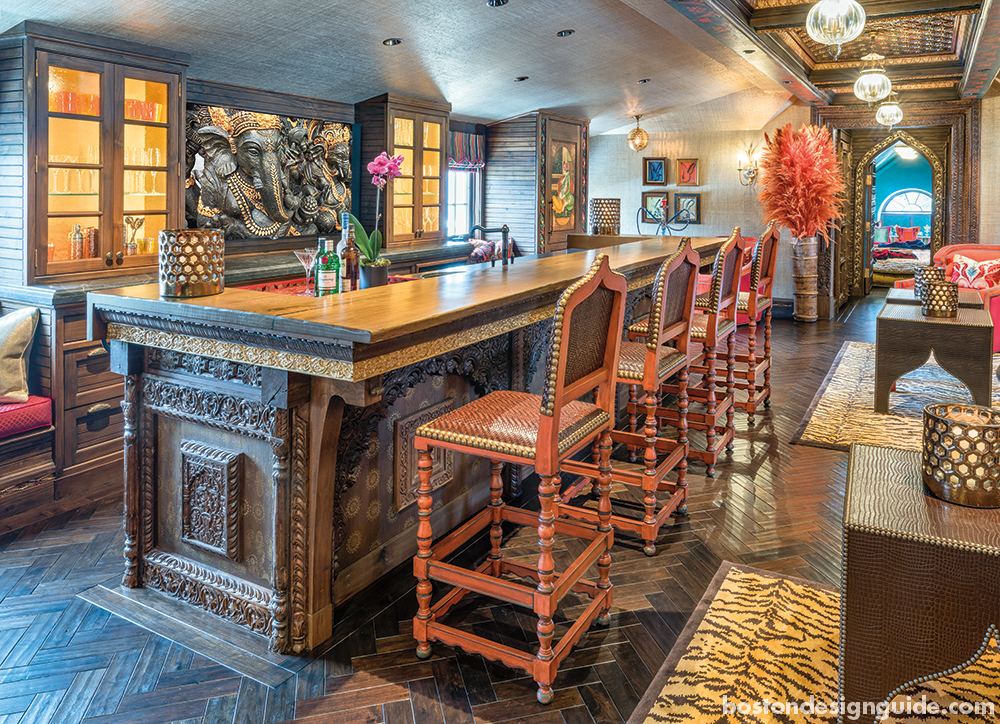 As "it's all about textures and fabrics in India," explains Catalfano, he piled on layers of plush, tactile weaves. Portiere draperies hang like saris from doorways, silk rugs, handcrafted to look like Bengal tigers, have an imperial look atop a walnut herringbone floor, metallic gold textured wallpaper sparkles come nightfall and plumes dyed the shade of paprika fan out from wooden vessels.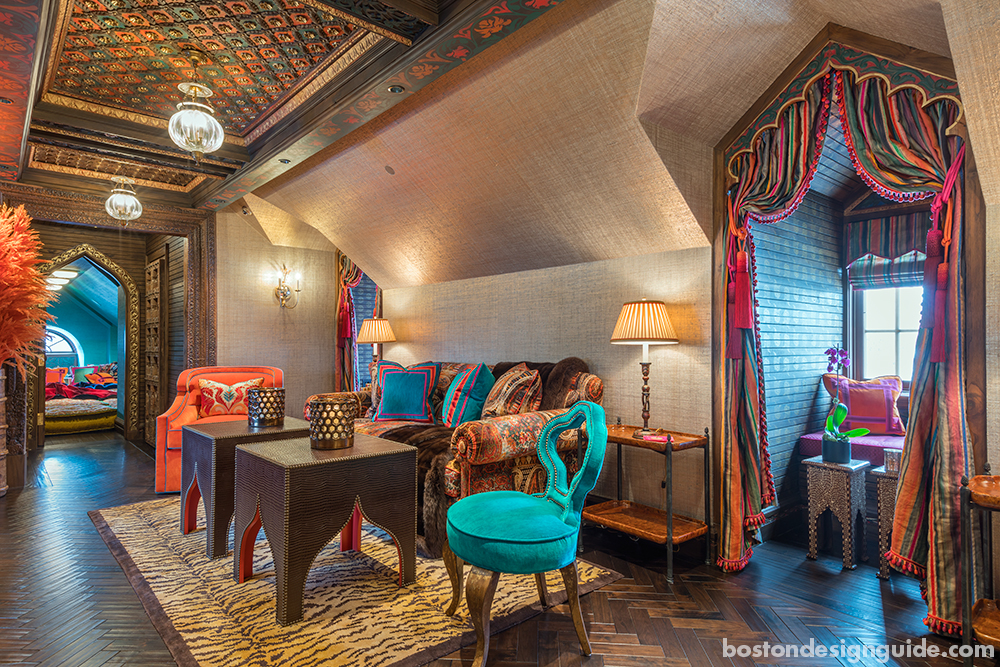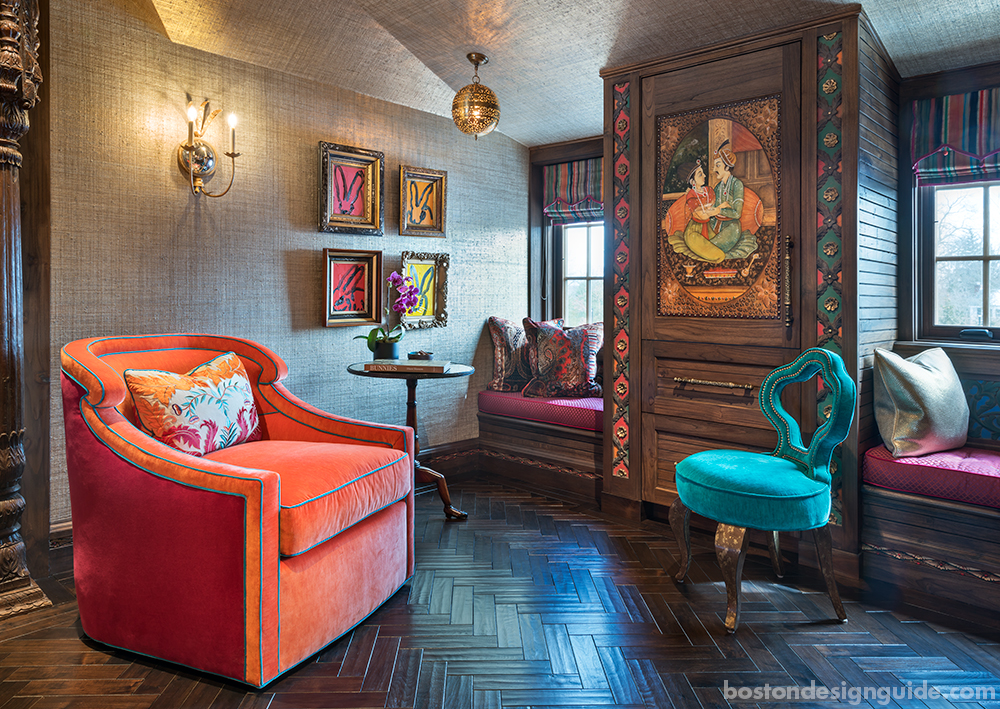 The furnishings, all designed by Catalfano, are cozy and rich. Seating, bedecked in velvet upholstery by Oscar de la Renta, is interactive and swivels to invite conversation. Static elements are equally striking, like the barstools crowned by Indian-style peaks or the twin cocktail tables swathed in brown crocodile leather painted a fiery orange underneath.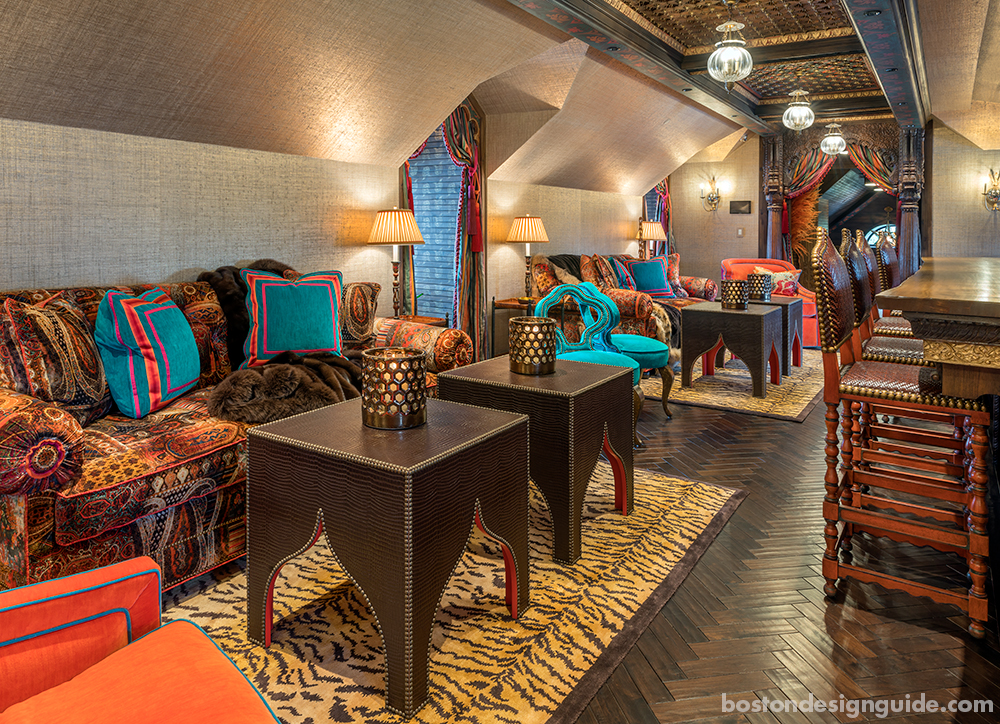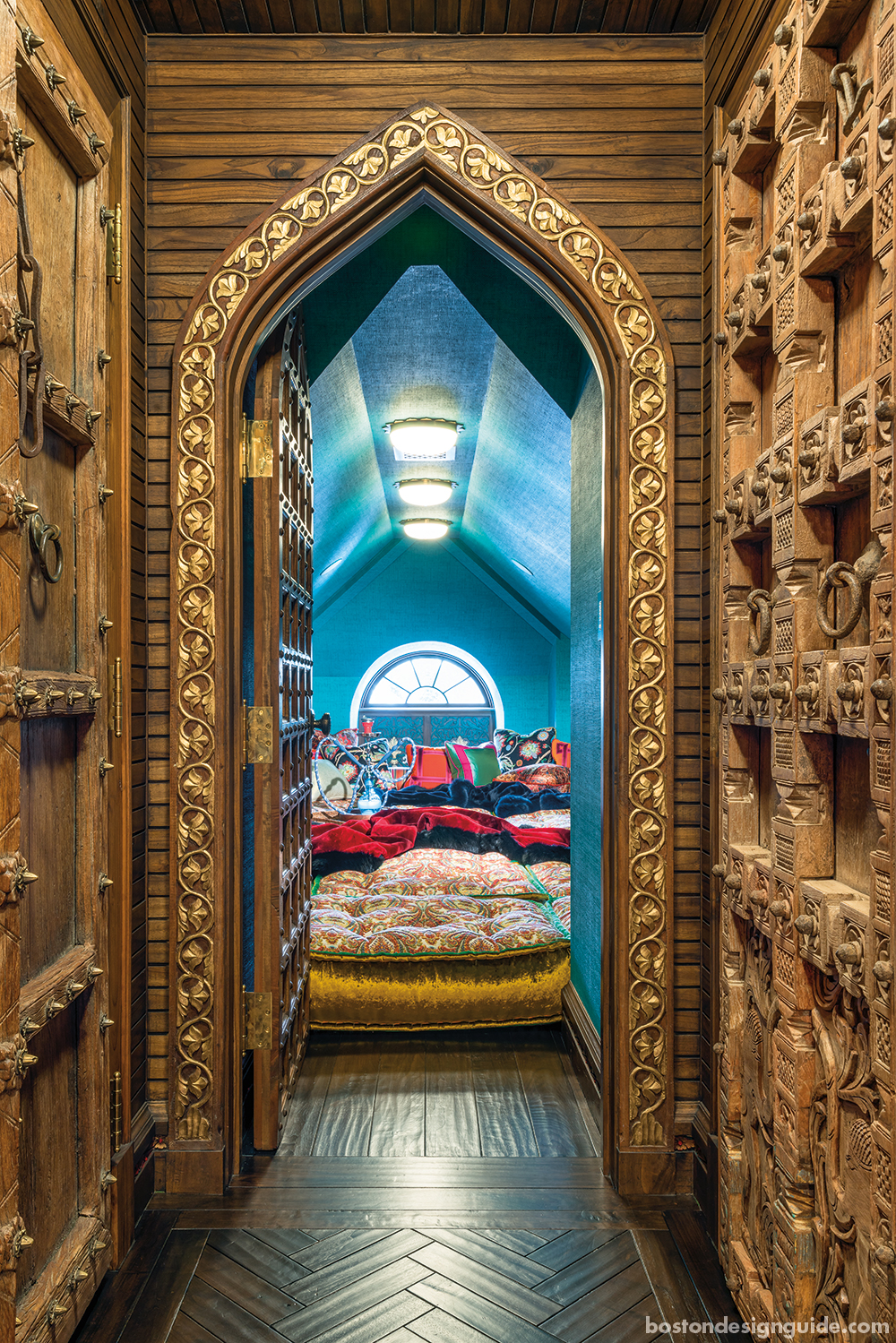 A meditation room, drenched in turquoise and laden with floor pillows and throws, completes the experience. Designed as a destination, Catalfano and the architect exaggerated the entryway, using a series of carved doors from India resized for the space. The portal is an emblem of the overall design philosophy. Says Catalfano, "We wanted you to enter the space and not know where you were. We wanted to create a reality."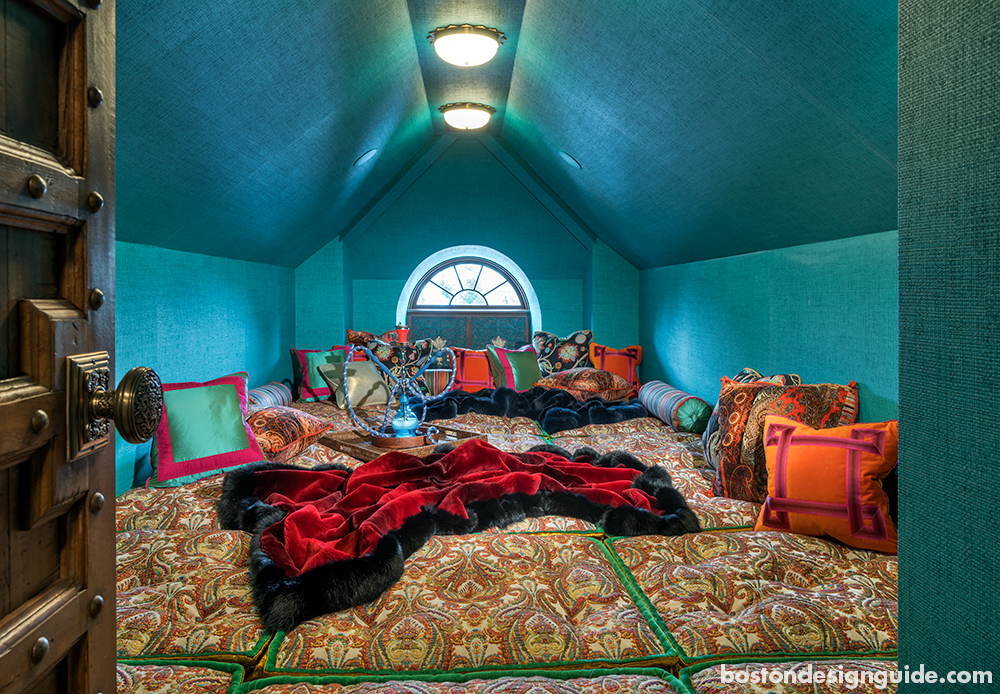 Interior Designer: Anthony Catalfano Interiors
Builder: Kenneth Vona Construction
Photography: Warren Patterson
As seen in Boston Design Guide, 21st edition.
"A Passage to India," pages 30-33
View the Digital Edition here.
Haute in the City: A Luxe Urban Condo Summons Sleek Sophistication
Second Act: A Queen Anne, Stick-style Home Along the Sakonnet River