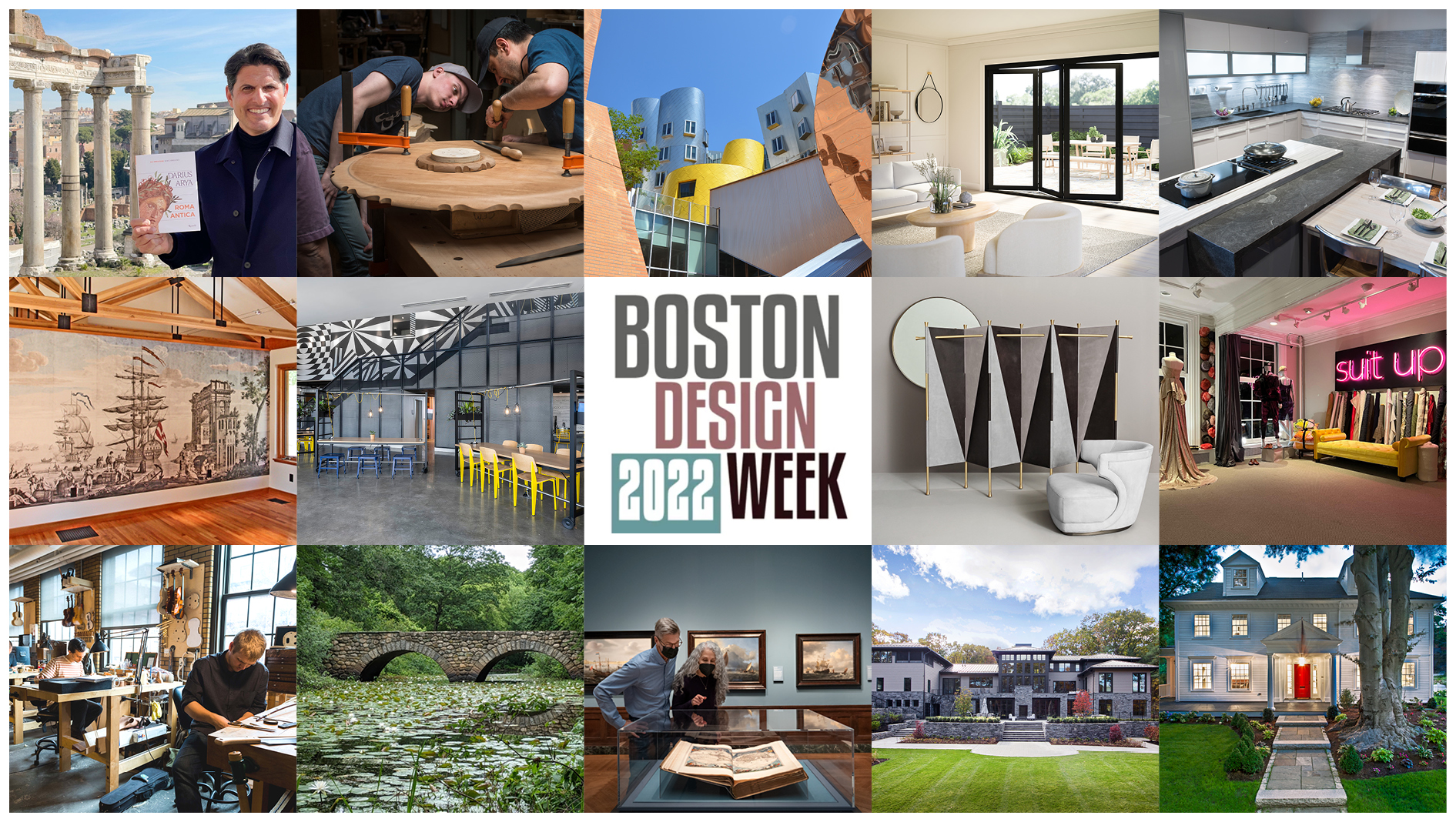 Ninth Annual Boston Design Week April 26 – May 7
Features 50+ In-Person, Virtual and Outdoor Events
Boston, MA - The 9th Annual Boston Design Week takes place April 26- May 7, 2022, featuring 50+ in-person, virtual and outdoor events citywide, including the annual Design Week Awards, Friday, May 6th. This two-week design festival offers renowned guest speakers, open houses, panel discussions, exhibitions, and more on architecture, interior design, home décor, placemaking, design for climate change, preservation, new Seaport design, Art Collecting, Smart Home technology,  and a range of other design subjects. This year's theme "Boston Rethinks Design" puts a special emphasis on design that challenges conventional thinking, processes, or materials.  Collaboration with 'Olmsted Now' – the Bicentennial celebration of Frederick Law Olmsted brings numerous landscape and green space design events and walking tours to this year's festival.  All events are open to the public and most are free.    Details at https://www.bostondesignweek.com or call 617-363-0405.
"We want Boston Design Week to be known as a world-class portal to all things art and design," comments co-producer Tony Fusco.  Along with his partner Robert Four, Fusco & Four/Ventures has grown Boston Design Week over the past nine years, becoming an active member of World Design Weeks, an international coalition of more than 40 design festivals around the world.   Boston Design Week's mission is to increase public awareness and appreciation of all aspects of design, foster recognition of the vital role design plays in our lives, and bring new audiences to a wide array of design industries and organizations. 
Featured events include Kick-Off Events on Tuesday April 26th:
1:00pm – An interview with Jordana Guimaraes, co-founder of Fashinnovation the portal that bridges the gap between the fashion & technology industries.
5:00pm - Creating a Welcoming 21st Century Neighborhood – Boston Seaport, presented by WS Development: the vision for creating a new neighborhood rooted in community and progressive placemaking, a neighborhood for all Bostonians.
6:00pm - Design Journey: The Renaissance of Jamaica Plain and Boston's Neighborhoods, presented by Kevin Cradock Builders and The Muncey Group offering a panel about the great design, building and renovation of homes in JP and Boston, real estate and the evolution of these neighborhoods
During the first week of the festival alone, guest speakers include:
Wednesday, April 27 - American Fine Art Magazine publishers Adolfo Castillo and Wendie Martin with an online tour of 5 beautiful collector homes and highlights of historic American art and design. 
Thursday, April 28 – Abby Suckle, FAIA, of cultureNOW at the Brown Jordan showroom, on a panel looking at the consequences of sea level rise around Boston, and how planners and architects are busily proposing a multitude of solutions to protect the vanishing edge.
Thursday, April 28 - An Evening with Kitchen Expert Mick De Giulio at Seven Tide, presented by Kohler Signature Store and Clarke. With a career spanning over 45 years, Mick De Giulio has created award-winning kitchens for distinctive residences throughout the US and abroad.
Thursday, April 28 - An Evening with noted Archaeologist Darius Arya, host of numerous documentaries for PBS, Discovery, History and National Geographic channels, in a rare in-person appearance.
Saturday, April 30 – Furniture maker and TV personality Tommy MacDonald will host a program and open house in his North End studio to talk about the process of creating custom furniture for interior design.
A variety of outdoor tours and explorations of landscape design and green space take place throughout the festival, starting with a celebration of Frederick Law Olmsted's Bicentennial by the Emerald Necklace Conservancy on April 26 at Jamaica Pond.  On Friday April 29, go behind the scenes at The Rocks at Harbor Way in the Seaport -- Boston's newest park -- during this tour with Ariel Foxman, Seaport General Manager.  Take a rare walking tour of Franklin Park on Saturday April 30 with the architects responsible for its renovation, courtesy of the Boston Society of Landscape Architects.  On May 5, join the Massachusetts Horticultural Society at Elm Bank for an evening in two historic Olmsted gardens.
All Boston Design Week programs are open to the public, and almost all are free of charge, but many do require an RSVP to attend, and virtual events do sell out. For more information or to receive the Boston Design Week eNews, visit www.BostonDesignWeek.com.  Follow along on Facebook at www.facebook.com/bostondesignweek, Twitter @BosDesignWeek, or Instagram @BostonDesignWeek.