August 2, 2016 | carly stewart
[Still Life with Lobster, Oil on linen, 18 x 24 inches]
Collins Galleries presents their first solo exhibition with Justin Wood featuring a collection of new still life works.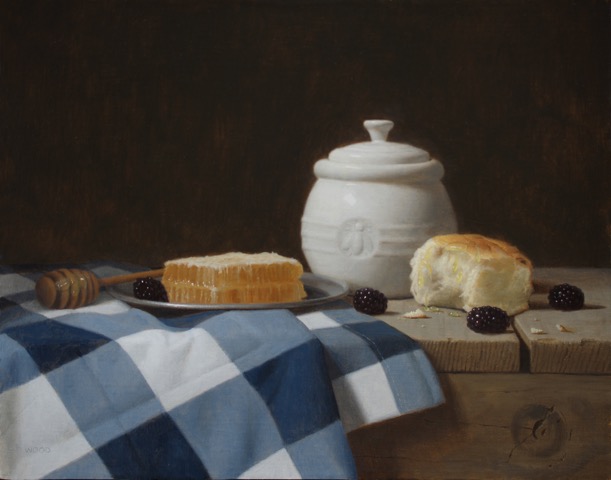 Honey, oil on linen on board, 11 x 14 inches
Public reception: Saturday, July 30 from 5 – 7 PM. The exhibition runs through August 12.

Attributes of the Arts, Oil on linen, 20 x 40 inches
Justin Wood is a contemporary classical painter. He studied illustration at the College of Visual Arts at Syracuse University and classical technique with Jacob Collins at Grand Central Atelier in New York City. His drawing inspiration comes from the great works of Caravaggio and Rembrandt. Wood has turned his focus to still life painting and says, "I'm trying to create scenes with well-crafted objects that are pleasant to look at and create a decorative ensemble."
Justin Wood is currently represented by galleries in New York and Massachusetts. His work has been featured in exhibitions and art fairs throughout the United States. Wood teaches cast drawing and painting at the Grand Central Atelier and resides in New York.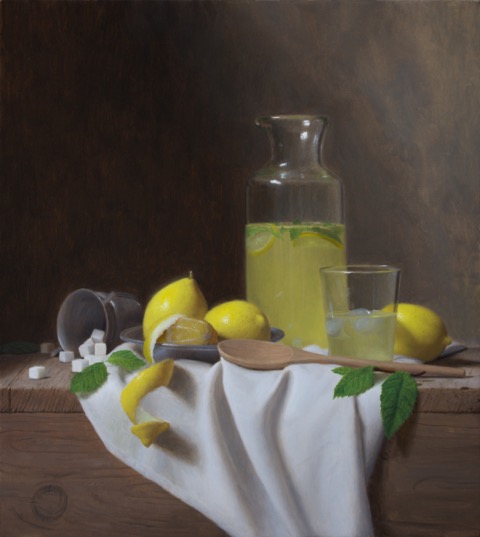 Lemonade, Oil on linen, 19 x 17 inches
For more information, visit http://collinsgalleries.com/schedule-of-events.html
12 West Road, Orleans, Cape Cod, MA, 02653
508-255-1266