March 12, 2018 | Sandy Giardi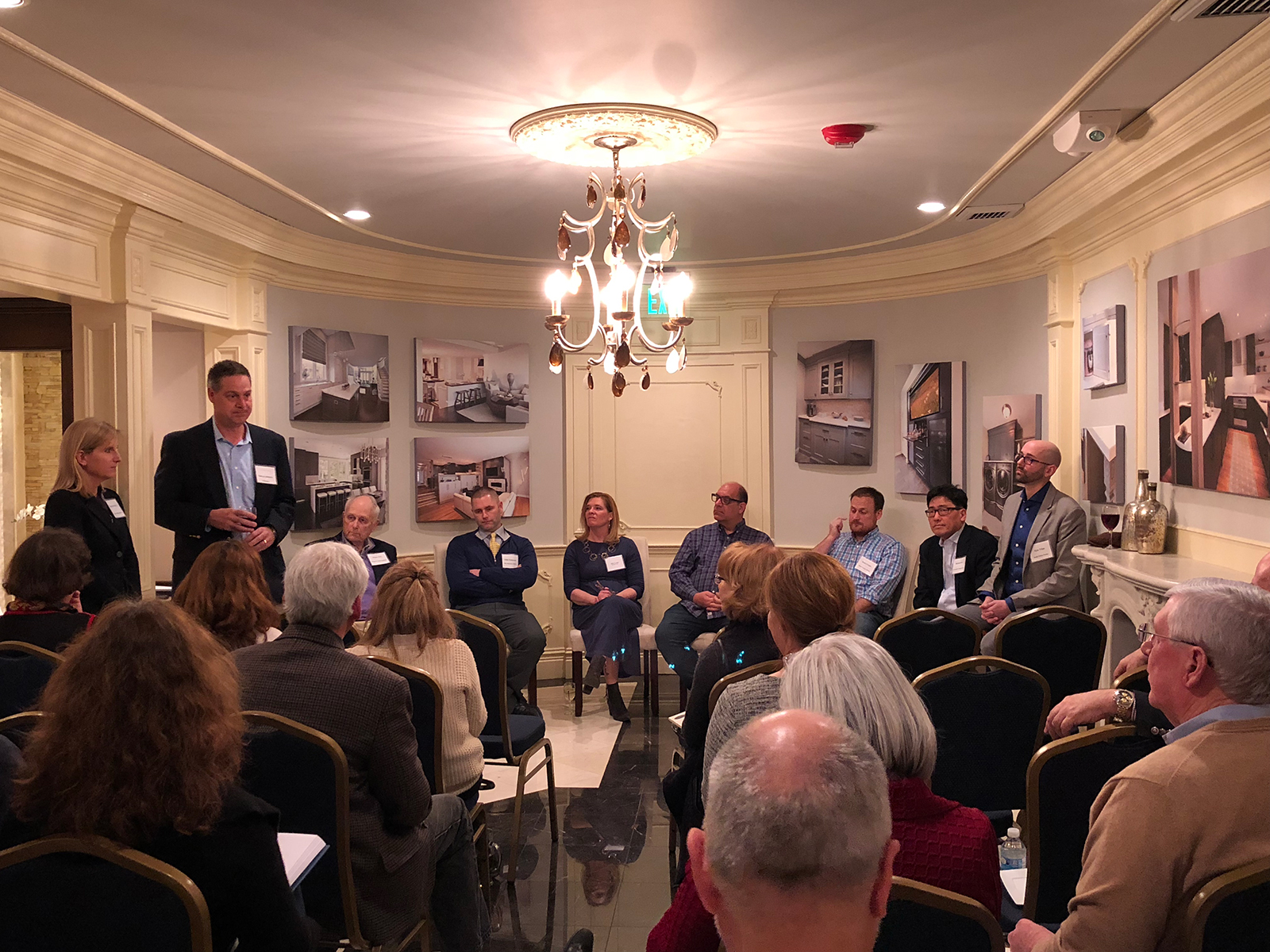 Last week's weather didn't stop homeowners from learning "How to Build with Confidence" at the workshop and panel discussion hosted at Roomscapes Design & Cabinetry Center last week.
After light refreshments and a warm welcome from Roomscapes' President Henry Lombard, Boston Design Guide's Publisher Melanie Perillo moderated a lively discussion featuring the tips and insights of seven panelists in the home industry. Featured professionals included Roger Hoit of Roger Hoit Architect, Caleb Anderson of builder RW Anderson & Sons, designer Julie Lyons of Roomscapes, landscape architect Brian Frazier of Brian Frazier Design, Blair Hamaty of home staging and retail design center Setting the Space, architect Michael Kim of Michael Kim Associates and System Designer Kyle Tripp of Audio Video Design.
The professionals touched on a variety of areas in the design and building process, shedding light on costly pitfalls to avoid and how to get the home of your dreams.
Here is a recap of some of the evening's top ideas:
• Roger Hoit urges homeowners to envision what the end project will be, and then work backward with an architect to set up the various stages of design. The home's architecture should be a reflection of the homeowner—not "a monument to the architect."
• Contractor Caleb Anderson spoke of managing expectations, and identifying which projects to tackle first. He subscribes to the "Rome wasn't built in a day" adage, and underscores the importance of thinking long-term, so that you really can have it all.
• Julie Lyons talked about creating highly-personalized, functional spaces. Don't just replicate rooms you saw on Pinterest (though that's a fine starting point), create the next Instagram-worthy kitchen or bathroom—the room that people have yet to see.
• Brian Frazier encourages residents to look at the overall picture of the landscape when building a home. Together with an architect or engineer, you can unlock the potential in your landscape and the way you feel in it. After all, maintains Frazier, "You're not just buying a house, you're buying property with a house on it."
• Michael Kim believes that—particularly in the Boston area, where we have such varied and historic architecture—owners don't choose a house; the house chooses the owner. With that in mind, he tries to enhance and stay true to the elements and sensibilities that drew the owners to the home in the first place and "learn" what the house wants.
• Blair Hamaty shared that often a client will use Setting the Space for home staging when their house is on the market, and be wowed at the way they could have been living. Why wait for your exit? Get Setting the Space involved at the outset to help you live in a look you love. The company's six locations deliver a unique and full-service shopping experience for furnishings and accessories—this isn't cookie-cutter retail.
• Contrary to popular fears, says Kyle Tripp, Audio Video Design's systems won't be obsolete in a matter of years. While technology changes, Audio Video Design is a solutions-based company that thinks in 10-year increments, managing new developments via software updates. Tripp also reassured homeowners that, while the technology behind its systems is complex, the user experience couldn't be more simple.
All were in agreement that…
It's important to get all of the professionals—the architect, landscape architect, builder, interior designer and audio video systems specialists—in at phase one of a project, even if their work won't begin right away. That way, you'll get the most out of your site; consider the view, the landscape and sunset when planning your rooms; design a kitchen large enough for the island you love; and create a living space to suit the scale of key furnishings. You can also get the AV systems' wiring in place, which is mostly hidden today, at the optimal time in the build process. Involving the full suite of professionals from the get-go, keeps homeowners advised and informed every step of the way.