October 4, 2016 | carly stewart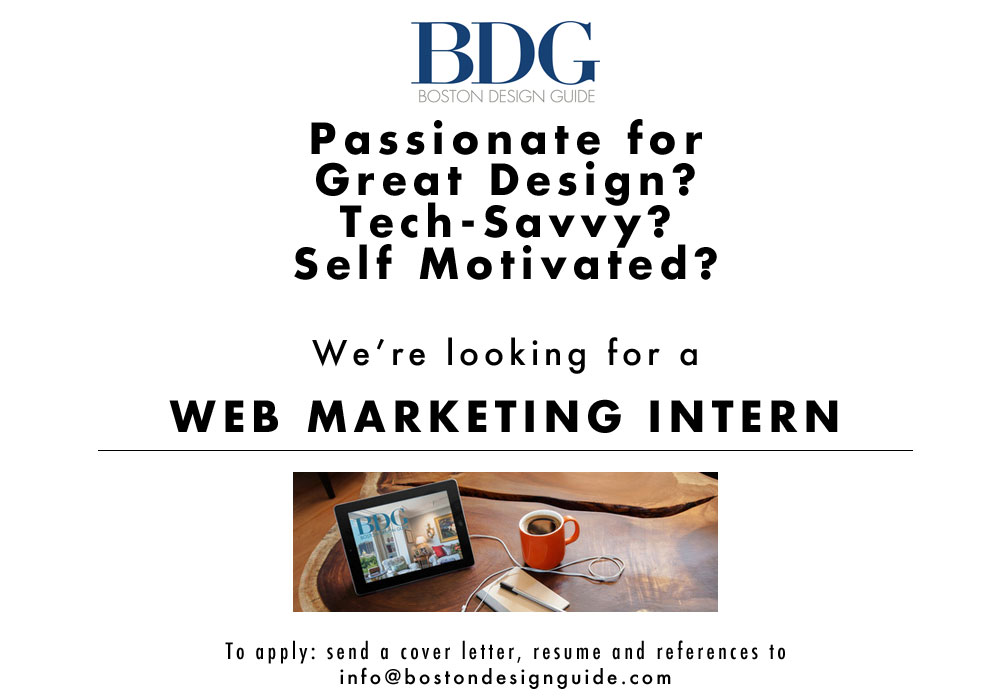 Boston Design Guide is New England's first and foremost publication dedicated to the home. With its artful content and captivating photography, Boston Design Guide's printed annual publication is more than worthy of a place on the coffee table and reaches more than 70,000 homeowners, organizations and industry members. Its digital edition, an up-to-the-minute online companion, attracts hundreds of thousands of viewers via its website and engaging social media channels.
BDG is seeking a motivated student intern to work 10-20 hours per week.
Paid internship with flexible hours.
Responsibilities include:
Assisting with and updating web design
Create social media content, e-newsletters, blogs and additional marketing needs
Proofread and edit marketing materials; writing skills are a plus
While this is not required, a passion for writing and discussing home design trends, architecture, interior design, and other industry related interests in New England is helpful.
Qualifications:
Undergraduate college student; great for majors in Marketing, Graphic Design or English
Ability to multi-task and work in a fast paced environment
Basic Photoshop skills
Familiarity with content management systems (Wordpress, Drupal, Joomla)
Must have valid means of transportation to our office in Sudbury.
Internship opportunities available for spring and fall semesters. Please send resumes to info [at] bostondesignguide.com