December 29, 2022 | Maddie Brisbane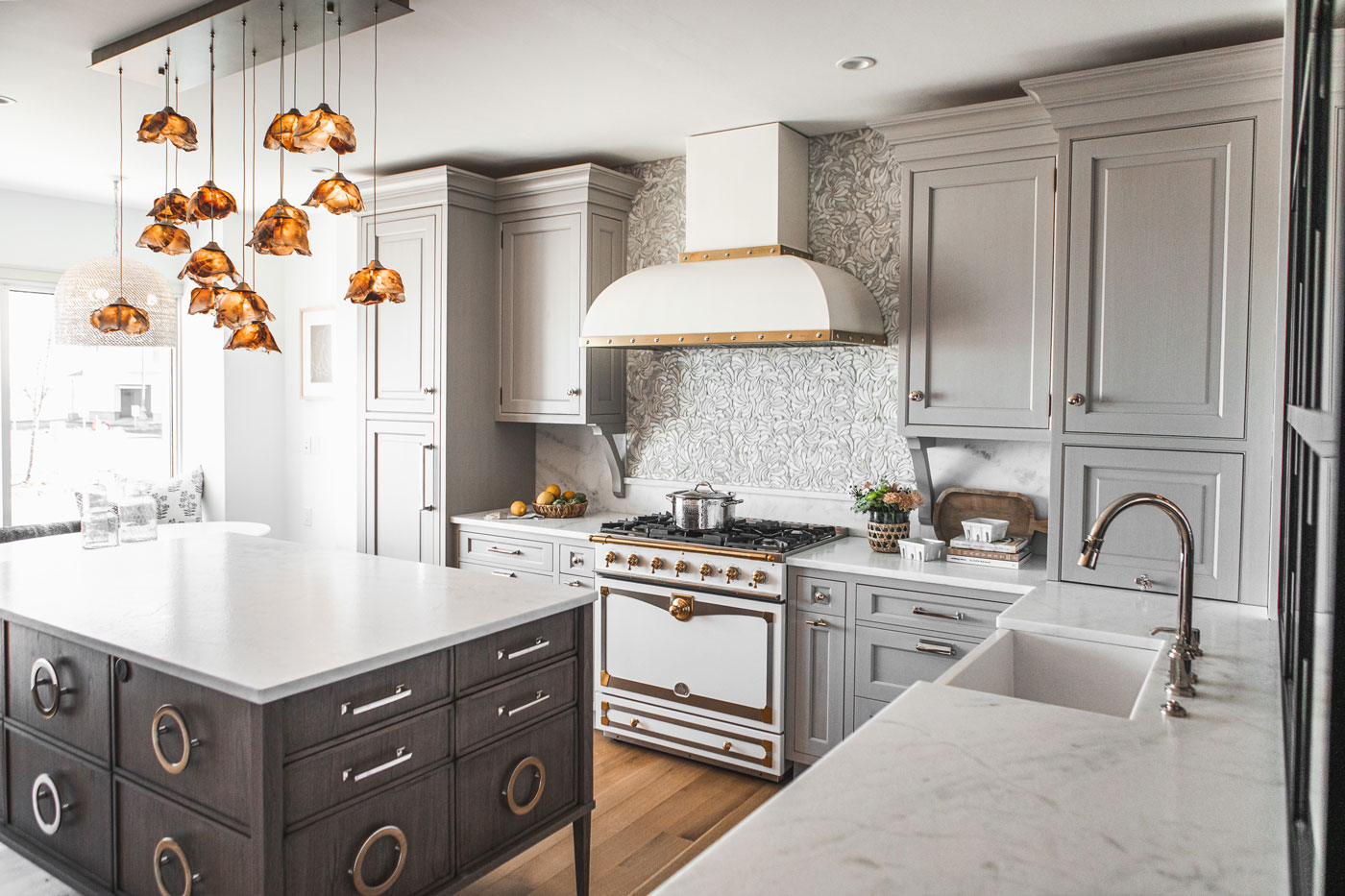 (Photography by Derrick Zellmann)
Situated on the shores of Nantasket Beach in seaside Hull, MA, the Design Studio is a space reimagined for curated collaboration between designers, allied professionals and homeowners. A brilliant synthesis of vision and strategy delivers a fully functional display of the quality, craftsmanship, and value of a custom designed home.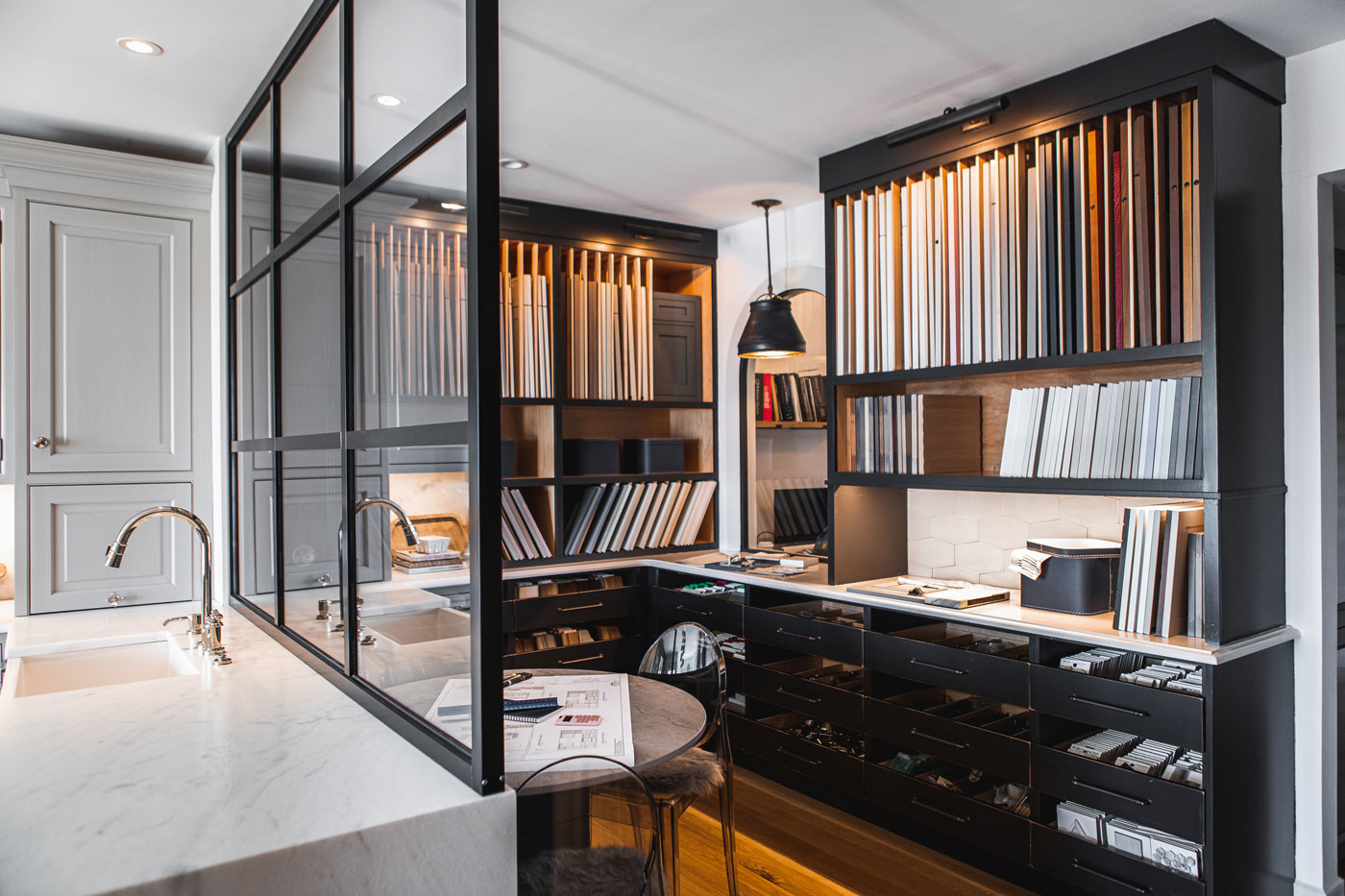 Previously a hair salon of 40 years known as The Hair Pin, the 700 square foot space received a makeover of its own. The year-long project was spearheaded by the Design Studio Designer/Owner Judy Whalen, Builder/Owner Bill Duchesney, and Designer/Owner Julie Lyons with the assistance of their dedicated team of tradespeople. The space was completely transformed to support the functional demands of the design team while concurrently representing the high-end, boutique aesthetic that clients aim to attain in their own homes.
"The renovation of the space was all hands on deck, and was done mostly in-house," says Whalen. "Transforming a space that began with a differnt function is a testiment of our design capability and the pieces of the puzzle that we can bring to the table."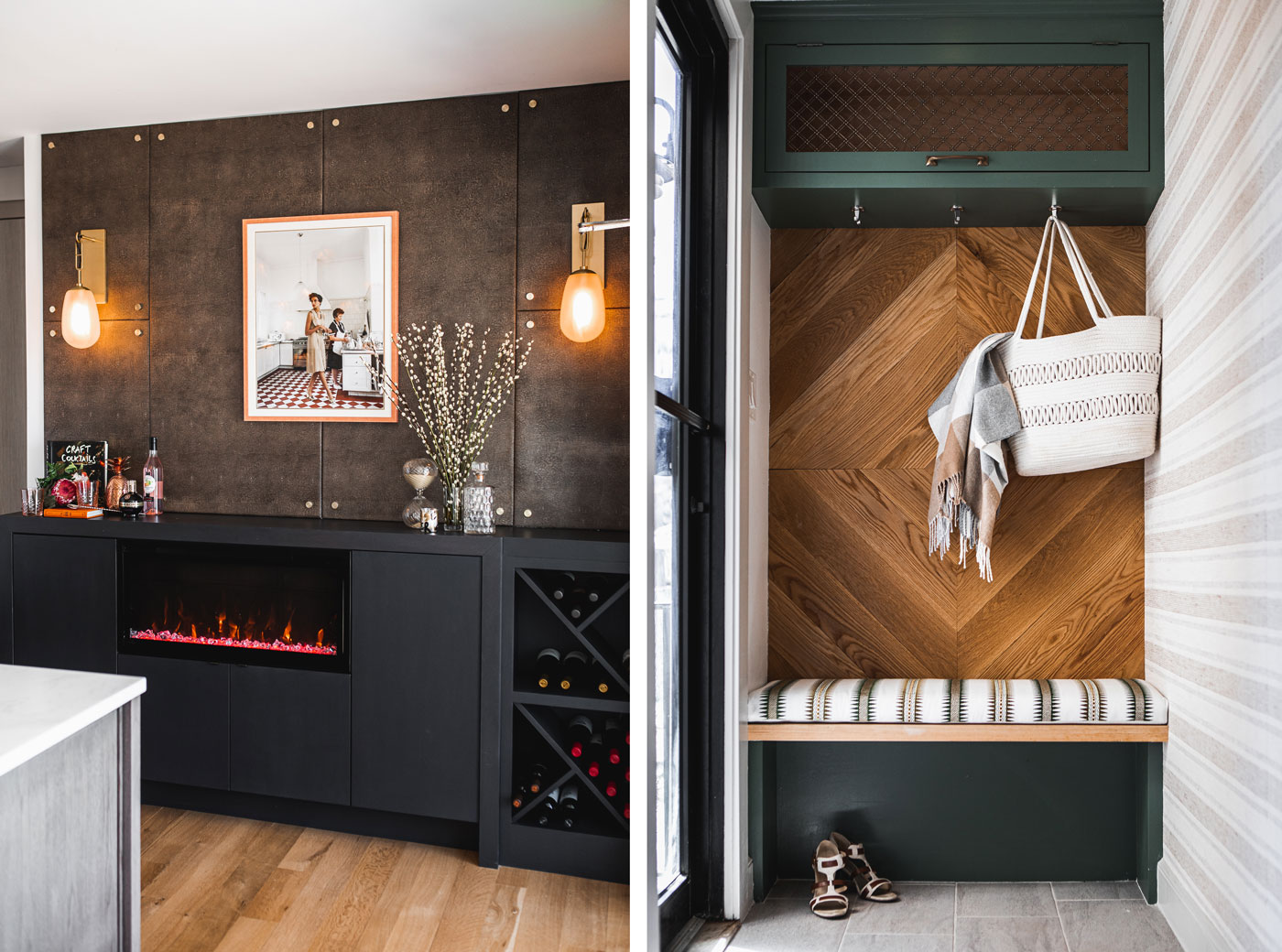 From entrance to exit, every element of the showroom serves a purpose. Upon entry, clients are immersed into a three-dimensional residential experience. A fully functional kitchen, bar, coffee station, and dining nook reflect the heart of the home, giving clients an opportunity to envision their future living space.
"Every project tells a story for the client," says Lyons. "Our challenge was to make each story in the showroom feel connected. We used a lot of finishes to pull all of those stories together, and to represent traditional, transitional, and contemporary styles in a way that flows together."
The space feels cohesive and intimate, yet all-encompassing. In the kitchen space alone, five door styles, four methods of construction, and five interior finishes are masterfully incorporated, despite the small footprint. The display cleverly coexists as a powerful sales tool, containing several cabinet lines and a mix of inset and overlay cabinetry. Inside each cabinet, optional interior finish, accessory, and storage functions are displayed.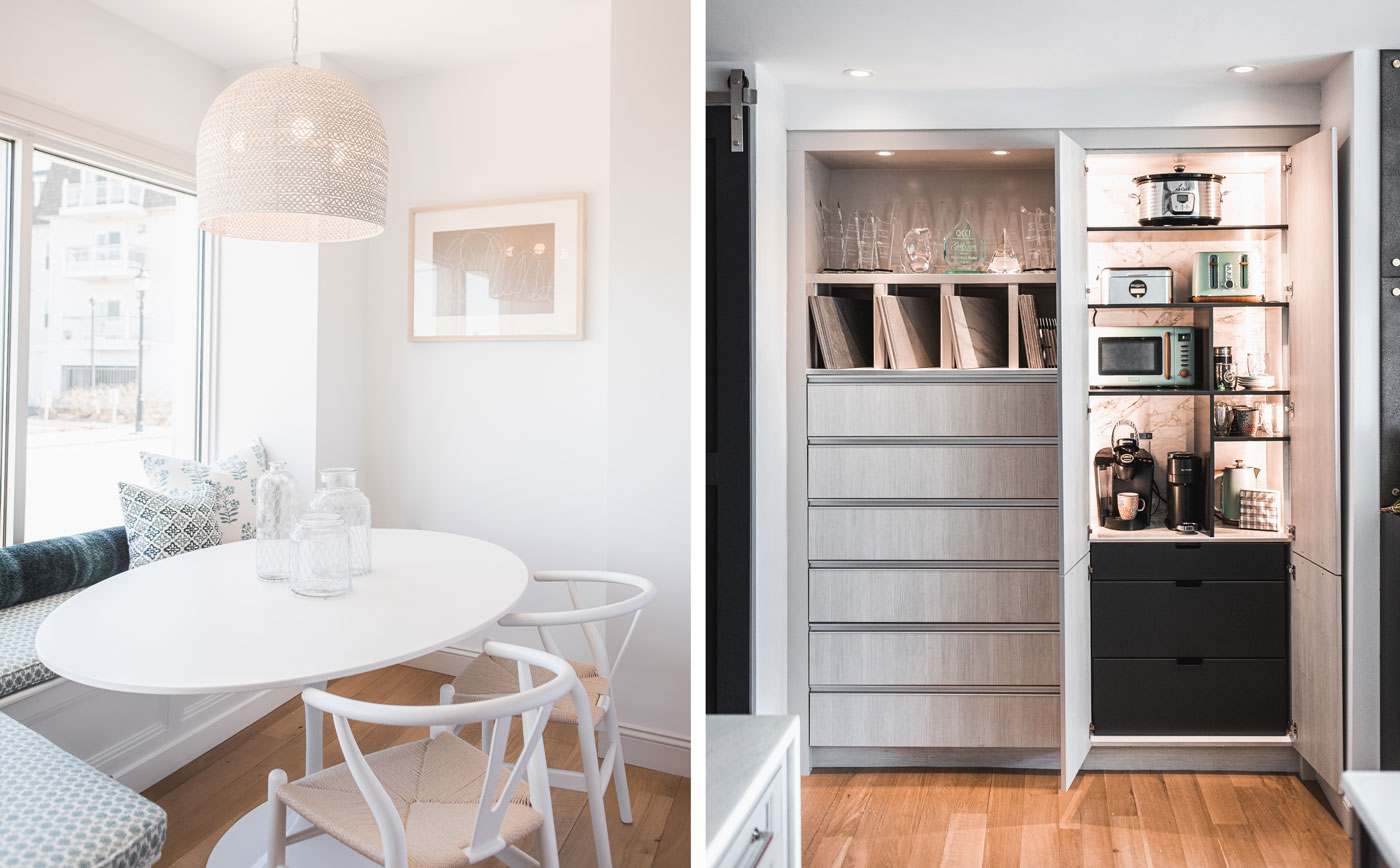 Stepping further into the space, a seating nook and fireplace arrangement showcase an additional cabinetry line, furniture, custom upholstery, and light fixtures sourced from vendor partners. This area flows into a hidden coffee alcove with built-ins that spotlight all available door styles, hardware, tile, glass, metal and stone samples.
"We can speak to all the details all in one place, and clients have a clear visual," says Lyons. With a broad array of top quality selections right at their fingertips, clients are given a palpable idea of the quality the design team strives to deliver.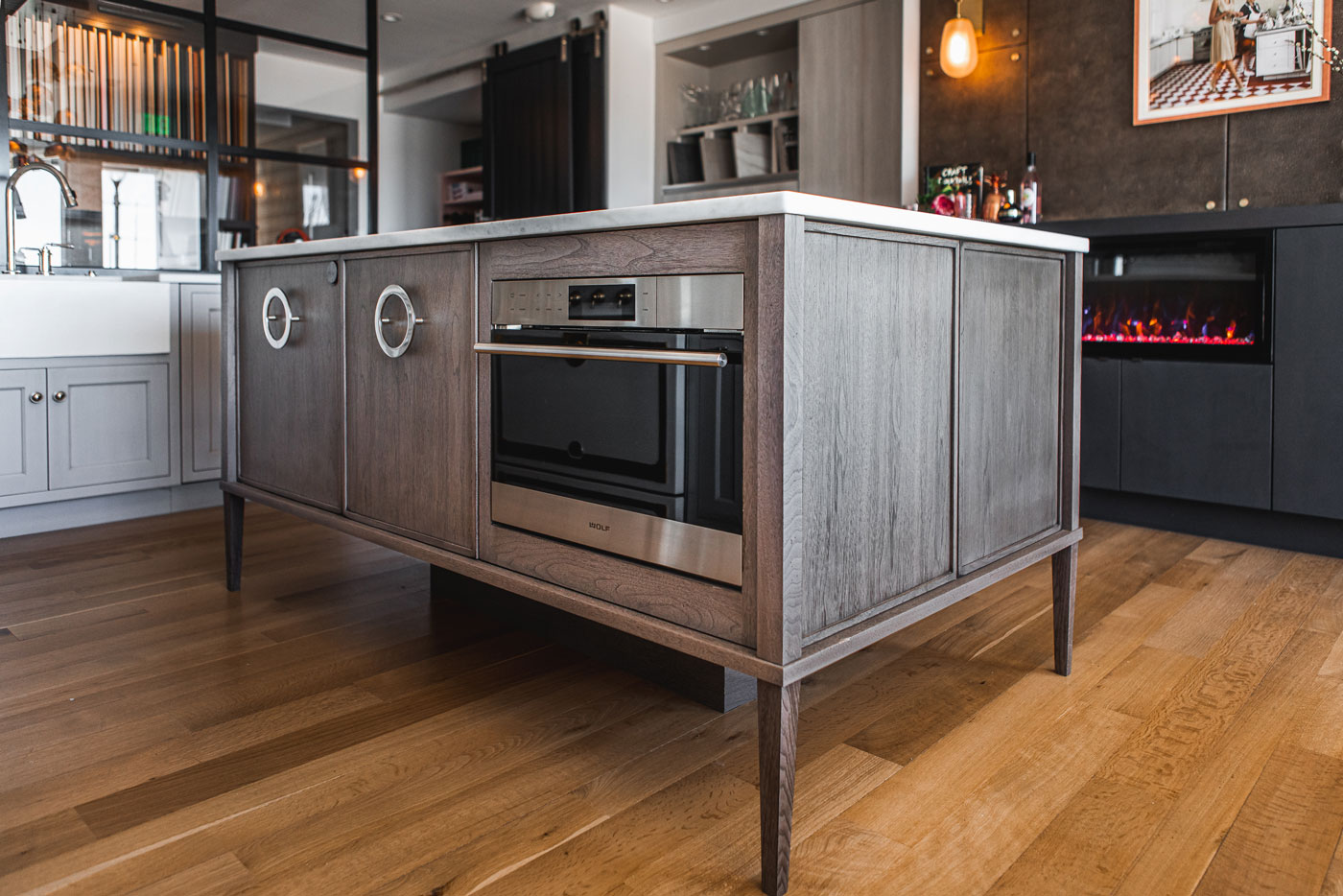 The functionality of the showroom is optimized with an office, restroom, and delivery entrance that showcase additional design possibilities. Small-space plumbing, flooring, tile, and wall finish options are displayed beautifully in a small powder room, leaving no space unturned in this show room.
The intimate showroom space is a physical manifestation of the in-depth design process that the boutique company offers to their clients. With a full view of the showroom entrance from the office space, clients receive a full-service experience right away. "As a boutique design/build firm, we offer a much more dedicated design process with the client," says Whalen.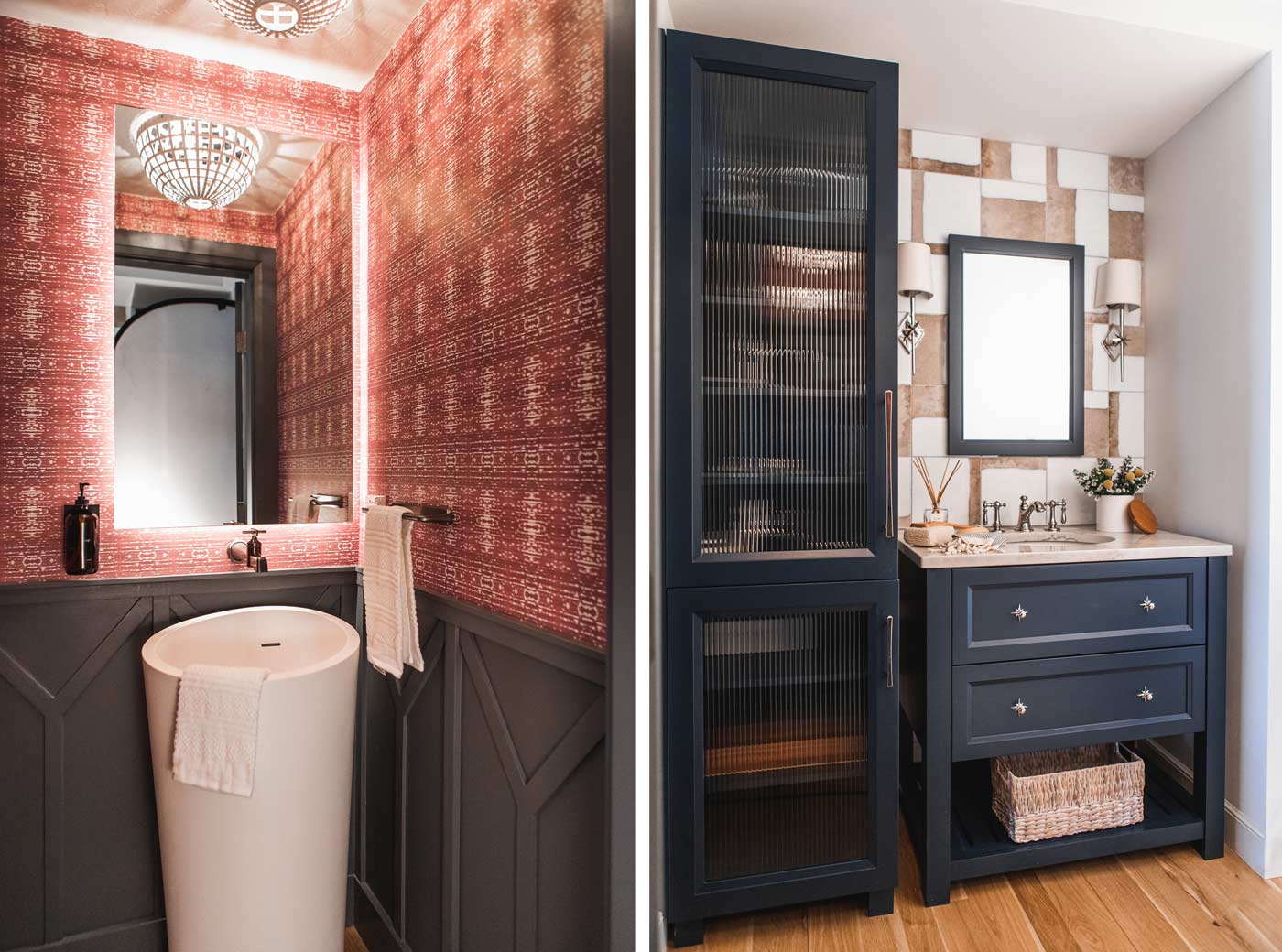 Design meets functionality throughout all dimensions of the space, and every nook sparks conversation and collaboration. "In working one-on-one with clients in the showroom, we can take them through massive decisions in a very curated way," notes Lyons. While the limited square footage might pose a challenge to many, the stunning result speaks to the design team's stellar ability to create high quality, functional, and intimate living spaces that reflect the unique vision of each client.