September 6, 2023 | Maddie Brisbane
Thoughtforms Corporation offers a new take on a classic Georgian home's contemporary addition.
Originally built in 1905, this Georgian Revival was upgraded with a reconceptualized modern addition. Though a prior addition was added mid-century, it was clear that there was room for improvement. That's when the owners called upon Thoughtforms Corporation to build out a newly designed addition that "respects the fabric of the community while allowing a more current aesthetic to be added," says Mark Doughty, Principal at Thoughtforms.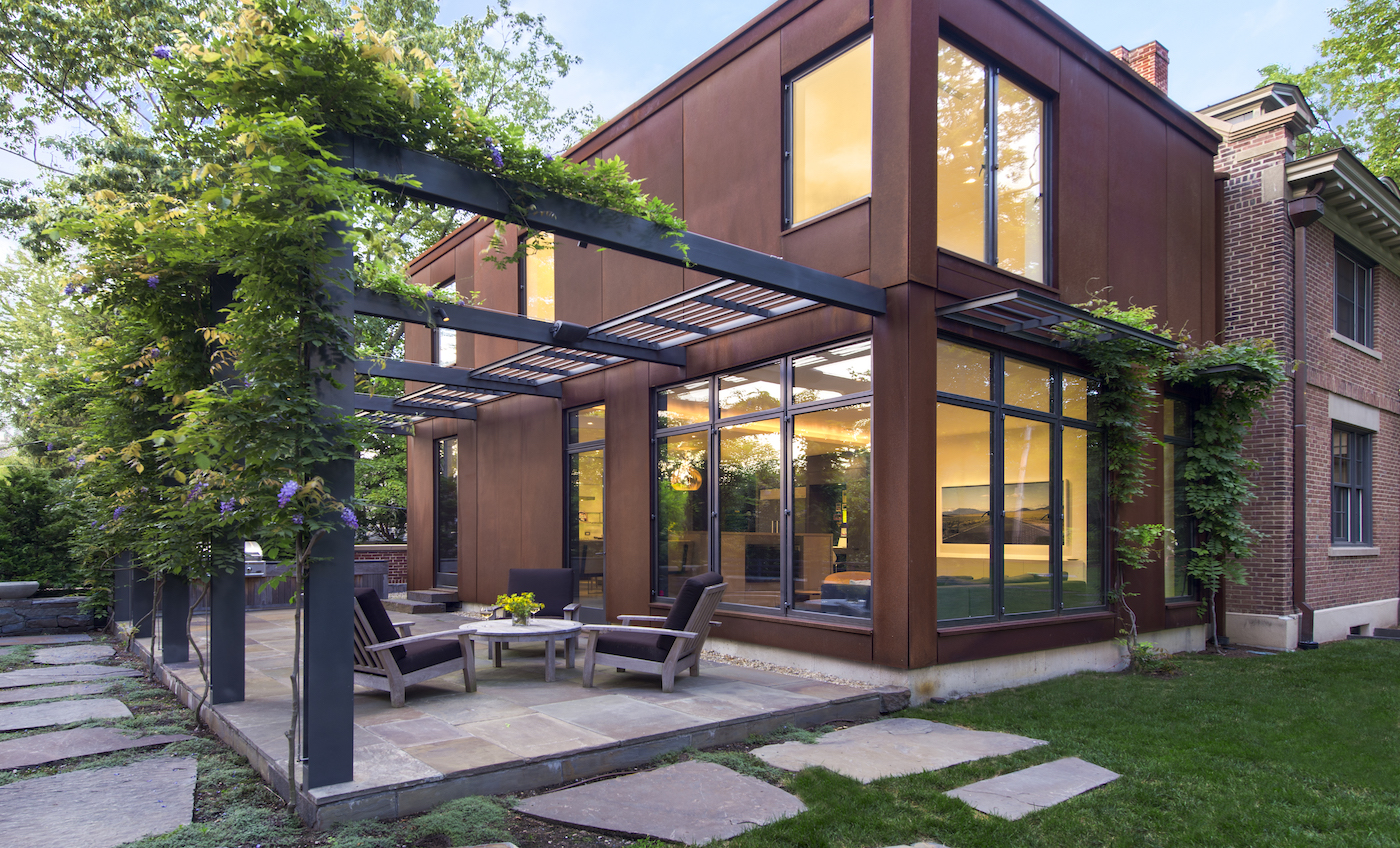 (Photography: Chuck Choi)
In fact, the entire home was renovated to harmonize contemporary elements with family friendly spaces. By gutting the interiors, Thoughtforms added insulation to improve the home's energy efficiency, which Doughty explains brought the home into the modern era with respect to comfort, health, and energy performance. Blending contemporary and classic styles was only natural given the home's proximity to an abundance of both contemporary and historic architecture. The resulting two-story extension includes the kitchen, primary suite, a dining area and family room. Its facade showcases COR-TEN steel cladding, selected for its minimalist aesthetics and unique "living" finish, which undergoes changes in color and texture as it interacts with its surroundings. An iron trellis frames an outdoor patio and offers a seamless indoor/outdoor transition. On the main home, exterior brick and roofing were restored to revitalize its revered character. "The clients really appreciated the exterior, but were excited to turn the interior space into their own," notes Doughty.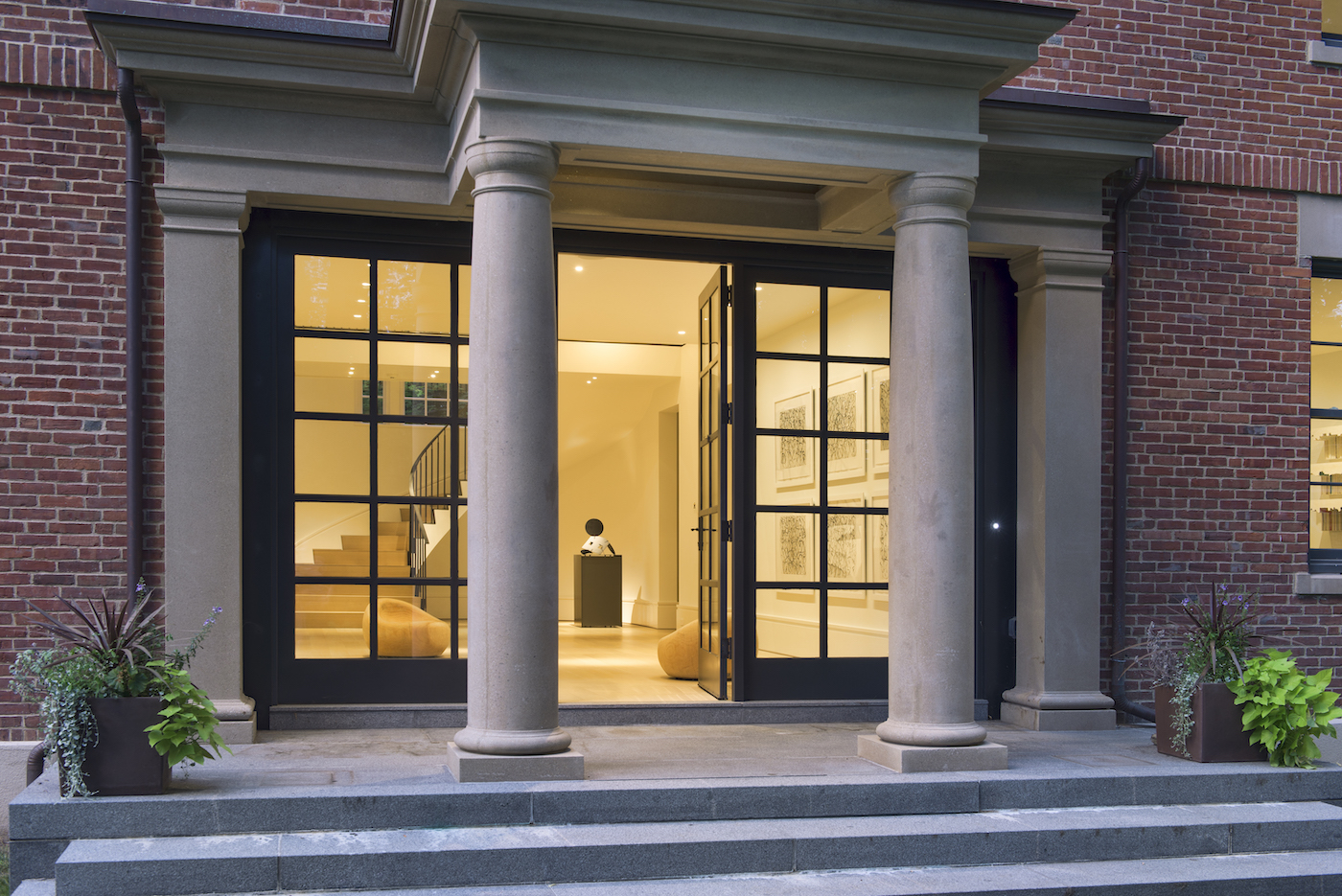 (Photography: Chuck Choi)
Echoing the addition's aesthetic, the home's interiors offer a minimalist, contemporary feel, with a showstopping entryway that immediately sets the tone. The formal entry is a focal point on the reinvigorated Georgian facade. Stepping into the front foyer, a striking introduction to reimagined interiors ensues, featuring a dazzling dual staircase and a statement light fixture. Adjacent to the foyer is an intimate seating area that hints at what's to come in the neighboring family room that makes up the first floor of the addition.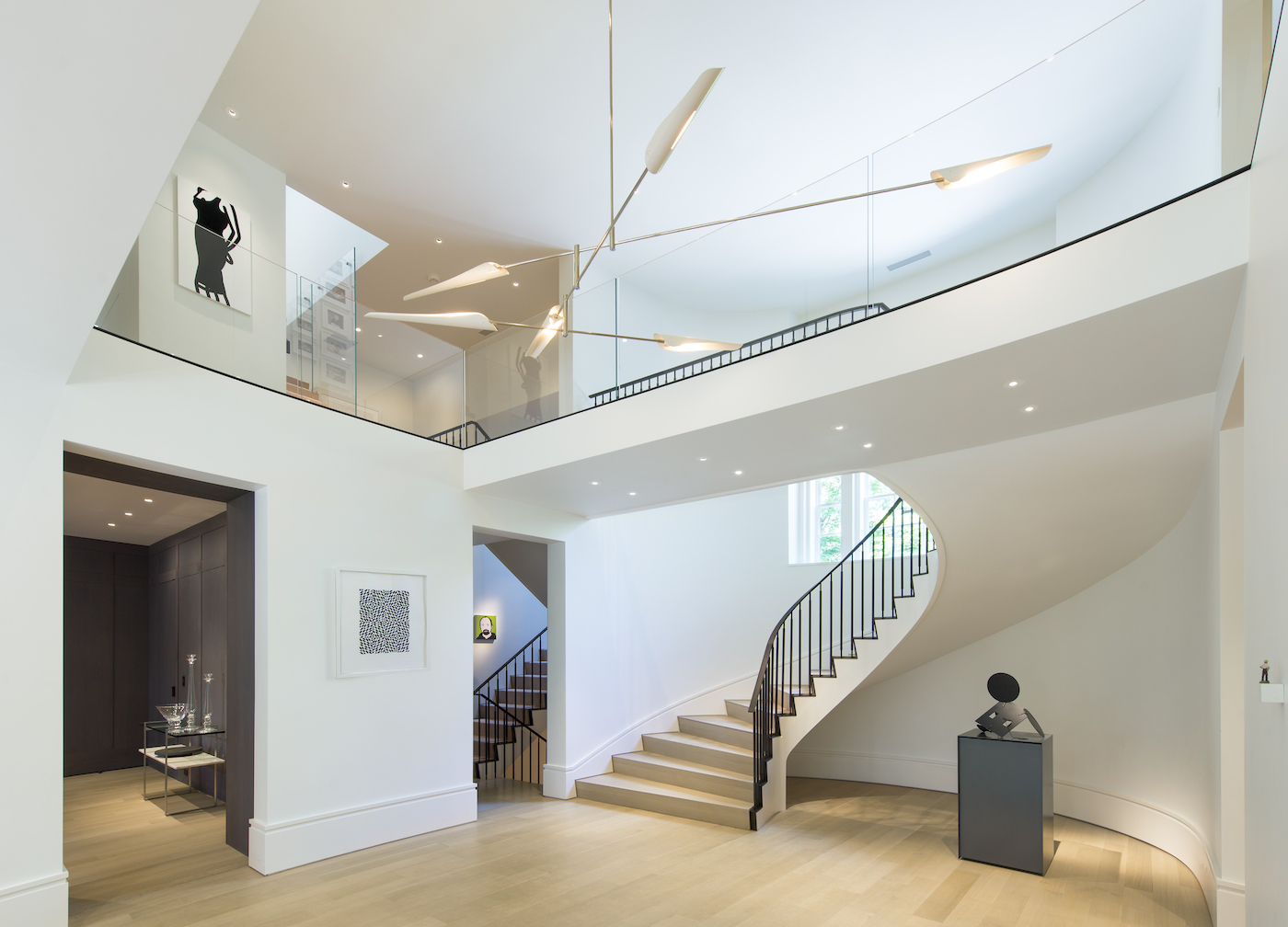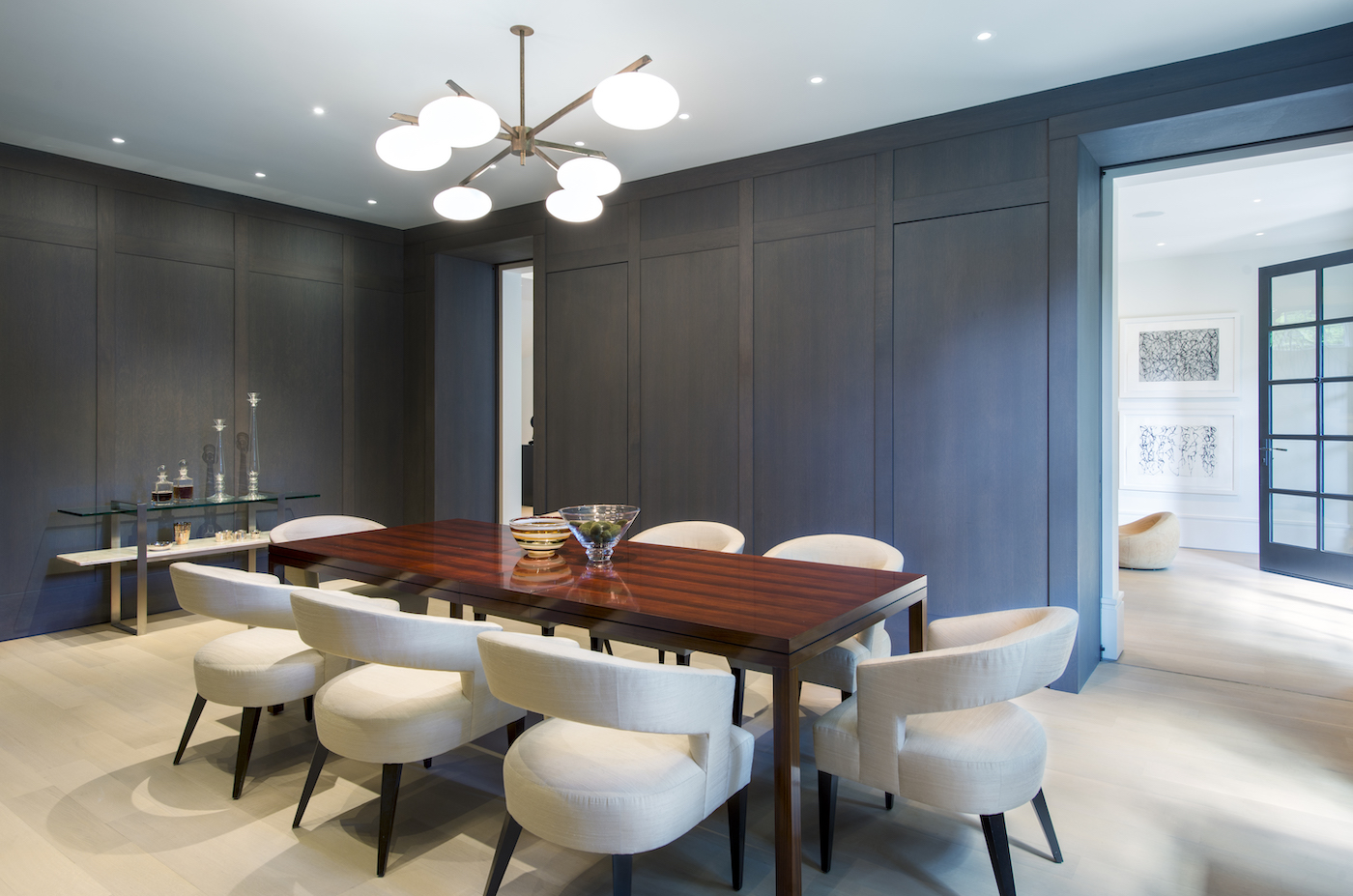 (Photography: Chuck Choi)
The layout flows effortlessly toward bordering outdoor living spaces, with floor-to-ceiling glass windows and doors that bring the outside in and open up to the vine adorned patio. The second story of the addition features a bright kitchen with clean lines and contemporary elements that fit the bill for modern living. The renovated basement space shows that less is more with a bold rug that conversates with the space's linear cadence. Through its evolution, the home embraces a forward-thinking design that honors a timeless essence.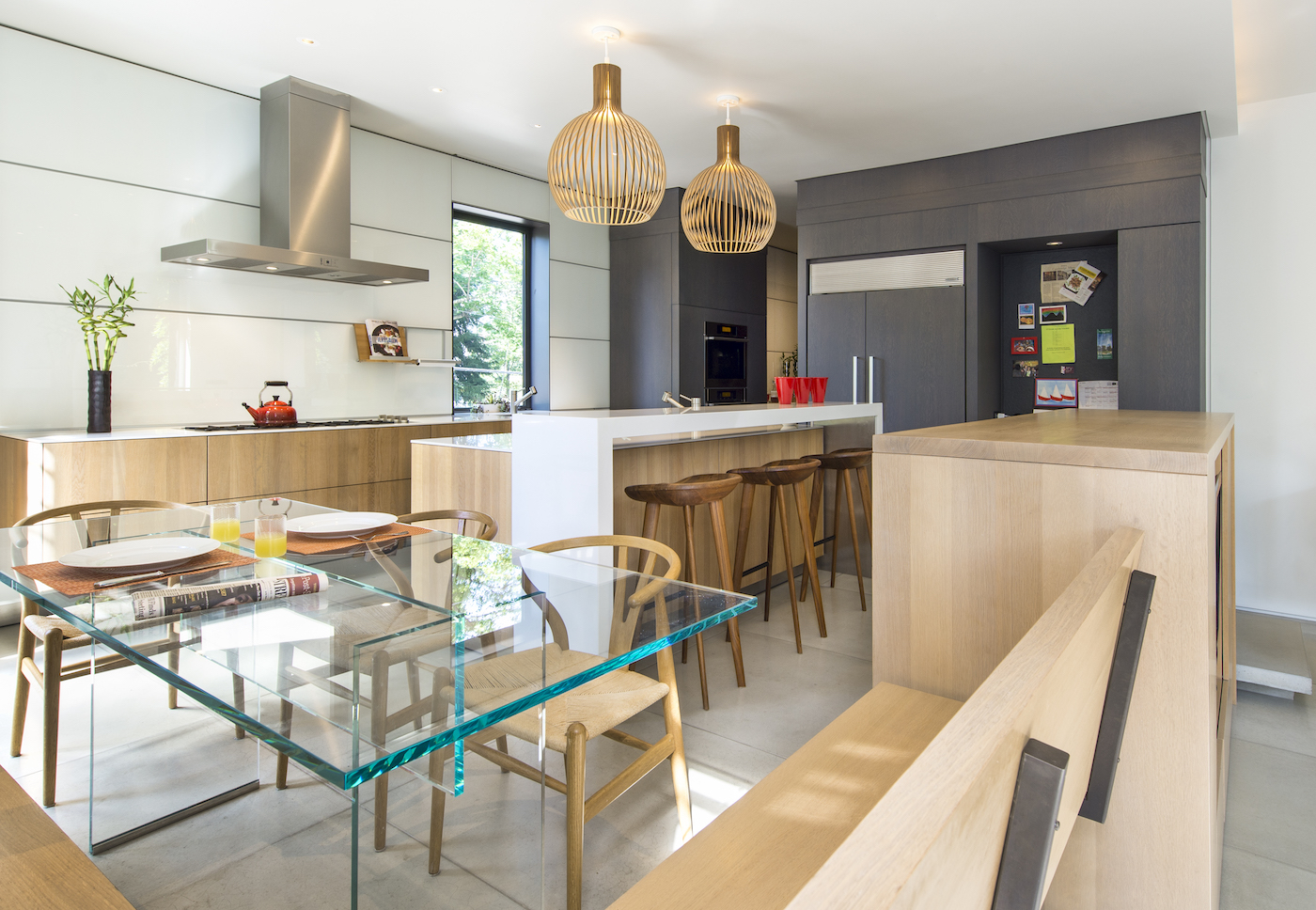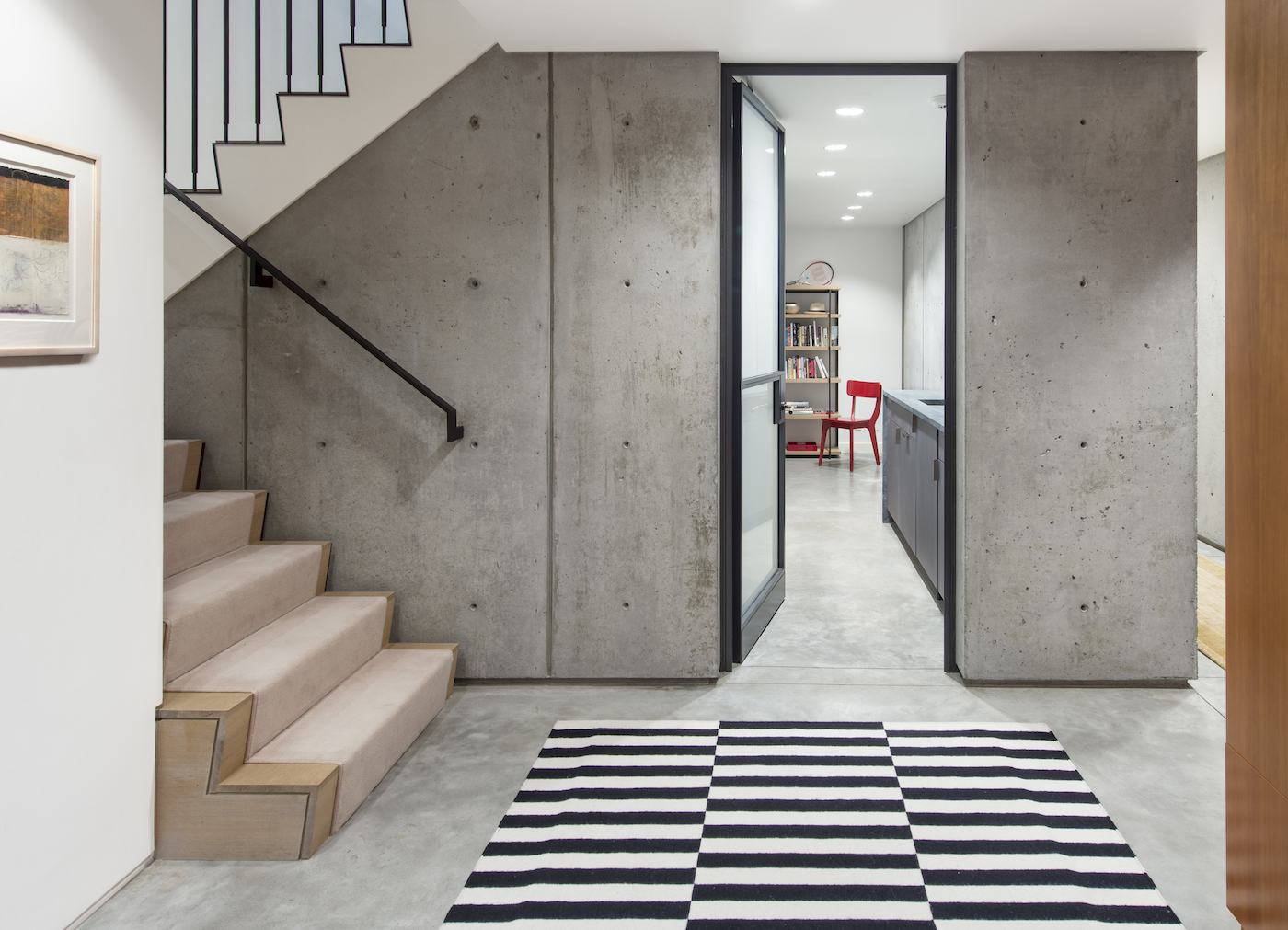 (Photography: Chuck Choi)
Builder: Thoughtforms Corporation, Architect + Interior Designer: Stern McCafferty, Landscape Architect: Jonathan Keep Landscape Design, Photographer: Chuck Choi