September 26, 2022 | Bella diGrazia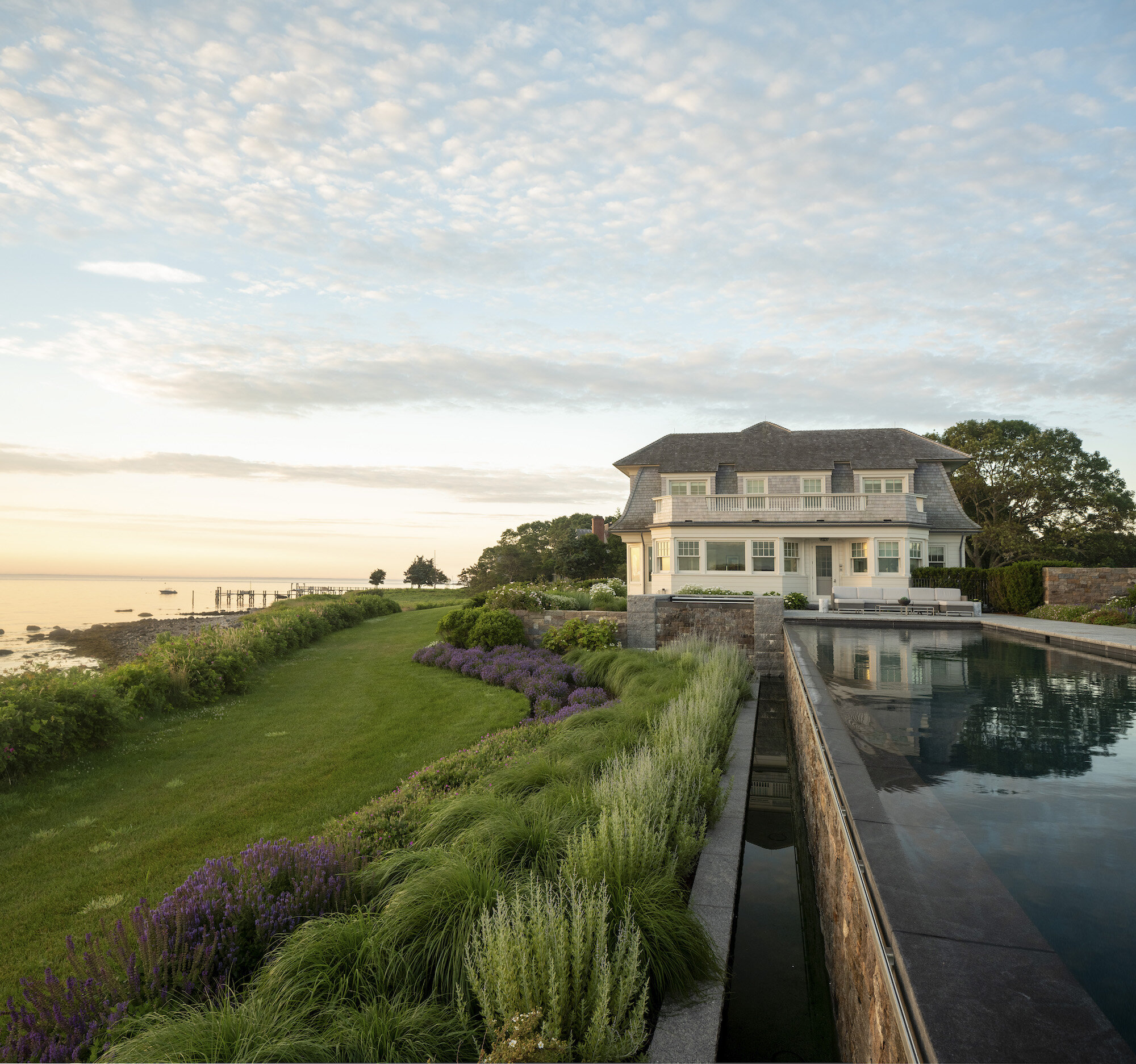 A private enclave, protected by lush layers of plants and vegetation, sits right on Nonquitt Beach in South Dartmouth. The protective oasis, with its vanishing edge pool and equipped pool house, is the perfect summer getaway, but it's a never ending job.
"The landscape is exposed to wind, saltwater, and storms that come up and down the coast," said Troy Sober, principal of Gregory Lombardi Design. "We had restrictions for flood zones and wave action. We had to be very thoughtful in preparing a sustainable landscape that would weather storms, work with the rising sea water elevation over time, and meet the coastal requirements that a family this close to the water."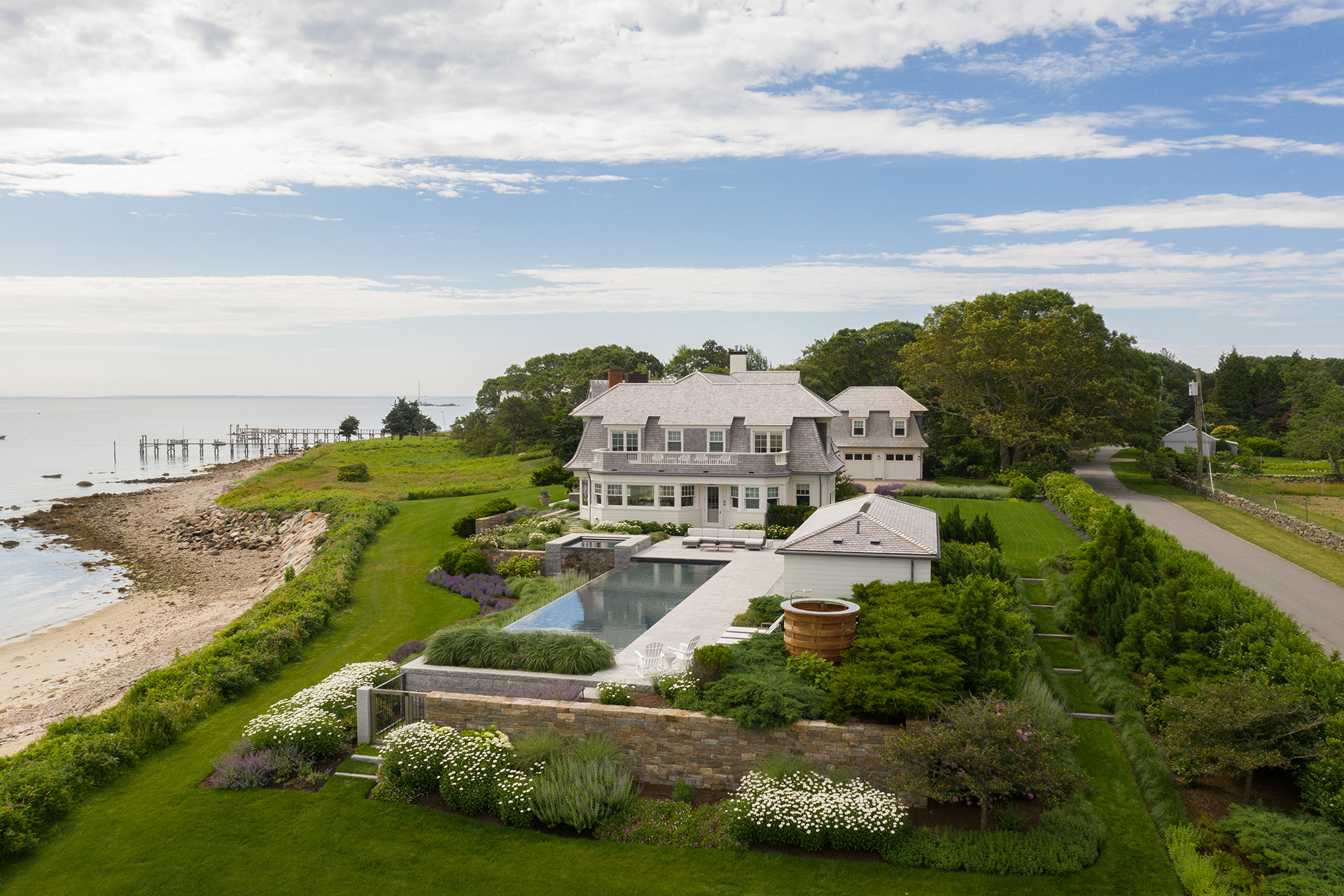 New England's unpredictable weather created a lot of challenges during the planting of this project. Nate Booth, branch manager at R.P. Marzilli & Company noted the conditions became hostile quickly and burlap had to be used to protect plants that don't normally need protecting. When the landscape was first being built during the colder months, it was completely covered with heated tents as a means of protection.
"With gardening work, everything is an evolving process always, you never really finish it," said Booth. "Understanding why one plant is doing well and another isn't tests your knowledge, and that is always ongoing."
The rear terrace, with its built-in gas fire-pit, is the perfect place to sit and have a cocktail or just admire the luscious view. The landscape also includes its own vegetable garden, an element that makes the home even more extraordinary.
"Priorities for the clients were maintaining a strong visual connection to the ocean," Sober said. "There is a small private beach, open field for the kids to play soccer, and the homeowner likes to swim laps, so a long pool."
Despite this coastal home's many unique and difficult challenges, the reward of expert planning, coordination and collaboration from a team of seasoned trades, including Parker Construction, was its completion in just nine months. Similar projects of this magnitude usually take eighteen.
This experienced team designed a way to walk around all sides of the home, while protected from public view and storm action, and created the ability to see and experience living on the coast from all angles.
"I can't even say the man hours, effort, and planning that went into making this look like it naturally belongs here," said Joseph Langlois, senior product manager at R.P. Marzilli & Company. "A lot of trades, and a lot of skilled craftsmen. This isn't just masons who put together concrete or patios, these guys are all skilled individuals. Our landscapes are designed to last 100 years, until the next renovation. And it's very rewarding."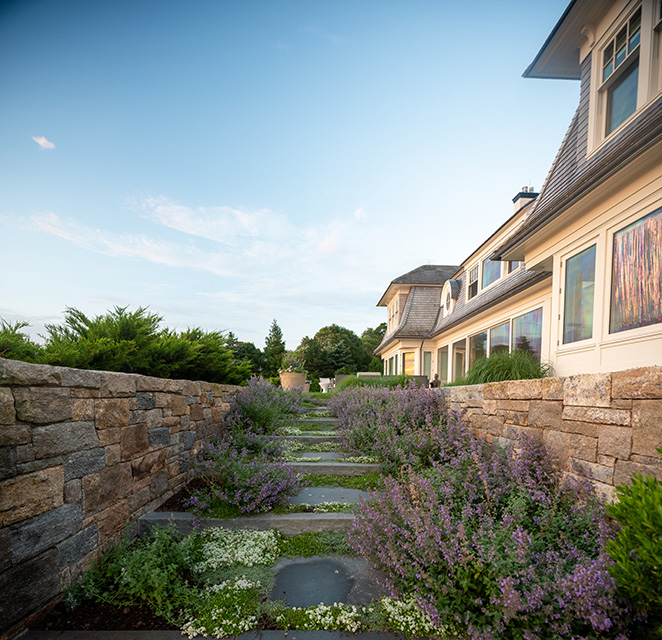 Billowy purple catmint and flowering white thyme soften the bluestone steps and paving between terrace and lawn.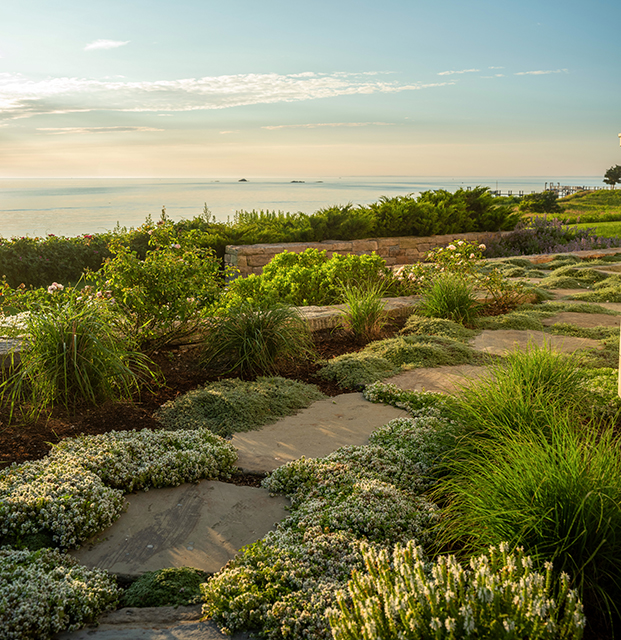 A side path towards the main entertainment terrace commands views of the shoreline. Built as a completely "White Garden" this floriferous steppingstone path never stops blooming through the summer.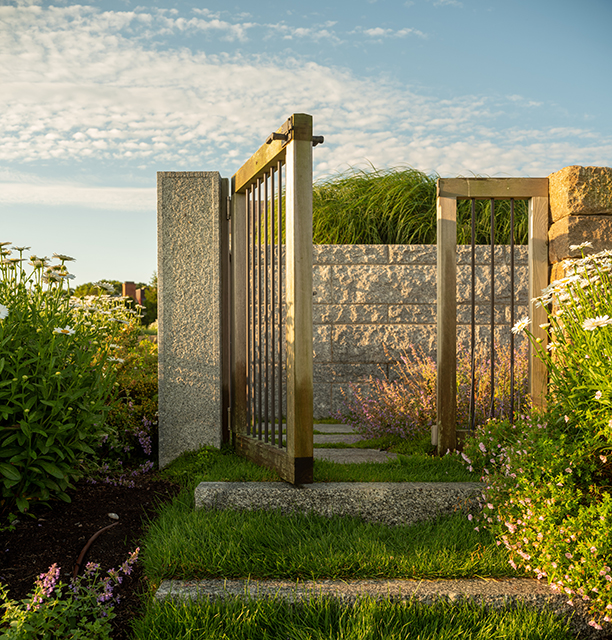 A bespoke gate of Western Red Cedar and iron provides a necessary barrier to the pool, yet is transparent when closed to allow focus on the rich stone wall texture instead of on the enclosure itself.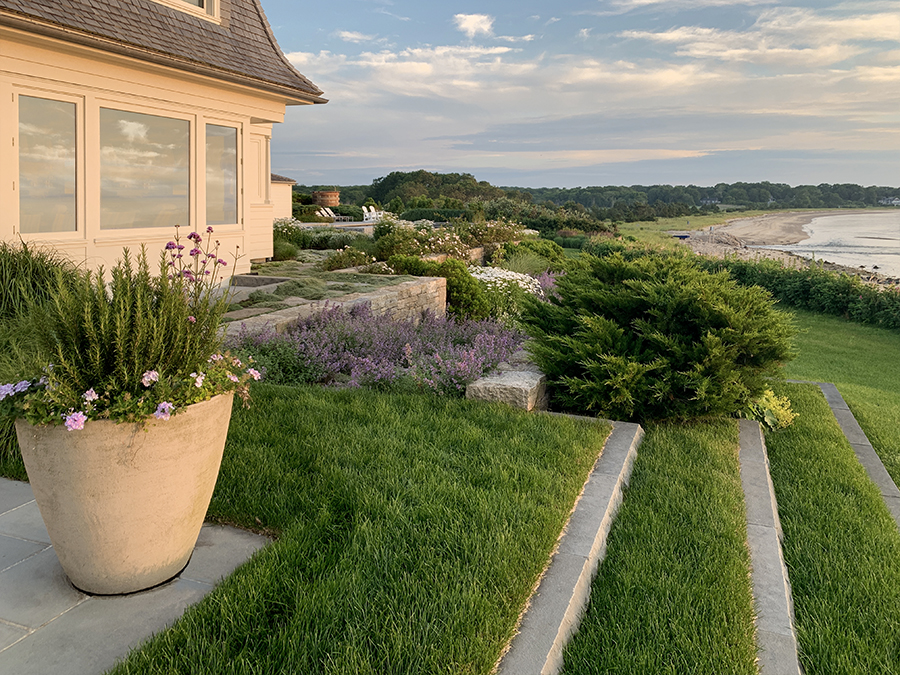 Living along the coast is all about the view. Lawn steps casually  bring beach-goers up to the family home; while a juniper hedge provides resilient and rustic texture and obscures the stone wall.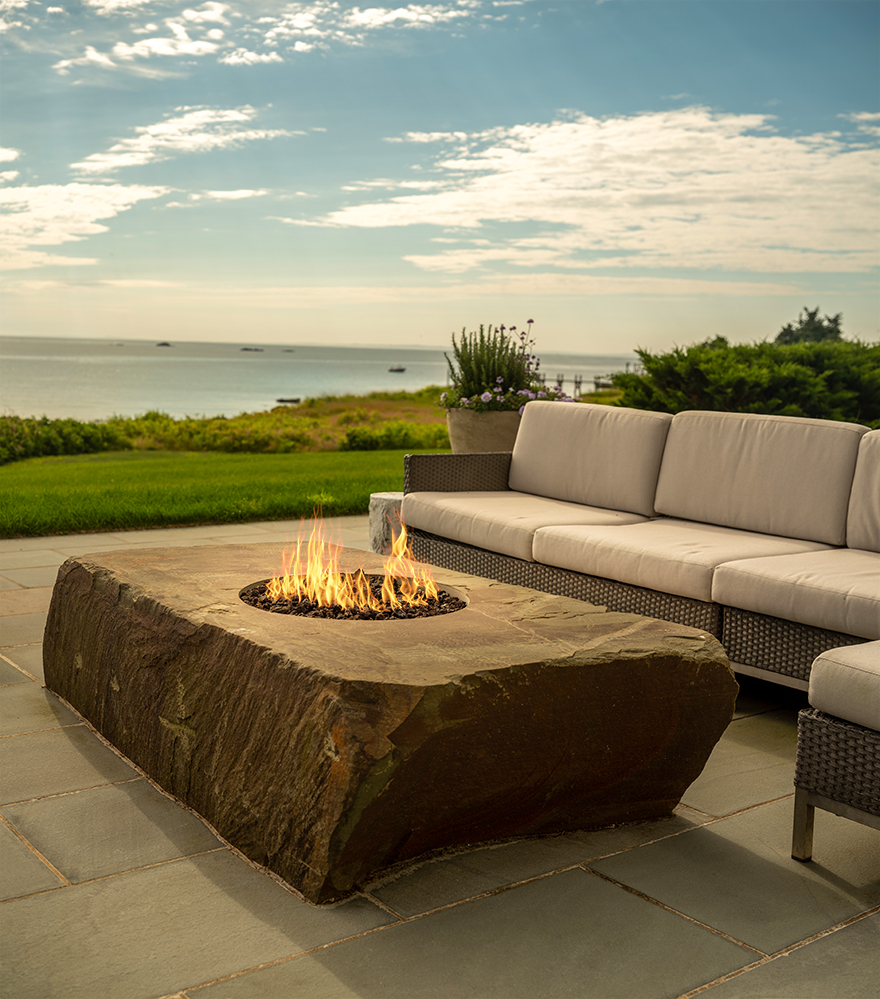 A hand selected stone by the Lombardi Team was turned into a gas fire-pit. This centerpiece pairs eloquently with the contemporary style of the house with a more natural form to gather around for cooler evenings.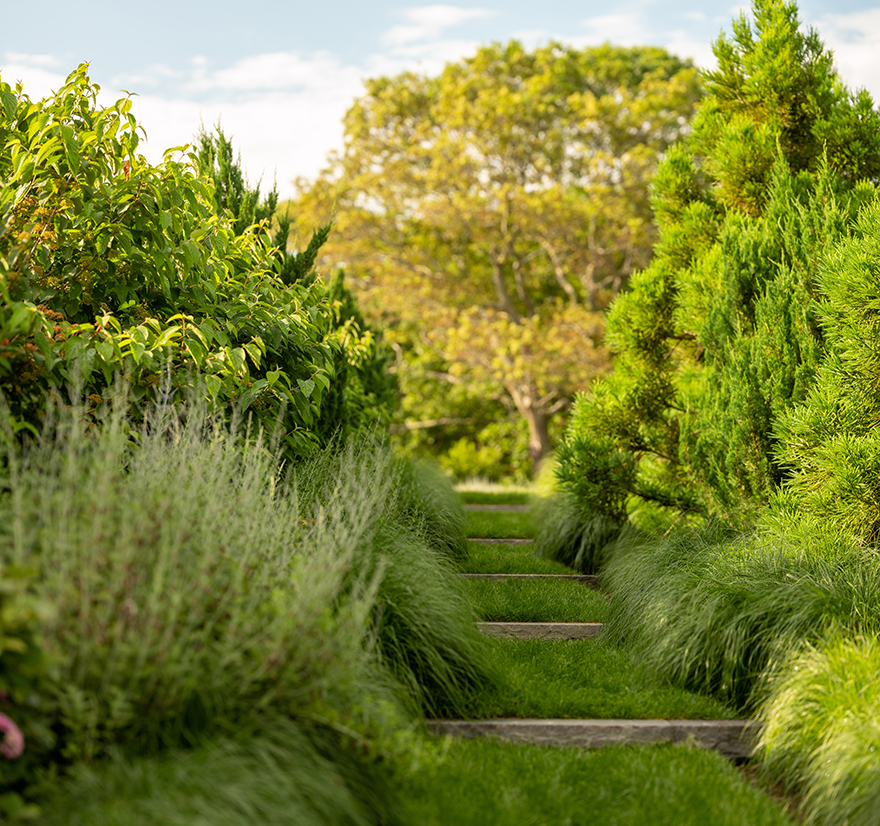 Protected from the shoreline winds, lush layers of soft ornamental Fountain Grass compliment the more coarse texture of the salt tolerant junipers and drought resilient Russian Sage; a path hidden behind the cabana opens to a large view of the water.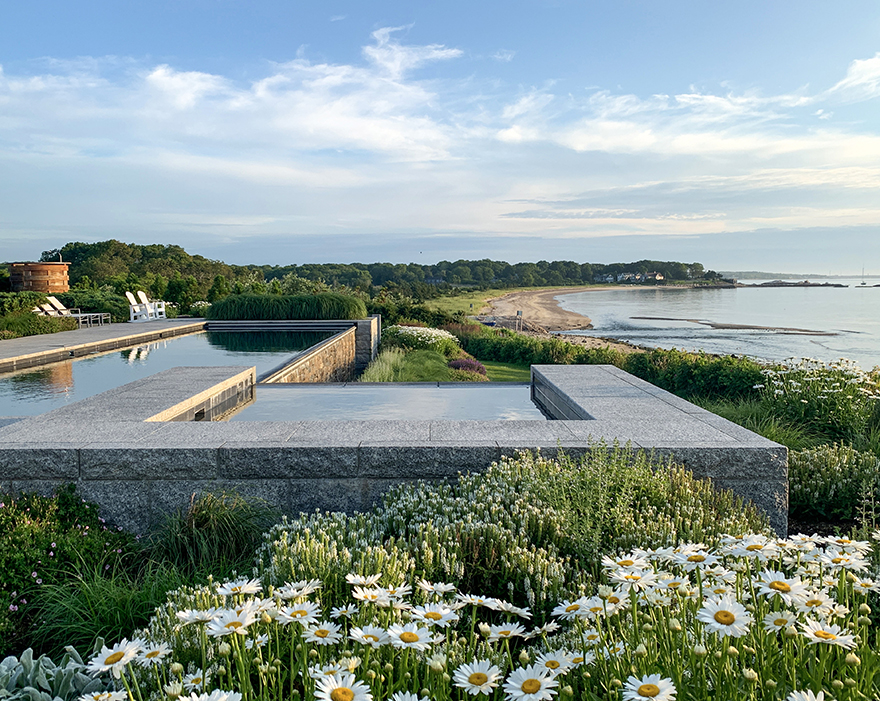 A commanding view through the perennial "White Garden" and blooming Shasta daisies, a raised spa wrapped in Freshwater Pearl granite sits above the lower lawn and shoreline. This elevated space is kept safely out of the water's flood and velocity zones.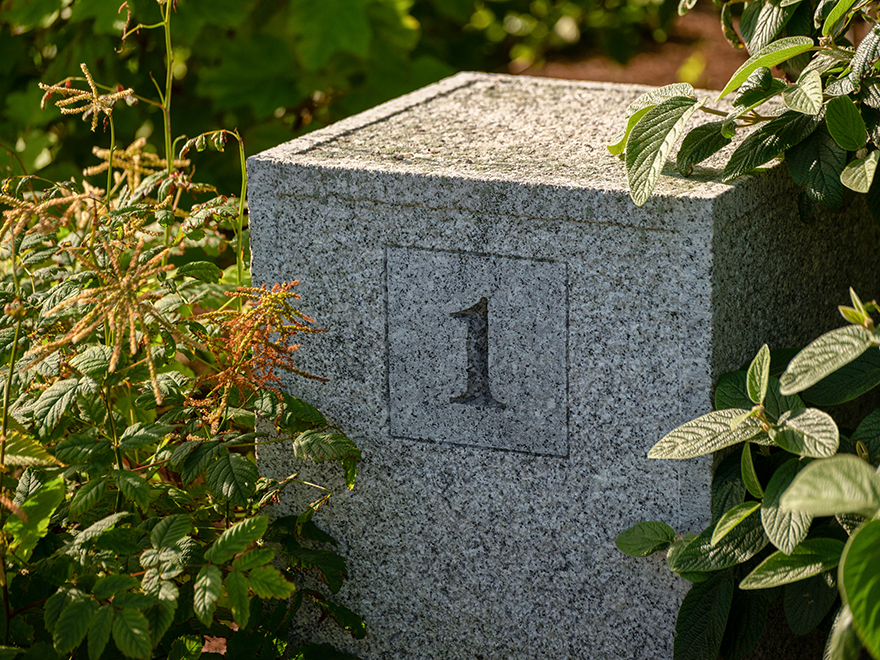 Fabricated from Freshwater Pearl granite, an address marker was hand carved on the site and lightly ink-stained for clear visuality. The subtle addition to the project is the first sight you see and provides an idea of what is to come.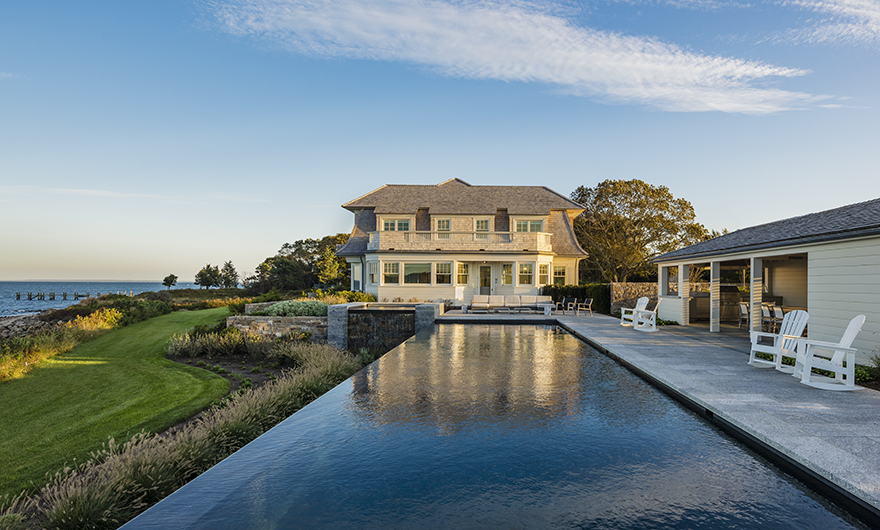 The long lap pool was plastered in a dark finish to reflect the open ocean sky and vanishes over a stone edge towards the water. A raised spa in the distance juxtaposes the local stone color with a lighter granite and becomes a focus feature when its infinity edge is running.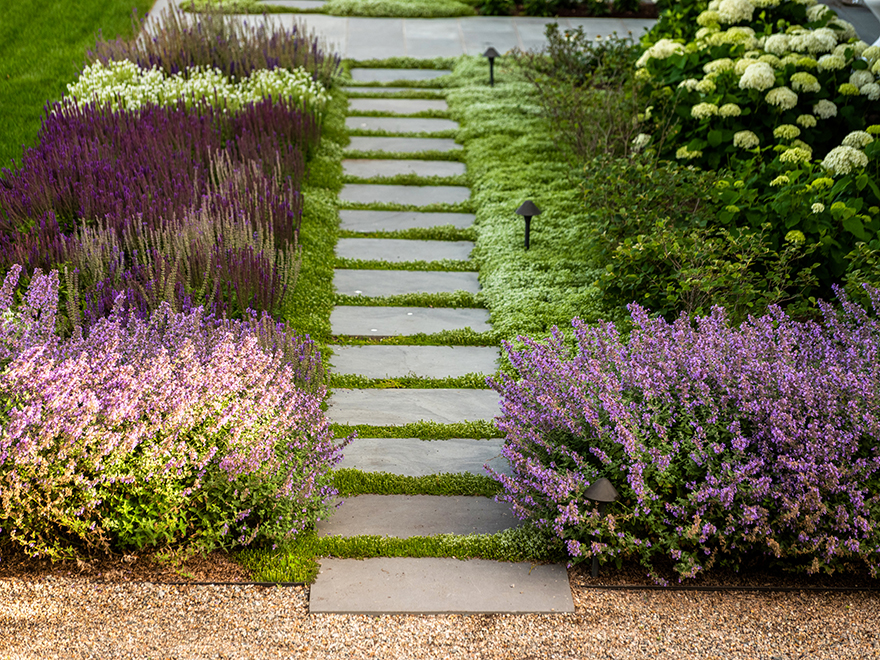 Purple catmint and salvia are organized around a bluestone walkway leading to the front door. Extending the color of the season, blooming white Annabelle hydrangeas last from summer through early fall.
Collaborators
Architect: DSK | Dewing Schmid Kerns Architects
Builder: Parker Construction
Landscape Architect: Gregory Lombardi Design
Landscape: R.P. Marzilli & Company, Inc.
Writer: Bella diGrazia
Photography: Neil Landino; Anton Grassl; Holly Charbonnier