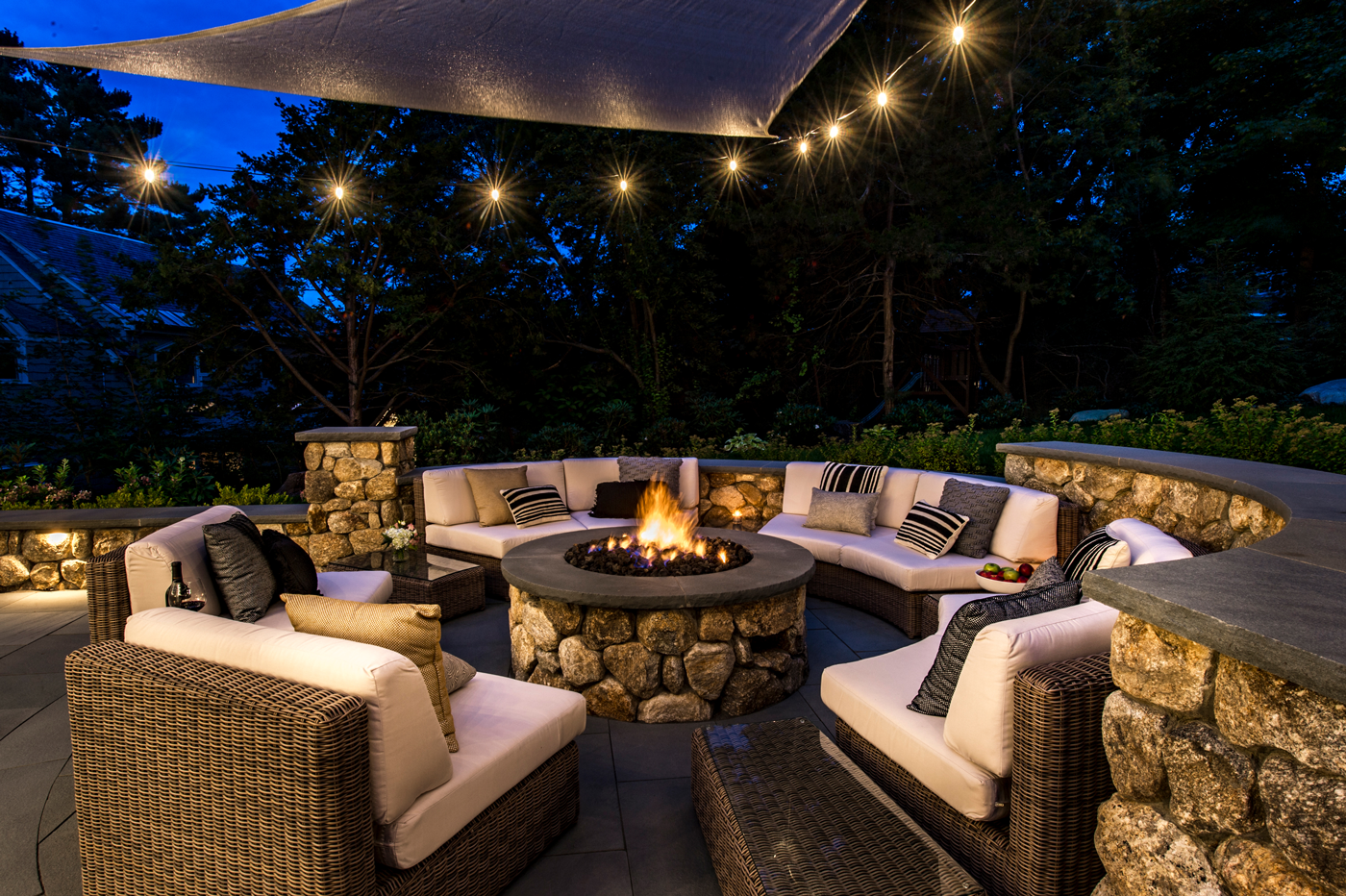 String lights and an enclosing wall create an intimate outdoor space in this firepit from The MacDowell Company perfect for cozy fireside chats. 
Outdoor firepits are a New England staple, but how do you choose one with the
right features, materials, and design for your backyard?
Have you ever looked at your backyard and wished you could capture that beautiful sense of tranquility, warmth, and luxury that you've always envisioned for your dream outdoor living space? It can be hard to know where to start, but if you're committed to transforming your outdoor space into a welcoming oasis in any season then we suggest looking no further than an outdoor firepit.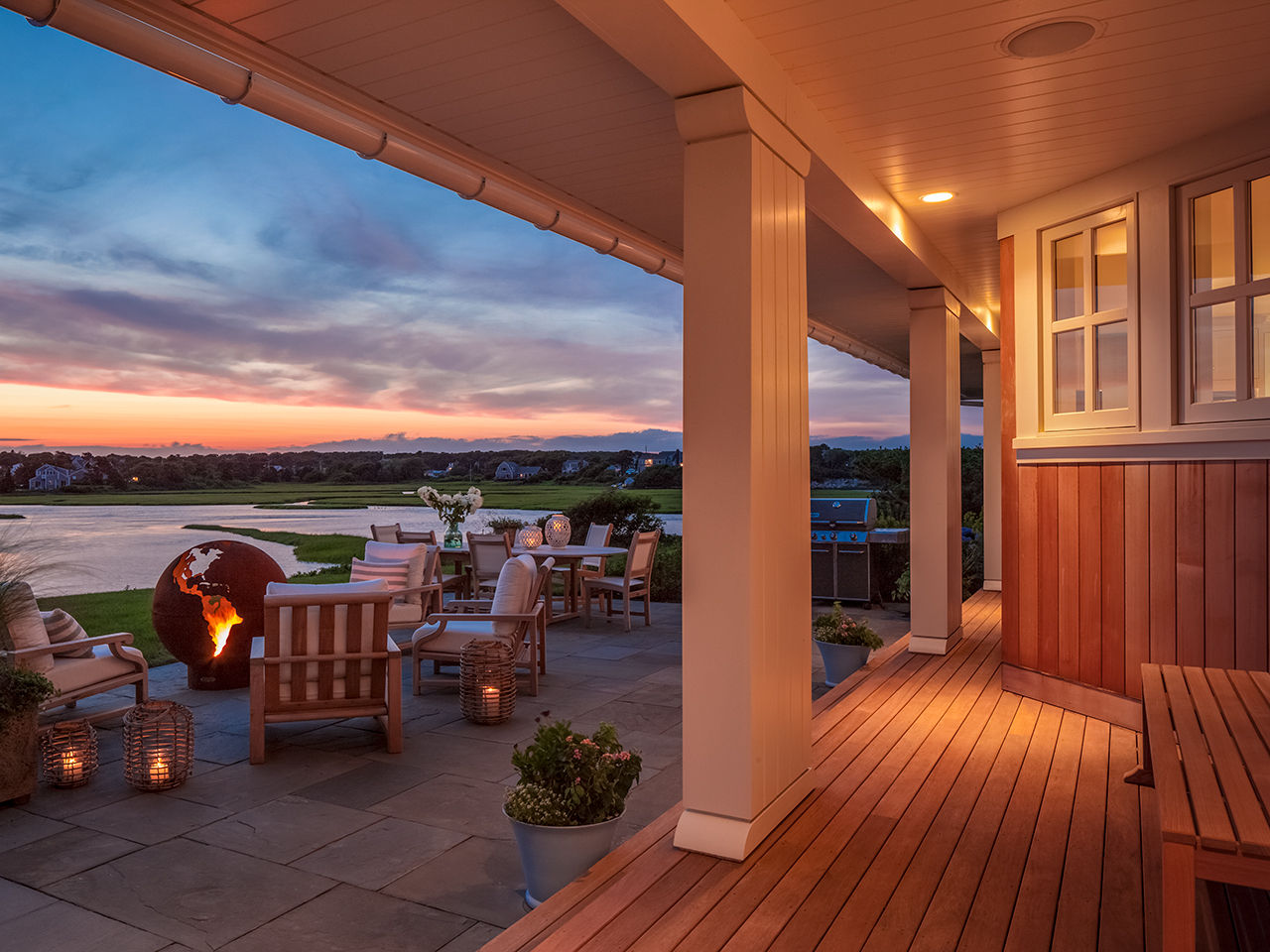 Opt for a unique firepit design like this custom globe by Polhemus Savery DaSilva Architects for a backyard statement piece.
Often overlooked for the glamour of pools or outdoor kitchens, a firepit outdoors can be the perfectly elevated and simple touch your backyard needs to shine and bring an inviting ambience into an empty space. Each backyard will bring its own challenges in choosing your optimal design, but we suggest taking a look at these amazing projects for inspiration and innovation to suite your home's needs.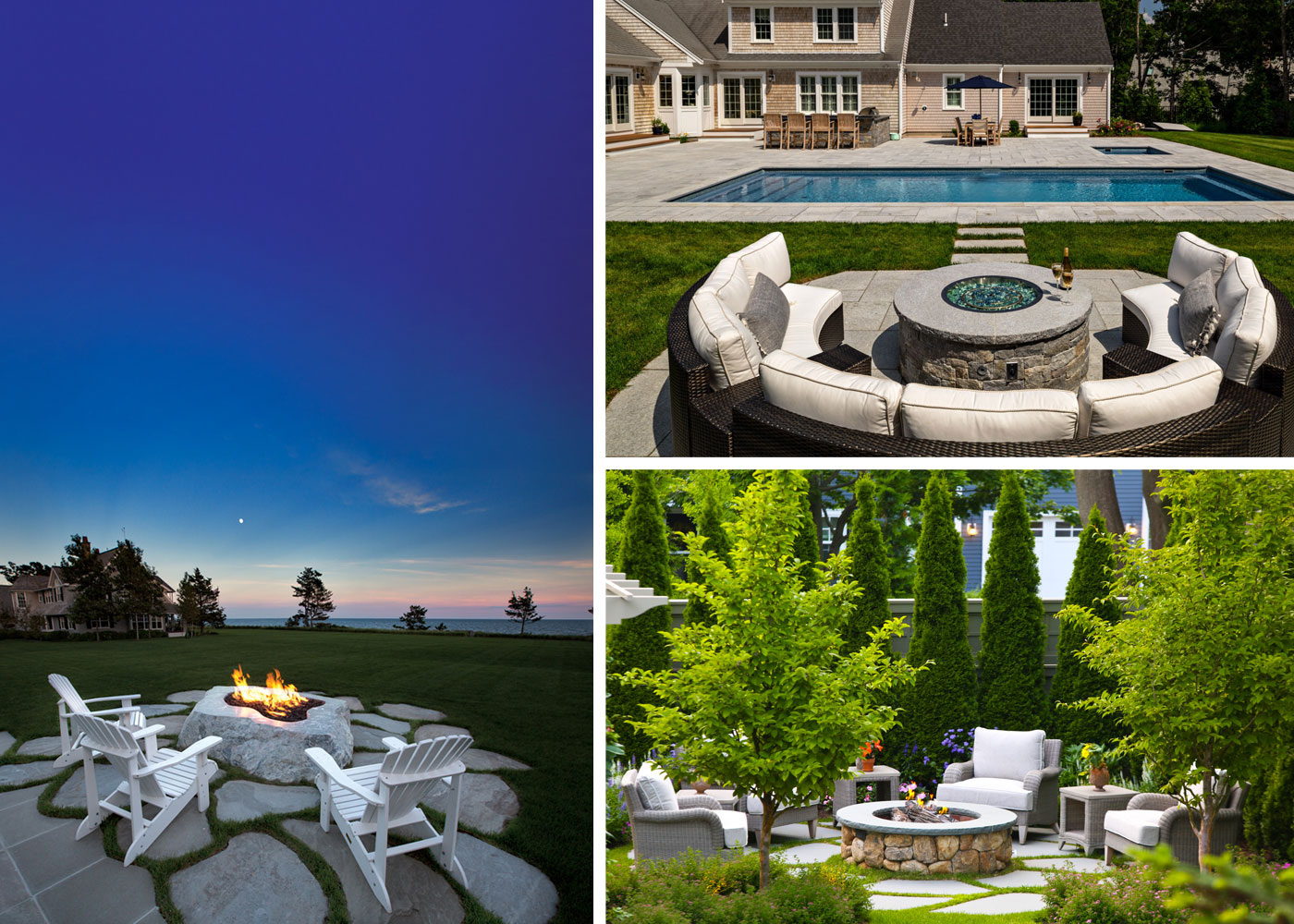 No matter the size of your backyard, defining your firepit with a stone "rug" like these firepits from Schumacher Landscaping, McPhee Associates, and F.H. Perry Builder can help bring a sense of intimacy to your space.
1. You've got the space, but don't know how to define it.
Sometimes what we lack for is not the space to grow but the right inspiration to bring it together. If you've got ample room in your backyard for a beautiful firepit, we suggest starting by defining the space with a material that will act as a focal point for the design. Just as you would design a room, start by choosing a stone to serve as a "rug" or key feature in your firepit design, and build out the rest of the space from there. Add a touch of elegance by grading it into the landscape with stone steps!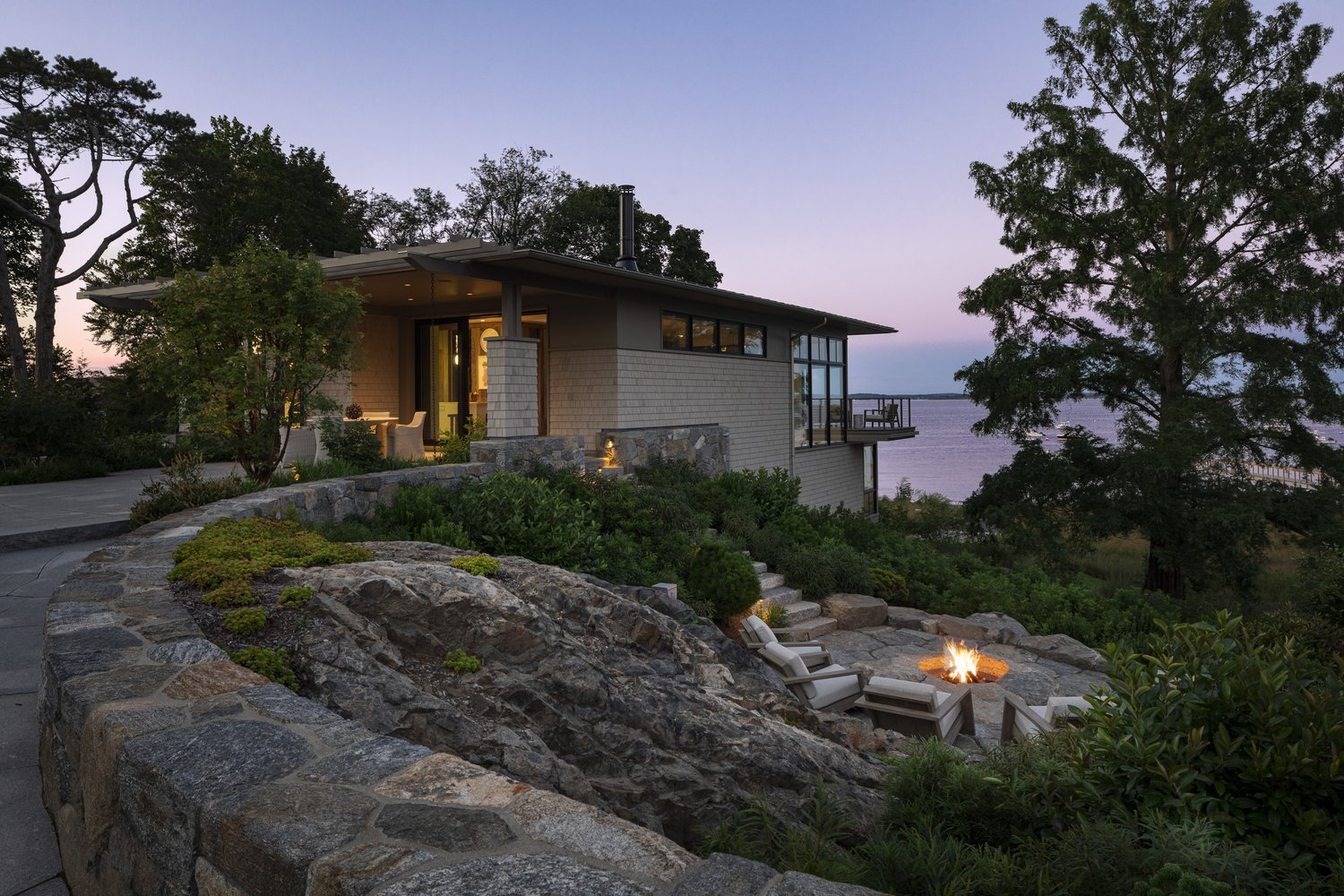 Stone steps leading down to this inground firepit by Kevin Cradock Builders not only creates a sense of space outside the home but also showcases the natural beauty of its surroundings.
2. Your views are to die for, but you don't know how to design an outdoor space to match.
Sometimes we can feel overwhelmed by the need to create a design that's as stunning as our ocean-front views, but if your view is the star of the attraction, build your firepit design to showcase it! Create a space that is simple, comfortable, and lets the natural beauty of your home's views be the star. We suggest natural textures, comfortable pillows, and a firepit that adds a subtle touch of beauty with glass or heat-proof rock accents.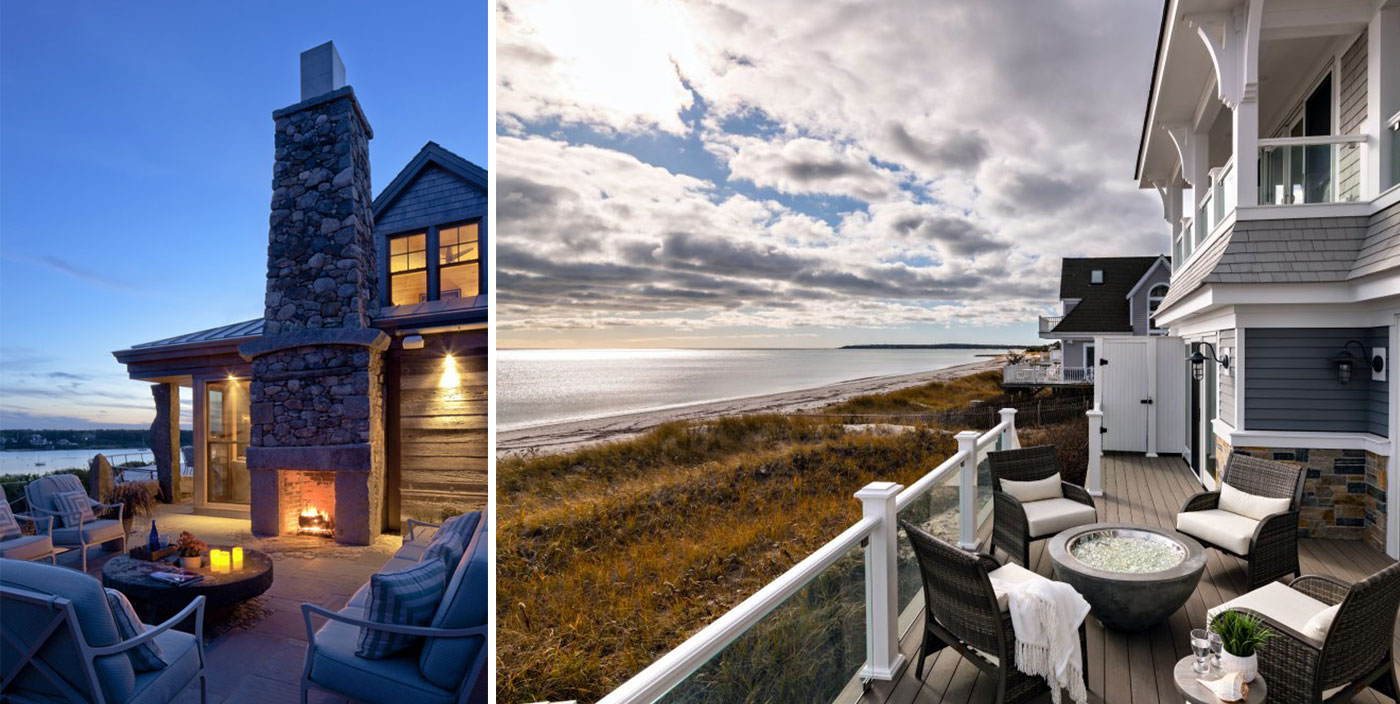 Views are the star for these firepits from Hutker Architects and ERT Architects that feature coastal accents and a subdued palette.
3. Space is at a premium for your backyard, and you want to make sure every bit goes to good use.
Not to worry! Adding a firepit to your outdoor space can be a great way to utilize the space you already have, and can even be a nice accompaniment to your existing outdoor features. If you've already got an outdoor kitchen or shower and want a firepit to match, utilize the space nearby those areas by including a portable firepit or keeping it intimate with an outdoor couch, so your space is both cohesive and multi-use. Bonus tip: choose furniture that can double as storage for your outdoor equipment such as hollow seating or trunks to make the most of your outdoor space!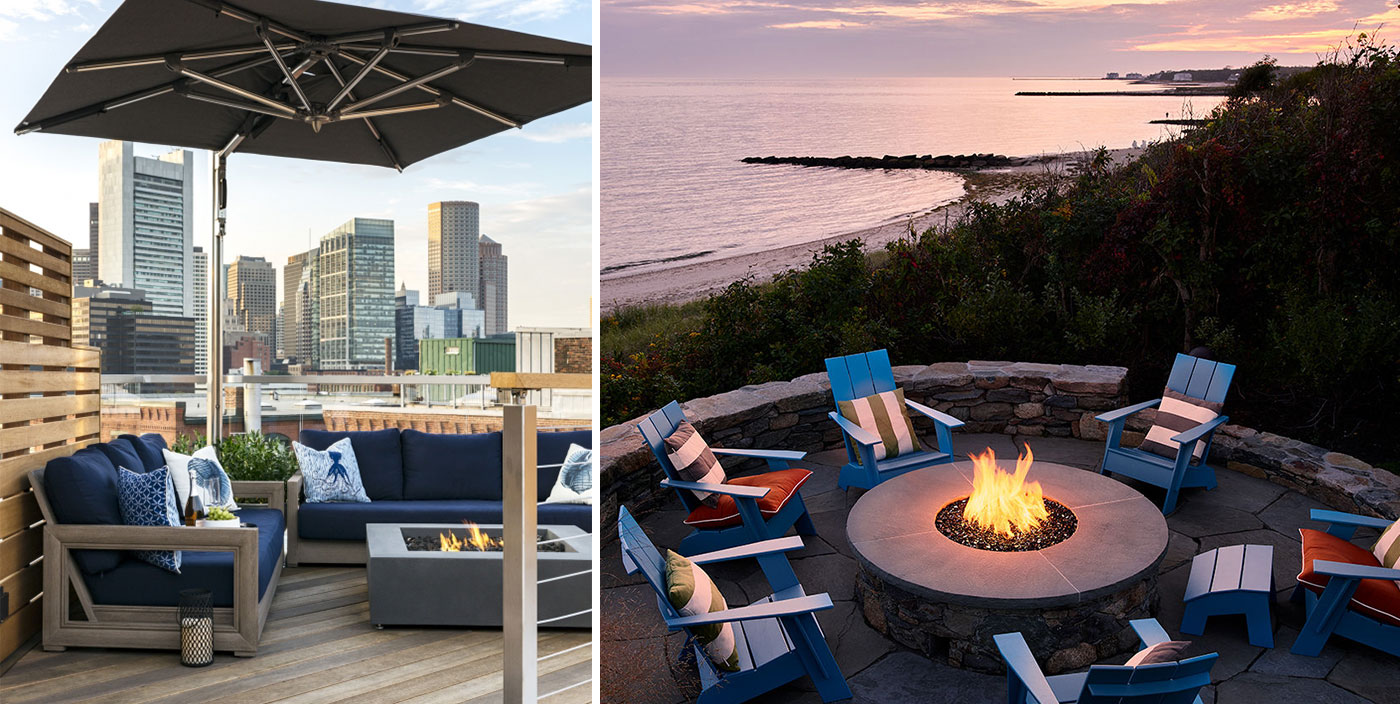 Whether you're in the city or on the coast, building a firepit like these from LDa Architects or Polhemus Savery DaSilva Architects that can withstand cooler temperatures and gusty breezes from the water is always a good idea to make your outdoor space comfortable in any season. ​
4. You live in New England and, well, planning for the weather can be unpredictable in any season.  
Trust us, we know. Planning an outdoor space that will last in all-season weather is easy when you're in a consistently balmy climate, but when outside can go from below freezing, to rainy, to bikini weather in under a month, what do you do? One of the things we love about outdoor firepits is that they really can be a great place to relax in any season, so when you're building your space keep this in mind and choose materials that are hardy in a range of outdoor weather. You can also add season-specific elements like portable heat lamps or a cauldron-style firepit that will burn wood more slowly to provide warmth that will last on extra-chilly nights.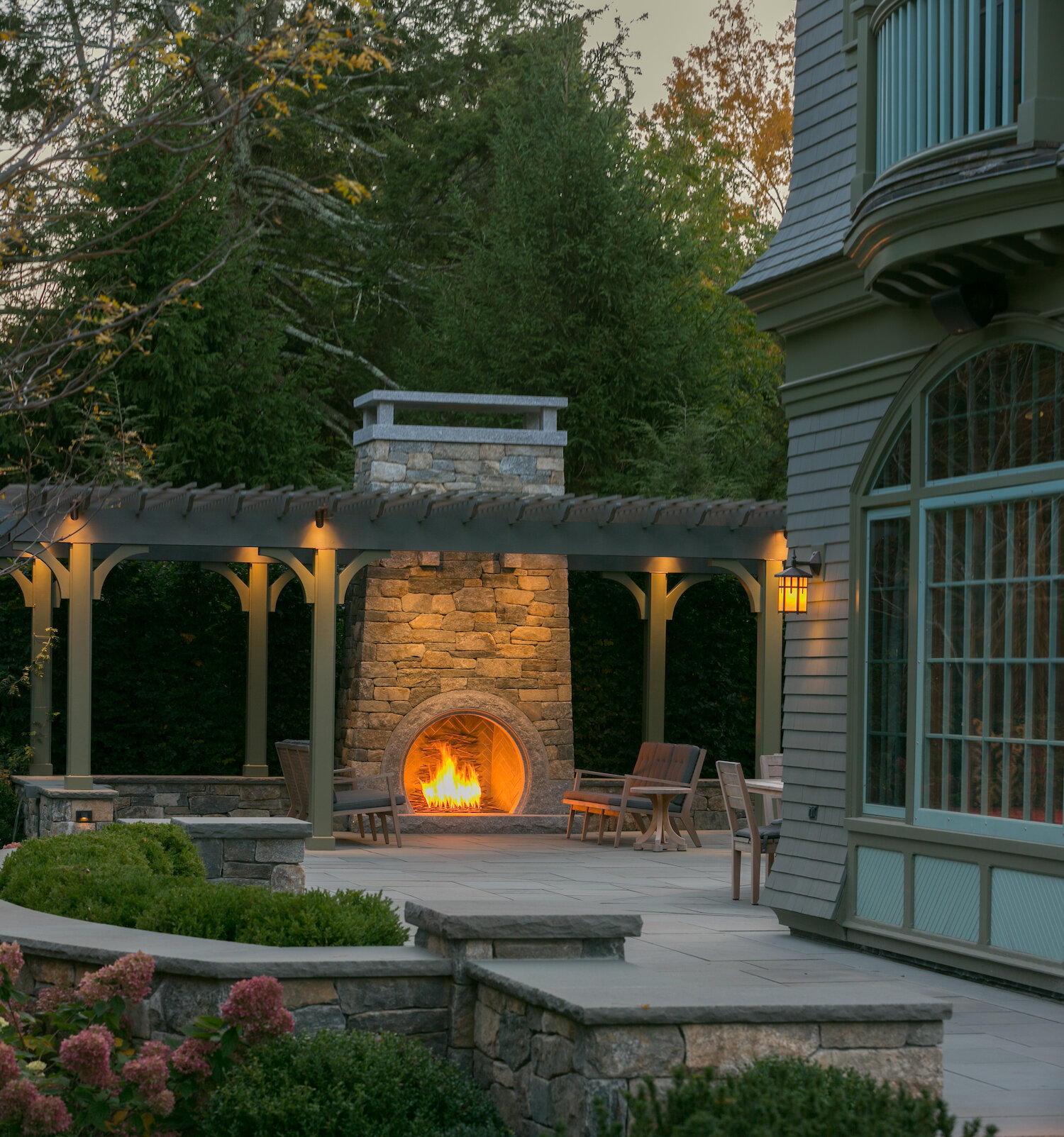 A round stone opening with a custom pergola makes this firepit from R.P. Marzilli and Company truly an inspiring architectural addition to the home. 
5. You've reached the end of this blog post and still don't know where to begin.
Hey that's okay! The beauty of an outdoor firepit is that your imagination is the limit. Only you will know what will work best for your home, which is why we suggest checking out the great experts whose work we've showcased at their websites below. Maybe you want to build an outdoor fireplace as an extension to your home (bonus: they heat the inside too!), or you want a custom design that will add something special to your dream outdoor space (if you're thinking swing furniture, we absolutely agree!). Whatever it is, embrace your design as a love letter to your home and your family's many memories to come and create an outdoor space that is perfect for you.
F.H. Perry
LDa Architecture & Interiors
ERT Architects
Hutker Architects
Kevin Cradock Builders
R.P. Marzilli
McPhee Associates of Cape Cod
Schumacher Companies
Polhemus Savery DaSilva Architects
The MacDowell Company