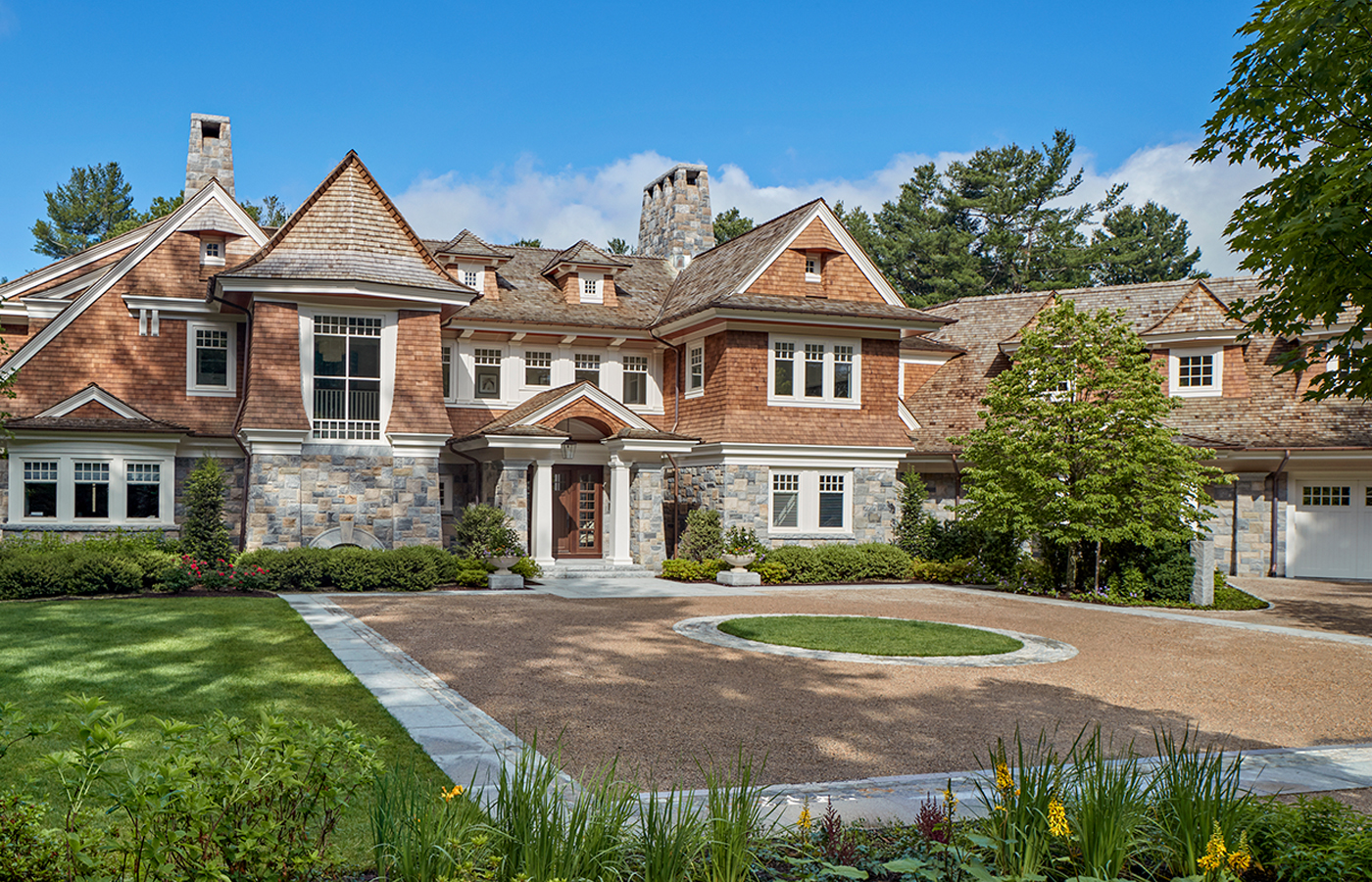 In the heart of Wellesley, this classic New England shingle home feels like a private resort. From the start, the goal was to create a comfortable hub where large groups could gather, and also offer spaces for individual respite. This home has everything--from a basketball court, rock-climbing wall, movie theater, home gym and golf simulator to a back-yard spa. Situated on a lush plot, the home is commanding, half Western Red Cedar shingle, half New England Fieldstone, with three massive stone chimneys, copper trimmings and terraced gardens.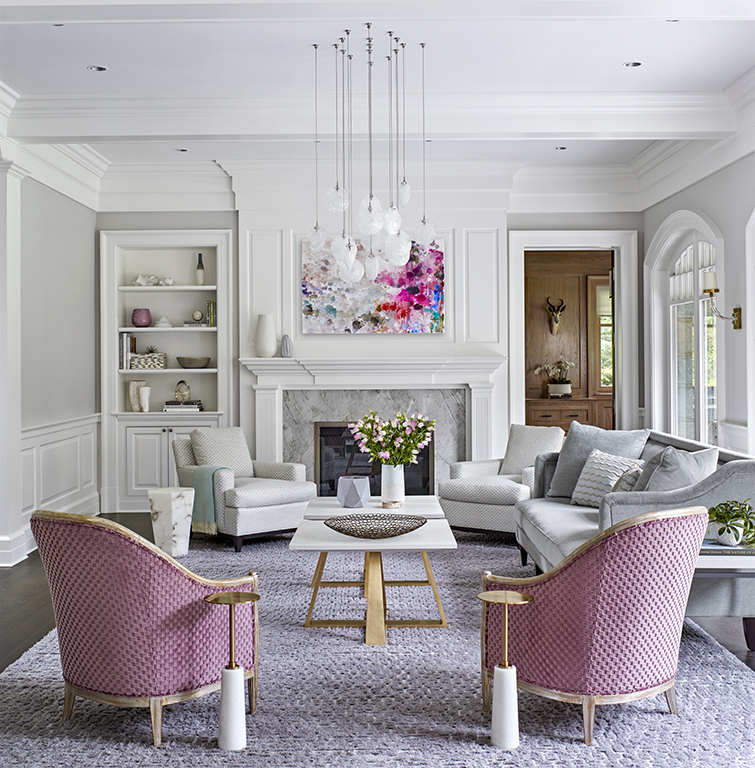 The elegant architecture and landscape were designed synergistically, creating an oasis for the homeowners, their three children and extended family and friends. The owners had a clear vision and passion for design, and assembled a dream team to make it happen. This included Shope Reno Wharton, KVC Builders, Jennifer Palumbo Interior Design, and Gregory Lombardi Design. "On a successful project, everyone carries each other across the finish line," says Michael McClung, lead designer and Principal of  the nationally acclaimed architecture firm Shope Reno Wharton. Jim Koulopoulos, owner of KVC, also notes the great collaborative energy of the team, and the seamless integration of everyone's ideas.
The project was rich in detail, with extensive millwork, custom built-ins, elaborate ceilings and European-style Tilt-and-Turn windows by Tischler und Sohn. There is a gentle flow and cohesion between rooms, yet each space has its own distinct character.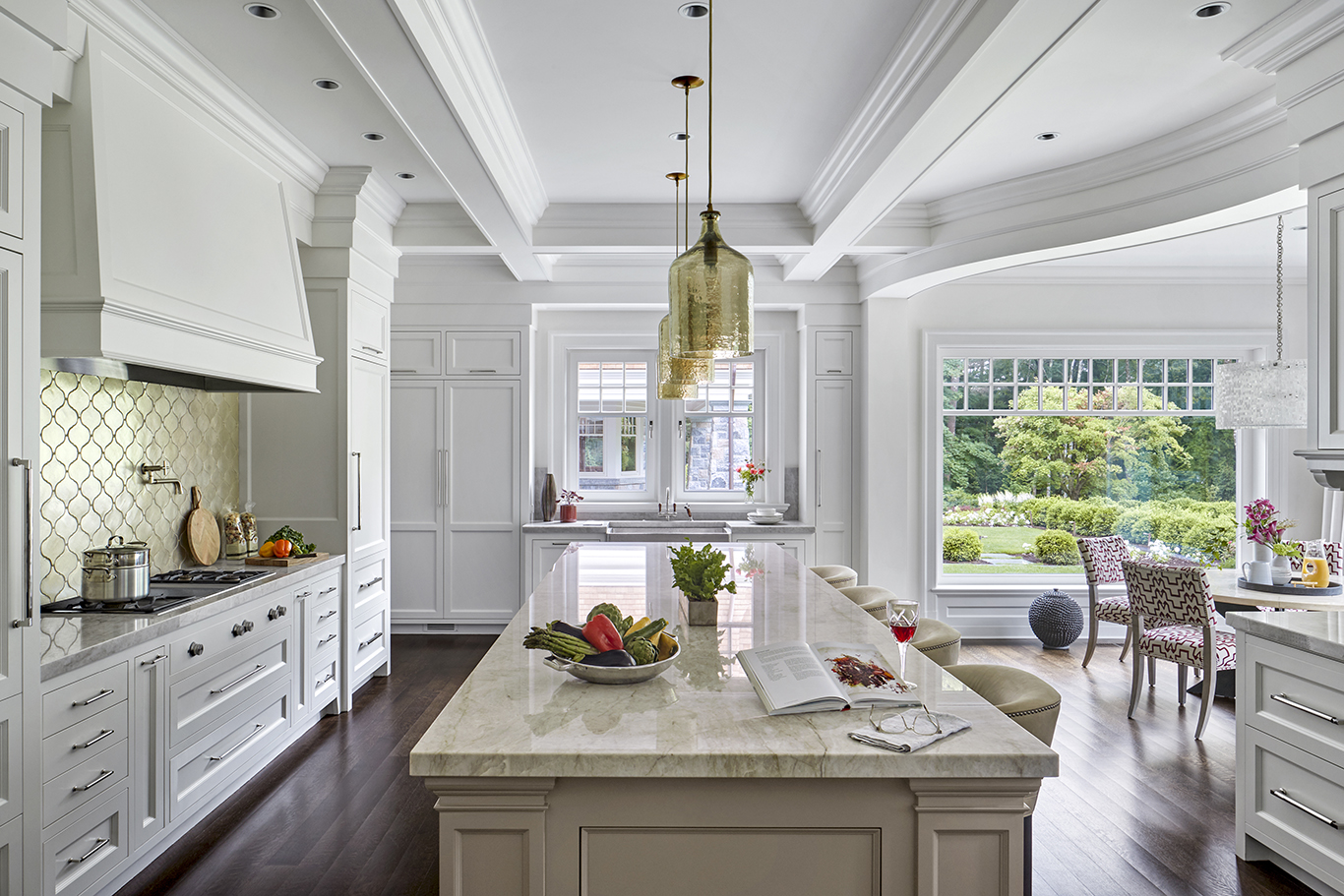 Abundant in architectural detail, the bright, open kitchen offers an expansive garden view and enough seating for family and friends. Comfy lounge areas were a must for this family and, although the overall vibe of the home is sophisticated, it's also welcoming. Soft textiles and a fireplace make an elegant room cozy.
Interior designer, Jennifer Palumbo, and team injected color in mindful doses, amidst a serene palette of earthy neutrals. The energy of the space is clean and fresh with subtle shimmers of gold and silver, and the occasional vibrant punch of color and pattern. "Our goal for the interior was to acknowledge the stately architecture with elegance, while keeping the spaces approachable for family living," says Palumbo. Organic textures like reclaimed wood and stone lend warmth, while specialty materials (a leather wall, for instance) give the home sophisticated personality.  Palumbo continues, "It's a treat when we can collaborate with such a strong professional team and engaged clients."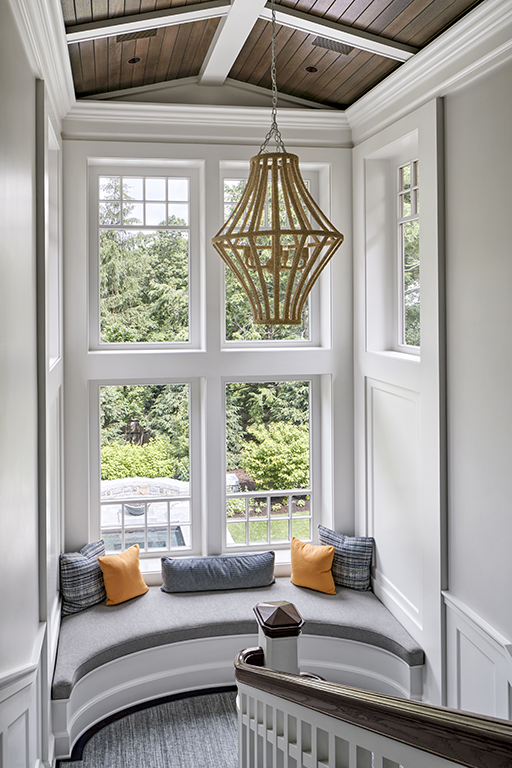 A top priority for the residents was for the kids to have study and reading spaces, plus comfortable areas to hang out with friends. Each of their bedrooms has a study nook, and the entire lower floor is a massive recreation space, inviting hours of play. The home gym walks out to a year-round outdoor spa, with a jacuzzi pool and fire bowl. One of the most impressive parts of the house though, is the covered patio area, with its dramatic fireplace and a heavy duty porch swing suspended from a spectacular fir ceiling.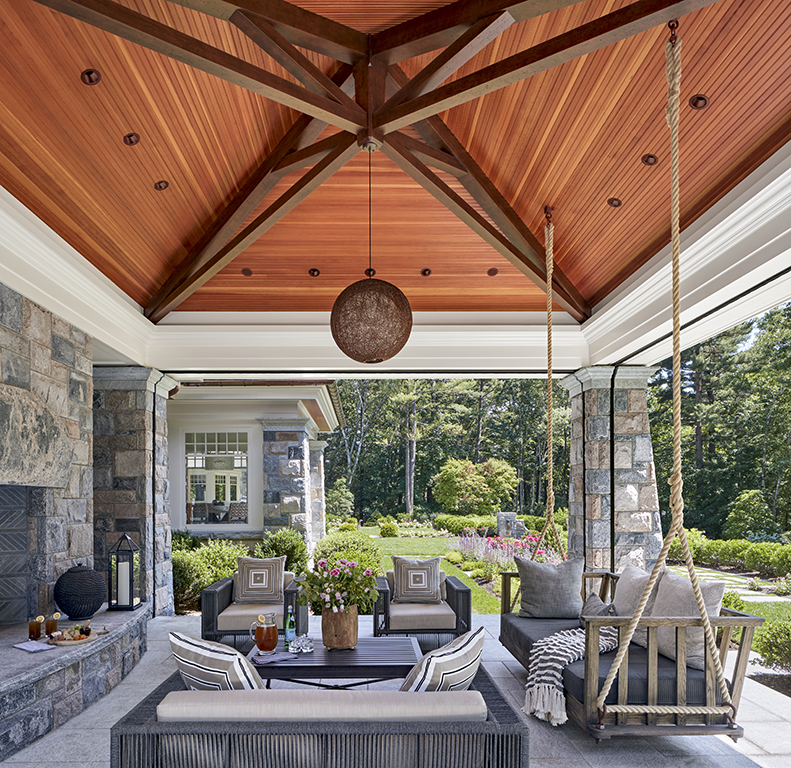 Architect Michael McClung of Shope Reno Wharton collaborated with Landscape Architect Troy Sober of Gregory Lombardi Design for the terracing need to integrate an indoor basketball court/gym/rock-climbing wall into the existing landscape. The entire lower level of the home is devoted to entertainment, including a movie theater and golf simulator. The outdoor patio has a magnificent, soaring fir ceiling with wood-panel detail and a New England Fieldstone fireplace.
Landscape architect Troy Sober, Principal at Gregory Lombardi Design, considered every view from inside the house when creating garden vignettes outside. The stair tower overlooks the spa garden, a breakfast nook looks out over a sea of roses, and the sizable window in the dining area offers a view of vibrant cutting gardens and a gorgeous Japanese maple.
"This property is a complex piece of land," Sober says, "and the house was designed to settle into that topography. It was kept hidden behind the existing mature woodland edge, preserving the original driveway entrance and the natural character of the neighborhood." Two custom lanterns flank the driveway, lending old New England charm. Terraces take advantage of the gradation of the property, the lower level serving as a playfield for the kids. So far, mission accomplished: there's always something fun to do or a peaceful spot to unwind, and guests want to stay indefinitely.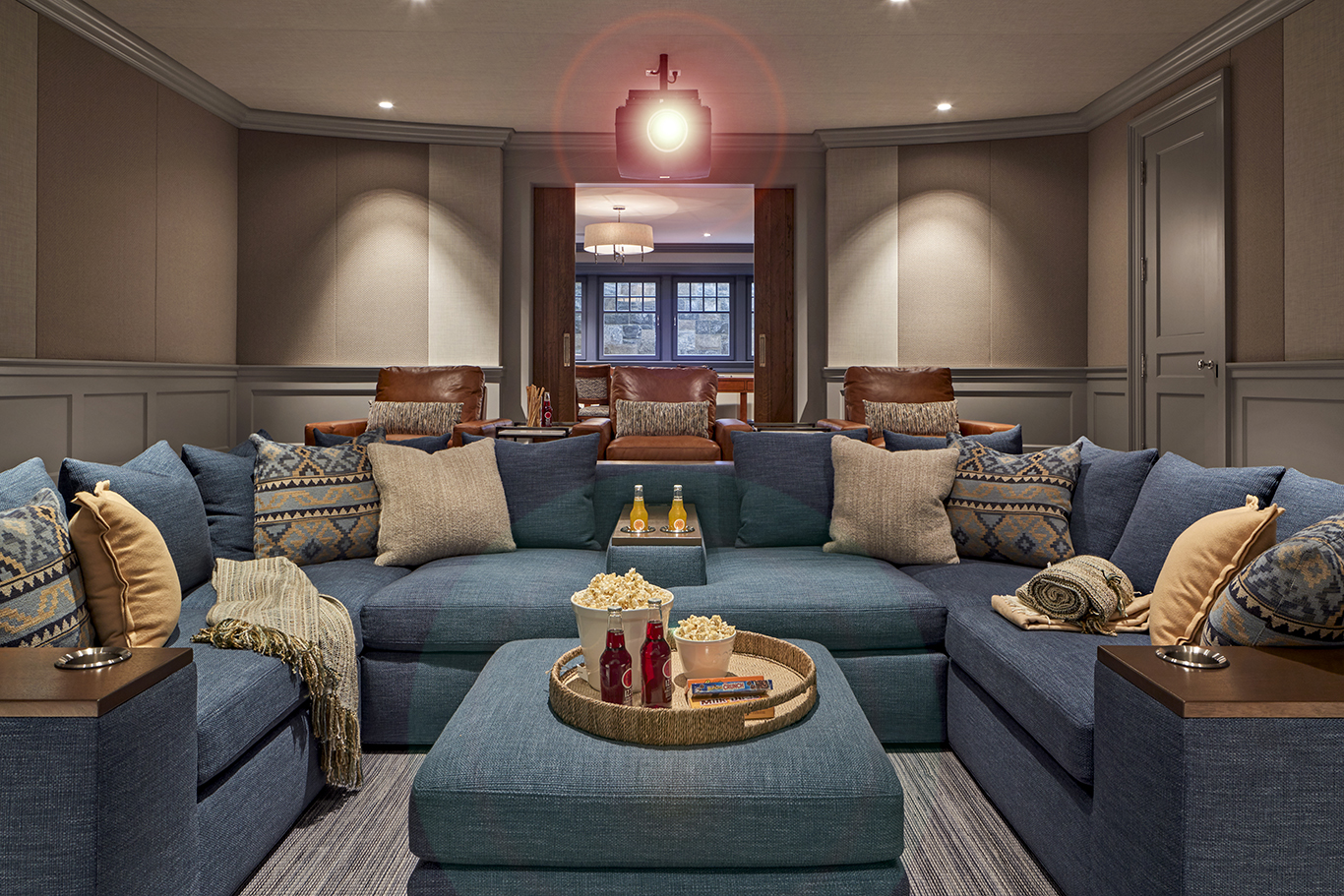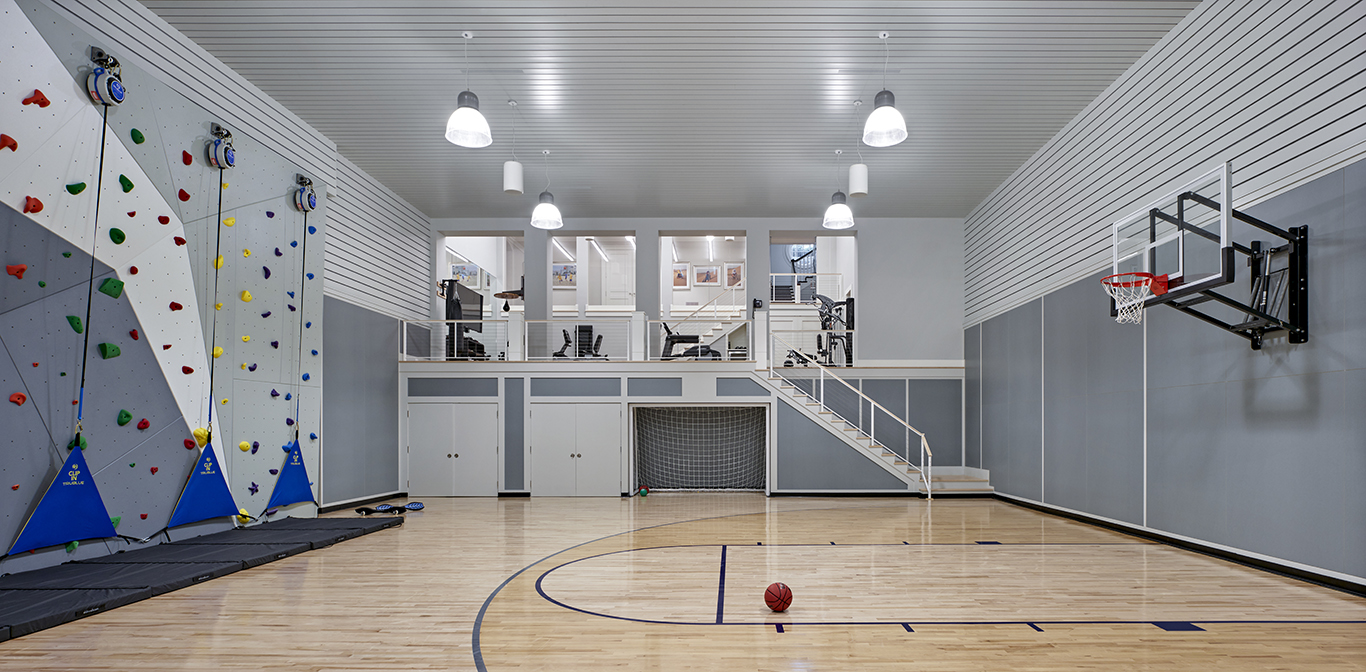 A door from the gym leads down the path to an outdoor spa. A jacuzzi wading pool is surrounded by gardens and feels like its own private island. Terraced lawns work with the natural topography of the plot. The plant palette indicative of finer MetroWest neighborhoods highlights the outskirts of this property then reveals more unique and ornamental landscape as you move inward toward the house.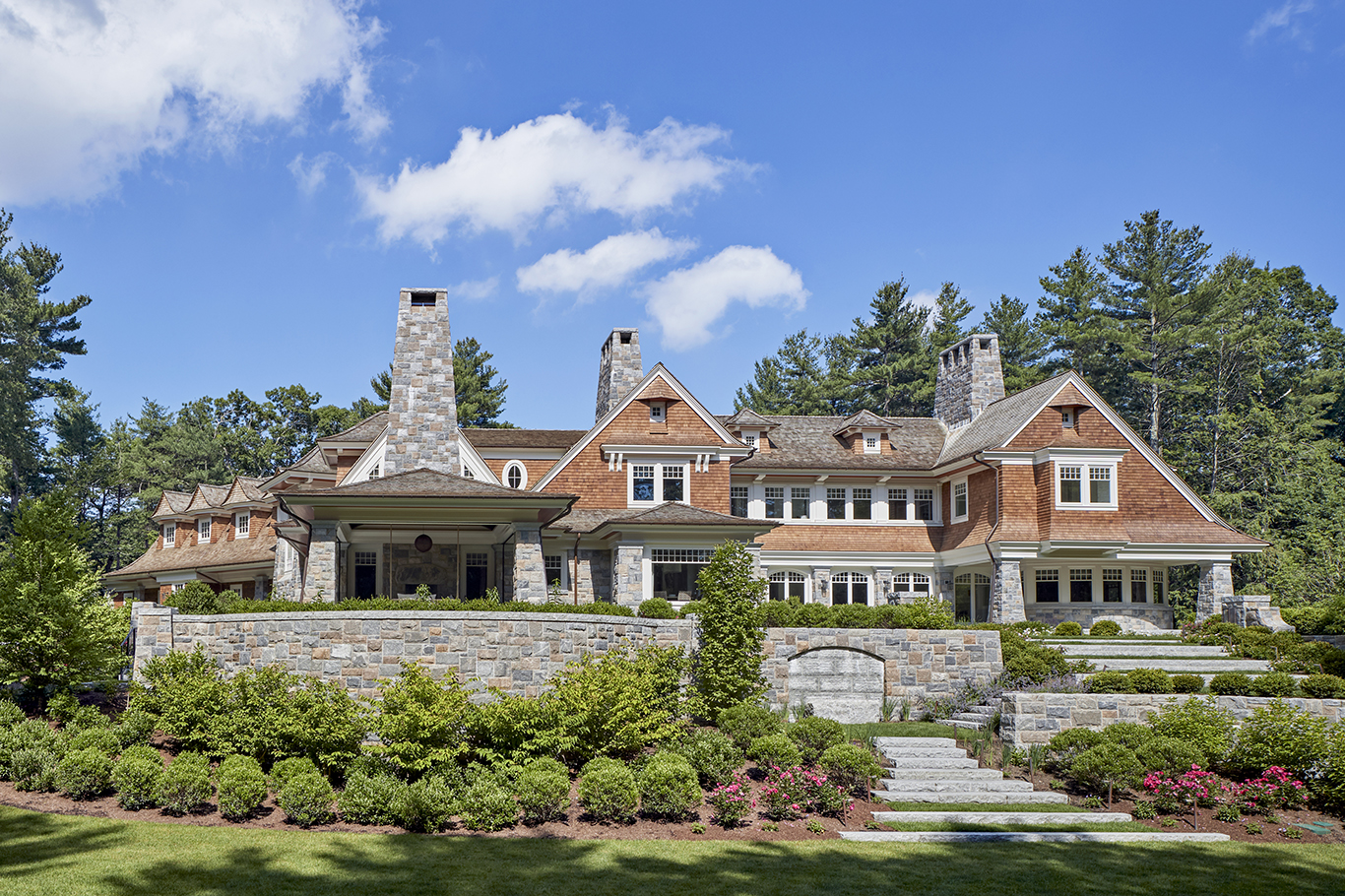 Collaborators:
Architecture: Shope Reno Wharton Architecture
Construction: KVC Builders
Interior Design: Jennifer Palumbo Inc.
Landscape Architect: Gregory Lombardi Design
Landscape: Schumacher Companies, Inc.
Windows: Tischler und Sohn
Writer: Kate Ellis
Photography: Robert Benson