September 13, 2023 | Maddie Brisbane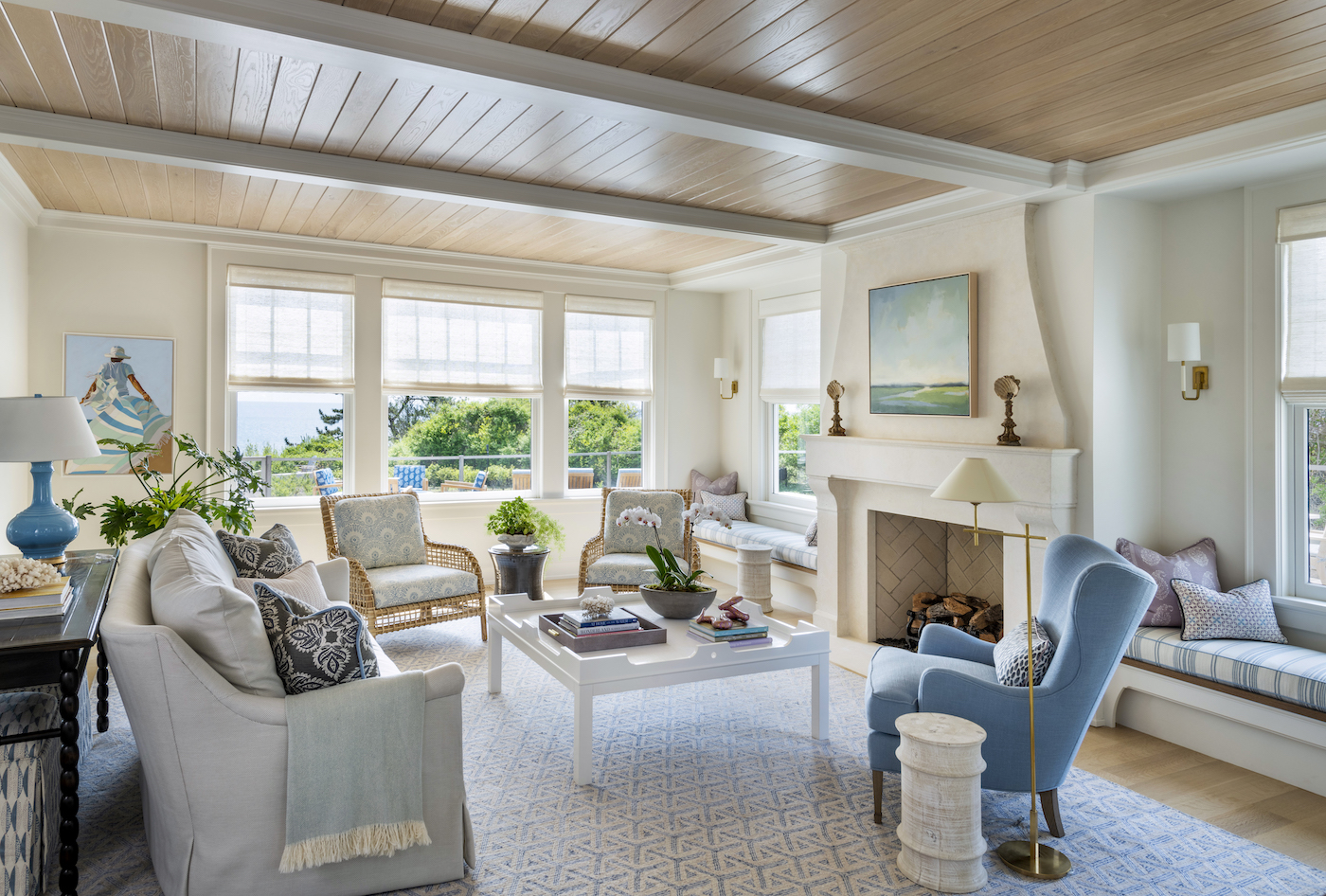 Taste Design and Paul Weber Architecture deliver on a new build in which the finer details make the house a home.
For most coastal homes, comfort and functionality are non-negotiables. While this Rhode Island seaside retreat is no exception, it is beaming with elevated and personalized details, striking a perfect balance between relaxed and refined. "It's a coastal home, but finely finished," says Patti Watson, Owner of Taste Design Inc., who alongside Senior Designer Wendi Dicely-Scalora, conceptualized the home's interiors, with Paul Weber of Paul Weber Architecture spearheading its structural overhaul. With a team assembled early on, the home was artfully designed and built to enhance its functionality and atmosphere, while illuminating the rugged coastal beauty that surrounds it.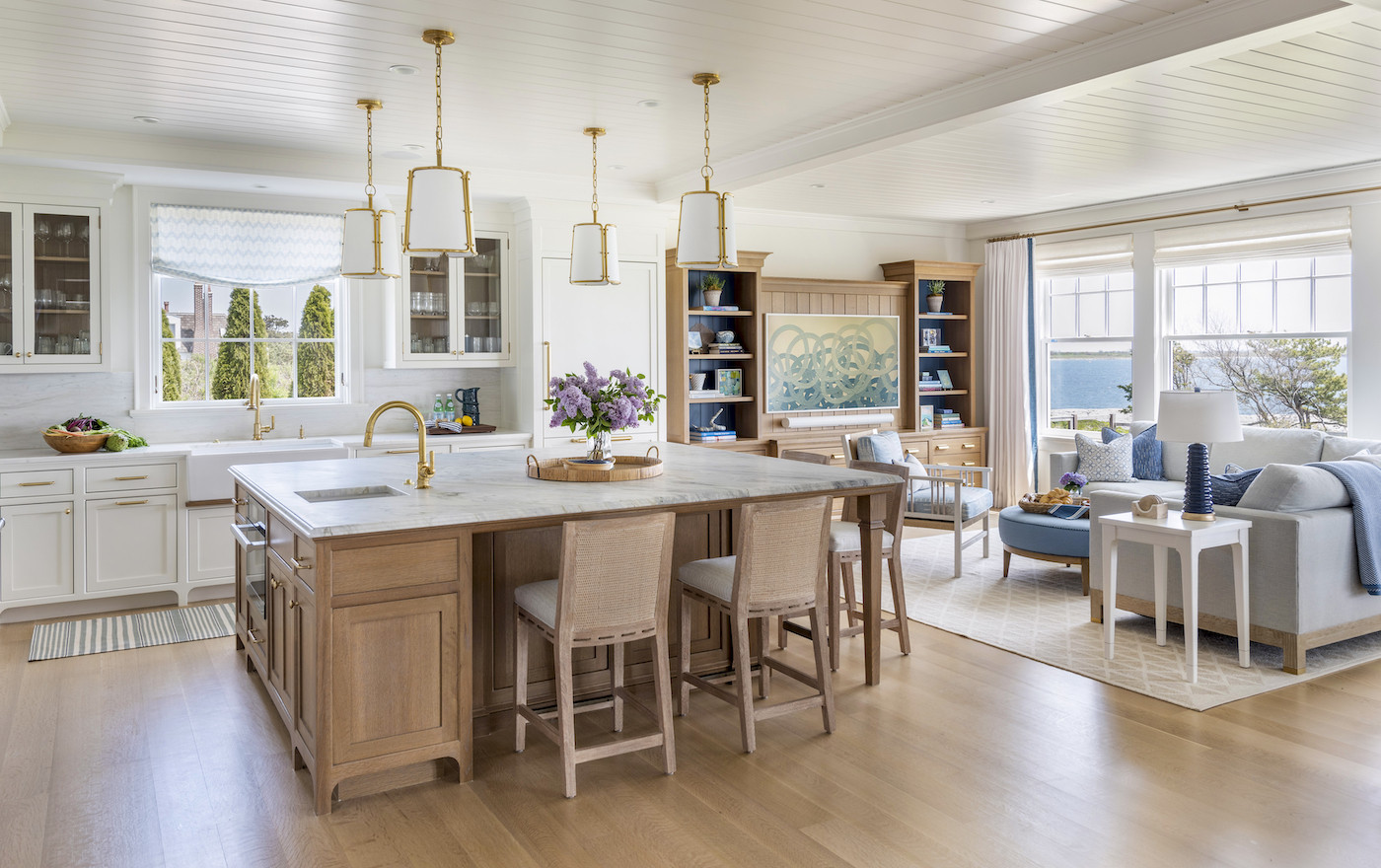 (Photographer: Nat Rea)
The essentially all-new construction also enabled bold ideas. "The biggest gesture was the swapping of the kitchen and living room," Weber notes, the former of which found its new home on the east side of the house, offering breathtaking views toward Sachuest Beach. "Ultimately it better accommodated the client's program as well as the home's overall footprint." says Weber. Running with this scheme allowed for a family room extension off of the kitchen, as well as an elegant pantry space with a striking view.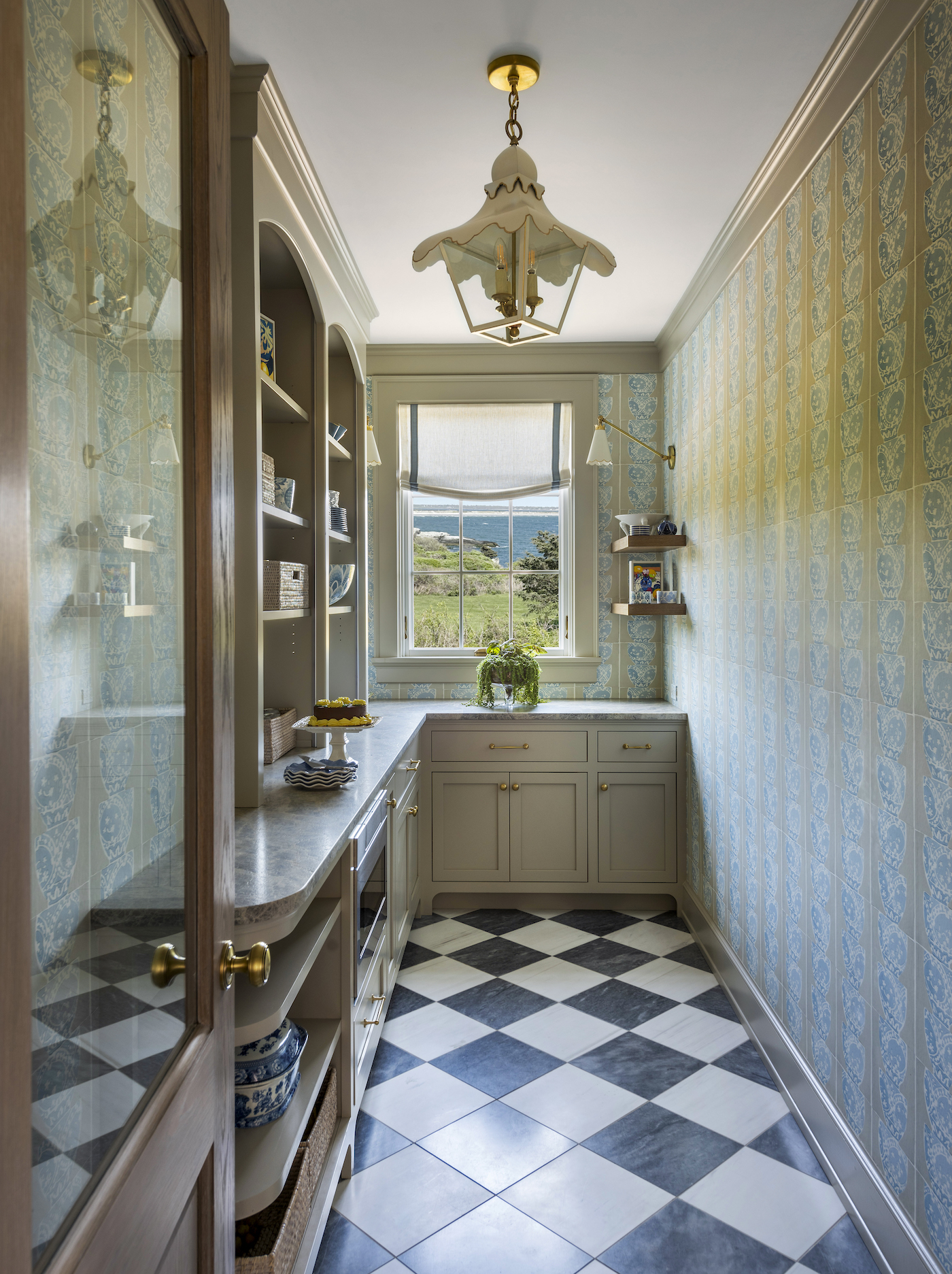 (Photographer: Nat Rea)
Bridging the kitchen and living room is a dining area that seamlessly transitions into a screen porch through accordion doors, enabling indoor and outdoor dining versatility.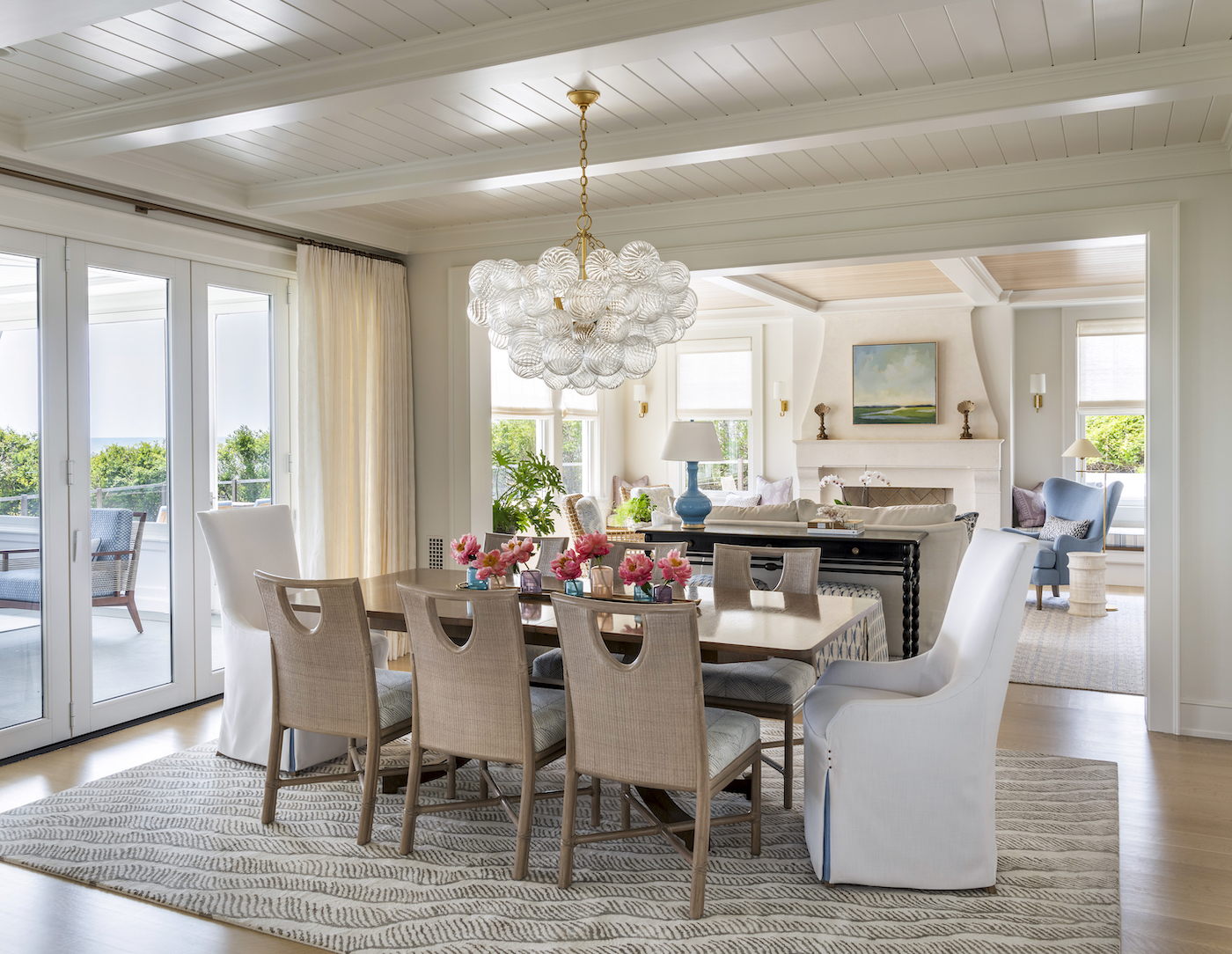 (Photographer: Nat Rea)
The screen porch features radiant heat, integrated drainage, and blue stone floors that extend onto the pool deck. The three-season room is multifunctional, serving as a favorite work-from-home space by virtue of a versatile dining table that doubles as a desk overlooking the sea. "There is a lot of flexibility built into the house to set the stage for future possibilities," says Watson.
(Photographer: Nat Rea)
To that end, tranquil retreat spaces are plentiful throughout the home, with reading nooks and living areas off of the bedroom suites and guest quarters that offer privacy and versatility for the growing family. In addition to guest quarters with a private living area, a chic bunk room with an ocean view of its own allows for overflow.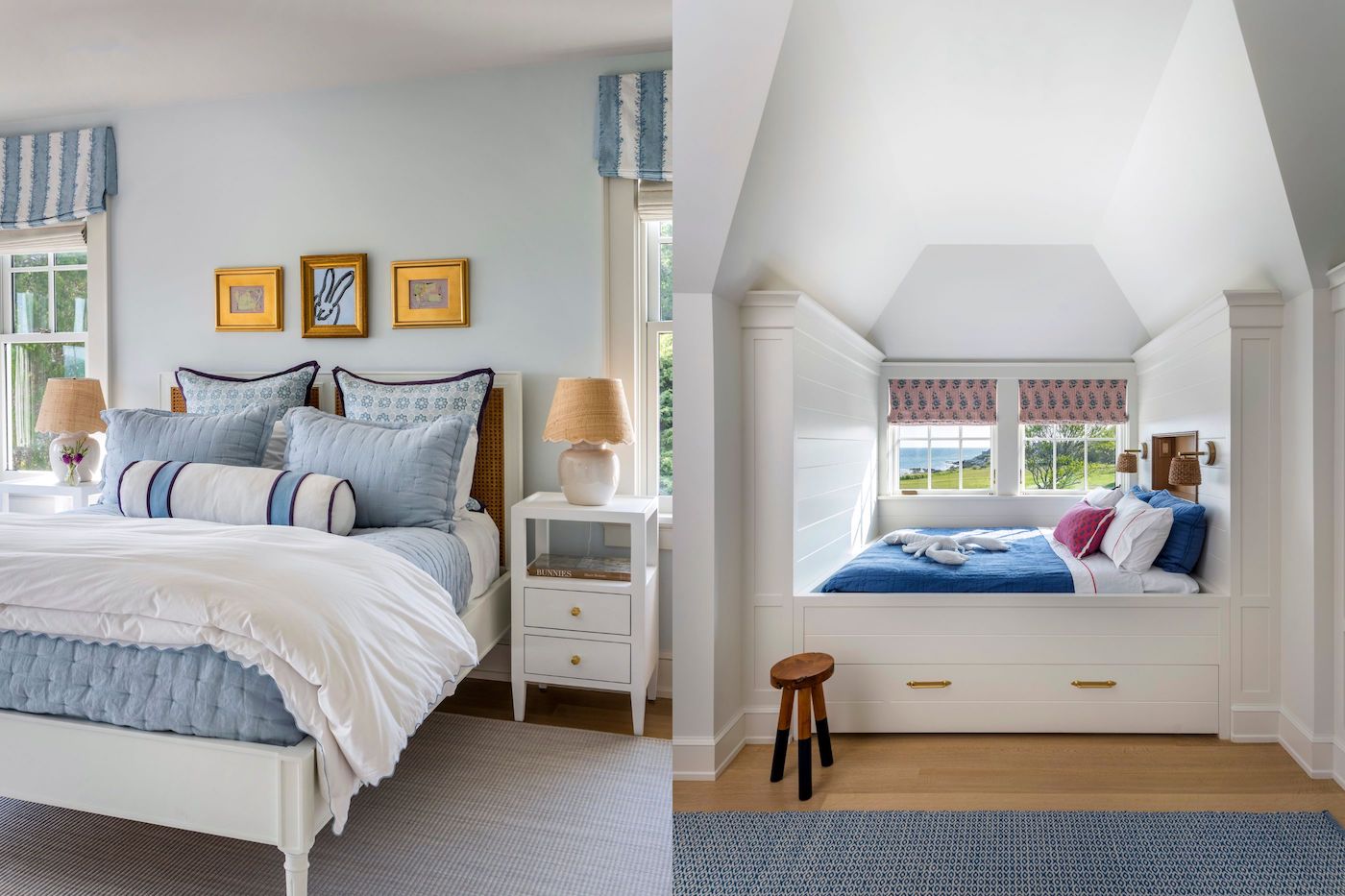 (Photographer: Nat Rea)
On the exterior, Weber paid homage to the original home by incorporating hip roofs, adding character and highlighting the surrounding landscape architecture designed by TL Studio Landscape Architecture and installed by R.P. Marzilli & Company.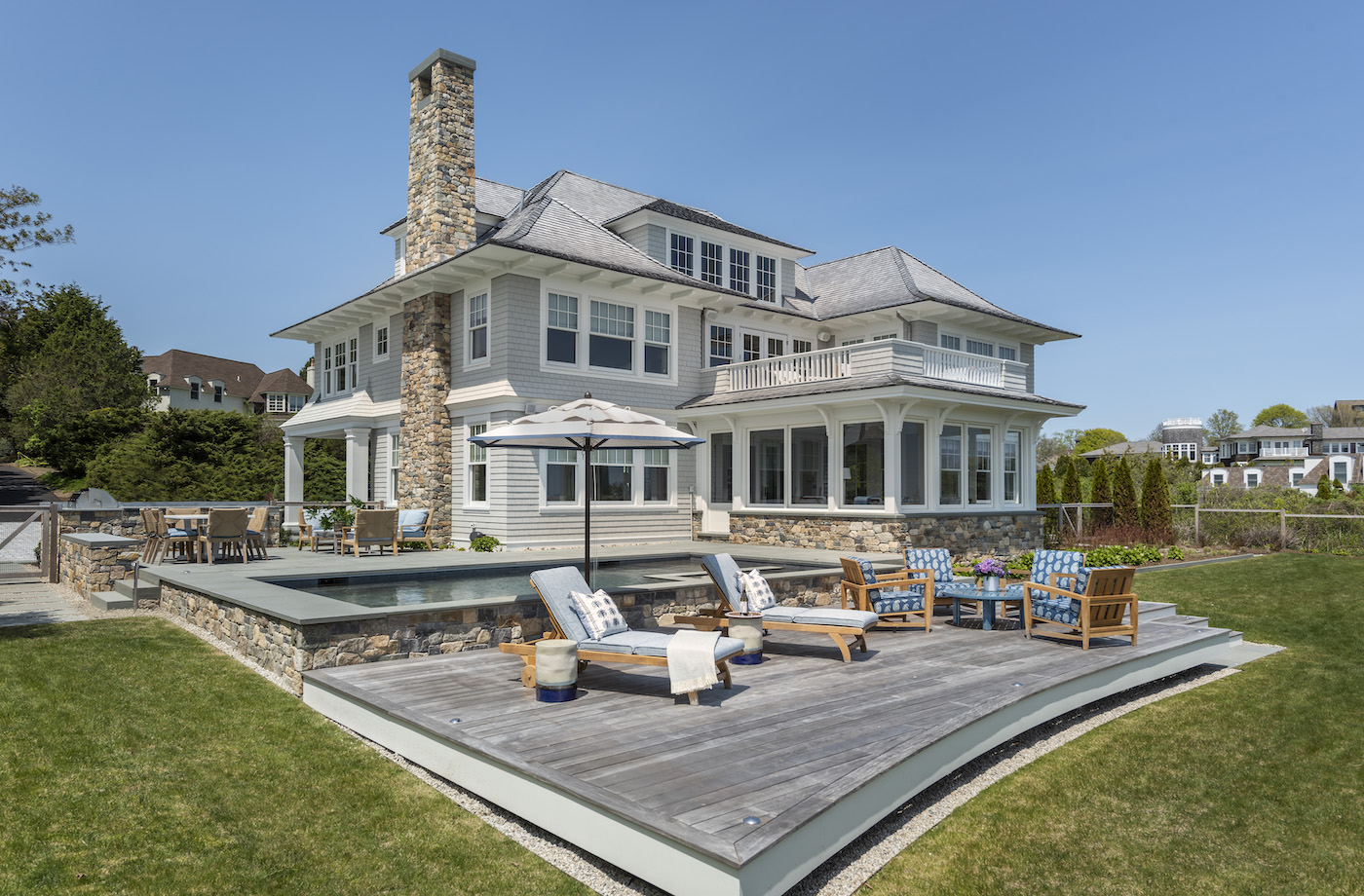 (Photographer: Nat Rea)
In a design that embraces its quiet coastal elegance and integrated adaptability, it's the finer points that truly set the home apart. Sun-washed hues and bleached oak elements throughout contribute to a relaxed atmosphere while effortlessly harmonizing with fine details such as antiques, textured furnishings, statement light fixtures, and block print patterns. "The intention was to infuse a coastal essence without being overly obvious," explains Dicely-Scalora. "We also knew that the base palette needed to be neutral enough to take on the pattern, color, and original artwork that our client loved, while still feeling really serene," says Watson. The living room showcases the use of white oak on the ceiling planks, chosen to create a sense of warmth without overwhelming the space. The neutral backdrop allows intricately textured furnishings, block print upholstery, and muted notes of French blue and lavender to shine. In the center of the living room, a charming French limestone fireplace is framed by cozy window seats that are not just for show, but designed for comfort and functionality. "We spent a fair amount of time sizing the window seats so they were really usable and not just something decorative," Dicely-Scalora recalls.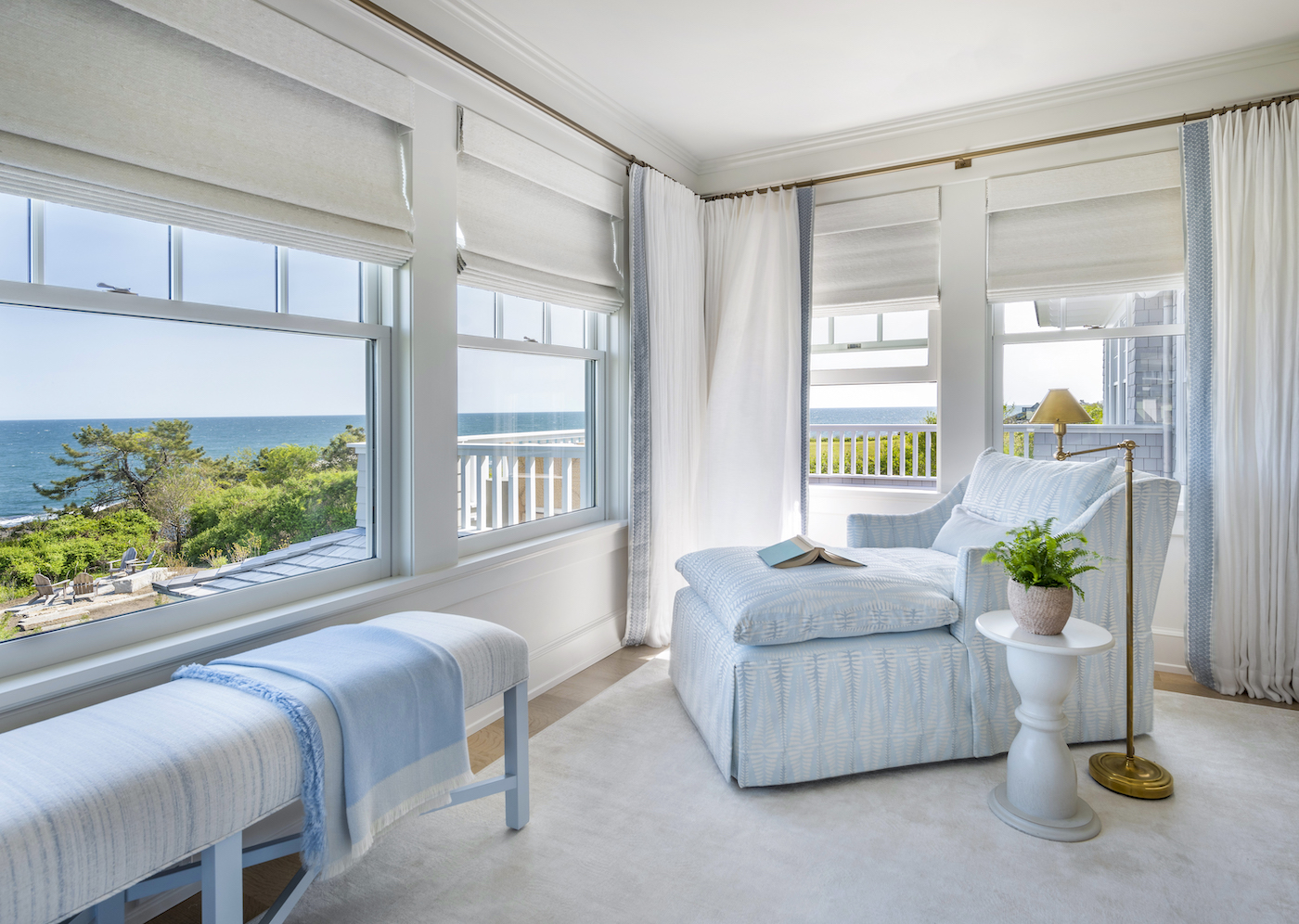 (Photographer: Nat Rea)
The homeowners' beloved collection of original art also served as a guiding light in Taste's design approach. The artwork acts as a muse for the interiors, and vice versa, allowing the design team to instill an even deeper layer of personalization into the overall feel. "By finishing with pieces from their own collection, the house felt much more personal and meaningful to them," says Watson. "It's not anybody else's house." Indeed, with its thoughtful design it becomes more than a house, but a home ready to be filled with conversations, memories, and endless possibilities.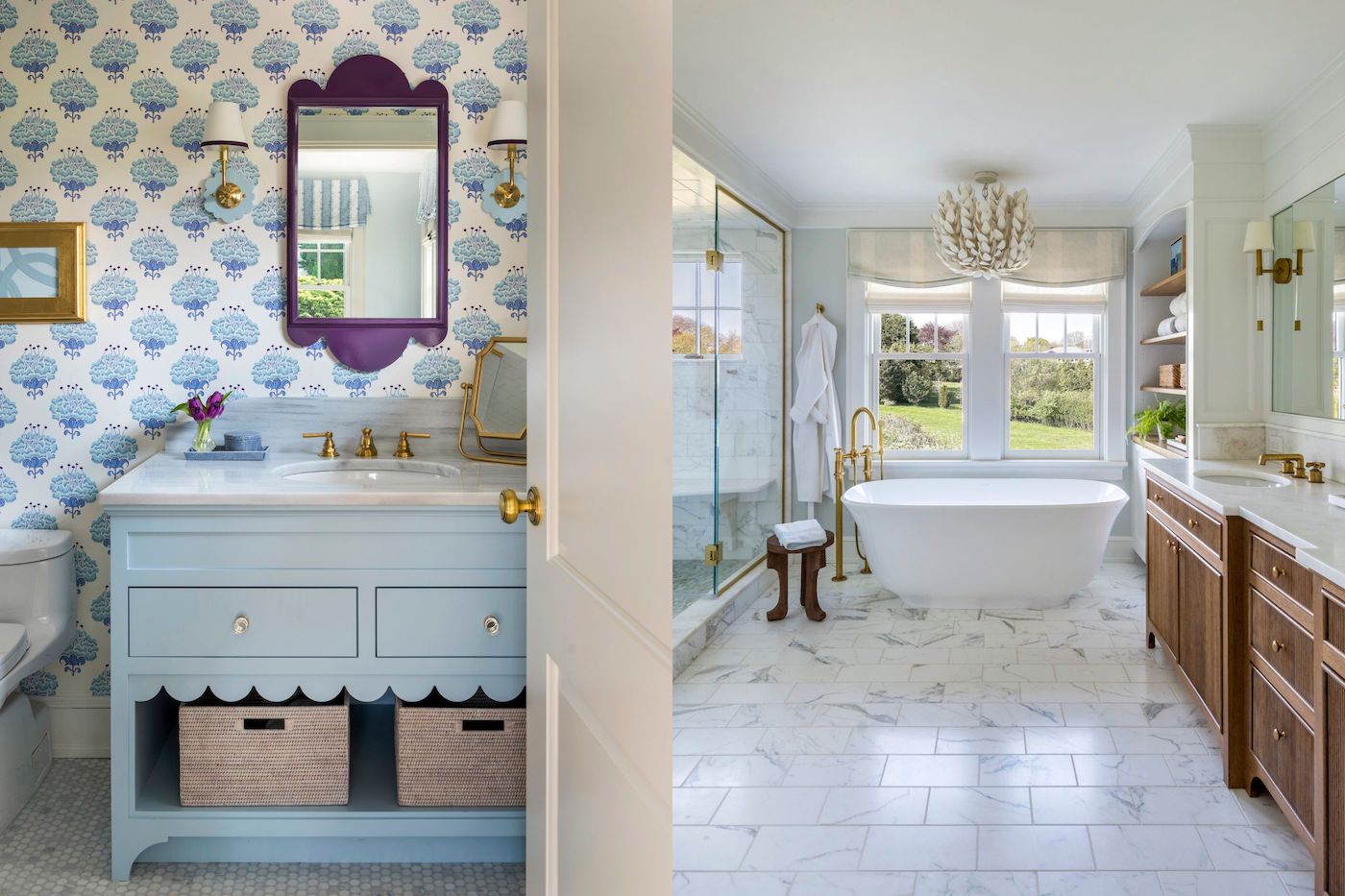 (Photographer: Nat Rea)
Interior Design: Taste Design Inc., Architecture: Paul Weber Architecture, Landscape Architect: TL Studio Landscape Architecture, Landscaping: R.P. Marzilli, Writer: Maddie Brisbane, Photography: Nat Rea